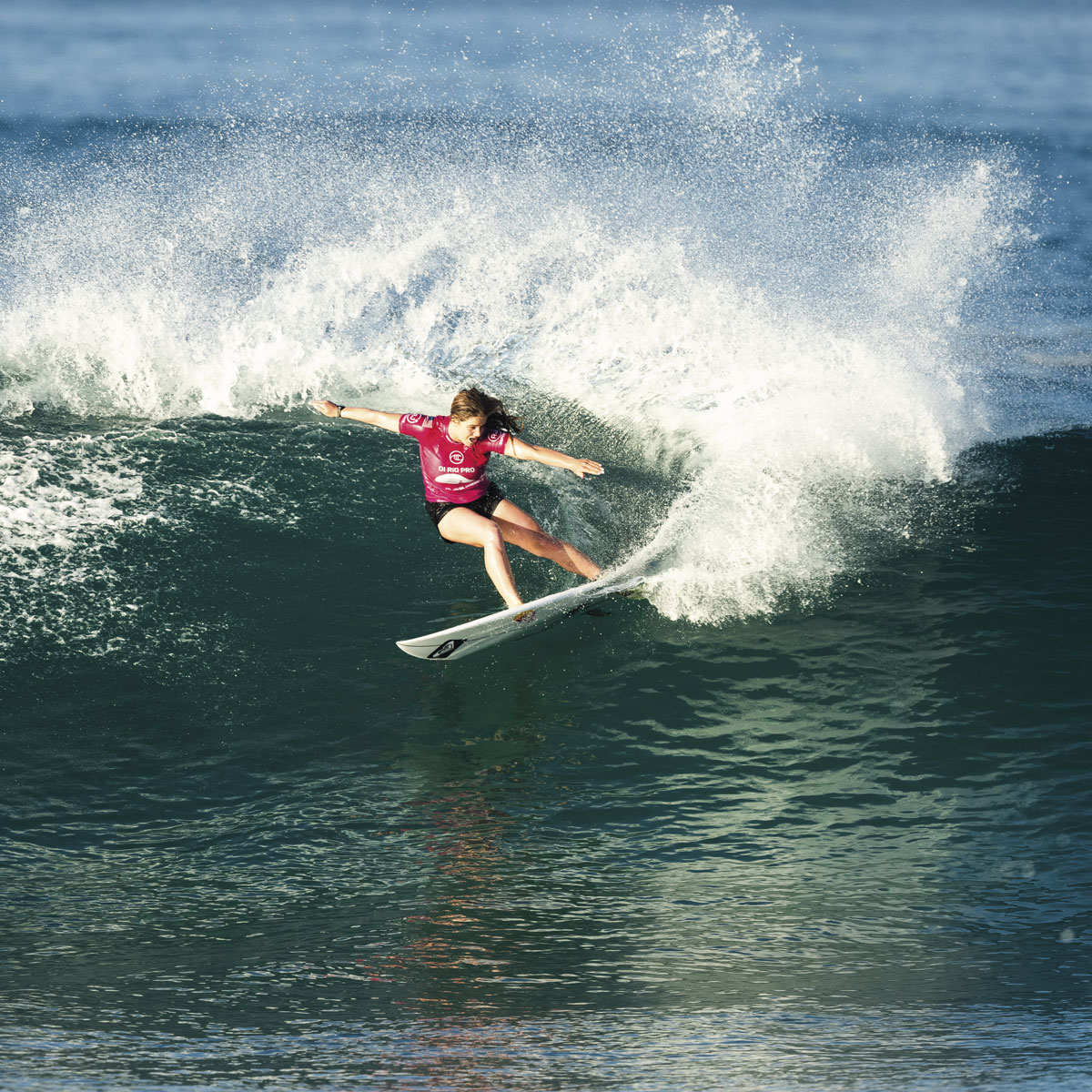 Words by Craig Jarvis Photos WSL
Much like the constant Ethan Ewing comparisons to Andy Irons, the comparison of young Women's Championship Tour Caroline Marks to 1999 world champion Mark Occhilupo is constant. The 2018 Rookie Of The Year has a compelling and robust style, but it has enough of her characteristics and quirks to make it unique. It was this style that saw her take out the first event of 2019, the Boost Mobile Pro, at Duranbah Beach in Australia earlier this year.
The American surfer is getting her fair share of attention, partially because the CT win came at 17 years of age, the youngest surfer to win a women's CT event. Her finals performance was brilliant, despite the small and onshore conditions. She displayed a Big Match Temperament that saw her surf to her full potential without nerves, and without making any mistakes.
Some of the comparisons to Occy are correct, however. She is a goofy-footer, with a low stance, compressing all her power into her lower body. She also has one of the most powerful backhand hacks in the business, throwing spray into the sky whenever she goes near the lip. The comparisons continue. Much like Occy, she rarely falls off, and even her most radical turns are usually successful as a result of her low centre of gravity. We chatted about life and the universe.
At the previously – mentioned young age of 17, she still has been surfing since forever. "My first surf memory was surfing with my dad on top of his longboard," remembered Caroline." I think I was about three years old."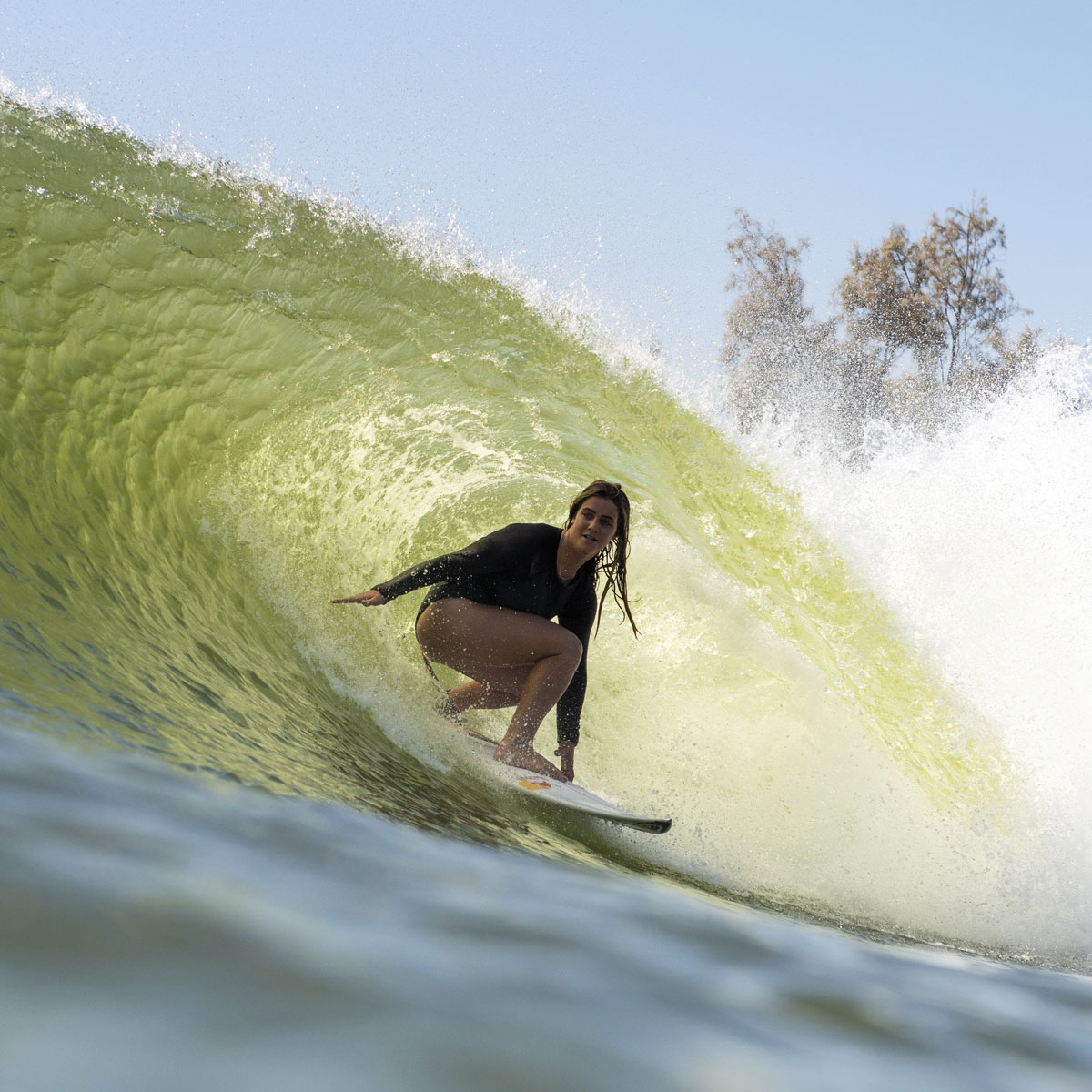 Talking about memories, Caroline is banking her fair share of good ones these days. That sort of stuff happens when you start winning Championship Tour events.
"The best surfing memory I have ever had would probably be winning the first event of the season and getting the yellow jersey,' reckoned Caroline. "My whole family was there that whole week supporting me on. It truly was a dream come true." 
A dream come true, indeed, but not without a whole lot of hard work. As any champion sportsperson would know, with hard work, come the results, and the win in Australia wasn't that big a surprise for her.
"No, I was actually not that surprised," she said on her momentous result. "I am obviously super stoked with my results and how I've been able to compete on such a big stage. I'm just having so much fun on tour. It's absolutely everything I wanted to be doing right now."
Caroline knows what she has, and is indeed grateful for the life that her talents and hard work have opened up for her. "The best thing about this competitive surfing life that I am living right now is probably just getting to surf the best waves in the world," said Caroline. "I also get to experience all the awesome cultures and making memories with my family and best friends."
Much like Jordy Smith, she is also a competitive surfer more than anything else, and her entire surfing focus is on winning heats. This approach is the one that will see her winning more and more heats as she gets more experience on tour and settles into her rhythm. A world title is very likely, and multiple world titles just as likely.
"Sometimes it does get hard out there," added Caroline. Being away from family is sometimes challenging, and jet lag can be difficult at times."
She does have her sights set high, however, and so they should be with someone blessed with her talent and skillset. "Five years from now? Hopefully, I'll be winning lots of events, having a blast on tour and living out my dream."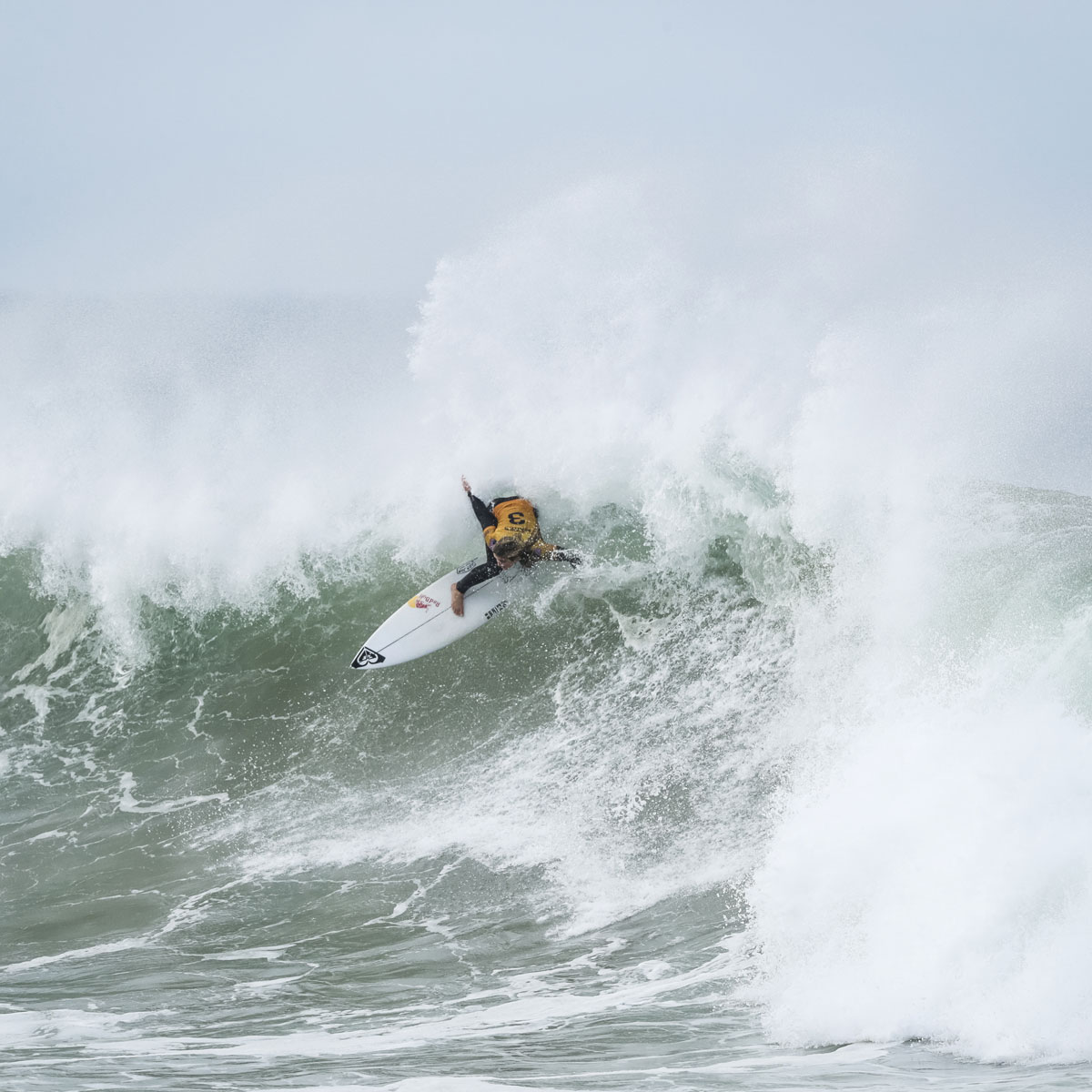 So we got into the more difficult questions, including the 'dinner with famous surfers' scenario. Caroline responded with aplomb. "Firstly, three surfers isn't enough," she said to my first line of questioning. "I'm going to choose five, and they would be John John, Mick Fanning, Mark Occhilupo, Kelly Slater and Gabriel Medina."
Excellent choice, but what would you guys yak on about?
"I would go straight in and ask them what is the best advice they have ever been given in their career, as well as ask them about the best wave they have ever had in their life," said Caroline." Can you imagine the answers that could come out?"
Caroline loves life on tour, and all the events, but her favourites are all the events in Australia, as well as the JBay Open. When it comes to free surfing, she chooses a famous left that was once upon a time a jewel in the Championship Tour crown.
"My favourite wave to surf in the whole world is most definitely Cloudbreak," said Caroline. "I went on a surf trip there when I was 14 with all the girls the week before the Fiji event started, and it was one of the best trips of my life. It has all the platforms to get barrelled, do airs, and huge carves. Doesn't get much better than that!" 
Apart from the jet-lag and being away from family, there are other aspects to be a travelling professional surfer that not all of us know about or even think about. "My worst travel experience so far must be what I went through in Brazil," remembered Caroline of the Oi Rio Pro event earlier this year. "I didn't get my boards until the night before I surfed my heat. I felt like a caged lion. So excited to surf once I got my boards." 
Keely Andrew defeated her in the elimination round. Keely went on to make the semifinals, and Sally Fitzgibbons eventually won the event over Carissa Moore.
Caroline enjoys the coaching input of none other than Mike' Snips' Parsons, who doubles up as the World Surf League Big Wave Tour Commissioner. Caroline reckons he is worth his weight in gold. "Mike brings a wealth of knowledge to the party," said Caroline. "He was on tour for 15 years, so his experience at all the venues is awesome. We also do tons of surf trip and strike missions with Lakey Peterson, who pushes me a lot in the water. As well as running mock heats before events."
Mike knows very well the long game of the Championship Tour year and is well versed in the venues for the final few events of the year, being Europe and Hawaii, as well as the wave pool event in Lemoore. He will be steering the ship and helping her hold steady.
Even though she is relatively new to the game, and the youngest surfer on tour, there are still hordes of young hopeful girl surfers who want to know how to qualify, and how to get to where Caroline is right now.
"If I were asked to give some young hopeful surfer some general advice, it would be simple," said Caroline. "I would tell them to have fun with it, give it all you got every time you surf, but don't put too much pressure on yourself."
In the Corona Open JBay, she came up against Tatiana Weston-Webb and Silvana Lima, both seasoned competitors. She defeated them both, with her devastating backhand attack and buckets of spray, with surfing that is raw and powerful, yet stylish. When she found her groove, she was unstoppable.
With her nous in small beach break surf, as displayed at Duranbah, she will be a contender in the beach breaks of France and Portugal. Her honed backhand power attack is also going to hold her in good stead when they hit Honolua Bay, one of the best right-handers on the Women's Tour.
Caroline also has a bubbly, energetic vibe about her, with a relaxed nature when it comes to dealing with media and dealing with the fans and the public. Always ready for a chat or to pose for a selfie or two, she is humble and approachable, while still garnering much respect from the media as well as from fellow surfers. She is a world champion in the making.