Taz Knight chases a dream from Mavericks to Mexico.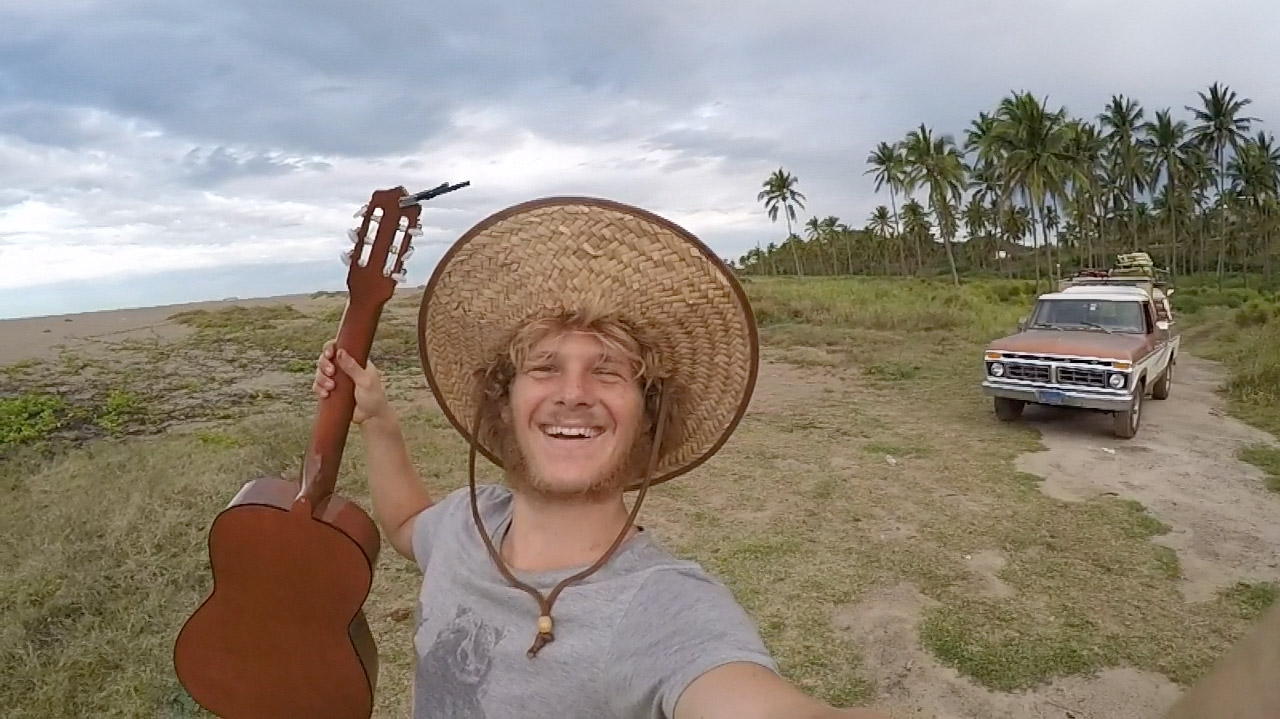 My name is Tasman Knight, I'm 18, I'm from North Devon, and I've just spent six months driving around Mexico on my own.
Trying to fit six months of adventure in to one article is akin to making a movie from a great book. You get the idea, but never the true feel. I've been writing every day however. It was the only way to remain sane when camped on my own for extended periods of time. I think my longest stint was just over a week without seeing another soul. This doesn't sound too long, but when that week is spent 100 miles from the nearest person, in the middle of the Mexican desert … Well, time is perceptive, anyway, for now I will do my best with what I have.
The idea started a while back I suppose. About 10 years ago, when my Mum and Dad decided to pull me and my three sisters out of education for a year. As a family, we bought an RV and drove from San Francisco to southern Costa Rica and back up the other side to the Outer Banks. I'm not going to spend ages telling you how sick it was, because obviously it was. But there's something that has been bothering me ever since I got back. It's a memory. The memory of countless barrelling right hand point breaks.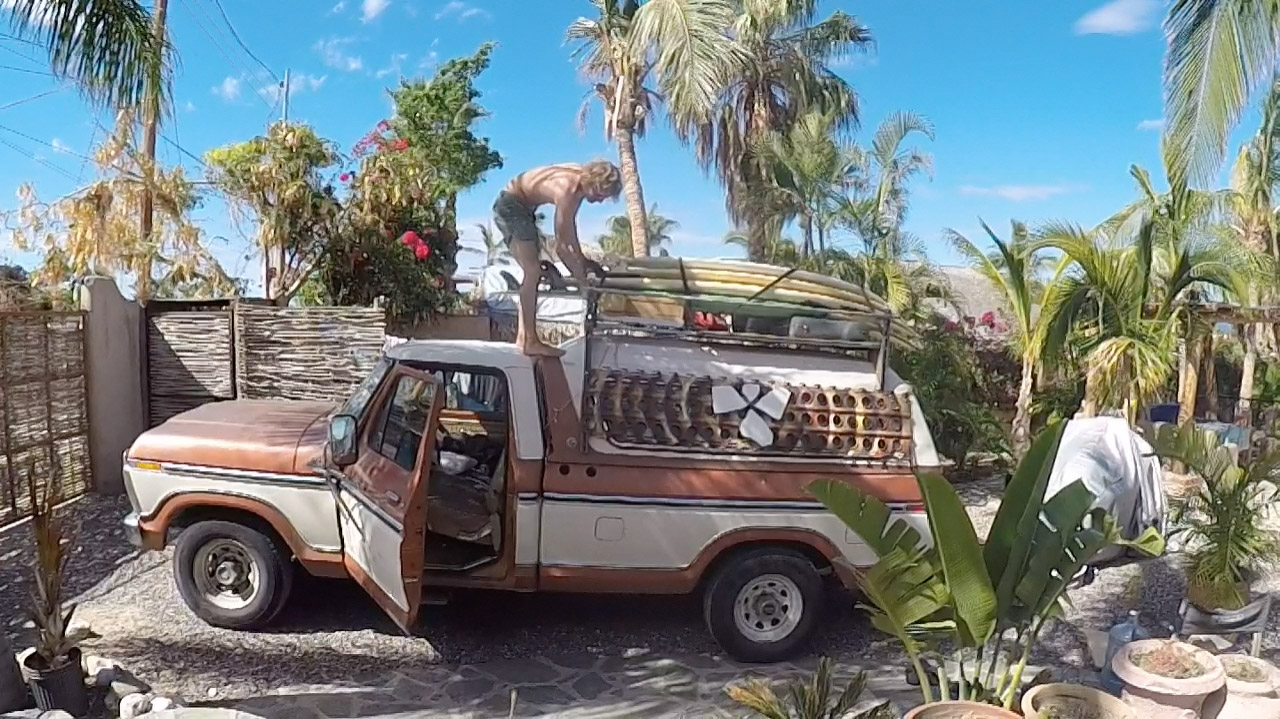 You see, Mexico was where I learned to surf. Well, I've been surfing since I was four … but popping up in the whitewater hardly counts. Mexico was where I really got hooked. It was a great place to learn to surf, but it is also a great place to get absolutely barrelled off your face. Absolutely kegged off your nut! What I mean is the waves are really really good, too good for an eight year old boy to fully appreciate. So here I am. It has taken 10 years, but I'm finally good enough to be in Mexico and get absolutely barrelled off my face.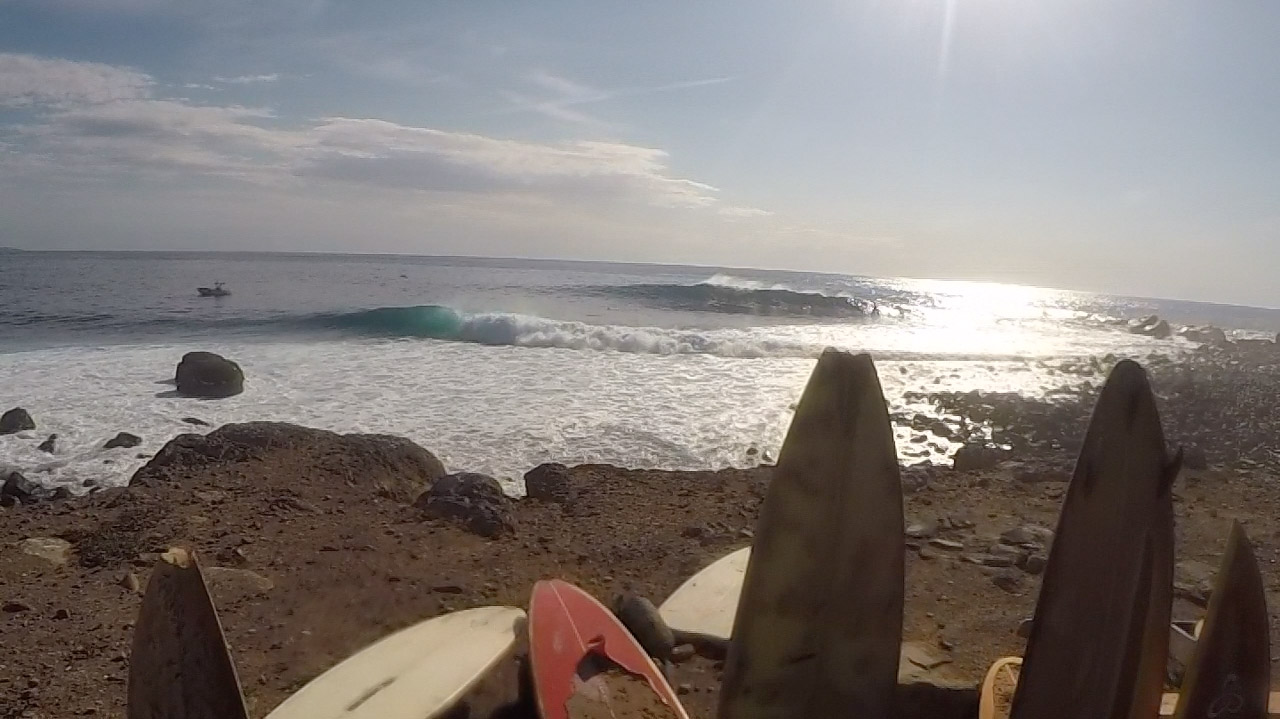 My adventure started, as before, in San Francisco. I was staying with the same family we had stayed with 10 years before, Richard and Catherine Henry. They live in Half Moon Bay. Now, we've all heard tale of the monstrous beast that calls Half Moon Bay its home. So had I, at the age of eight when I was last here. The raging sea monster, who raises its foaming cobra head to strike at the wall of jagged rocks blocking its path. I am talking of course, of Mavericks. I've always been drawn to big waves. As a grom, I felt that the bigger it got, the more fun I had. That calling is partly responsible for the starting location of my trip. Searching for perfect right hand points was not my only mission, I also wanted to surf as many famous big waves spots as I could. What better place to start?
I was there for over a month. In that time I managed to catch five swells. It's an amazing place, the long paddle, the golden sunrises in the morning glinting through the huge rocks making them look more menacing and hideous than ever. It really is a perfect wave, throwing huge caves over the boil and thundering out in to the bay. I had some really epic waves there, definitely the biggest waves I had seen and ridden at the time. The two most memorable sessions came within a week of each other, on the 13th and the 20th of December. The first was one of my best big waves sessions ever. There was a lot of wind forecast, so despite the swell being solid, it wasn't given much interest. Those of us who were staying/living right there however could check it in the early morning. I was huddled up on the cliff, hiding from the wind in my DryRobe at about half five. The wind was strong but in a pretty good direction so the faces were still clean. It was only on for an hour or so, but with so few people out I managed to pick off a few of the biggest waves I had ever paddled at the time.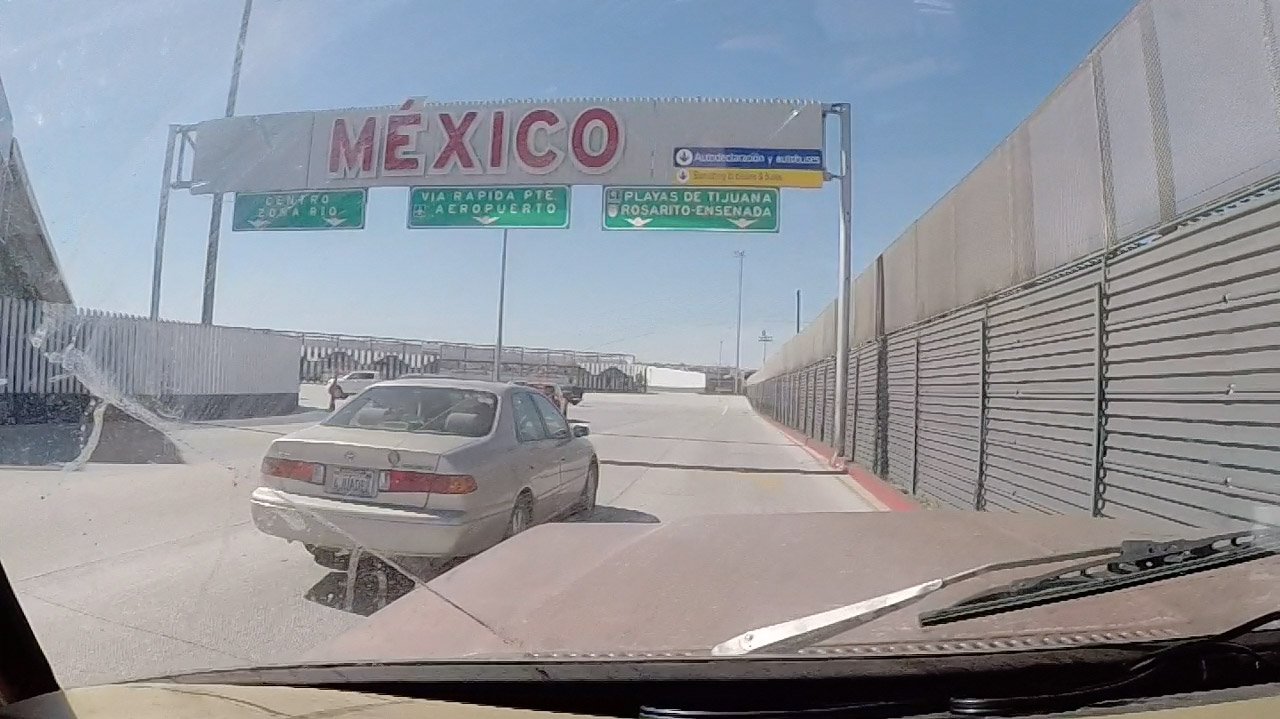 The day of the 20th was a perfect Mavericks forecast, meaning that all the best big wave surfers in the world flew out to try their hand. That day was like a zoo. Near 100 people all competing over a small take-off zone … carnage. Quite content with the last session I had, I sat on the shoulder and watched all my heroes getting huge waves. I was out there for hours, but stayed pretty toasty in the wetsuits ION had given me just before I set out. I actually got seven waves which is more than most did I'm sure, but they were all off the shoulder. Didn't stop them being awesome rides however, so I was pretty stoked.
While I was there I bought a 1977 Ford F250 Pickup. I spent my time between swells fixing it up, putting a bed in the back, making a roof rack and generally getting it ready to spend the next five months on the road. It took me longer than expected, but eventually I was waving goodbye to the friends I had made and heading south.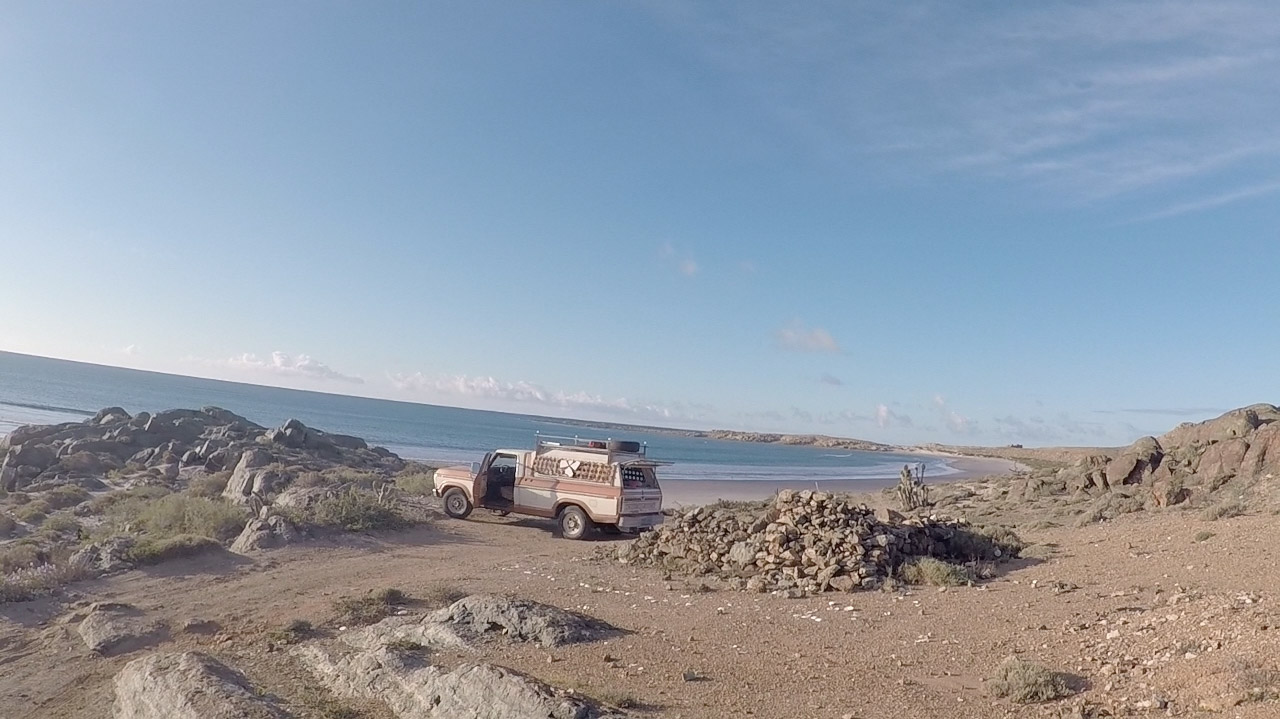 It took me a while to get through California, partly because it was so awesome and partly because I broke down just before crossing the border. It was an unfortunate delay, but thinking about it now it was probably a blessing, as it seems as though my timing has been impeccable ever since. I blew a hole in a piston chamber about five miles from the Mexican border. I was lucky to find the best engine mechanics in San Diego that same day, Kenyan Machine, I'd done a little mechanics before, so I asked the top guy Greg if I could help out with the labour to save money. Greg took sympathy on the English kid with no money and said sure. I ended up doing much more than just helping out.
I took the engine out and stripped it right down by myself. I also put the whole thing back together as well. A good thing about being there and being emotionally involved with the job, is I got to make sure everything was tip top. I worked every day, almost 12 hours a day for three weeks. For the first week and a half I was taking the engine apart, then cleaning and correcting everything. Gave it all a proper scrub down, sand blast, valve job, sanded the warps out the heads, cleaned the carburettor, adjusted the brakes. I did everything I could to make sure the engine was working as well as possible, plus it was given new pistons and re-timed by the guys in the shop. Because I was doing most of this myself I saved a bucket load of money, and gained some priceless knowledge.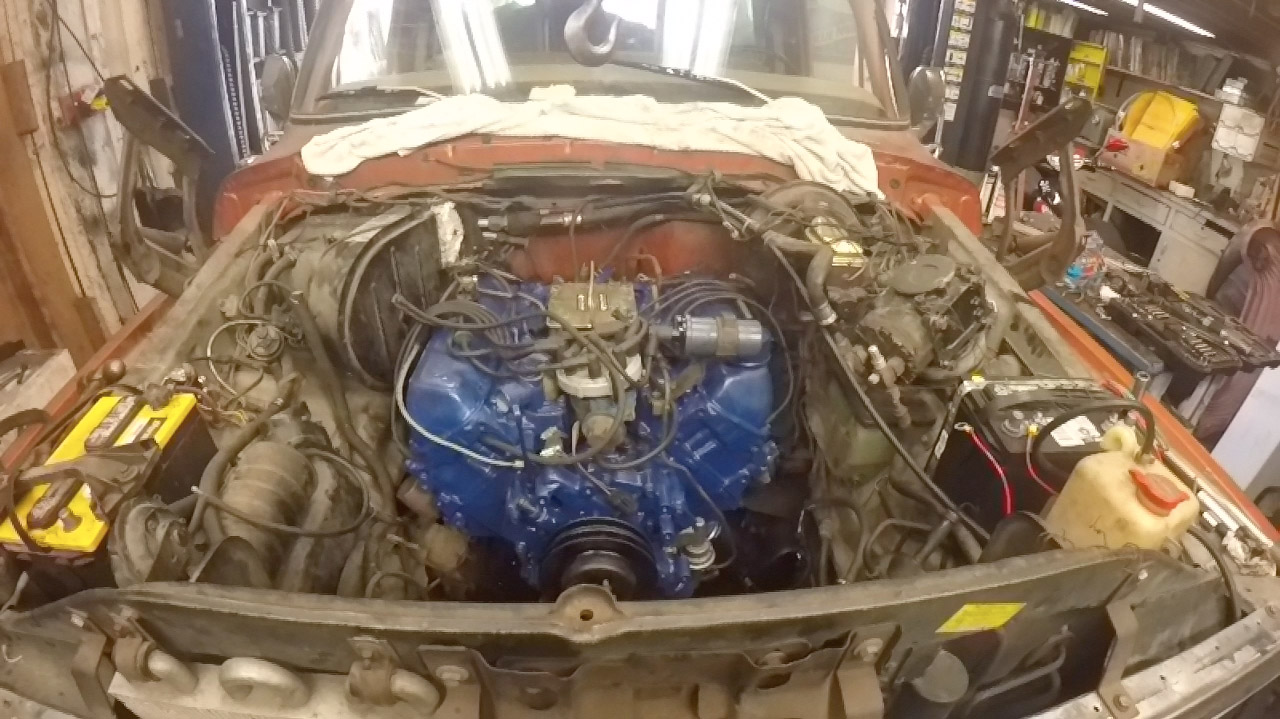 For the next week I couldn't do much as they were busy and I was waiting for them to do their bit (sorting the pistons out). Greg thought I did a pretty good job taking my own engine apart, so while I was waiting they said I could take the engine out a jeep that was sat in the lot. They said they would pay me a full mechanics salary, and the money I made would be taken off the price of my engine … How epic is that? I spent just over three weeks covered in grease and oil, living in the back of a mechanics.
While that was going on, I bumped in to charger and all round legend Gary Linden up in Oceanside. I stayed in his shaping bay for a few nights and got some advice one Baja and surfing Todos Santos. He really helped me out, even helped repair a board I had snapped at Ocean Beach. I met loads of cool guys in San Diego, I hooked up with a photog, Chuck, and had a fun session at Blacks. Scott Sutherland, who I met at the mechanics, ended up taking me to La Jolla every morning at first light to surf all the many waves they have there. All in all it was a pretty sick delay.
My next point of call was another big wave spot: Todos Santos. Like Mavericks, this huge righthander breaks over a boil out side a big rocky point, only Killers (its official name) is out on an island (from where it gets its unofficial name). I arrived just in time for an epic run of swell. I was there for a week. It didn't get as big as Mavericks while I was there, but I still got a pretty good day, with the faces reaching about 25 feet. It's an awesome place, the island is miles out to sea so the water is crystal clear, the waves out there are always double the size of the mainland and super fun. I met a really cool big wave rider, Diego Pertusso, out there. We ended up going out to the island together every day on his ski which was majorly convenient. He actually lives down in southern Baja where I eventually met up with him again to stay with him for a week.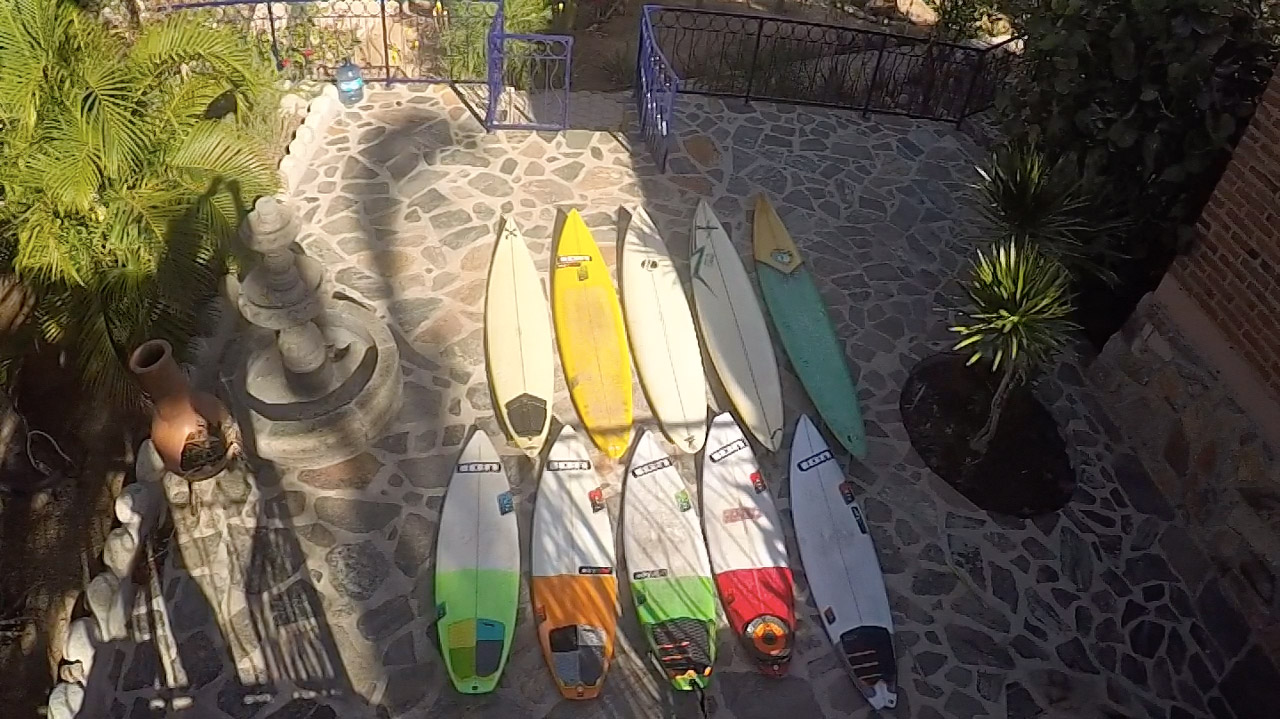 From there I spent a little over a month driving down the Baja Peninsula, camping in the middle of the desert, fishing, collecting clams, surfing perfect right hand points. It was such an amazing experience having to fend for yourself and catch your own food. There was one place where the beach was teeming with huge clams and the rocks were perfect for fishing. I would get up, grab a bit of porridge, jump in the sea, surf the perfect right hand point all alone, then spend the rest of the day chilling, fishing, collecting clams and then surfing again in the evening. I was doing that every day for a week. I had a fire going the whole time on the beach, I would always have the clams by the fire for when I got peckish, then just chuck the fish on the grill as soon as I caught them! I didn't want to leave that spot. I ate some pretty awesome food whenever I stumbled upon a village, the fish tacos in Baja are incredible. There's nothing quite like a Baja fish taco. I can't even describe how good they are.
After I met up with Diego again in Southern Baja, I loaded up the truck with some of his old big wave guns, took a ferry from La Paz to Mazatlan, then followed the coast all the way to the state of Oaxaca. I had some amazing experiences on the way down camping in the jungle, drinking coconuts, getting kegged on random beaches with no one out. I must have found 100 beaches with Hossegor like potential, all of them unsurfed but by a few locals and maybe the odd travelling surfer like myself. I actually didn't see another surfer until I got to Pascuales. I found one river mouth with a sick wedging right hander, when I met a local surfer from the area they had no idea it existed.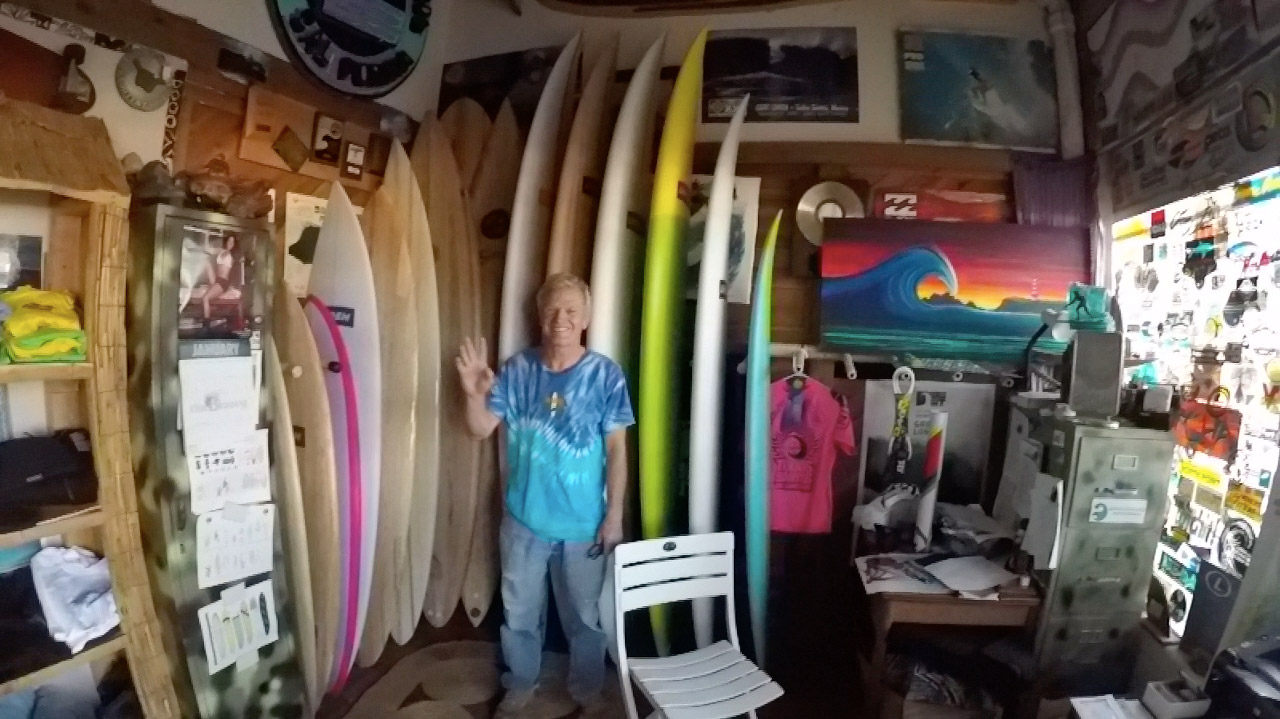 The difference between Baja and the mainland is crazy. Baja is one big desert, filled with beautiful table top mountains, cacti and perfect right points. The fish is also as good as it gets. The mainland is so green in comparison. Thick dense jungle climbing the slopes of massive mountain ranges. Huge palm groves along the coast with big rivers every 10 miles. The waves are all heavy beaches and hollow river mouths, the north swell creating sick rights and the south lefts. The culture and vibrancy of the mainland was a blessed relief after the emptiness of Baja. Actually surfing with other people made me realise how much I had missed it.
The truck was still going strong when I arrived in Puerto Escondido. I had seen a big swell coming a week before, and had made a quick dash through Guerro to get there in time. Puerto was the next big wave spot on my list. The incoming swell was definitely a big one, it was lighting up the Pacific and causing quite a stir in the surf media. I arrived the night before the main bulk of the swell hit. That evening I watched the sunset at Playa Zicatela as 30-40 foot waves detonated on the sand.
The next day was scary, the scariest paddle session I had had at the time. The swell came through with 30-40 foot faces, but it was the heaviest 15 feet I've ever seen. The waves here break super close to the beach, the sand less than a few meters below the surface. The energy of the huge swell gets focussed in that small area, making for some seriously heavy wipeouts. I got worked while that swell lasted, getting huge waves, hold downs and barrels. It was an amazing experience, I was really helped out by the local crew there. Local photographer Edwin Morales showed me the ropes and made my life much easier.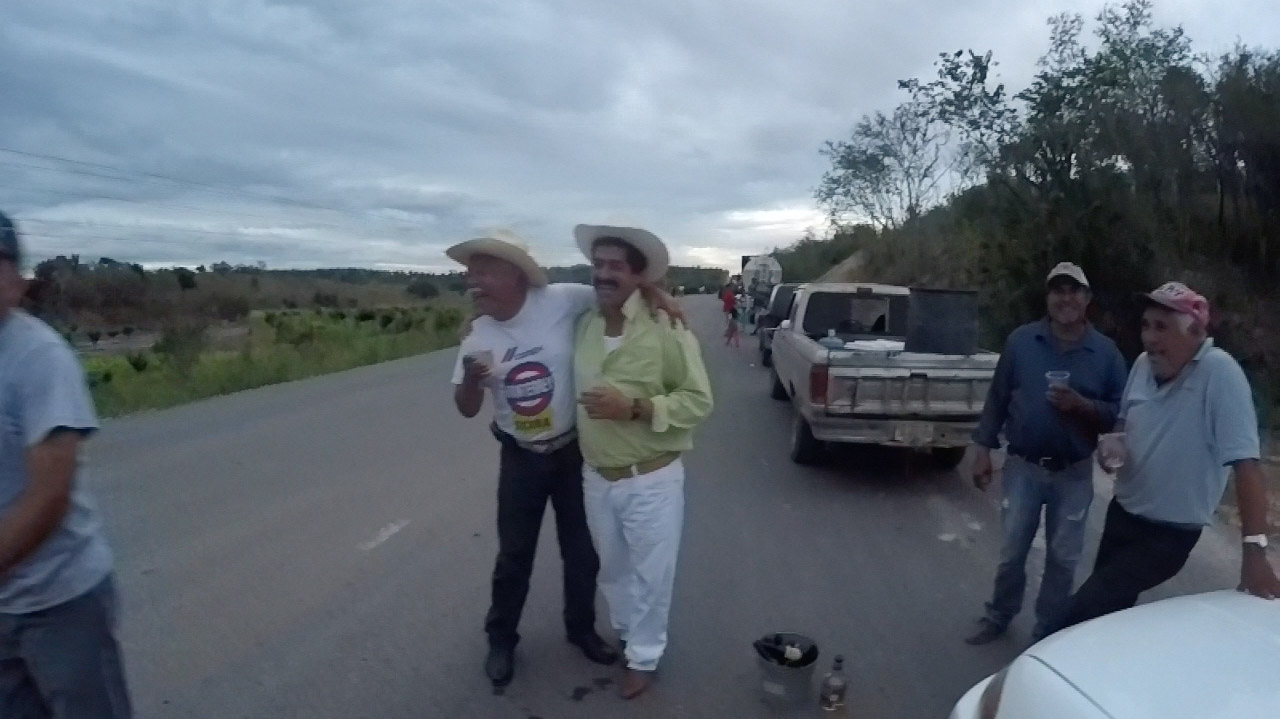 Puerto is a really cool place to hang out. Loads going on and always great waves to surf. After the big swell the banks were amazing and everyone was just getting kegged every morning. I had this magic 8'0" from Nigel Semmens which has been working like a dream this whole trip, but it really reached its full potential out in the huge dredging barrels of Zicatela. I had snapped it twice by the end of the trip, but it only seemed to get better! All told I snapped five boards eight times… But that's Puerto I suppose.
I spent a while in Puerto, I had been travelling for over four months by this point and I needed to spend a bit of time in one place to get some energy back. I met up with some friends from England and we decided to head out to find some of those barrelling right hand points I'd heard so much about. Edwin pointed us in the right direction and my adventure started up again. We took a round about route, up through the mountains to see some temples and hot springs and then back down to the coast to chase the goose. We certainly found what we were looking for. Perfect, barrelling right hand points that completed my fantasy. I had a couple of waves which were ridiculous. 13 turn waves and deep sandy barrels, the image of perfection. We got some fun small days, trimming along on knee high waves, getting an average of three or four head dips per wave! The few bigger days we got were not as hollow, but we were not disappointed by the minute long whackable rights, and there were definitely still super hollow sections.
By this time it was full swell season for Mexico, and another monster storm was brewing off the coast of Chile. With my heart in my mouth, I said goodbye to my mates and steered course back to Playa Zicatela. The storm was ridiculous, the swell predictions were saying it was to be as big as it gets, maybe even bigger. I thought I must be getting popular, as all the big wave surfers who had flown to meet me at Mavericks were making the trek to meet up with me again down in Puerto. They may have just been coming for the swell, but I can't be sure.
When the day arrived it made the last swell I caught look like ripples in a pond. It was ridiculous. 100 meters of beach got washed away and the sets were smashing through the beachfront restaurants and on to the road. The street was the new shoreline. It was like a hurricane had passed through over night. Part of the contingent who had arrived for the swell were Tom Lowe and Tom Butler. It sure was nice to have some fellow Englishmen to share the nerves with. I'm not sure what would have happened if they were not there, but the fact that they were definitely gave me a bit more confidence. The only minor was that neither had their boards with them, Lowey's had gotten lost on the plane, and Tom had come strait from the XXL awards in LA so didn't have any to start with. They both managed to borrow boards, but not their boards, and not great boards at that.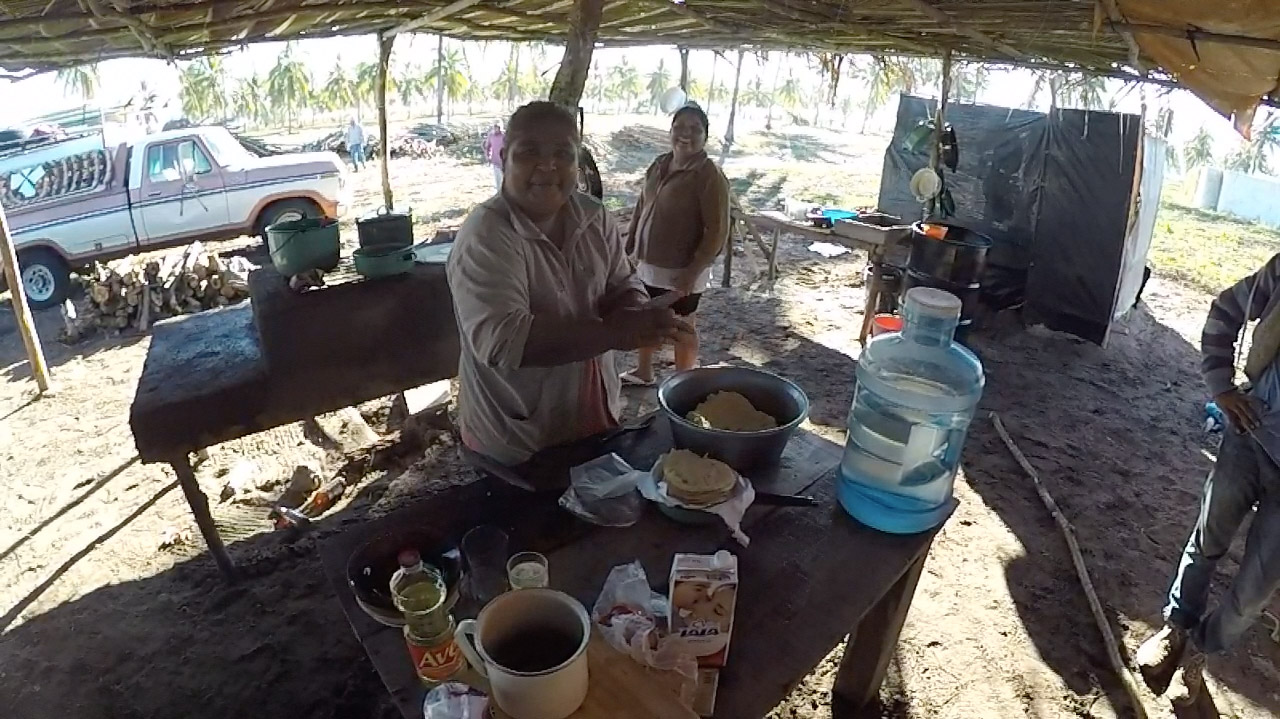 We paddled out despite it all, a long paddle from the harbour half a mile up the beach. I was riding a 9'0" which Diego had lent me up in Baja. The sets were huge, so big I wasn't even scared, just in awe at the immense beauty of the 60 foot walls of water that were bearing down on us, travelling so fast that they were feathering for 3-400 meters before even breaking. It was a somber line-up. Those who had dared to paddle out were all shrouded in their own minds, eyes fixed on the horizon with grim determination on their faces. The sets were most likely to be the biggest waves ever to be seen at Puerto, but every man there would have committed if the wave had come their way. I turned my own eyes to the waves and waited.
It was impossible to know where the waves would come, and you had to be in the perfect spot to actually catch one of these things. As a result the chance of catching one was slim to none, and the chance of the wave which came to you actually being makeable was even slimmer. The end result was there were very few waves ridden that day. Half the line up got caught out by the huge closeout sets with came ploughing through, Tom and Tom included, both taking one of the heaviest beatings imaginable. Mark Healey got the wave of the day, a giant set wave which absolutely destroyed him. And yes, I managed to get one myself.
After waiting out there for over three hours I saw a good sized left coming through which I thought I might be able to catch. I looked around but couldn't see anyone near me. At that moment, Kurt Rist buzzed passed me on a safety ski, he saw me looking at the wave and gave me a look. It said, 'I got your back'. It was all I needed, I swung, paddled and took of on the biggest wave of my life.
I was extremely late, as I got to my feet I had to grab my rail to keep the board from being blown out from under my feet by the wind howling up the face. This also helped to keep the nose of my board out the water as the wave went over vertical. There was a slight moment of weightlessness as the majority of the 9'0" disconnected from the wave and I dropped down to the point where the board fitted the curve of the wave. Holding on for dear life I flew down the thing, going faster than I thought possible. Every ounce of my being focussing on making the drop and getting away from the monstrosity which I had managed to catch. Before I had taken off, it looked as though I may have been able to make the wave. Unfortunately I was put off course a little by the steepness of the drop I had to take. As it was, when I finally made it to the bottom and thought about shooting it to the shoulder the lip was already on its way down to land on my head. This didn't appeal to me greatly so I picked the lesser of the two evils and straightened out.

I was immediately blown to pieces. The force of the explosion was so violent that it knocked me senseless. All I could think about was holding my arms around my head and neck as I was ruthlessly rag dolled back and forth. When I got back to the beach, someone told me I had been under for 20 seconds. I could have been under for 10 year for all the perception I had of time while that was going on. All I know was the flotation vest I was wearing eventually bought me back to the surface (I couldn't have found it if I had tried) I grabbed a breath and shot my left hand up, searching for Kurt. I could see him racing towards me, bent over the handle bars. Unfortunately, I could also see a 40 foot wall of whitewater which was much closer. The ski was struggling to drive in the thick soup which the previous wave had left behind, and we both knew he wouldn't make it in time to get me. I got a couple of deep breaths and went under.

This wave was promptly followed by another. After looking at the footage, I realised both held me down for 15 seconds, battering me from every angle. Luckily my leash held and I was washed in a fair way. I was washed up the beach not long after. As I struggled up the sand I was greeted by cheers from the spectators. Safe to say it was one of the better moments of my life.
The next few days were mental. I had a great time hanging out with all they guys, even got to say 'Hi' to Andrew Cotton as he flew in for a swell forecast the week after I left. The waves got a bit more manageable and the banks were perfect while my time dwindled. Every one was getting shacked off their heads. It was a great end to the trip. By the time the big swell passed through I only had 10 days left before my 6 months was up. I spent that 10 days getting shacked with mates and relaxing in paradise. It was such an epic trip with so many phenomenal experiences. It will take a while for it all to fully sink in.