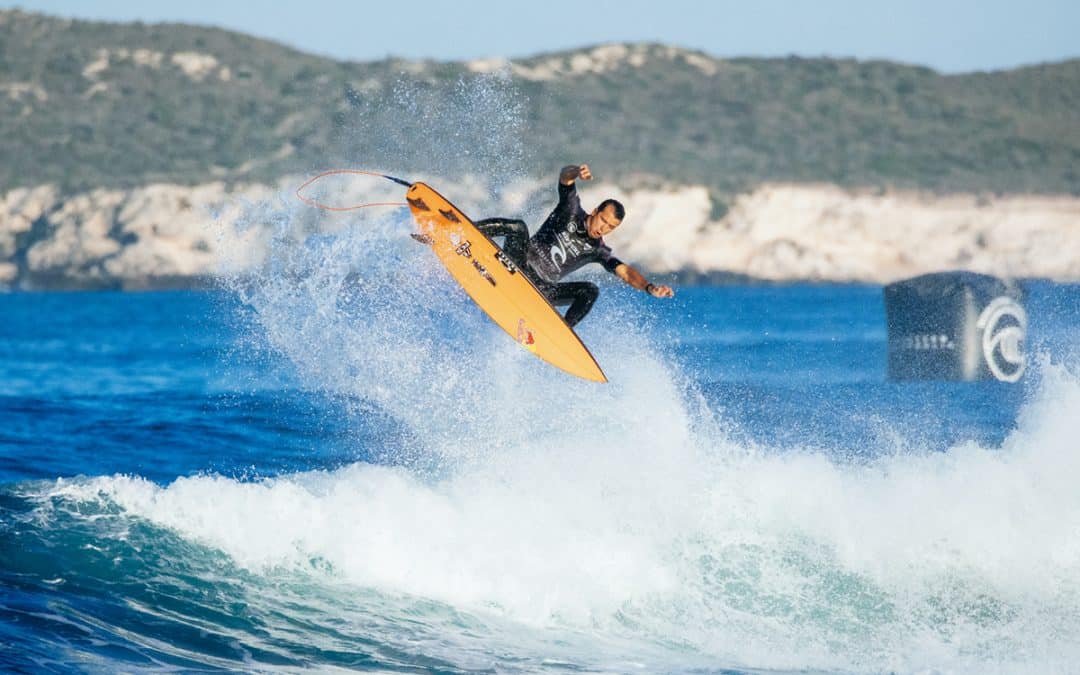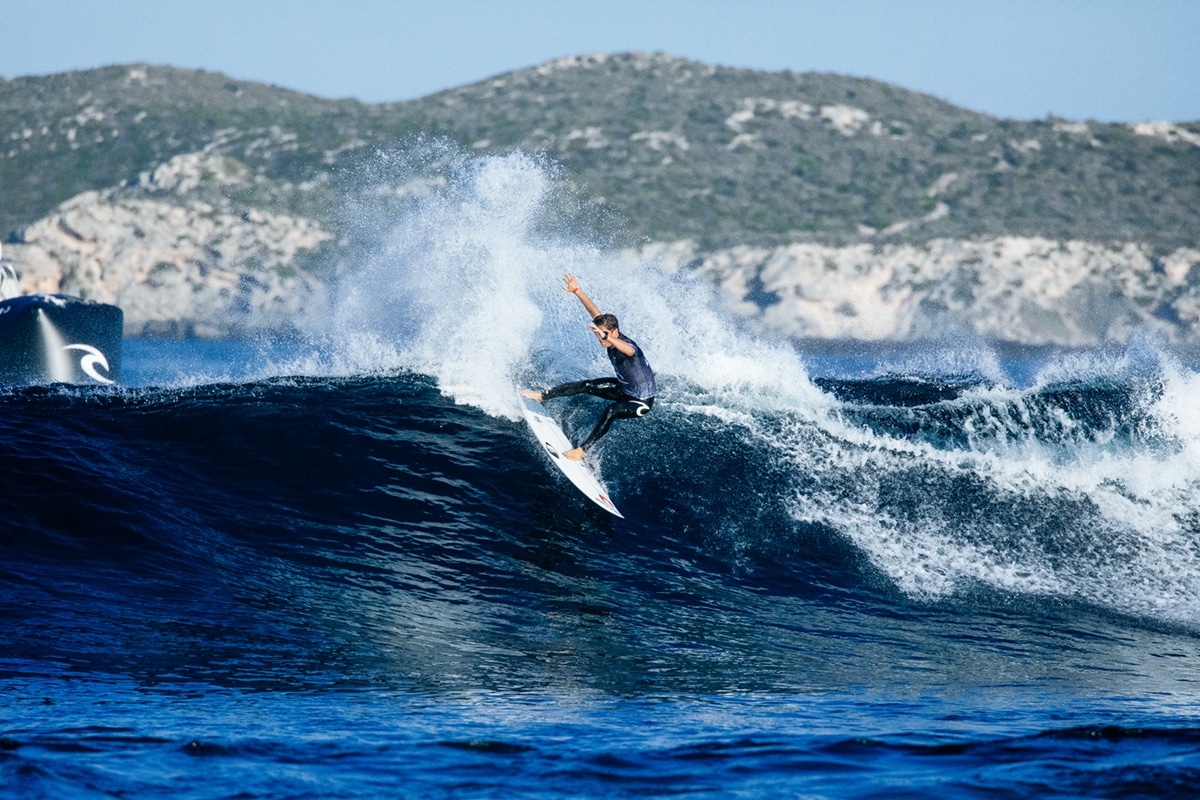 CT rookie Morgan Cibilic (AUS) is through to his third Quarterfinal this season after eliminating Leonardo Fioravanti (ITA) All Photos: © WSL / Miers
Australians Wilson, Cibilic, O'Brien Through to Quarterfinals at Rip Curl Rottnest Search pres.
The Rip Curl Rottnest Search presented by Corona, the fifth stop on the 2021 World Surf League (WSL) Championship Tour (CT) and the final event of the Australian leg, only completed the first three heats of the men's Round of 16 before going on hold and calling the competition off for the remainder of the day due to lack of swell on offer at Strickland Bay. The three heats saw Australians Julian Wilson, Morgan Cibilic, and Liam O'Brien book their spots into the Quarterfinals.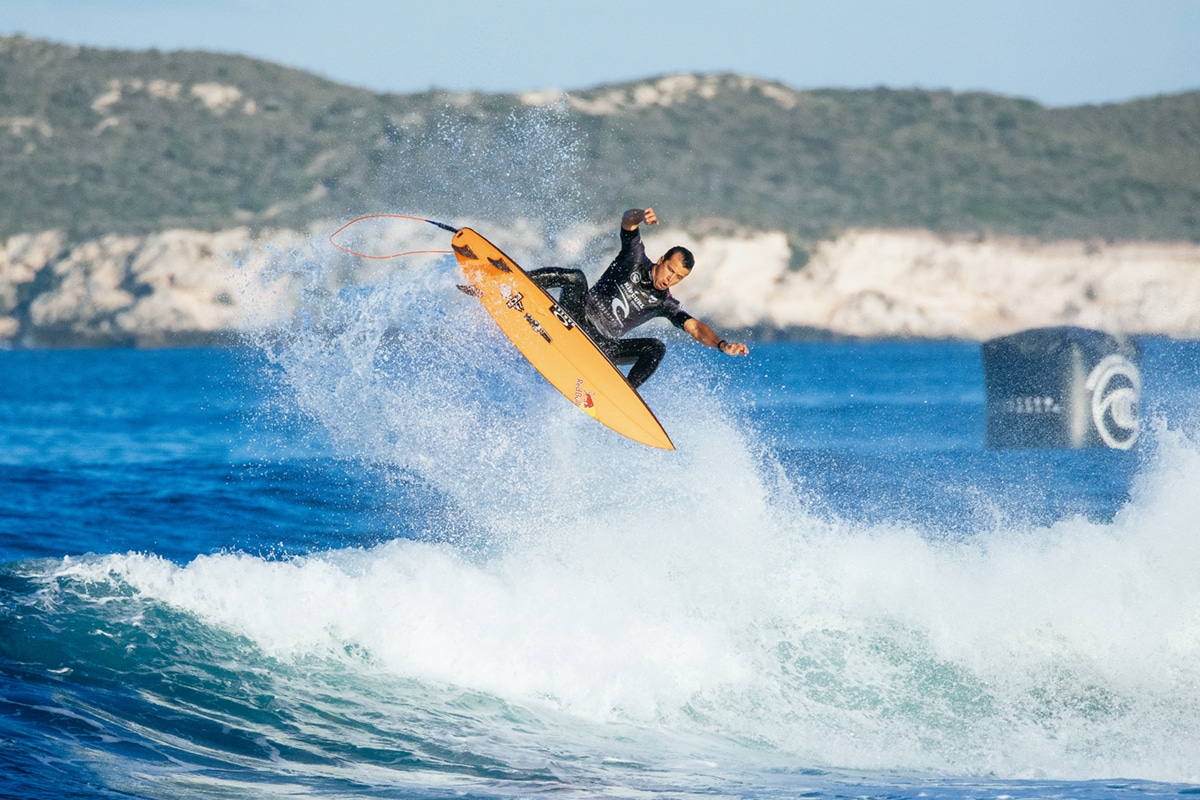 Julian Wilson (above) Through to Quarters for First Time This Season
The opening heat of the day saw two of the CT's most experienced campaigners and perennial title threats, Julian Wilson (AUS) and Jordy Smith (ZAF), go head-to-head at Strickland Bay. There was a lot on the line for both surfers with Wilson still searching for his first Finals appearance of the season, while Smith was hoping to back up his runner-up finish at Margaret River with another solid result at Rottnest. It was a battle of tactics between the two with Wilson coming out on top. Wilson found the better set waves and leaned on some of the progression he is so well known for to take the win.
"I feel like I've gotten over a big lump just there," Wilson said. "To let Jordy go on that wave at the end then have a really nice one come to me felt so good. It was fun to look for those sections on the right and go for some big airs. I've been looking at the rights for that all week and have only had a couple of good ones and I'll continue to look at them for the remainder of the event. I'm excited to throw some airs and make some big scores. I'm really happy with how well my strategy worked and just happy to win that heat."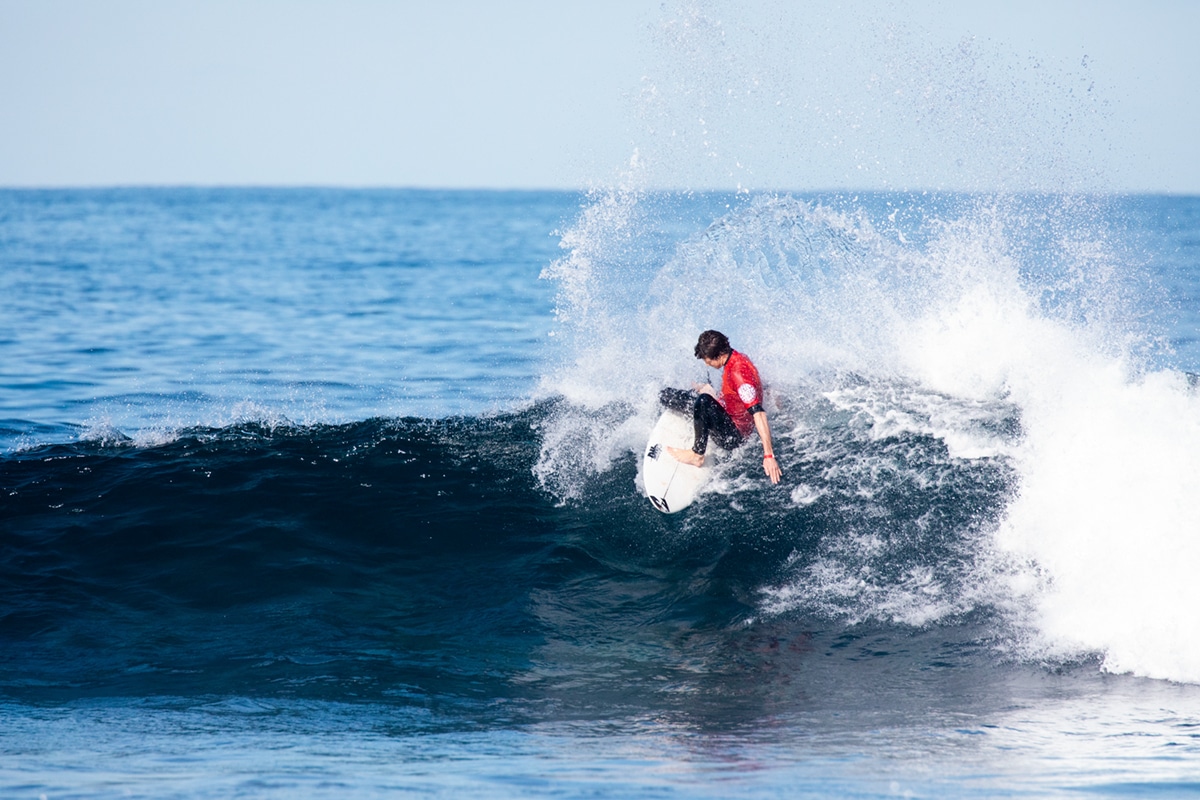 Aussie Youngsters Book Into Quarterfinals at Strickland Bay
Injury replacement Liam O'Brien (AUS, above) continues his charge in his career-first CT event, making his way through the Quarterfinals by eliminating CT sophomore Seth Moniz (HAW) in Heat 3 of the R/16. As conditions slowed, it was clear that the surfer who made the least mistakes would walk away with the win. In the end, it was O'Brien who had the upper hand, leaving Moniz with an equal 9th place finish.
"I wasn't really expecting to make a heat at this competition, so I'm stoked to have made it this far," O'Brien said. "That was a really tough heat and it sucks when there isn't a heap of opportunity, but sometimes that happens in surfing. It ended up being pretty tactical. I made a couple of mistakes, Seth made a couple of mistakes, then I got lucky and ended up coming out on top. It's been cool to be here working with my coach Jay Thompson, we've known each other forever through Burleigh and he's helped me develop from a junior into what I am today, so it's crazy to be on the beach at a CT with him and to be into the Quarterfinals."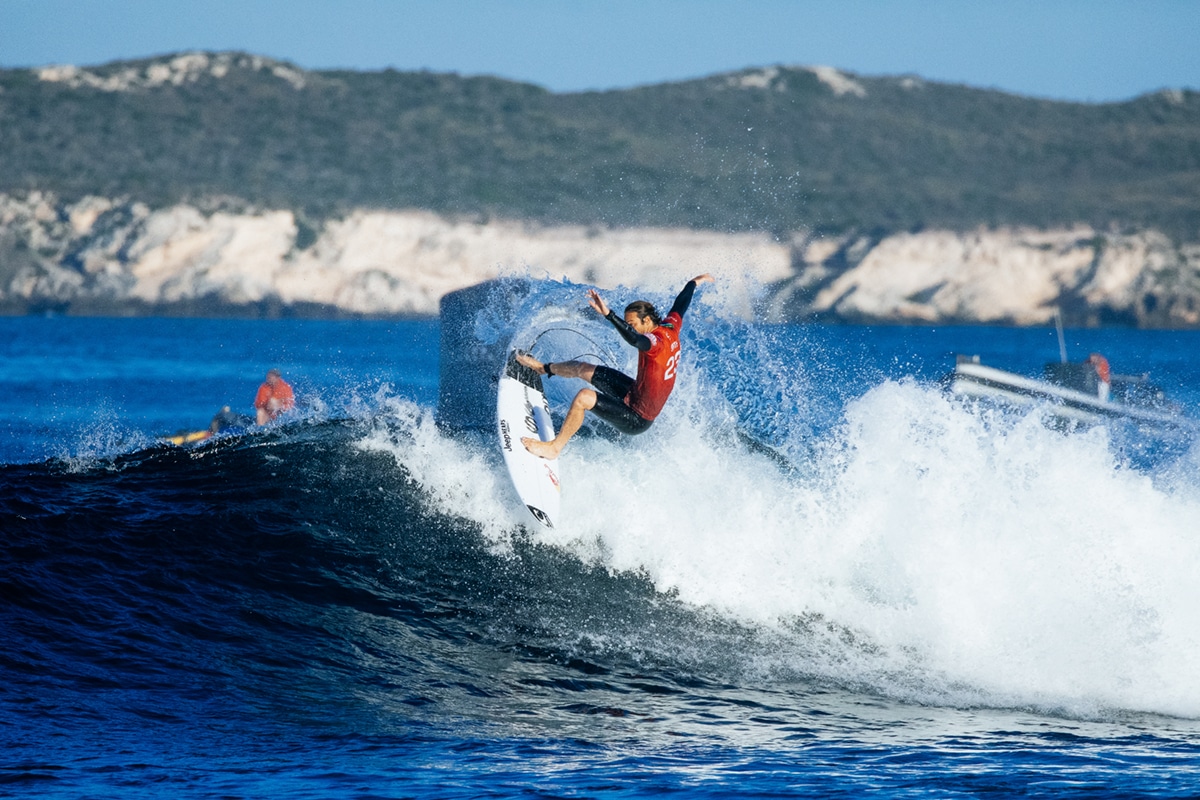 Jordy Smith on form Photo: © WSL / Miers
2021 CT rookie Morgan Cibilic (AUS) continued his epic first-year run, booking himself a spot in the Quarterfinals after a win over Leonardo Fioravanti (ITA) in Heat 2 of the Round of 16. Cibilic's tight frontside hacks and explosive backside re-entries continue to wow in the waves at Stickland and today was no different as Cibilic won the heat.
With conditions rapidly slowing over the high tide and the swell continuing to drop, event organizers decided to call the event off for the day after Heat 3 of the men's Round of 16. With a more promising forecast for tomorrow morning, another call will be made at 7:15 a.m. AWST to resume the remaining heats of the Round of 16.
Watch LIVE
The holding period for the Rip Curl Rottnest Search presented by Corona is now open and runs through May 26. The event will be broadcast LIVE on WorldSurfLeague.com and the free WSL app. Also, check local listings for coverage from the WSL's broadcast partners.
Although Rottnest Island will remain open for visitors while hosting the event, spectators will not be permitted at Strickland Bay as this will be a broadcast-only event to limit environmental impacts.
Rip Curl Rottnest Search Men's Round of 16 (H1-3) Results:
HEAT 1: Julian Wilson (AUS) 13.00 DEF. Jordy Smith (ZAF) 11.20
HEAT 2: Morgan Cibilic (AUS) 12.50 DEF. Leonardo Fioravanti (ITA) 10.77
HEAT 3: Liam O'Brien (AUS) 10.83 DEF. Seth Moniz (HAW) 8.10
Rip Curl Rottnest Search Remaining Men's Round of 16 (H4-8) Matchups:
HEAT 4: Michel Bourez (FRA) vs. Miguel Pupo (BRA)
HEAT 5: Gabriel Medina (BRA) vs. Owen Wright (AUS)
HEAT 6: Conner Coffin (USA) vs. Mikey Wright (AUS)
HEAT 7: Italo Ferreira (BRA) vs. Adriano de Souza (BRA)
HEAT 8: Yago Dora (BRA) vs. Connor O'Leary (AUS)
Rip Curl Rottnest Search Women's Quarterfinal Matchups:
HEAT 1: Malia Manuel (HAW) vs. Sally Fitzgibbons (AUS)
HEAT 2: Nikki Van Dijk (AUS) vs. Tyler Wright (AUS)
HEAT 3: Carissa Moore (HAW) vs. Isabella Nichols (AUS)
HEAT 4: Johanne Defay (FRA) vs. Amuro Tsuzuki (JPN)