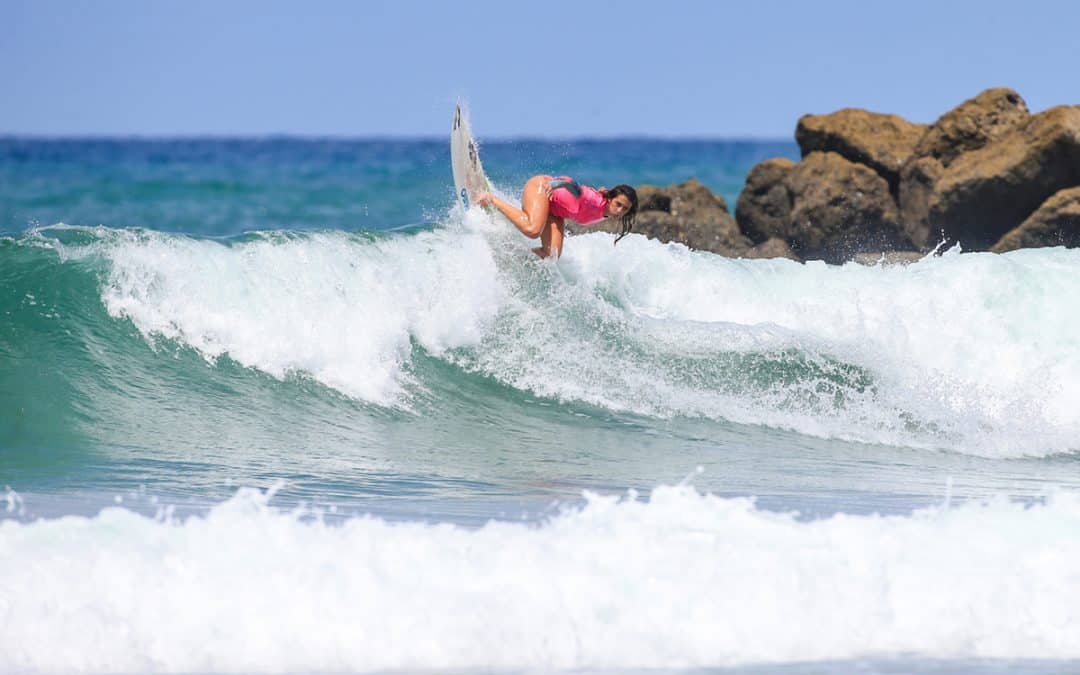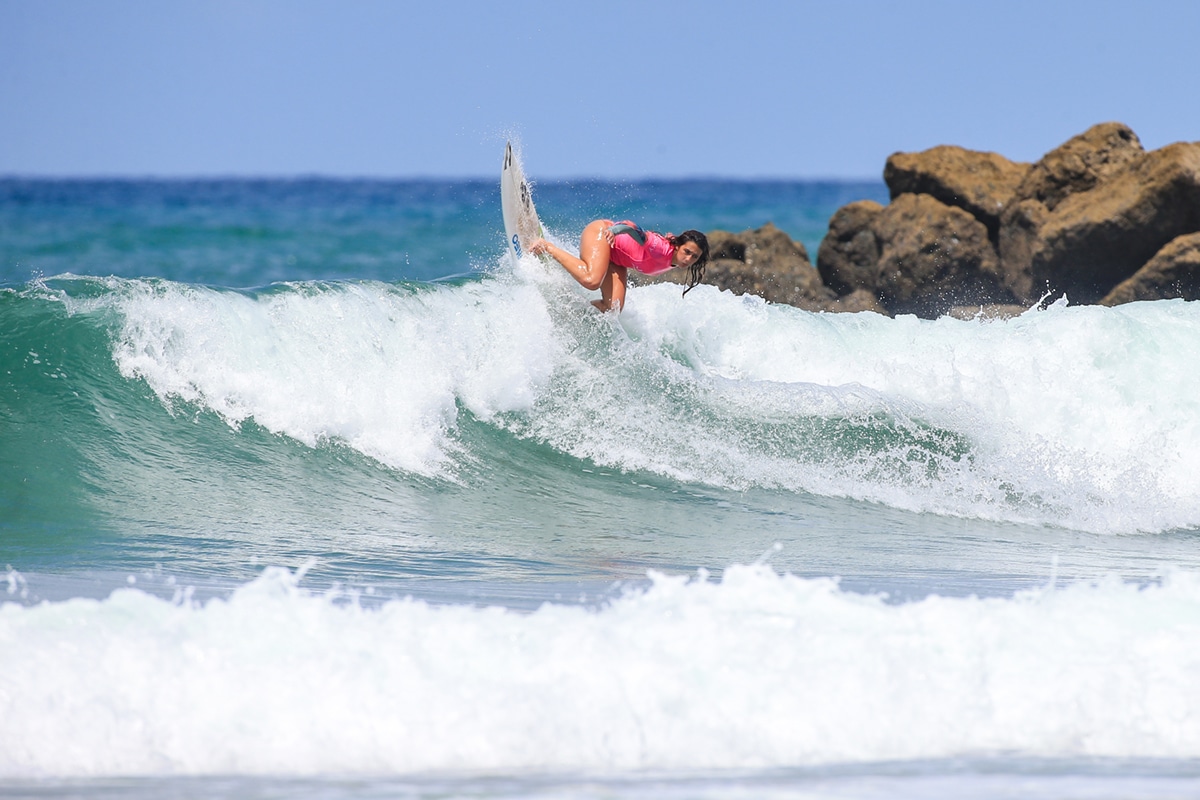 Plage du Santocha / Capbreton, Landes, Nouvelle-Aquitaine, France (Thursday, July 18, 2019) – The Quiksilver and Roxy Junior Pro 40continued in fun conditions again today in France and ran through another massive day of competition to complete 32 heats of women's Round 2 and men's rounds 2 and 3.
The event's top seeds entered the show in women's Round 2 and the opening heat nearly turned into a nightmare for current rankings leader Mafalda Lopes (PRT Above). The talented goofy foot received an interference in the opening minutes of the exchange and her performance was therefore judged on one single wave. She waited patiently in the lineup for a bomb and when the wave came, she made sure she surfed it to its full potential, racking up an 8.67 to advance in second position.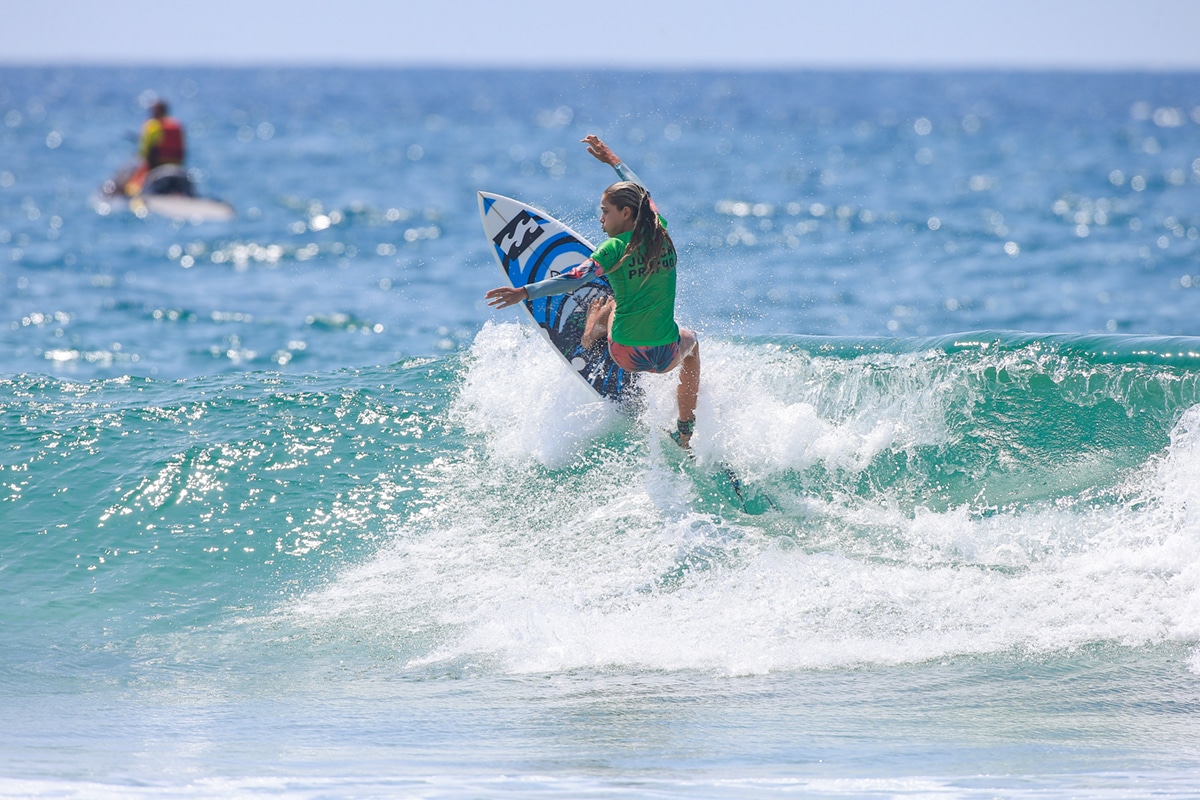 "I was so scared out there after I got the interference," Lopes said. "I'll definitely need to focus more on my decisions in the water but thankfully I was able to fight back and advance. I always knew I was capable to do it but honestly I was shaking with fear out there."
Aelan Vaast (PYF) continued to impress with a dominant display to take the win in Heat 5 ahead of current European No. 2 Ellie Turner (GBR). The 14 year-old Tahitian surfer adapted perfectly to the changing conditions in her first-ever junior event in Europe.
"I'm really happy to have such a good start in my first event here," Vaast stated. "Conditions are tough to break down with all the tides etc. but I have a coach helping me out here and my brother Kauli who gives me good tips too. We both have our own styles but I'm definitely inspired when I watch him surf and I do try to emulate his surfing."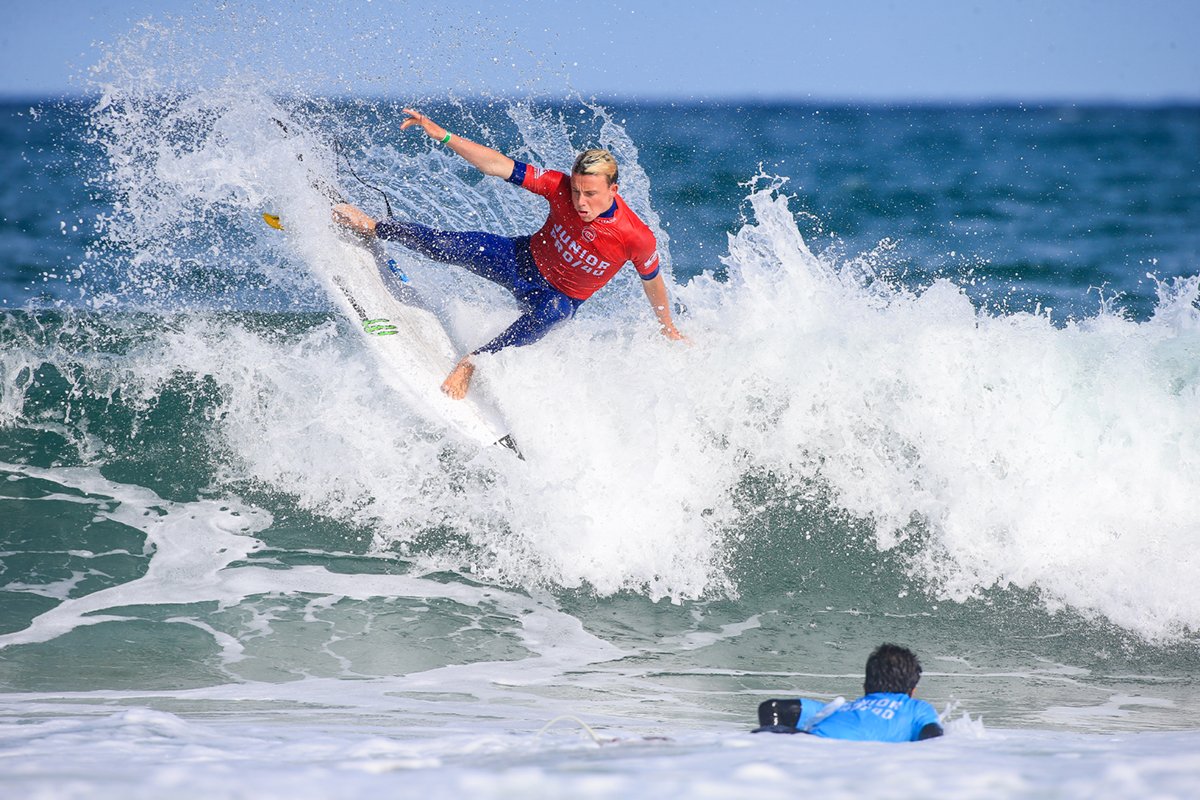 In the men's field, the opening two heats of Round 3 were completed in the afternoon, with a major upset in the opening heat, current European No. 6 Lenni Jensen (DEU) eliminated in his first heat. But the day's highest single score actually came in Round 2 from Fynnlee Miller Cooley (GBR) for a three-turn combo on his forehand to take the win into Round 3.
"I was pretty lucky to get that one actually as I was in third priority at the time," Miller Cooley explained. "It was a pretty fast wave with three good sections so I'm happy I got that score. I'm in my last season on this tour so I'm hoping I can make a few more rounds and climb up into the Top 15 or Top 10 by the end of the year, then it'll be the QS. Growing up in Lanzarote I haven't got a lot of experience with beach breaks but I feel like I'm improving there."
Surfers will be back at 7:30 a.m Friday for an early re-start of men's Round 3 while the women will come in at 12 p.m.
The event will unfold from July 17-21, 2019 in Capbreton/Hossegor/Seignosse, Landes, Nouvelle-Aquitaine, France. For all photos, videos, news releases about the Quiksilver and Roxy Junior Pro 40, visit worldsurfleague.com and the WSL app.
The Quiksilver and Roxy Junior Pro 40 is supported by Quiksilver, Roxy, the Nouvelle-Aquitaine Regional Council, the Département des Landes, the Communauté de Communes Marine Adour Côte-Sud, the councils of Capbreton, Hossegor and Seignosse, and Virgin Radio.