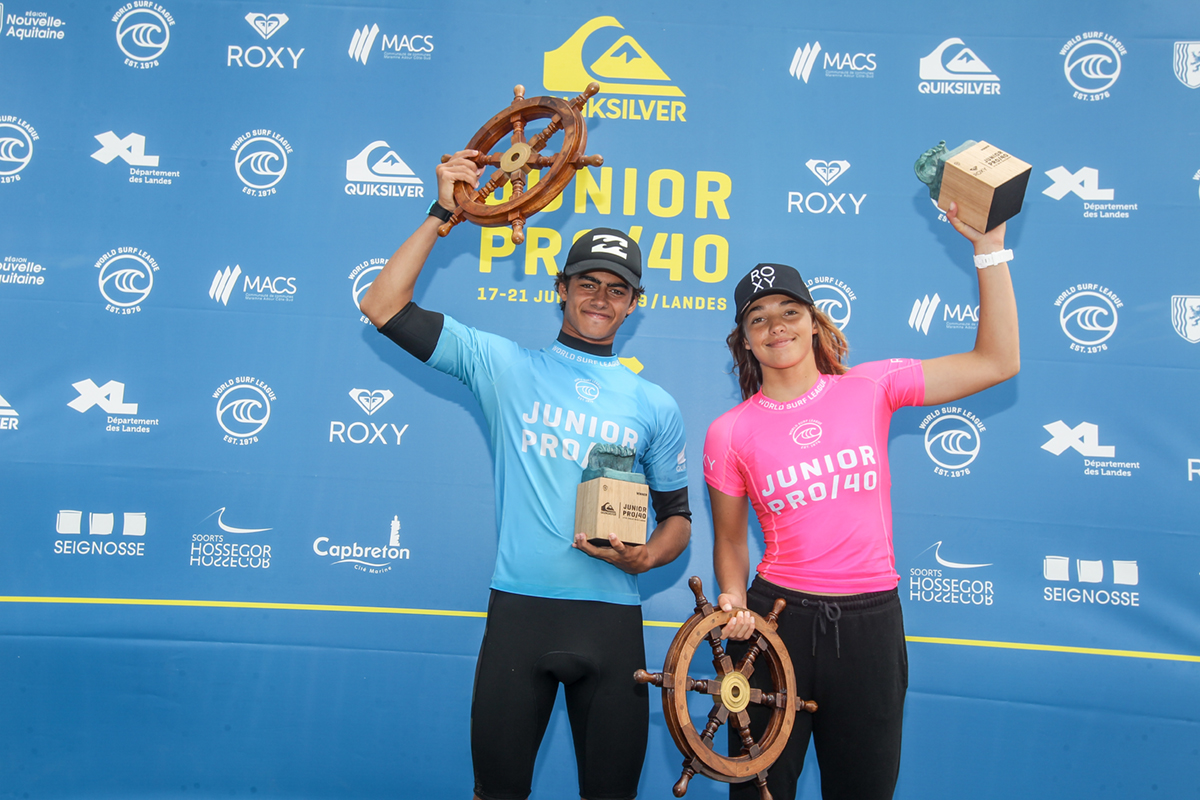 Plage du Santocha / Capbreton, Landes, Nouvelle-Aquitaine, France (Sunday, July 21, 2019) – Juliette Lacome (FRA) and Tiago Carrique (FRA) have won the Quiksilver and Roxy Junior Pro 40 today, claiming victory in the Final bouts against Melania Suarez Diaz (ESP) and Kauli Vaast (FRA) held in good three-to-four foot surf at Santocha.
Stop No. 4 of 5 on the 2019 World Surf League (WSL) European Junior Qualifying Series (JQS), the Quiksilver and Roxy Junior Pro 40 have been treated to great conditions all week after a month-long flat spell in France.
Juliette Lacome (FRA) and Melania Suarez Diaz (ESP) took it to the water first in the Roxy Junior Pro 40 Final and went blow for blow in an exciting showdown. The French surfer on her forehand managed to navigate the flat sections and hit the closeout better and put a solid 7.33 on her first wave.
The Canarian answered with good waves on her backhand, surfed with flow but slightly less verticality as she built a healthy scoreboard. But Lacome found an even better wave and put the final nail in her opponent's coffin with an excellent 8.07, pushing the requirement very high for Suarez Diaz. As time ran out, Lacome claimed the win in Capbreton, her first on the Junior tour.
"It was a stressing week for me as I was pretty far in the rankings," Lacome said. "But we had super fun waves and it's great to compete near home. It's great to finally win an event on the junior tour, and to do it here in France is even better."
Lacome had a relative slow start to her season with back-to-back equal fifth places in Portugal and missed out on the third event due to injury. She came back fired up on home soil and looked poised to take the win this week. She eliminated the current European title race leader Mafalda Lopes (PRT) in the Quarters. This result puts her right back into contention for the regional crown before the final event of the series in the Azores in September.
"The last comp is going to be tough because Mafalda and Ellie are such good surfers and they've got a good lead on me," Lacome continued. "But I did what I had to do here and I know I'm capable of doing it again, I'll just need to be 100% focused and mentally prepared."
Suarez Diaz had a stellar road to the Final, posting excellent scores along the way. She also eliminated the current No. 2 on the European rankings Ellie Turner (GBR) in the Quarters. After a deceiving start of 2019, the Canarian raised to the challenge this week and showed great surfing on the rights of Santocha to claim the runner-up spot. She will climb up to fifth in the rankings before the final stop.
"I'm super happy with my result today," Suarez Diaz said. "Waves were excellent this week so I had a lot of fun. I started really bad in the first few events so it's great to get a big result and I hope I can do as well or better in the final event."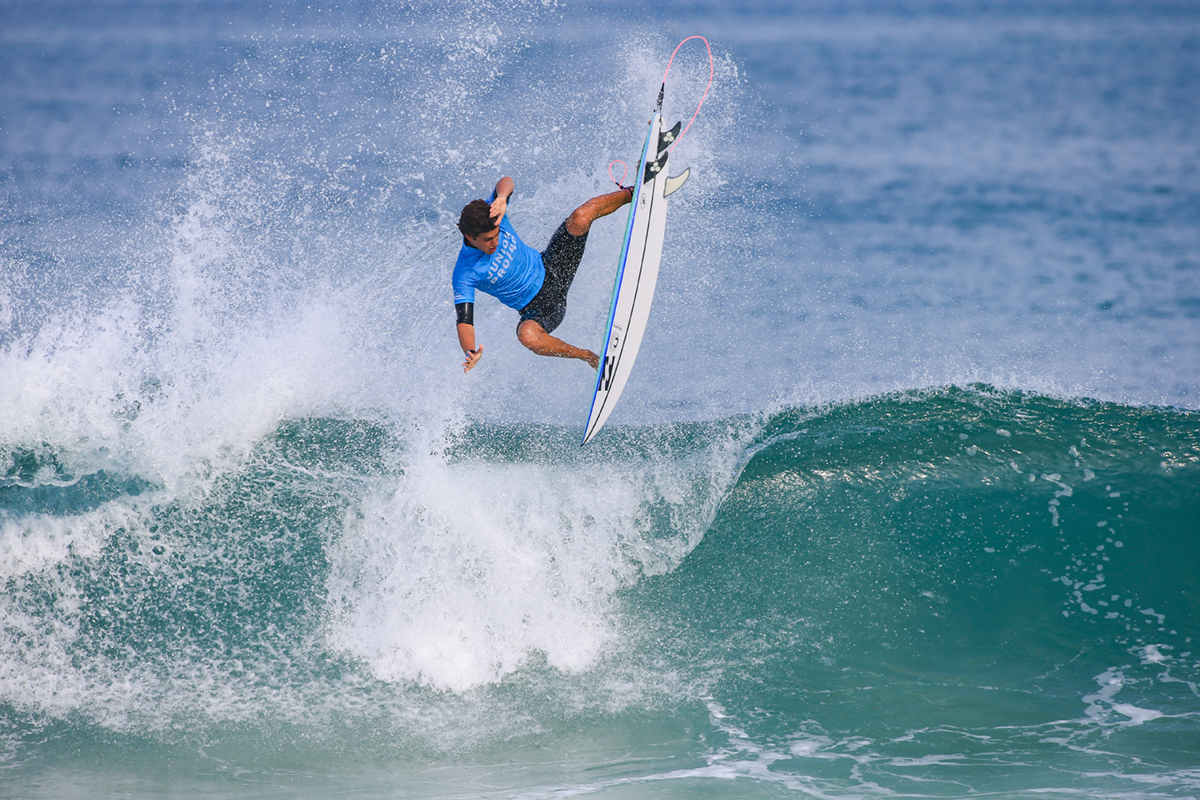 Lacome and Suarez Diaz eliminated Lucia Machado (CNY) and Francisca Veselko (PRT) respectively earlier in the Semis. Veselko destroyed a right with two turns on her forehand and posted a 9.00 point ride but couldn't find a high-enough backup to advance as most of her other waves shut down.
When Kauli Vaast (FRA) and Tiago Carrique (FRA) paddled out for the Quiksilver Junior Pro 40 Final, the tension was palpable as the European title was in the balance if Vaast managed to take the win. Both surfers fought for first priority to the point where they exited the competition area behind the break wall. After a re-start due to the first ten minutes of the heat bringing no surfable wave, the show finally got underway with a first exchange.
Both surfers posted a mid-range score but things escalated quickly on their second wave. In an all goofy foot affair, the difference was made mostly on wave selection and Carrique got the better hand. His second score of 8.17 instantly put pressure on Vaast.
But the Tahitian, a highly experienced competitor already, kept surfing his heat, improving his scoreline on the next two attempts with two 7+ waves as he claimed the lead back. Carrique managed to milk a smaller wave with sharp backhand turns and turned in a 7.40 to finally take the win.
Carrique won his second Pro Junior event of the season after winning in La Torche a few months ago and showed he's the form surfer of the hour. His result today moved him up to second behind Vaast on the rankings and the title race will be as exciting as ever when surfers return in the final event of the season.
"I've never won an event before and now that's two back-to-back so that's epic!" Carrique stated. "I'm still riding the same board from La Torche, I haven't changed much since then, I've just surfed a lot and trained hard for this. My goal coming into this year was to fight for the title so i'm super happy to be in the race now. My dad took a day off to come watch me today so I'm stoked he was able to be here today."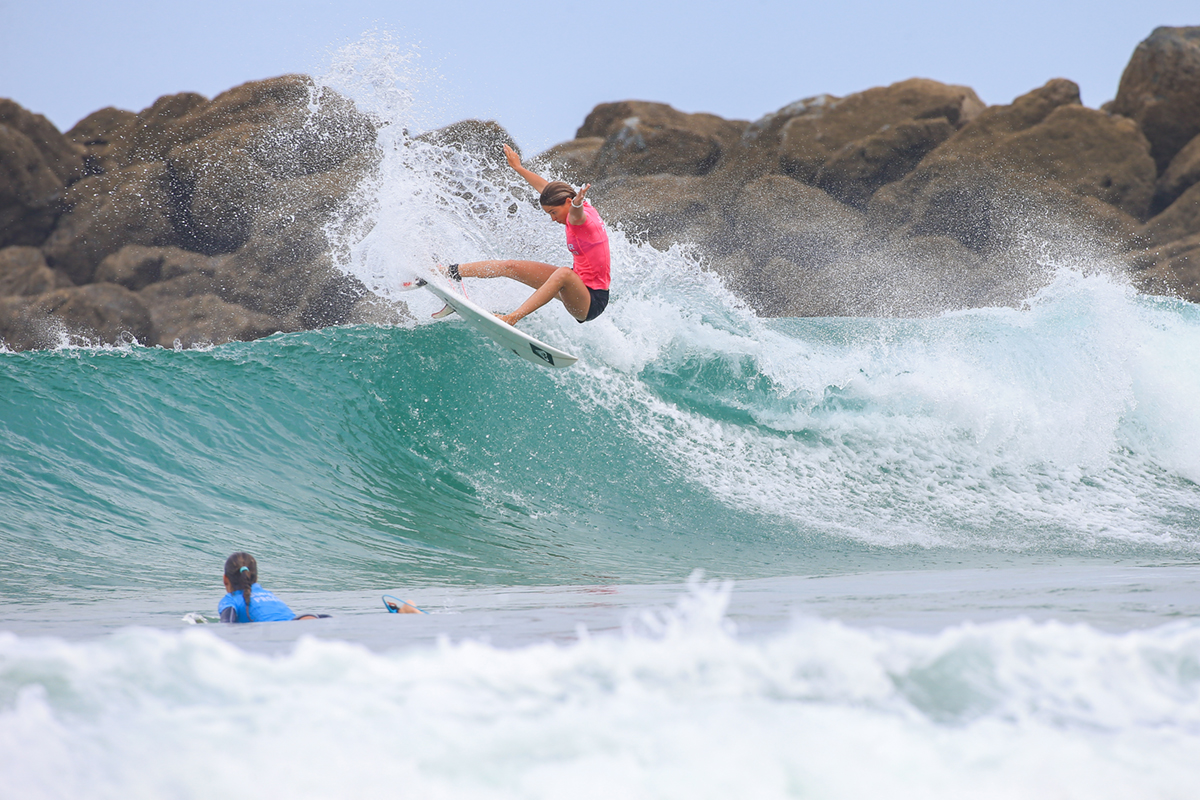 Vaast had a golden opportunity to secure his second European Junior title in Capbreton with a win, but couldn't quite match Carrique's rhythm this afternoon and had to settle for second place. The Tahitian still keeps the upper-hand as his impressive results so far this season: 1st, 2nd, 2nd, 3rd will require his opponents to go big to overtake him.
"I really wanted to win this but I guess I didn't get the right waves today," Vaast explained. "I felt like I did what I could but I was really lucky with the conditions. That's twice that Tiago has beat me now so hopefully if there's a third time it'll go my way!"
Carrique and Vaast had previously dispatched Selyann Zouhir (MAR) and Joaquim Chaves (PRT) in the Semis.
During the podium ceremony, World No. 16 and local hero Jeremy Flores(FRA) came to congratulate the finalists and expressed his emotion after seeing junior surfing back in Capbreton.
"I was so stoked to see an event back here at the Santocha in Capbreton," he said. "It's a legendary event and all the greats have surfed here. Waves have been super fun this week and the kids absolutely ripped! Both the boys and girls were super impressive, there are plenty of surfers that I'd never seen and I'm impressed with the level in general, I think the future of European surfing is in great hands. If they can keep their head down and continue to work hard, I'm sure some of them have a very bright future ahead."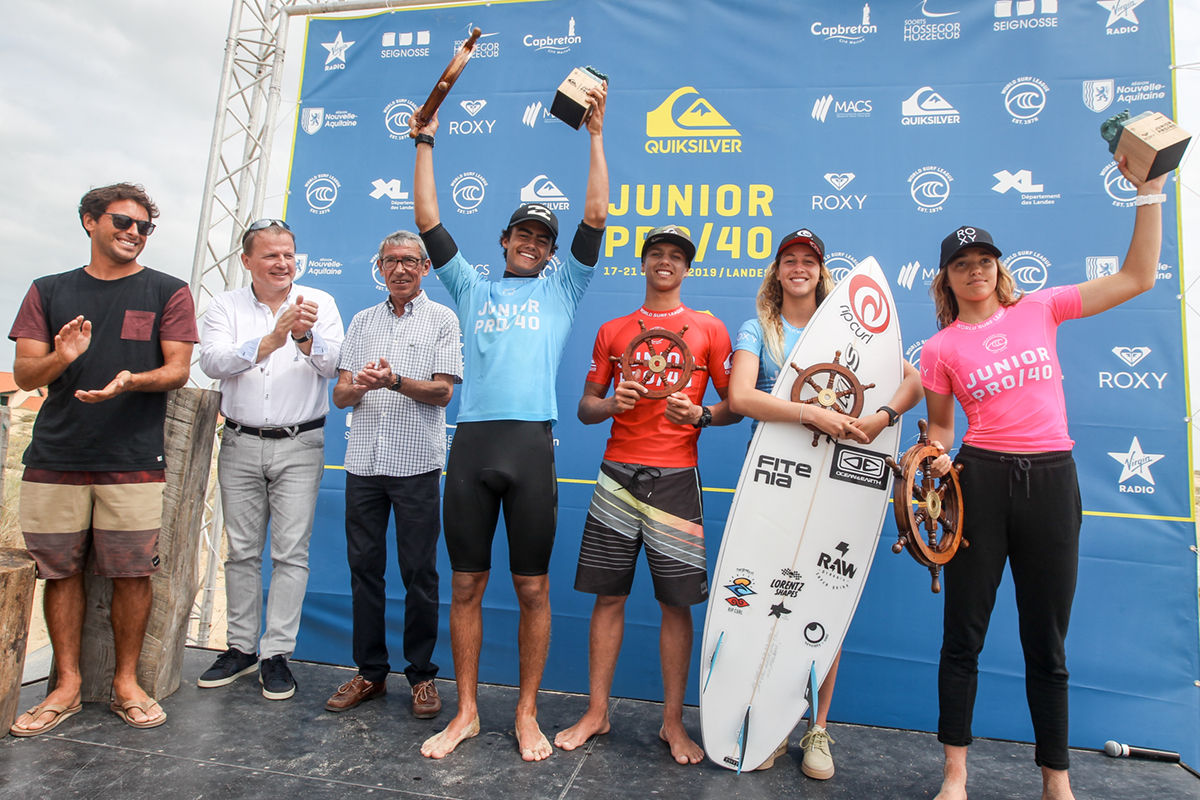 With the completion of the Quiksilver and Roxy Junior Pro 40, the European rankings have once again evolved, here is the new current Top 5:

European Men's JQS Top 5:
1 – Kauli Vaast (FRA) – 3060
2 – Tiago Carrique (FRA) – 2530
3 – Justin Becret (FRA) – 2305
4 – Selyann Zouhir (MAR) – 1840
5 – Afonso Antunes (PRT) – 1430
European Women's JQS Top 5:
1 – Mafalda Lopes (PRT) – 2,590
2 – Ellie Turner (GBR) – 2220
3 – Juliette Lacome (FRA) – 1840
4 – Lucia Machado (CNY) – 1680
5 – Melania Suarez Diaz (ESP) – 1530
Surfers will now have until mid-September to train for the final event on the 2019 European Junior Qualifying Series, the Ribeira Grande Pro Junior in the Azores.
Photos: Masurel