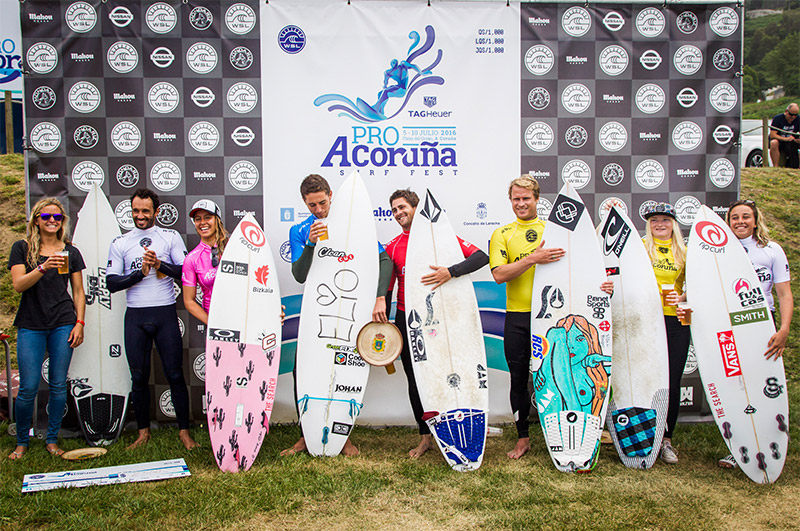 Finalistas QS © Poullenot-WSL
Jonathan Gonzalez and Ariane Ochoa have won the inaugural QS1,000 Pro A Coruña in shifting three-to-five foot surf at the secondary venue of play de Caion.
The women's final was first to hit the water, with all surfers opting to sit out the back on the low tide bank instead of in the shore break like the previous heats had seen. The slow matchup witnessed Ariane Ochoa (EUK), 18, capitalize early with a two-turn combo on an outside set to take an early lead. The moving lineup served fast-breaking, short rides only allowing one or two maneuvers and kept all athletes scores in the average range. All following efforts from her opponents proved insufficient and the Basque junior claimed her maiden Qualifying Series win.
"I'm so incredibly happy today, I felt a little bit frustrated with my second place in the Juniors yesterday, I have worked hard for it and I hoped to take it out," she reflected. "But today I came with a positive frame of mind thinking this was another opportunity so I'm stoked to win. I've always looked up to Pauline since I was really young and to surf against her today and win is very special. She's an amazing surfer and a fantastic person, I hope I get to travel and surf with her again in the future."
Placing second to Ochoa today was former Championship Tour competitor Pauline Ado (FRA), 25, who couldn't execute her game plan as expected in the tricky conditions and was left chasing a medium score for the pole position. Today's second place for Ado comforts her lead in the European title race as surfers will move onto the next event in Portugal in two weeks.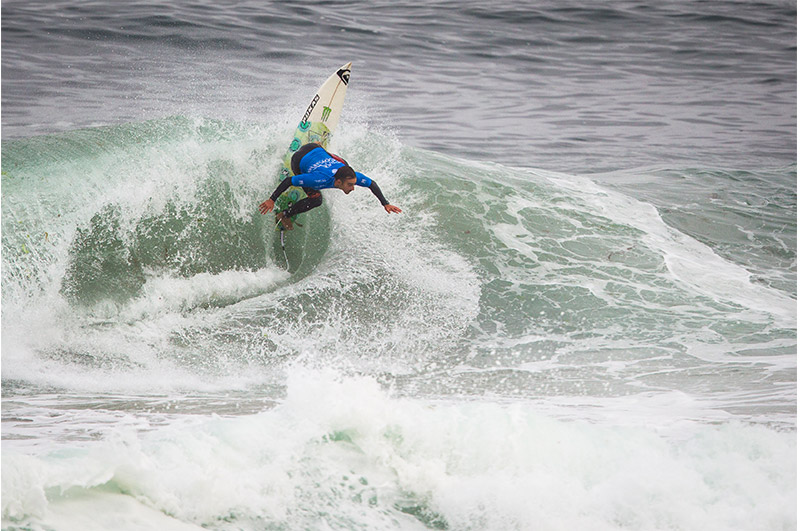 Julian Cuello (CNY) © Poullenot-WSL
"I'm really disappointed because I thought it would be a great battle out there and with much better scores, I think maybe expecting too much beforehand got me overlooking opportunities," she analyzed. "I'm happy for Ariane, she's done really well and definitely deserved her win today."
The men's final was a two-way battle between Jonathan Gonzalez (CNY), 35, and Jorgann Couzinet (REU) who immediately put their opponents out of reach of the title with a solid 9 point ride each on similar solid right-handers with huge turns and maximum risk taking.
Gonzalez backed it up with a good 7.17 ride for the lead and despite two very close attempts from the Reunion Island surfer, Canarian Gonzalez stayed on top and claimed his second QS win this season after winning in Zarautz earlier this Spring.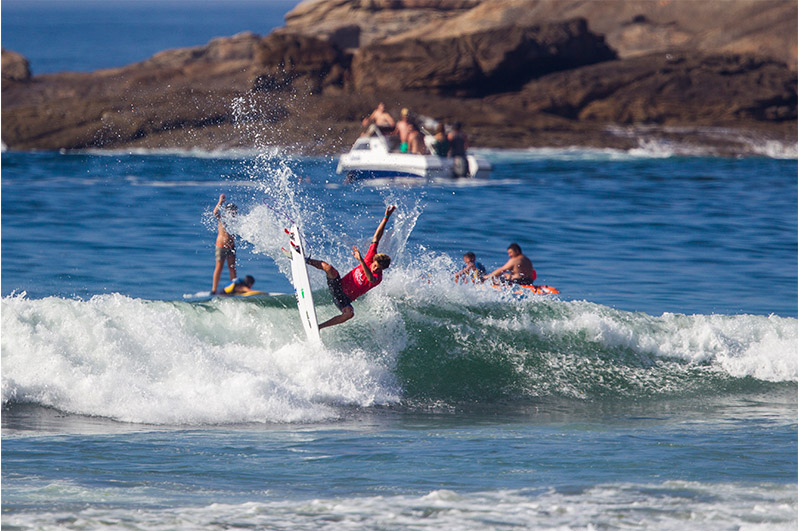 Marco Mignot (FRA) © Poullenot-WSL
"I wish I could do this good at a QS10,000, but to win two events in Europe is pretty amazing," he said. "This particular event was incredible, having everyone involved in all categories made it really fun and I'm stoked to take out the first one. That final was really fun, we had big rights and that's what I prefer, I thought my board was a little bit small for it but it worked out. I'll move onto the next few events feeling confident and I'll try to stay relaxed and have fun like I did here, it's definitely the only way to surf your absolute best."
Couzinet never backed down and tried his best up until the final horn sounded, but following his excellent first turns, the young surfer couldn't stick his final maneuver and was forced to place runner-up. A surfer on the rise, Couzinet reached the final of a QS event for the first time in his young career and will be a force to be reckoned with in the near-future.
"I really thought I was going to win that one when I got the 9, but I fell on the two important waves where I could have gotten another big score," he said. "I think I still lack confidence and maybe take a little too much risk considering the circumstances. But I can feel all the hard work is paying off and I'm close to getting where I want, on top of a podium!"
PRO A CORUÑA MEN'S QS FINAL RESULTS:
1- Jonathan Gonzalez (CNY) 16.34
2- Jorgann Couzinet (REU) 15.20
3- Gony Zubizarreta (ESP) 9.84
4- Marlon Lipke (PRT) 9.76
PRO A CORUÑA WOMEN'S QS FINAL RESULTS:
1- Ariane Ochoa (EUK) 9.77
2- Pauline Ado (FRA) 8.24
3- Maddi Aizpurua (EUK) 6.20
4- Peony Knight (GBR) 6.20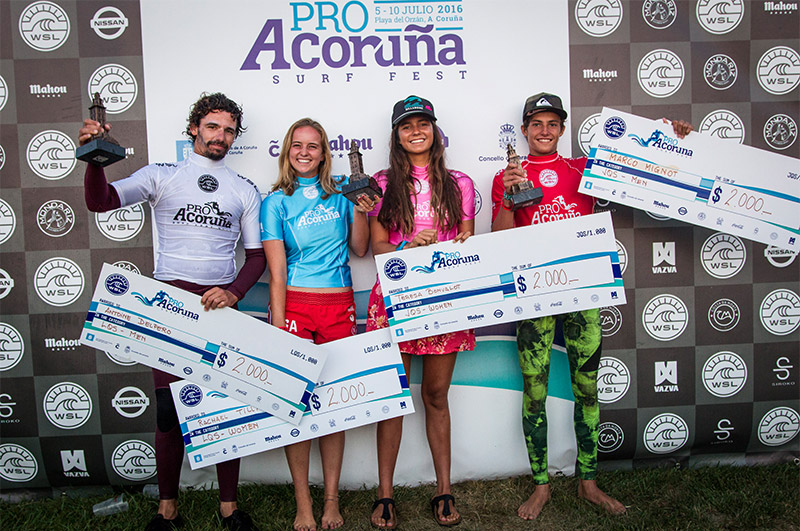 Finalists LONGBOARD JUNIOR © Poullenot-WSL
Junior Pro A Coruña
Meanwhile Marco Mignot and Teresa Bonvalot claimed the under-18 titles at the Junior Pro A Coruña in clean, building three-to-five foot surf at playa de Caion.
The men's junior final rounded up the day's amazing action with a 25-minute final right at sunset. Marco Mignot (FRA), 15, picked up where he left off and seemed virtually unstoppable in the solid surf at Caion. The young natural footer caught the wave of the heat early on and produced his signature powerful forehand carves, mixing it up with aerial maneuvers to close the deal on his maiden Junior Qualifying Series event win. With his result today, Mignot climbs up to second on the region's ladder in close distance of current rankings leader Thomas Debierre (GLP).
"To win here is incredible, I started the final well with a big score and managed to get a good second wave to seal it so that was a great heat for me," he said. "My dad told me earlier this week that I was surfing well and he thought I'd win it so I'm super stoked to prove him right today. My brother won his first junior event in Spain as well so that just adds a little sweetness to this win today. I'm not really thinking title scenarios right now, that would just add pressure on me. I'm rather just enjoying myself, I'm in love with surfing, this final was amazing because everyone had a smile on their face and it's great to win such a special heat."
Longboard Pro A Coruña
Antoine Delpero (FRA), 30, once again dominated the longboard field and claimed his third consecutive regional event win, belting the highly coveted European Longboard Champion title in the process. The Frenchman found two excellent waves in the opening minutes of the final heat and surfed them with a mixed approach of classic nose riding and strong closeout hacks for a combined heat total of 15.13.
"It's been a strange event with really small waves to start with, a lot of waiting to culminate with finals in big closing out surf so it was real complicated," he said. "I've had this cool little routine going into the last few events, I really just want to enjoy myself, surf smart and catch the two waves I need to win heats. I've felt less pressure and I feel like I keep improving so that's very positive. The level here in Europe is really high, we had the chance to welcome international competitors as well and I hope one of us can get that World title soon."
Reigning World Longboard Champion Rachael Tilly (USA), 18, got a head start on her opponents in the women's longboard final with a solid 7.17 wave for a lengthy nose ride and the early lead. The quickly building swell served up big chunky sets and very few opportunities for traditional style longboarding as Chloe Calmon (BRA), Lindsay Steinriede (USA) and Justine Dupont (FRA) kept chasing open shoulders and sections to exploit.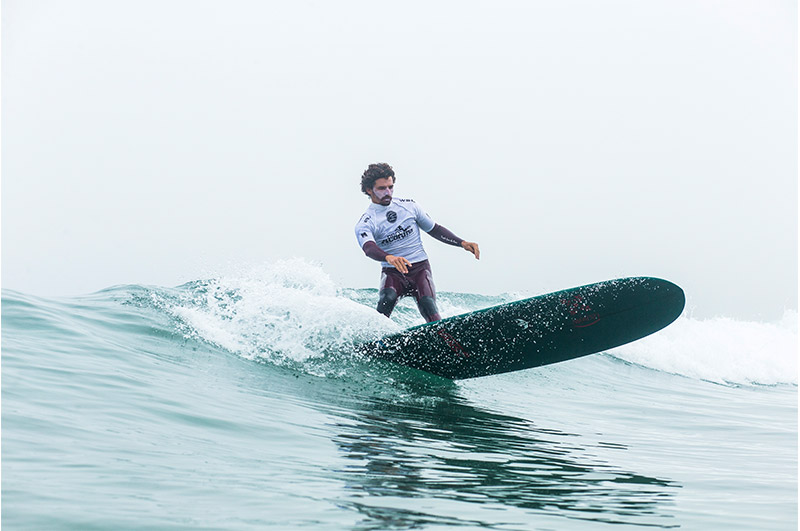 Antoine Delpero © Poullenot-WSL
PRO A CORUÑA MEN'S LQS FINAL RESULTS:
1- Antoine Delpero (FRA) 15.13
2- Edouard Delpero (FRA) 14.33
3- Augusto Olinto (BRA) 11.33
4- Emilien Fleury (FRA) 5.83
PRO A CORUÑA MEN'S LQS SEMIFINAL RESULTS:
SF 1: Augusto Olinto (BRA) 17.00, Emilien Fleury (FRA) 14.07, Ben Skinner (GBR) 13.67, Daniel Gil (ARG) 10.20
SF2: Antoine Delpero (FRA) 14.07, Edouard Delpero (FRA) 11.87, Martin Coret (REU) 8.43, Joe Hornbuckle (GBR) 7.67
PRO A CORUÑA WOMEN'S LQS FINAL RESULTS:
1- Rachael Tilly (USA) 14.00
2- Chloe Calmon (BRA) 11.67
3- Justine Dupont (FRA) 10.03
4- Lindsay Steinriede (USA) 5.93
The Pro A Coruña Surf Fest is supported by Tag Heuer, Mahou, Nissan, Ayuntamiento de A Coruña, Concello de Laracha, Mondariz, Eleven Yellow, Coca Cola, Siroko, Club Costa Da Morte and Vazva among others.