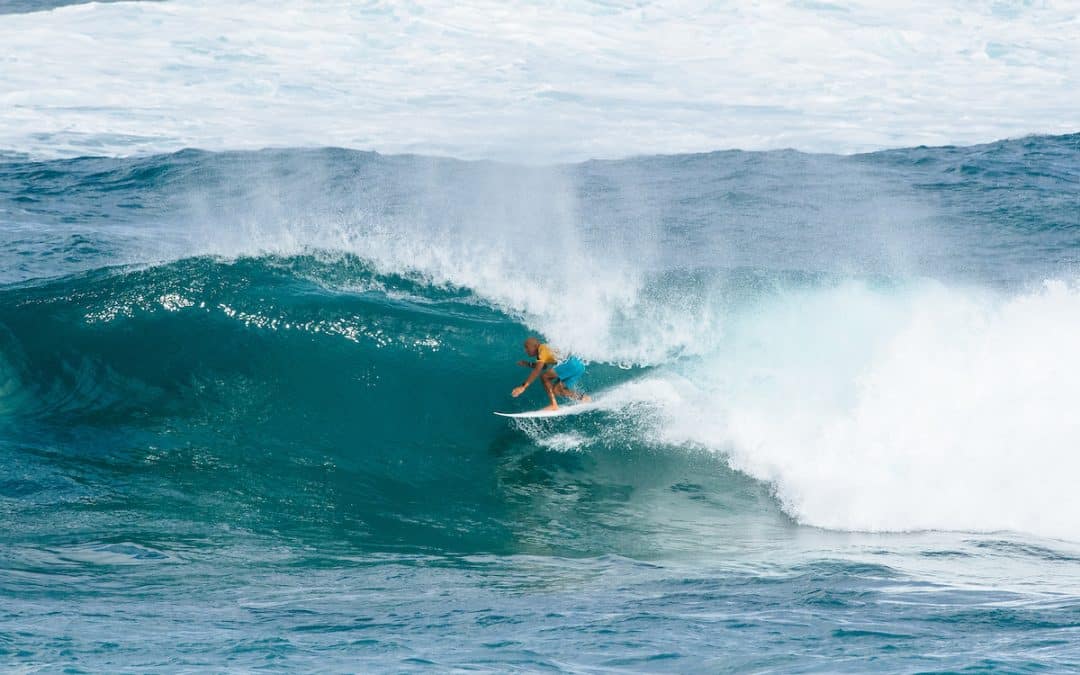 • WSL Champions Slater, Florence and Ferreira Advance to Round of 32
• Rookies Tackle Tough Conditions, Imaikalani deVault Leads the Charge
Photos: WSL / Bielmann / Heff
The Hurley Pro Sunset Beach presented by SHISEIDO, the second stop on the World Surf League (WSL) Championship Tour (CT), kicked off in sizeable conditions after four-consecutive off days. Men's Opening Round 1 and Elimination Round 2 were completed in 10-to-15 foot surf ahead of a week of promising swell.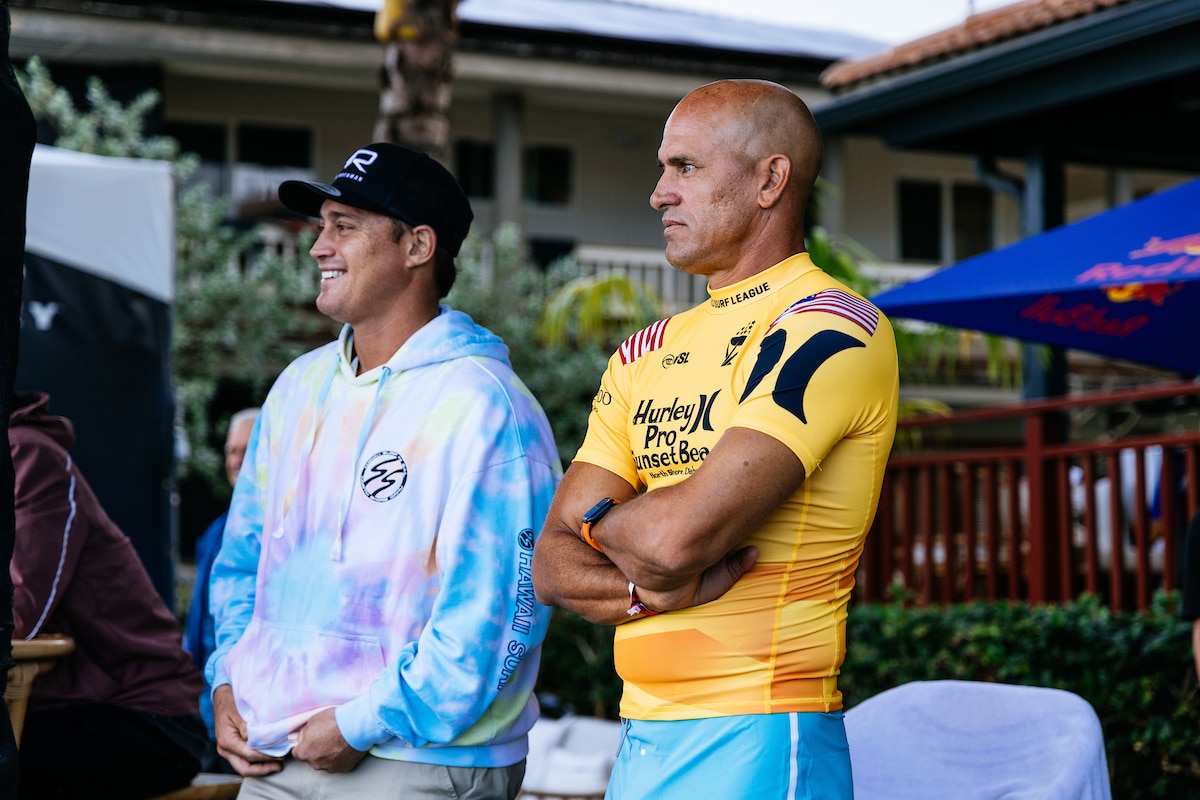 WSL Champions Slater, Florence and Ferreira Advance to Round of 32
Event replacement surfer Barron Mamiya (HAW) and CT rookie Callum Robson (AUS) upset World No. 1 Kelly Slater (USA) in a relatively low-scoring affair as the pair sent the recent Pipeline winner into the treacherous Elimination Round.
The 11x WSL Champion came out swinging in Elimination Round Heat 1 against wildcard Koa Smith (HAW) and injury replacement Matthew McGillivray (ZAF) with a 6.67 (out of a possible 10) to put pressure on the heat leader Smith at the halfway mark. However, McGillivray's impeccable forehand and positioning for time behind the curtain earned him a 7.67 under the five-minute mark to steal a heat win from Slater. In second place, Slater also advanced and eliminated Smith from the draw.
"It's not easy out there," said Slater. "I don't surf Sunset very much, so I was trying to work out my lineup on the fly and on the way out I figured out a pretty good lineup about how far I was, where those things were cornering, and how deep on the point I was. I felt good. I wouldn't say I was relaxed. I didn't feel calm at all, my blood sugar felt wrong, the whole energy of the heat felt wrong to me and didn't feel like it was my day. I had to go home and kind of reset, and give myself a little mantra, telling myself just to enjoy it. I channeled Sunny (Garcia) out there a little bit. Just thinking about all the things he'd used to tell me if I was messing up."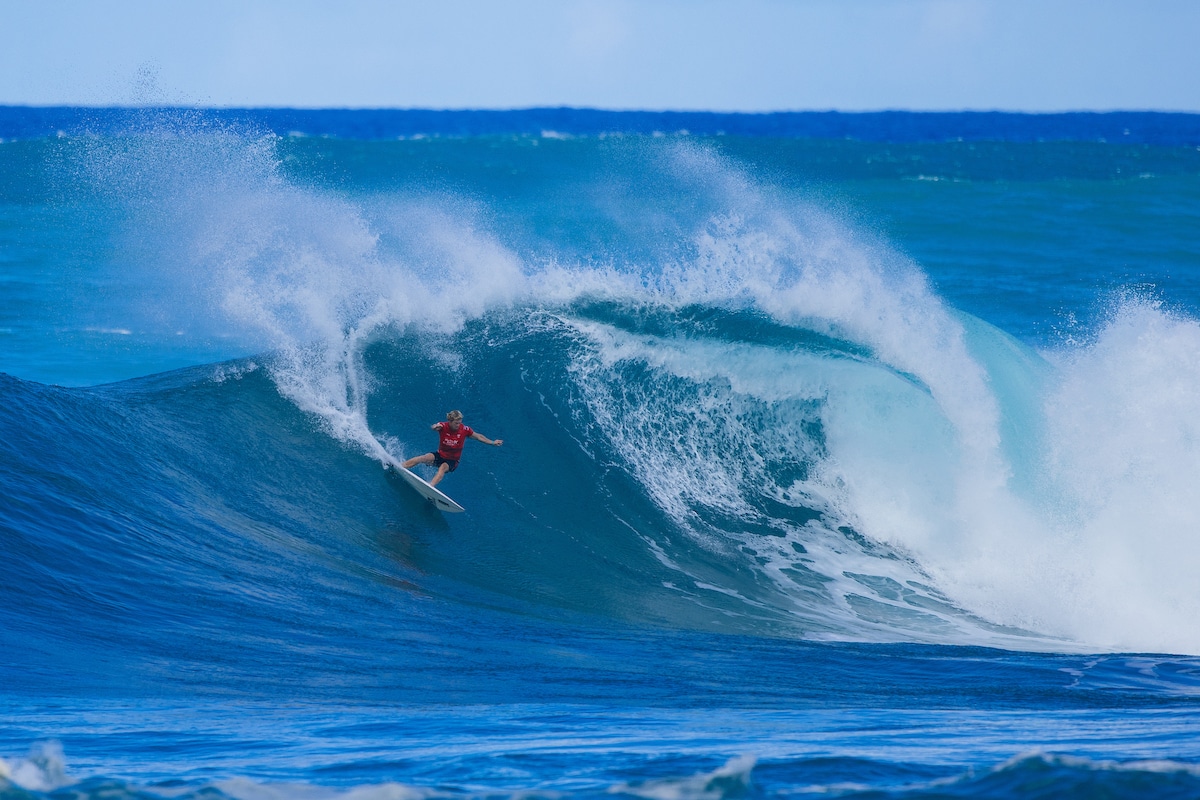 Two-time World Champion John John Florence (HAW, above) advanced in first out of his opening matchup at Sunset, drawing his signature long carves on the open face for two good scores and the win. Behind him the battle between Owen Wright (AUS) and Ethan Ewing (AUS) came down to the final-second fireworks by Ewing who started late on a bomb and committed to two massive turns for the second advancing spot ahead of his compatriot.
A matchup of heavy-hitters in Heat 5 between World Champion Italo Ferreira (BRA) and Hawaii's Ezekiel Lau and Billy Kemper produced highlights and came down to the wire. Ferreira controlled his fate from the get-go with the biggest scores early and battle ensued between Lau and Kemper, eventually going Lau's way with a buzzer-beater to finally take first place.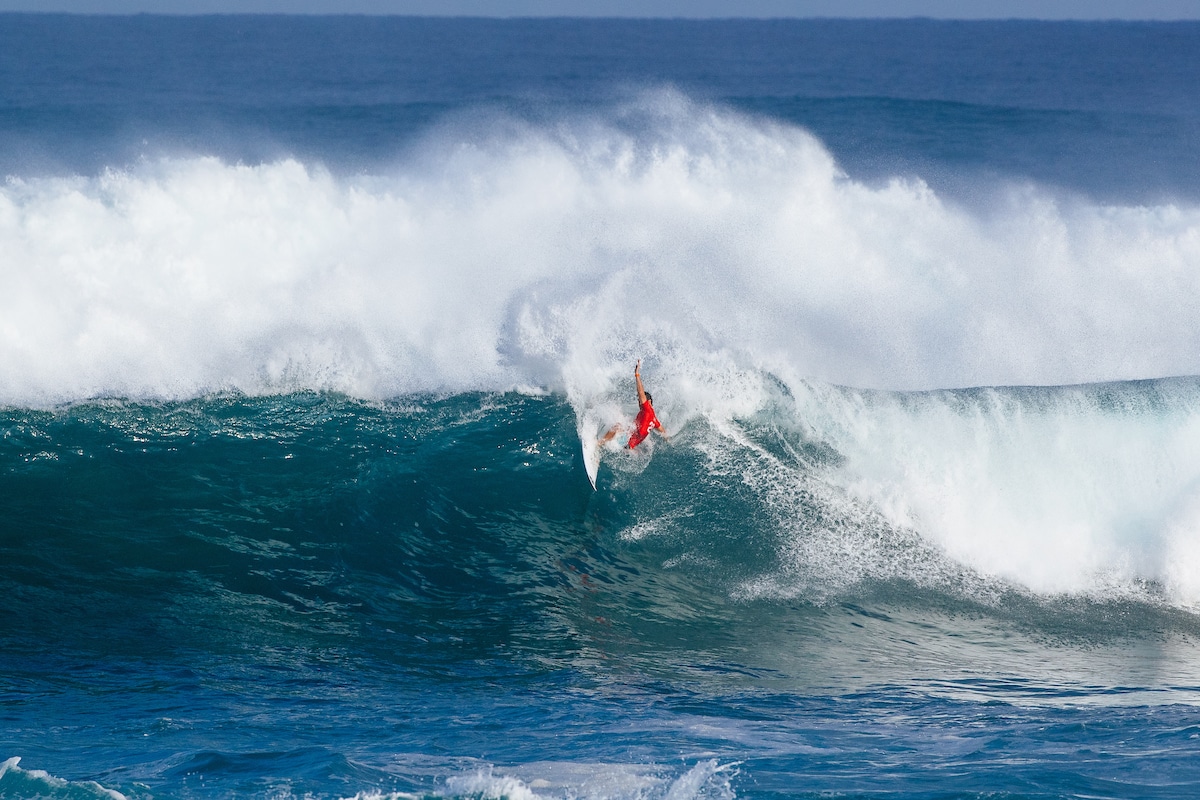 Familiar Faces Light Up at Hurley Pro Sunset Beach Presented by SHISEIDO
In the day's opening heat, Jordy Smith (ZAF, above) matched the ocean's power with his own, pushing the limits on a massive layback snap and a big re-entry to post the day and the event's first excellent score of 8.00 points (out of a possible 10). Smith, who won a Qualifying Series event at Sunset before, faced compatriot Matthew McGillivray and Ryan Callinan (AUS) and advanced straight into the Round of 32.
"It's definitely reassuring that my surfing suits this wave," said Smith. "I've had some great success out here right from the very first time I surfed in that event. But this is a whole separate deal, coming up against the best surfers in the world you just got to lay it all on the line."
Kanoa Igarashi (JPN, below) put together a solid performance in the following matchup. Igarashi seemed in total control of the rogue sets at Sunset to post his own 8 point ride, backed up by a 7.33. The Japanese surfer's wave selection was perfect as he made it look very easy to navigate the big-water lineup at Sunset.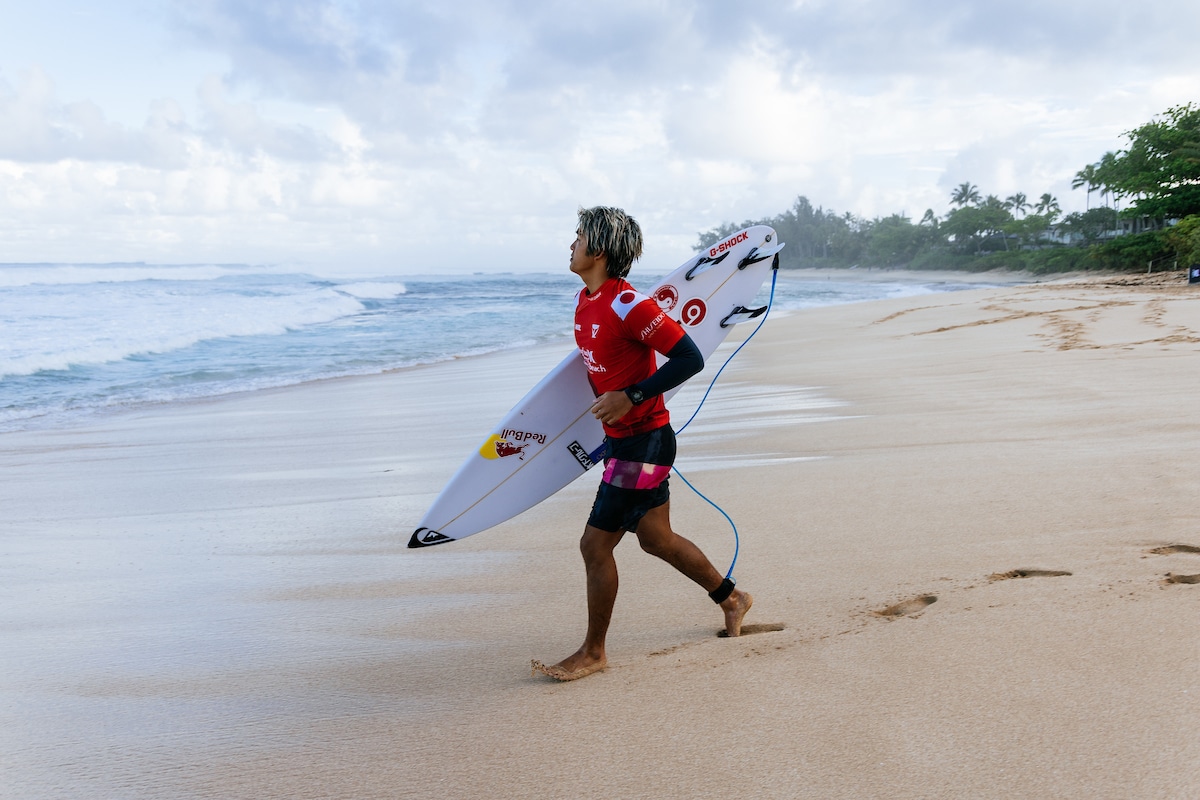 "It's just classic Sunset out there," Igarashi said. "It's a hard wave to surf physically and mentally. You get given a lot of options and you kind of have to pick the eyes out of them and find the ones that you want. I knew what I wanted out there and luckily two came, that's all I needed."
Upsets continued later in the day with current World No. 2 Seth Moniz (HAW) bested by CT veterans Kolohe Andino (USA) and Nat Young (USA). Andino took control of the affair with powerful flow through two major maneuvers to earn a 7.17 as Young's backhand garnered a 6.00 to put Moniz in the treacherous third-place position from which he couldn't recover. This marked Andino's first heat win of the year as the former World Title threat looked to rebound after an early exit at Pipeline.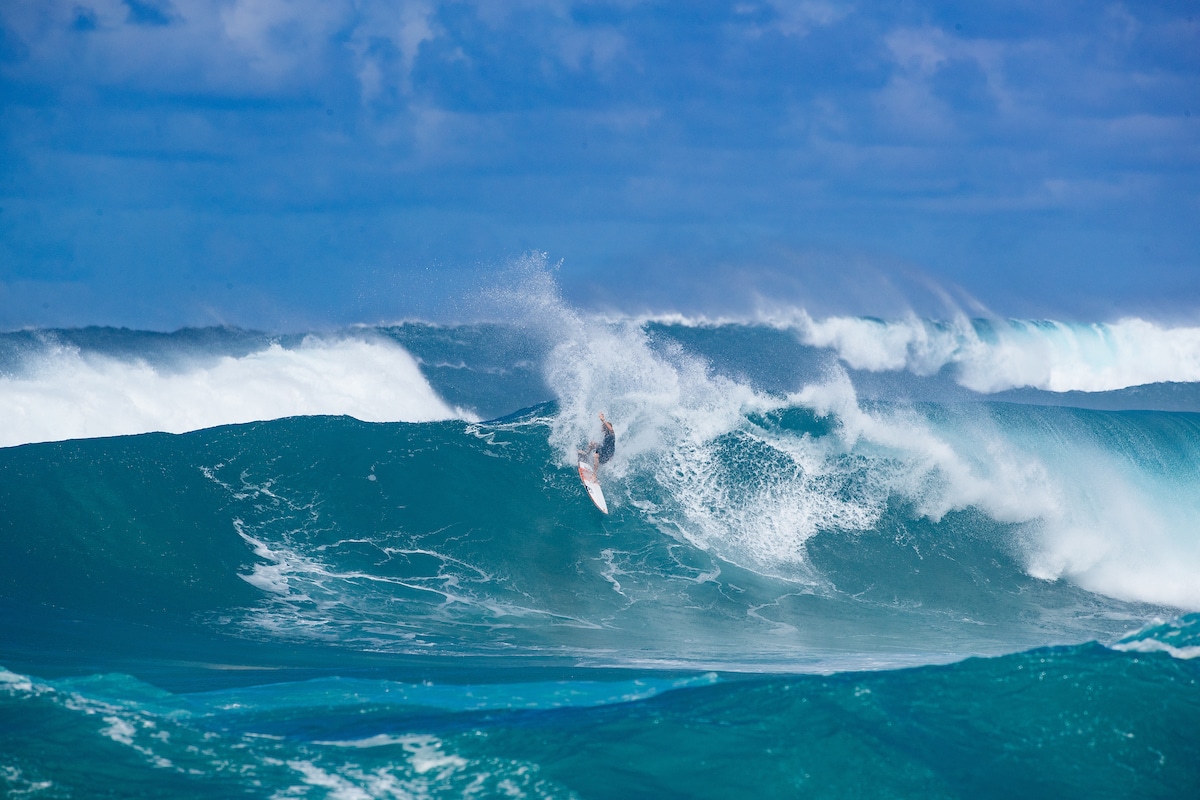 "It's the world's best so it's always going to be super hard," said Andino (above). "You're also dealing with maxed out Sunset and if the contest wasn't on there wouldn't be too many free surfers out there – it's a washing machine. It's man vs. ocean vs. competitor. I was excited for it to be big so there wouldn't be that many tactics involved and it was cool to have a heat with Nat."
Moniz recovered from his first heat and found himself locked into another battle with Brazilian duo Caio Ibelli and Miguel Pupo during his Elimination Round. The ocean became unruly as sets grew even bigger heading into the final minutes of the heat in which Ibelli had control over with Moniz securing his place over Pupo and salvaging himself from early elimination.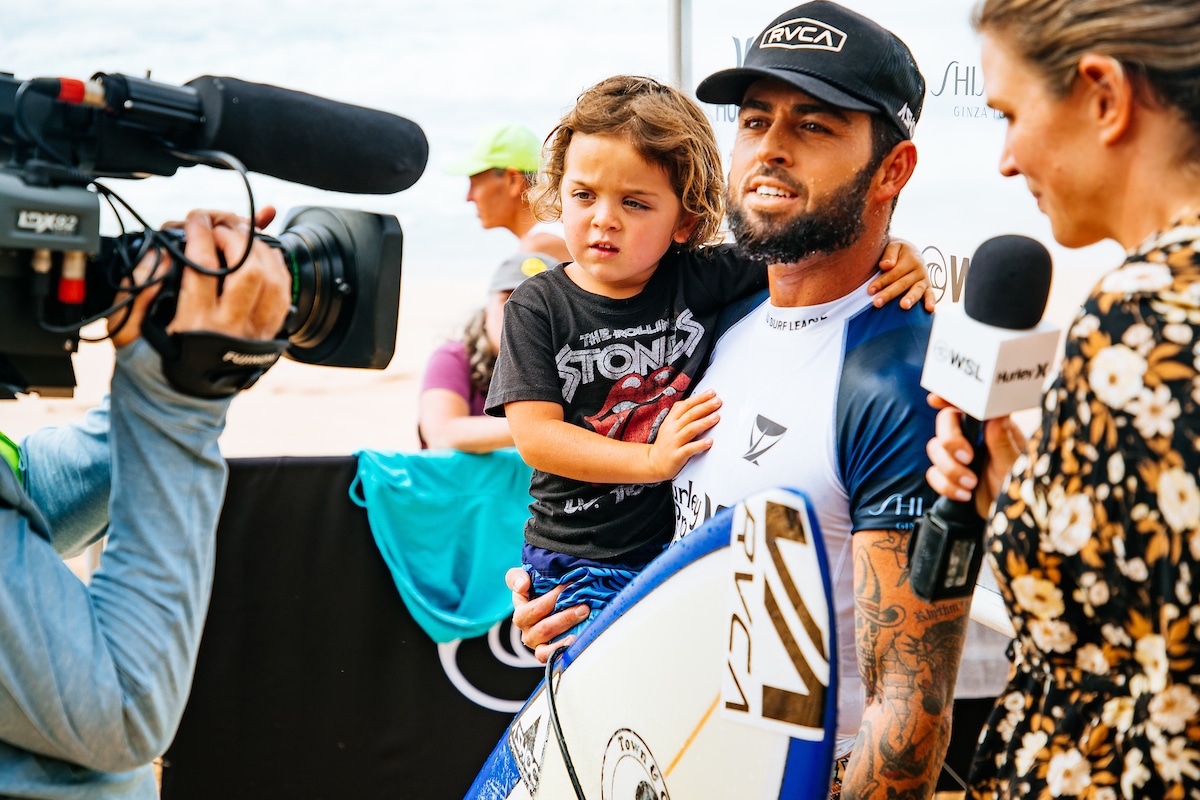 The Big Wave Champion Kemper (above) felt right at home as he battled Australians Wright and Morgan Cibilic in Heat 2 of the Elimination Round. Maui, Hawaii's own unleashed his detrimental forehand to claim a 7.93 over the CT veteran Wright and newcomer, 2021 World No. 5, Cibilic. In a low-scoring affair, Wright's interference on Kemper proved to be too much to overcome as time expired.
"These are the nitty-gritty days at Sunset Beach," said Kemper. "It's crazy. Fifteen minutes feels like so long in a heat, you feel like you've wasted the heat. But, I felt calm. I've been working a lot. I have my son here, my wife's over at Pupukea watching with my other boys and just feel really comfortable at home. I'm not out here trying to qualify or win a World Title, I'm just trying to win in my own backyard and really enjoy every minute of it, and being able to compete with the world's best. Owen, Morgan, I look up to these guys. As much as I'm a surfer, I'm also a surf fan and I love what they do on Tour and it's an honour to share the ocean with them."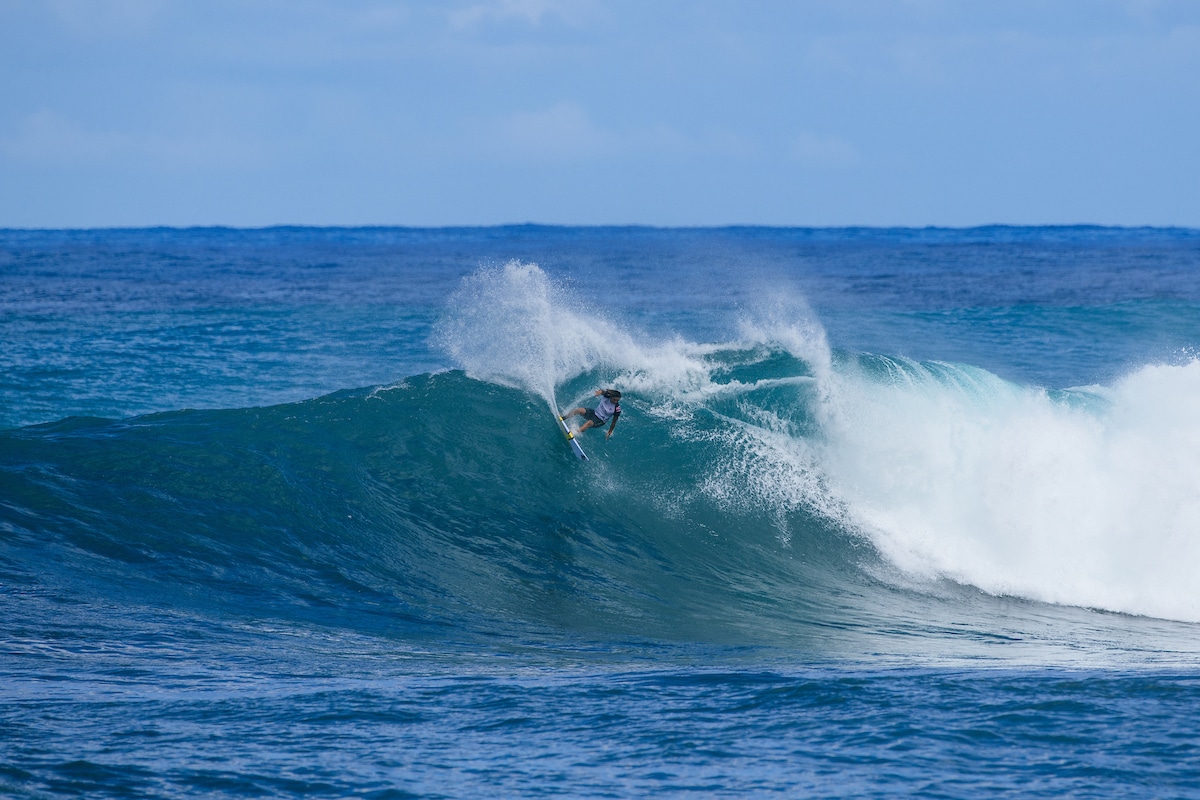 Rookies Tackle Tough Conditions, Imaikalani deVault (above) Leads Charge
An immaculate performance from Maui's Imaikalani deVault put the field on notice, garnering a 14.76 heat total (out of a possible 20) over fellow rookie Samuel Pupo (BRA) and Cibilic in their Opening Round battle. The young Hawaiian is no stranger to waves of consequence and put everything he had into each powerful maneuver to earn the day's single-wave best of 8.93. 
"It felt really good to just open up on a clean face," said deVault. "It's kind of filtering through right now and it's pretty tricky with a lot of washthroughs. And it's really hard to figure out which ones are walling up but as soon as I saw that wave and the wall to it I knew that this is the wave I've been waiting for."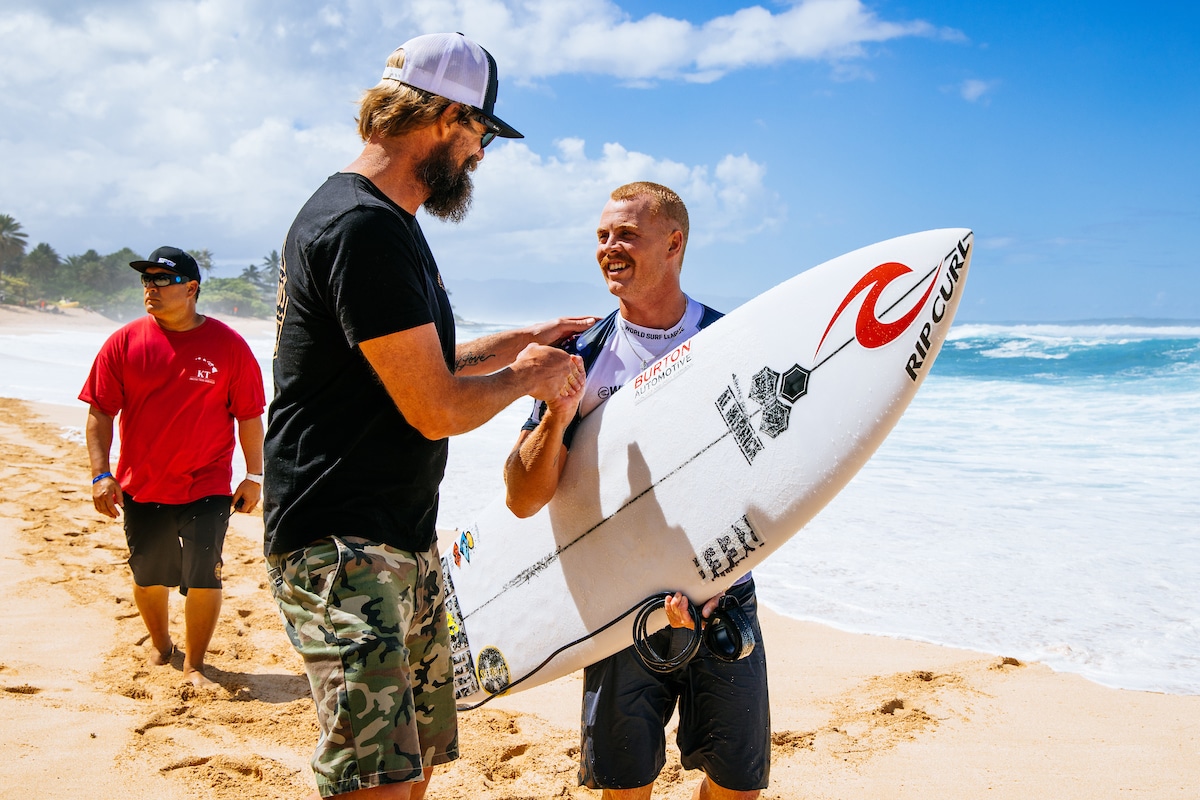 Australia's Jackson Baker (above) has a history at the famed Sunset Beach with multiple years of qualification runs coming up short at its intimidating lineup. But, Baker brought out his best to overtake the explosive talents of Griffin Colalpinto (USA) and Deivid Silva (BRA). 
An impressive showing from California's Jake Marshall earned him a massive Opening Round win over Jack Robinson (AUS), the last competitor to win a WSL competition at Sunset Beach, and Miguel Pupo (BRA). Marshall's familiarity with Sunset's reef helped the rookie showcase his surfing in the massive swell pulsing through during their heat.
"That was a tough heat, any time you get Jack (Robinson) in your heat at Sunset he's not one of the guys you want to draw because he's so good out here. I knew if I could get some good waves and do my surfing I had a good chance. I feel really confident out here and I've surfed it a ton, and it really suits my surfing. I've been coming out here almost every winter since I was 10 and a lot of times when I was younger, Pipe was pretty crowded so I'd surf out here a lot. Especially this winter with swells washing through at Pipe I would just surf out here and just getting comfortable when it's big."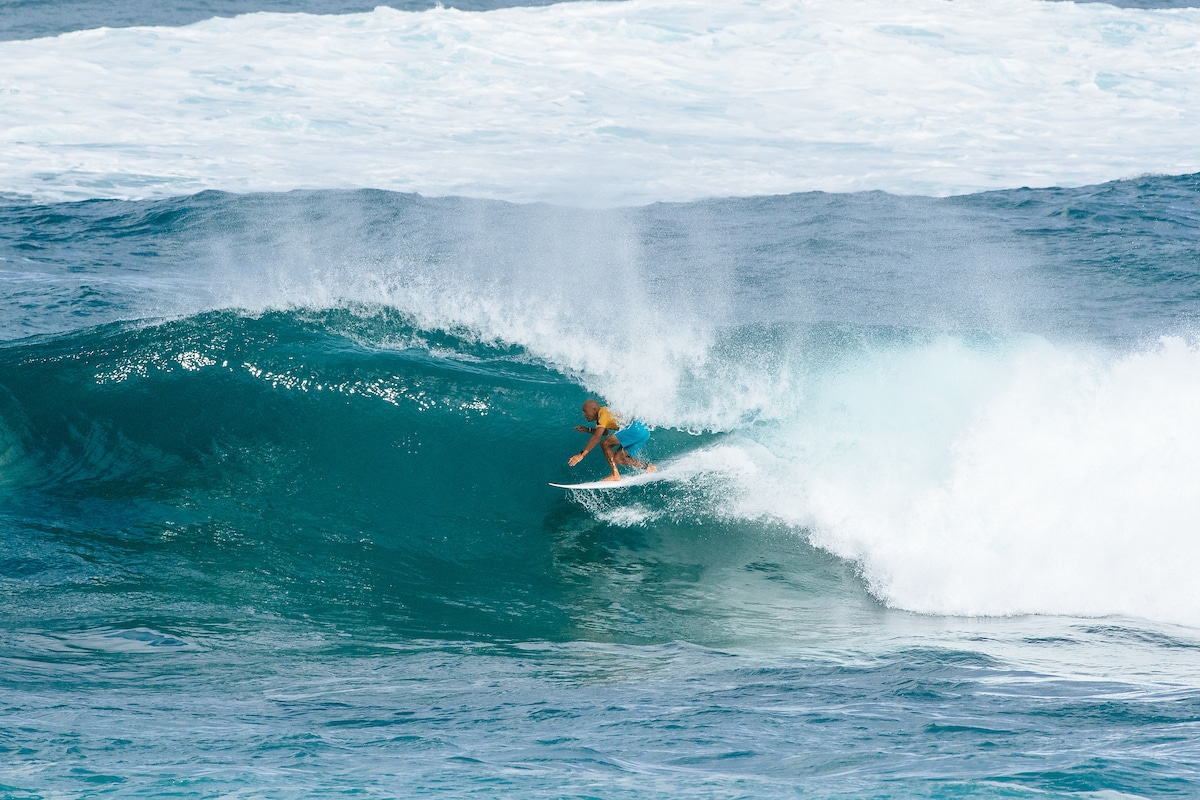 Hurley Pro Sunset Beach presented by SHISEIDO Men's Opening Round 1 Results:
HEAT 1: Jordy Smith (ZAF) 12.50 DEF. Ryan Callinan (AUS) 8.33, Matthew McGillivray (ZAF) 6.84
HEAT 2: Kanoa Igarashi (JPN) 15.33 DEF. Lucca Mesinas (PER) 10.17, Caio Ibelli (BRA) 7.64
HEAT 3: Barron Mamiya (HAW) 11.40 DEF. Callum Robson (AUS) 9.83, Kelly Slater (USA) 8.94
HEAT 4: Jadson Andre (BRA) 11.50 DEF. Conner Coffin (USA) 9.10, Jordan Lawler (AUS) 7.90
HEAT 5: Ezekiel Lau (HAW) 12.43 DEF. Italo Ferreira (BRA) 11.67, Billy Kemper (HAW) 9.86
HEAT 6: Filipe Toledo (BRA) DEF. Joao Chianca (BRA) , Kai Lenny (HAW)
HEAT 7: Imaikalani deVault (HAW) 14.76 DEF. Samuel Pupo (BRA) 9.00, Morgan Cibilic (AUS) 8.43
HEAT 8: John John Florence (HAW) 12.83 DEF. Ethan Ewing (AUS) 11.20, Owen Wright (AUS) 9.84
HEAT 9: Jackson Baker (AUS) 10.77 DEF. Deivid Silva (BRA) 9.63, Griffin Colapinto (USA) 8.73
HEAT 10: Kolohe Andino (USA) 12.20 DEF. Nat Young (USA) 10.93, Seth Moniz (HAW) 7.97
HEAT 11: Jake Marshall (USA) 13.27 DEF. Jack Robinson (AUS) 12.40, Miguel Pupo (BRA) 5.87
HEAT 12: Leonardo Fioravanti (ITA) 9.33 DEF. Frederico Morais (PRT) 8.43, Connor O'Leary (AUS) 1.33
Hurley Pro Sunset Beach presented by SHISEIDO Men's Elimination Round Results:
HEAT 1: Matthew McGillivray (ZAF) 13.57 DEF. Kelly Slater (USA) 13.00, Koa Smith (HAW) 12.77
HEAT 2: Billy Kemper (HAW) 11.66 DEF. Morgan Cibilic (AUS) 6.43, Owen Wright (AUS) 5.67
HEAT 3: Connor O'Leary (AUS) 13.54 DEF. Griffin Colapinto (USA) 12.17, Jordan Lawler (AUS) 6.60
HEAT 4: Caio Ibelli (BRA) 10.70 DEF. Seth Moniz (HAW) 9.26, Miguel Pupo (BRA) 6.83
Hurley Pro Sunset Beach presented by SHISEIDO Women's Opening Round 1 Matchups:
Heat 1: Johanne Defay (FRA), Gabriela Bryan (HAW), Molly Picklum (AUS)
Heat 2: Tatiana Weston-Webb (BRA), Malia Manuel (HAW), Bronte Macaulay (AUS)
Heat 3: Carissa Moore (HAW), Bettylou Sakura Johnson (HAW), Moana Jones Wong (HAW)
Heat 4: Sally Fitzgibbons (AUS), Brisa Hennessy (CRI), Luana Silva (HAW)
Heat 5: Lakey Peterson (USA), Isabella Nichols (AUS), Courtney Conlogue (USA)
Heat 6: Tyler Wright (AUS), Stephanie Gilmore (AUS), India Robinson (AUS)
Hurley Pro Sunset Beach presented by SHISEIDO Men's Round of 32 Matchups:
HEAT 1: Conner Coffin (USA) vs. Caio Ibelli (BRA)
HEAT 2: Kolohe Andino (USA) vs. Lucca Mesinas (PER)
HEAT 3: Jordy Smith (ZAF) vs. Jackson Baker (AUS)
HEAT 4: Leonardo Fioravanti (ITA) vs. Ezekiel Lau (HAW)
HEAT 5: Italo Ferreira (BRA) vs. Barron Mamiya (HAW)
HEAT 6: Deivid Silva (BRA) vs. Ryan Callinan (AUS)
HEAT 7: Morgan Cibilic (AUS) vs. Nat Young (USA)
HEAT 8: Seth Moniz (HAW) vs. Joao Chianca (BRA)
HEAT 9: Filipe Toledo (BRA) vs. Billy Kemper (HAW)
HEAT 10: Ethan Ewing (AUS) vs. Samuel Pupo (BRA)
HEAT 11: Griffin Colapinto (USA) vs. Connor O'Leary (AUS)
HEAT 12: John John Florence (HAW) vs. Jake Marshall (USA)
HEAT 13: Kelly Slater (USA) vs. Matthew McGillivray (ZAF)
HEAT 14: Jack Robinson (AUS) vs. Callum Robson (AUS)
HEAT 15: Frederico Morais (PRT) vs. Jadson Andre (BRA)
HEAT 16: Kanoa Igarashi (JPN) vs. Imaikalani deVault (HAW)