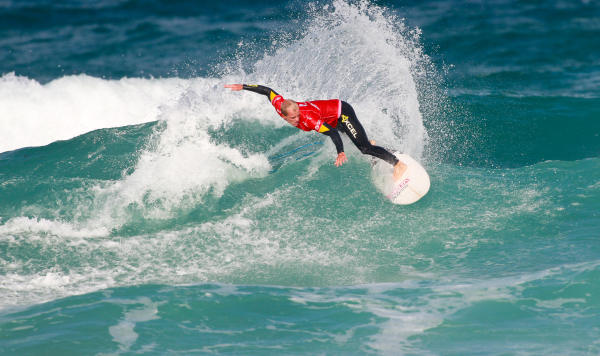 Bonomelli continued his tear through the early rounds. – WSL / Laurent Masurel
The Boardmasters, Cornwall resumed in cleaner two-foot surf under a bright Cornish sun and saw competitors from almost all divisions take part in the second day of competition.
The remaining four heats of the QS Men's Round 3 were first completed and witnessed the surprise eliminations of local favorites Alan Stokes, Luke Dillon and Kit Innes.
In the afternoon, men longboarders entered their final regional event of the season, and while the European title was decided at the previous stop in Galicia, surfers went out just as motivated to conquer the coveted Boardmasters trophy.
Newquay waterman Ben Skinner (GBR), 31, left no chance to his opponents in his opening matchup on home turf, and controlled the heat from start to finish with authority. The former event winner edged out Emilien Fleury to advance into the quarters where he'll be facing compatriot Adam Griffiths (GBR).
"I'm so stoked just to be at home, it's so nice after the three events and a lot of travelling," Skinner commented. "Boardmasters has a 31-year history of some amazing events, as I was a kid it's always something I looked up to so now to have the longboarders be part of it is amazing. I started surfing this event about eight years ago I think and have won it a couple of times, so I'm definitely looking to add one event title to my resume this year."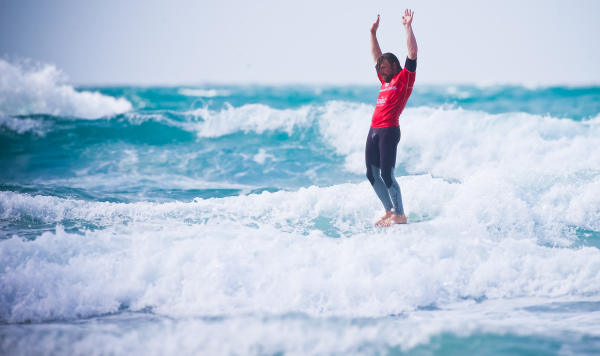 Skinner's salute to the huge crowds gathered at Fistral. – WSL / Laurent Masurel
"That's just a whole different feeling being at home and having my wife and kids, and all the support from everyone down here it's pretty special," he continued. "There's a lot going on for sure but I love it, even the distractions."
Defending event champion Edouard Delpero (FRA), 26, bounced back after an early elimination in the QS division yesterday with a solid win in the over 9-foot board category. The young Frenchman found a better rhythm and negotiated the flat sections perfectly to post an impressive 14.74 heat total for his quarterfinal ticket.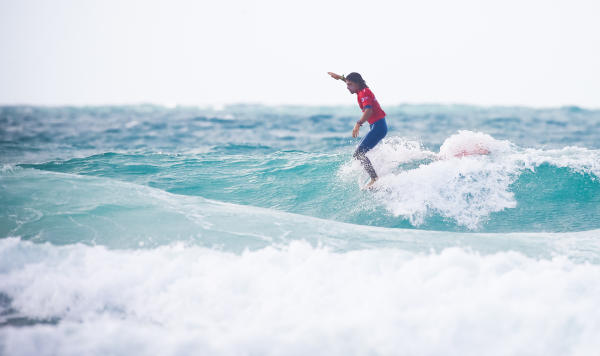 Edouard Delpero knows a thing or two about nose-riding, too. – WSL / Laurent Masurel
"It's complicated out there and you really have to be active, scouring the lineup to find the little ones that reform and offer a longer wall," he reflected. "Unfortunately yesterday I couldn't find the right waves, but today it was a little bit easier on a longboard and I managed to do ok. This event is awesome, very different from what we're used to and a nice little escape in the summer. I hope I can continue to surf well and maybe even beat my brother for once if we do surf against each other later in the event."
Said brother, Antoine Delpero (FRA), 30, rounded up the day with an uncharacteristic average performance, but enough to see him move into the quarters as well where he'll match up with local Brit Sam Bleakley (GBR).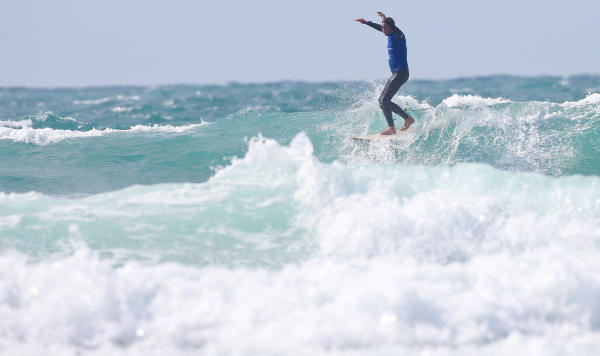 Bleakley will look to upset the current European Champion in the quarters. – WSL / Laurent Masurel
More information on the full festival lineup is available at boardmasters.co.uk.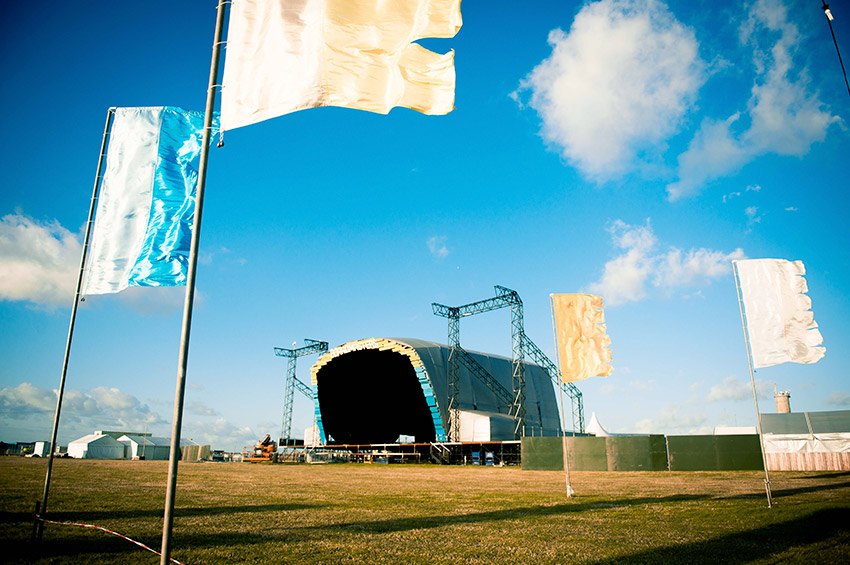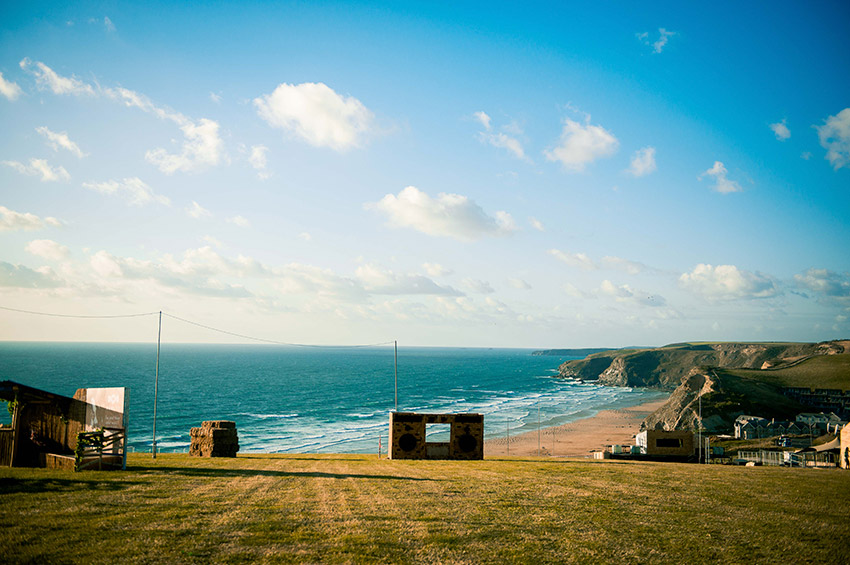 The Boardmasters, Cornwall are scheduled from August 10-14, 2016 at Fistral Beach, Cornwall – England. For all results, photos, video highlights and press releases, log on to worldsurfleague.com.
The Boardmasters, Cornwall are supported by Surfers Against Sewage, Carve Mag, Corona, Relentless, Cornish Orchid, The Stable and MagicSeaWeed among others.
UPCOMING BOARDMASTERS MEN'S QS RD4 MATCHUPS:
Heat 1: Tomas Fernandes (PRT), Shane Campbell (AUS), Facundo Arreyes (ARG), Daiki Tanaka (JPN)
Heat 2: Cody Robinson (AUS), Jobe Harriss (GBR), Luis Perloiro (PRT), Jackson Giles (AUS)
Heat 3: Bruce MacKie (BRB), Louis Gillick (AUS), Monty Tait (AUS), Jayce Robinson (GBR)
Heat 4: Angelo Bonomelli (ITA), Tristan Guilbaud (FRA), Arthur Lassee (FRA), Jake Marshall (USA)
REMAINING BOARDMASTERS MEN'S QS RD3 RESULTS:
Heat 5: Bruce MacKie (BRB) 11.00, Tristan Guilbaud (FRA) 10.50, Che Allan (BRB) 9.56, Lens Arancibia Avila (FRA) 7.73
Heat 6: Monty Tait (AUS) 15.10, Jake Marshall (USA) 13.24, Chris Friend (AUS) 11.07, Alan Stokes (GBR) 7.60
Heat 7: Angelo Bonomelli (ITA) 10.76, Louis Gillick (AUS) 8.34, Luke Dillon (GBR) 8.10, Shaun Burns (USA) 6.67
Heat 8: Arthur Lassee (FRA) 8.30, Jayce Robinson (GBR) 8.00, Jared Hickel (AUS) 7.30, Kit Innes (GBR) 3.00
UPCOMING BOARDMASTERS MEN'S LQS QUARTERFINAL MATCHUPS:
QF 1: Ben Skinner (GBR) vs. Adam Griffith (GBR)
QF 2: Emilien Fleury (FRA) vs. Josh Le Marquand (JEY)
QF 3: Edouard Delpero (FRA) vs. Ben Howey (GBR)
QF 4: Sam Bleakley (GBR) vs. Antoine Delpero (FRA)
BOARDMASTERS MEN'S LQS RD2 RESULTS:
Heat 1: Ben Skinner (GBR) 14.33, Emilien Fleury (FRA) 14.30, Izaak Lawton (GBR) 7.23, Robin Henry (FRA) 7.17
Heat 2: Josh Le Marquand (JEY) 10.33, Adam Griffith (GBR) 9.84, Joe Hornbuckle (GBR) 7.07, Jordan Zervas (GBR) 5.53
Heat 3: Edouard Delpero (FRA) 14.74, Sam Bleakley (GBR) 10.87, Edward Wilson (GBR) 8.14, Martin John (GBR) 3.74
Heat 4: Antoine Delpero (FRA) 11.23, Ben Howey (GBR) 8.83, Jack Unsworth (GBR) 8.07, Stephan Hudson (GBR) 2.90
BOARDMASTERS MEN'S LQS RD1 RESULTS:
Heat 1: Emilien Fleury (FRA) 16.00, Jordan Zervas (GBR) 7.03, Louis Thomas Hudson (GBR) 6.33
Heat 2: Josh Le Marquand (JEY), Robin Henry (FRA)
Heat 3: Martin John (GBR) 4.60, Stephan Hudson (GBR) 3.44, Russel Mullins (GBR) 1.00
Heat 4: Ben Howey (GBR) 14.10, Edward Wilson (GBR) 6.57, Toby Lowe (GBR) 4.13