Tel: 01243 670 999 • Web: www.firewiresurfboards.com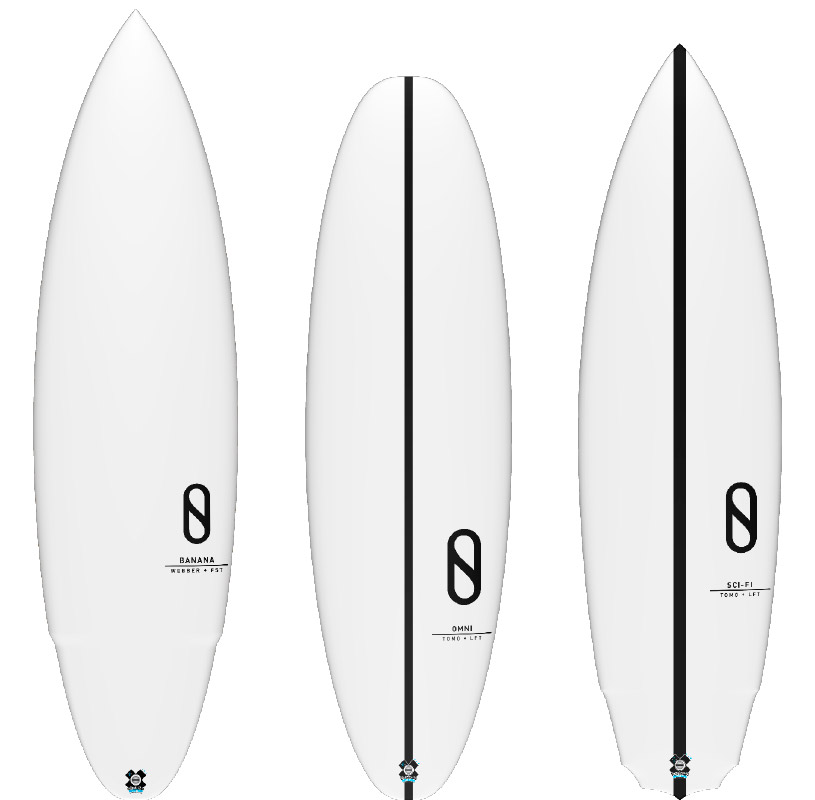 BANANA (FST)

6'0″ X 19″ X 2 3/8″
(28.5 litres)
FINS: 5 Fin Setup- Tri/ Quad
SHAPER: Greg Weber

nspired by the extreme rocker boards that Greg Webber and Shane Herring developed
in the early 90s, the Banana is a far more user-friendly version that Kelly and Greg developed for intermediate to advanced surfers. And meant to be ridden in better than average conditions. The Banana has a smooth outline curve from nose to tail, a slight bump wing in front of the fins, as well as a generous single concave bottom contour. The end result is an extremely high performance surfboard that can be pushed hard through turns, while holding its own in deep barrels. In other words, the carving rail turns and extreme tube riding that Kelly was doing at Pipe on the smaller days during the 2015 Masters.

OMNI (LFT)

5'6″ X 19 3/8″ X 2 7/16″
(29.4 litres)
FINS: 5 Fin Setup- Tri/ Quad
SHAPER: Daniel Thomson

The Omni takes modern functional aesthetics to new places with a clean and minimalistic meeting of Kelly's performance round tails and Tomo's modern planing hull designs. The Omni will revel in smaller waves up to five feet with smooth and extremely radical performance capability.

SCI- FI (LFT)

5'10" X 19 1/2″ X 2 9/16″
(30.7 litres)
FINS: Tri/ Quad
SHAPER: Daniel Thomson

The Sci-Fi is a mash up of classic curves and modern rocker served with a futuristic twist of fluid dynamic principles likely found in the design archives of Bruce Wayne. Expect seemingly unnatural acceleration, instantaneous response and an all around level performance that can only be described as electric. The Sci-Fi is a high performance all-rounder with impressive range (up to eight feet) with usability for intermediate to advanced surfers. 5-fin option.