Web: www.sbsboards.com • Tel: 07719700503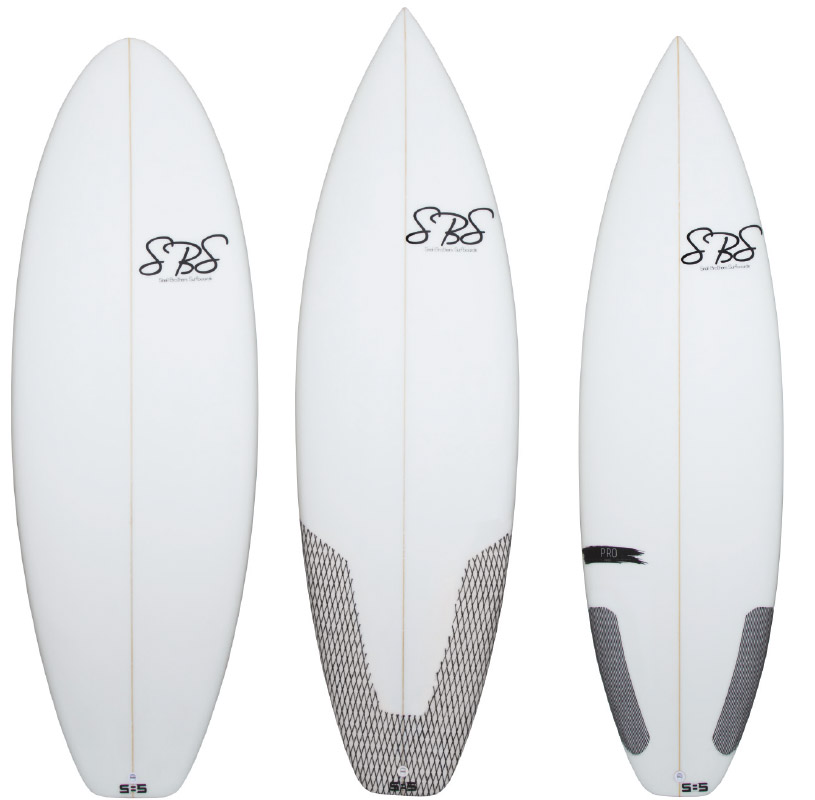 THE BULL

5'11" x 22 3/8″ x 2 7/8″
(43 litres)
SHAPER: SBS boards
FINS: Five Fin FCS

The Bull is our most fun shortboard to date "it does all the work for you" just sit back and enjoy the ride. The Bull is going to thrive in whatever wave condition it's in, anything from knee to head high waves, a perfect board for those smaller "mushier" days.The width and the thickness of the Bull means maximum stability with unparalleled paddle power in the line-up, resulting in you catching more waves faster & easier. It has a slightly narrowed and foiled tail so it will retain that high performance responsive feel in the turns, whilst gliding over flatter sections with ease. The Bull is really going to make those smaller days a whole lot of fun.

The Heat Seeker

6′ x 20 1/4″ x 2 5/8″
(34 litres)
SHAPER: SBS boards
FINS: Thruster FCS

The Heat Seeker is fun, fast, light and loose, perfect for small to medium sized waves, this board is so much fun it makes almost anything surf-able ideal for year round surf in the UK especially in the 1-5 foot range. The Heat Seeker is perfect for British summers and will keep you smiling from ear to ear all year round. We shrunk down our Motivator design and gave it a bit more width and volume, combined with its flatter nose entry rocker and slightly less lift in the tail. The wide point has been brought forward making it like an absolute rocket in smaller waves allowing it to cruise over any flatter section with ease. The Heat Seeker is great for anyone looking to have the most fun possible in any size wave, ideal from anything from knee high to head high waves.

SIX SHOOTER

5'10" x 19″ x 2 1/4″
(25.4 litres)
SHAPER: SBS boards
FINS: Five Fin Futures

This board is perfect for any surfer looking for fast paced performance surfing, in the pocket and the open face. Its outline shape makes it ideal for faster waves with more power, as it can handle those steeper drops, & more vertical sections. This allows for a lightning fast response under your feet, giving you that extra edge in bigger Surf. Not only good in quality waves, but the Six Shooter will be firing on all cylinders in the mushier smaller surf, keeping your manoeuvres fast and controlled with tons of speed, even in the smallest waves, meaning this board will go in anything from beach breaks to point breaks. A great board for any serious surfer looking to really perform in waves.