Web: www.quiversurfboards.co.uk  •  Tel: 01637 875 811
Showroom: SEABASE LTD, Unit 10, Seabase Industrial Estate, Newquay, Cornwall, TR7 2SX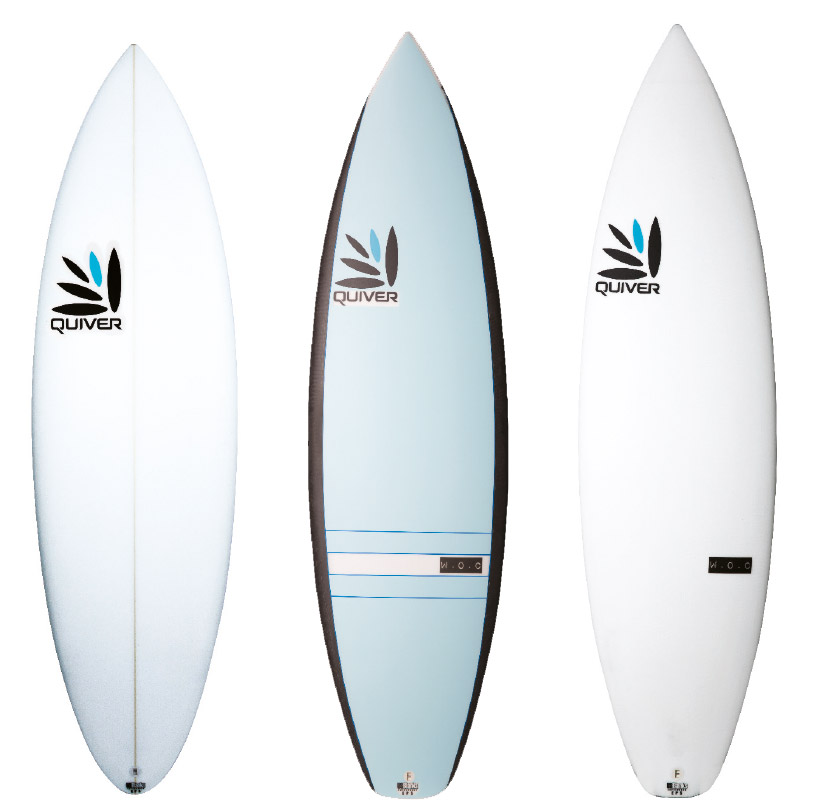 6'0″ Bumble Bart Q-Tech 1

6'0″ x 19 7/9″ x 2 1/2″
(30.9 litres)
FINS: Thruster
SHAPER: Phil Hodge

One of our best selling shapes, the Bumble Bart simply put is an epic all rounder. Forward wide point with a stub nose and pulled in round pin tail means you get the rail feel of a good wave board but with the stability and paddle power of a fish. It's a super fun board that is just as comfortable in one foot junk as it is in six foot barrels. Deep single to double through the fins with slight vee off the tail gives you concentrated speed through the fins with great hold on deep bottom turns and carves. Medium rocker throughout with the shortened all round template means it sits in the pocket all day. The board shown is Q-Tech level 1 and comes in a Superfused EPS single stringer blank. Such a sick little board, what did you do without it?

6'2″ W.O.C
Q-Tech 3

6'2″ x 18 1/2″ x 2 5/16″
(26.4 litres)
FINS: Thruster
SHAPER: Phil Hodge

High performance, lightweight, everything you want to feel under your arm. The W.O.C (Weapon of Choice) is a high performance shortboard for fast, responsive, rail to rail surfing, built for average to good surf in the 2-6 foot range. The W.O.C is the team guys' favourite board and heavily tested in Indo waters. Available in various tails and bottom concaves. Tell us what you want to do and we'll make the W.O.C do it! This Q-Tech 3 version is shaped using a Superfused EPS blank with parabolic balsa stringers and carbon rails.

BLACK AND
WHITE

5'10" x 18 3/4″ x 2 3/16″
(26.3 litres)
FINS: Futures Tri-fi n
PRICE: £515.00

Based on a favourite handshape made for Dane Reynolds by Britt Merrick, this is an all-round high performance shortboard designed for all out speed and fluent rail to rail transitions. A go-to board when it's anywhere from chest to overhead. A fairly low entry rocker runs into a staged flat-ish mid-section, with an accelerated kick out through the tail. A single concave runs the entire length of the board, deepest towards the front fins and shallowing into a very subtle vee out of the tail. A flat deck design for a solid under your feet feel and great flex characteristics. Ride this board the same height to 2″ longer than you are tall and due to the flat deck, ride it 1/8″ thinner than your normal shortboard to maintain the same volume.