Web: www.pyzelsurfboards.com • Enquiries: www.nsboards.co.uk • email: [email protected] • Tel: 01637 880421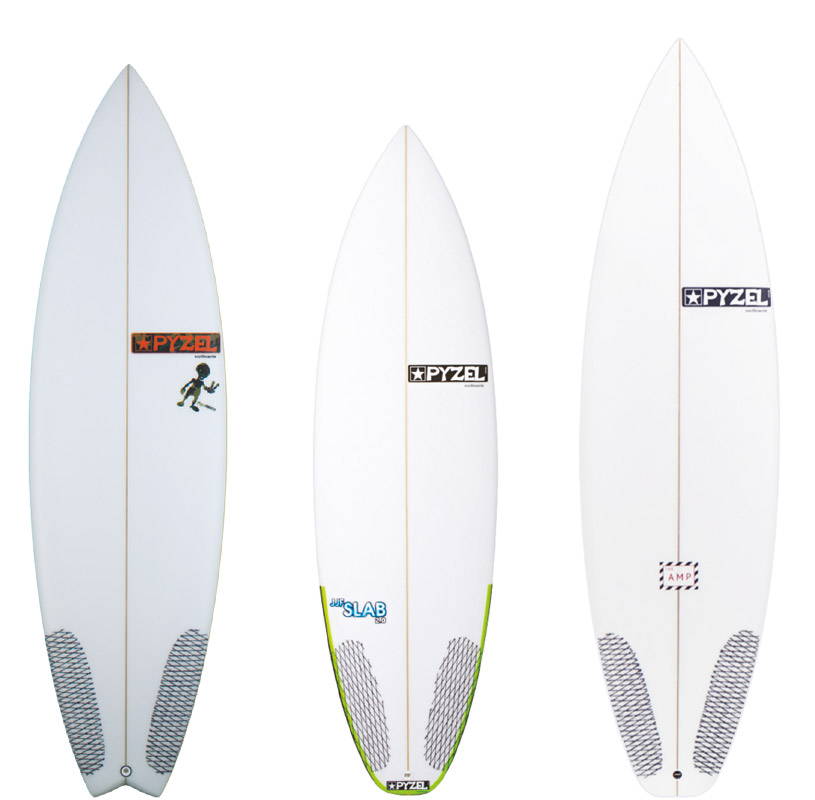 PYZALIEN

One of our best loved designs ever! Technically it's a Stubbie, but this board really can take the place of any high-performance shortboard. It has a single concave running from the nose and under the front foot which blends into double concave and then vee in the last six inches of the tail. This combo gives the board quick speed from take-off and great responsiveness. The outline has a fuller nose and wider tail which keeps the board very fast, while increasing the control and allowing for easier rail to rail transitions at high speed. It has a flat deck and full rails adding to the overall volume, so you should order it 1/8 inch thinner, 3-4 inches shorter and 1/4 to 1/2 inch wider than your shortboard. We know you'll love it.

JJF SLAB 2.0

The JJF Slab 2.0 is a new version of our Slab. John has been riding this design for the past year. After hearing his feedback about wanting something that would work better in those kinds of waves we took the Slab and made some significant changes to the bottom contours and rocker. We added a deeper, full concave that starts in the nose and blends into deep double concave through the back 1/3 of the board. We also dropped the tail rocker by a full 1/4″ and made slight adjustments to the the nose rocker to better suit the forward concave. The outline is 1/4″ wider in the nose, and just under 1/8″ wider through the tail. These changes have created a board that has more lift and drive than the original Slab. With a good amount of volume distributed through the whole length of the board you will want to go 1 to 3″ shorter, 1/4 to 1/2″ wider, and about the same thickness as your shortboard.

THE AMP

The Amp comes about from working with JJF to create a board that excels in smaller, weaker waves. It is now a part of his world travel quiver and comes out when the surf gets slow. The outline is slightly fuller through the nose and tail, and has a nice little hip going into the tail before the fins to keep it loose. It has a medium rocker with a lot of single concave which gives a lot of lift and planing speed, and keeps it manoeuvrable when going through slower sections. Overall this is a great board to add to your smaller-wave game and is a good all rounder for most places in the world with less than epic waves. I recommend going an inch shorter than your good wave shortboard, and a little wider/thicker as well. A little extra foam is always your friend in less then perfect conditions.