Just a quick low cost air flight away, with a warm climate and fantastic long right hand points, it's easy to see why Morocco has been a winter getaway for European surfers since the 1950's.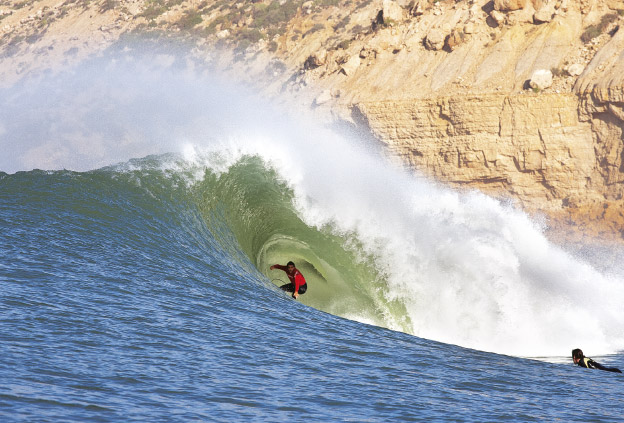 Photo © Yazzy
The Lowdown
There are two main areas for surfing; the first Taghazout just north of Agadir, has more right hand points per kilometre than almost any other place on earth. Essaouira is further north and has a laid back atmosphere but similarly lots of right handers. Water temperatures vary between 20c in October to a low of 17.5c in February through to March. So 3/2s are fine here, and you can go for short arm or short legged versions.
Taghazout is now well served by very reliable and professional surf schools and camps with all levels of accommodation from budget through to luxury. The camps offer a variety of services from full guided surf coaching holidays to self cater accommodation. Many apartments and surf camps have sea views, overlooking the points. During the winter, surfers of many abilities and nationalities congregate around the area so it's buzzy on land and you won't be on your own in the sea. The points tend to sort out the crowds and you should leave with many memorable sessions under your belt. And if you want a bit of solitude you can aways hit the road and escape to the north or south. Lots of the surf camps are now heading into the Sahara on tour.


Flights go to Agadir from most major airports or you can fly into Marrakech and spend a night in the now famous souks before driving three hours through the countryside to the surf. Surf companies can also sort out your hire cars if you're on a non guided tour and are probably more reliable than some local companies. Take your normal board (plenty of waves for longboards, fish or shortboards) plus a step up if you want to surf the points at size.
There are many good cafes and restaurants in both towns these days to cater for all budgets. Again some camps will offer all inclusive packages and have their own cooks, bars and roof top terraces from which to enjoy beers and cuisine with a view over the points to die for.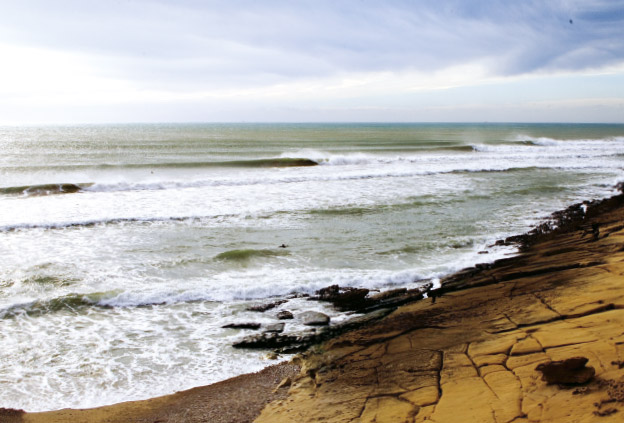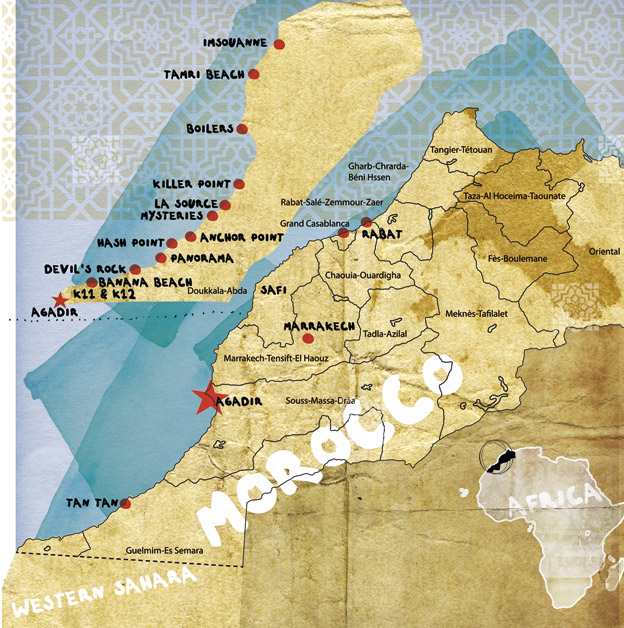 Immousane has very long wave wave. It's the lineup you always look at and drool!
Tamri is a 5km long beach with lot of peaks. There's always a wave here.
Boilers is a classic right on it's day.
Killers is named because in May and June, Killer Whales travel up north and return south in September and October. The break has three really long sections and works at low tide.
La Source is a left and right-hand combo which breaks from 3-5 feet on a higher tide.
Mysteries works from 3-6 feet. It can be a pretty fast wave with occasional tubes.
Anchor Point is probably the most famous surf spot in Morocco. A very long right-hander with rocky sandy bottom working mainly at low tide from three feet up, to as big as you want to surf it.
Hash Point is a good right-hander named because in the early day surfers would get so stoned they couldn't be bothered to walk anywhere else.
Panorama another right point which works best from 3-5 feet.
Banana Point is another mellow long right hander.
K37 is a great place for beginners and intermediates. Croco is good peaky beach break which works the best at high tide.
K11 One of the few left-handers in the area. It can be a hollow wave with some tubes.
K12 A left-hander, mellow wave.
Cathedral is another right-hander.