Web: www.lostsurfboards.net • Enquiries: www.danielsurf.com • Email: [email protected] • Tel: 0044 (0)1752 330772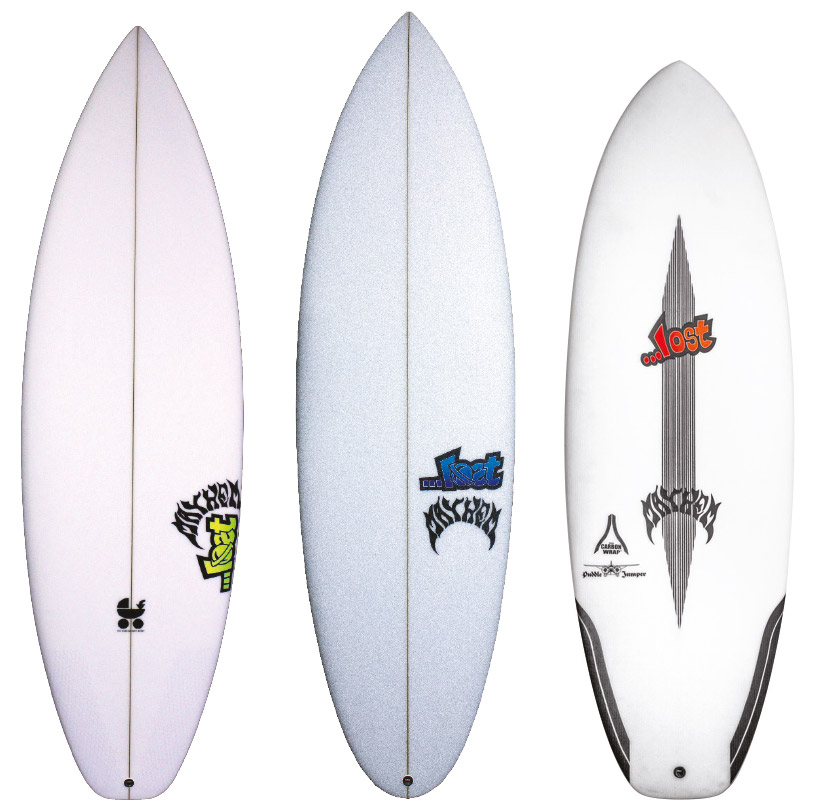 THE TAJ
BURROW
BABY BUGGY

5'9″ x 19.38″ x 2.32″
(28.40 litres)
FINS: Thruster
SHAPER: Matt 'Mayhem' Biolos
PRICE: £475

Taj requested, "Something short and fun, but still a (normal) board." We started with his 5'9″ BeachBuggy, and re-visioned it at 5'6". We filled in the rails and foil until it sat at 25 litres flat, then relaxed the entire rocker, so the new bottom curve nestled perfectly within the curve of the original. Leading to the Baby Buggy! If it's good enough for TB… It's good enough for anybody. Taj
rides his 3" shorter with a bit
more volume than his typical stick, average surfers can be more generous and go with added volume and maybe only 1-2" shorter than a typical HPSB.

QUIVER KILLER

5'10" x 19.75″ x 2.38″
(30.50 litres)
FINS: Thruster or 5 fin
SHAPER: Matt 'Mayhem' Biolos
PRICE: £475

The Quiver Killer is an extension of our recently released ShortRound model. Beginning with the ShortRound, we added a couple inches of length, moderately added to the overall rocker, and pulled the nose outline in a bit. We then changed the tail to a forgiving, rounded "thumb" tail without narrowing it too much where the front fins are. The overall outline and rocker lines are a minimalistic and simplistic continuous curve. The surface area and volume are still generous enough to create speed and feel lively in anything but the smallest, or true "grovel" surf.

PUDDLE
JUMPER

5'6″ x 21.00″ x 2.50″
(33 litres)
FINS: 5 fin
SHAPER: Matt 'Mayhem' Biolos
PRICE: £560

This Puddle Jumper is constructed with patented "Carbon Wrap" Technology. Stringer-less EPS with a Carbon Fibre frame that "wraps" the rails in a strategic point, creating a lively and electric feeling flex, engineered for maximum performance in small surf. The wide outline makes for easy wave catching and down the line glide and stability. The concave bottom adds lift and increased rail curve, which allows radical top to bottom surfing. The straight rail line and vee in the tail keep the board moving forward and hold in during hard carving maneuvers.