Tel: 01736 757025  •  Web: www.downthelinesurf.co.uk
Showroom: Down the Line Surf Company Ltd, Market Square Arcade, Hayle, Cornwall  TR27 4EA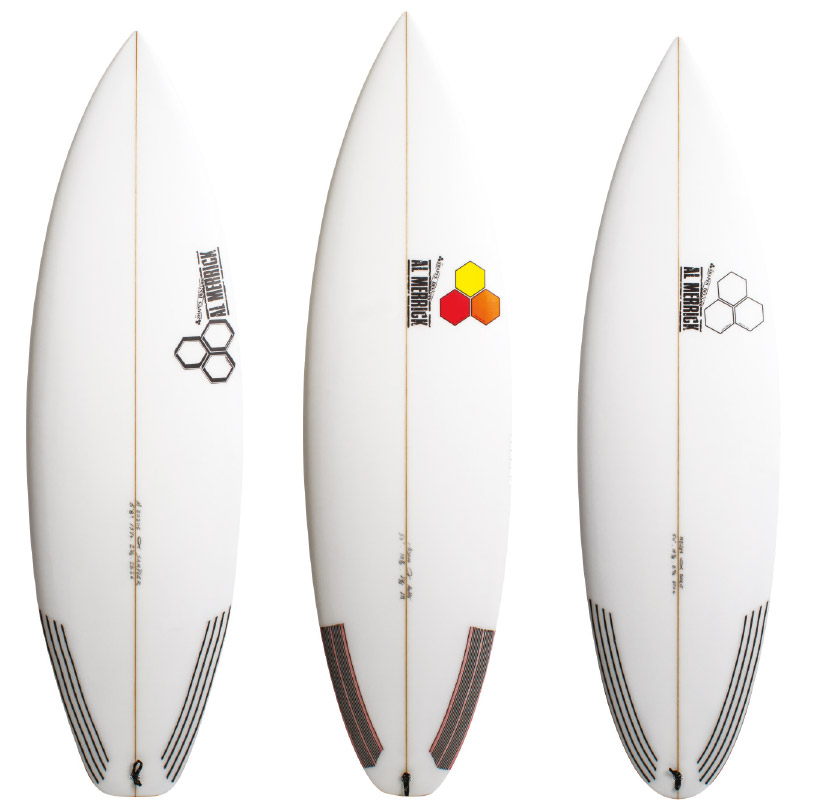 SAMPLER

5'8″ x 19 1/4″2 x 3/8″
(28.2 litres)
FINS: Futures Tri-fi n
PRICE: £515.00

Dane Reynolds' latest model that's designed to perform in waves that are less than perfect. Put it at the performance end of the grovellers, this is sure to be an absolute hit! The Sampler is loosely taken from the Dumpster Diver, but more refined and with a much more pronounced pivotal hip. A flat and racy rocker right throught the board until a curve in the tail allows for tight transitional turns into airs. There's a generous single concave running through the whole board, with a double inside the single between the fins, running to a slight vee in the tail. All in all this board will fly in the slack stuff and create more speed as you hack into your turns.

ROOK 15 squash

PRICE: £525.00

The Rook 15 is a fantastic board, and we had some great feedback in 2015 from some of our top riders here at Down the Line. First seen on the WSL tour in 2010, the Channel Islands Rookie was rediscovered by pretty much all of the Channel Islands team in 2014; Seabass, Kelly, Adriano, Lakey, Bianca, Sage and Kai all have won heats on the new Rook 15. Ridden shorter and wider than the original (hence the slimmed down name) the Rook 15 is the ultimate workhorse. Single concave throughout, the Rook 15 works best when on rail. Ride this surfboard around your same height to 2" longer, depending on ability.

BLACK AND
WHITE

5'10" x 18 3/4″ x 2 3/16″
(26.3 litres)
FINS: Futures Tri-fi n
PRICE: £515.00

Based on a favourite handshape made for Dane Reynolds by Britt Merrick, this is an all-round high performance shortboard designed for all out speed and fluent rail to rail transitions. A go-to board when it's anywhere from chest to overhead. A fairly low entry rocker runs into a staged flat-ish mid-section, with an accelerated kick out through the tail. A single concave runs the entire length of the board, deepest towards the front fins and shallowing into a very subtle vee out of the tail. A flat deck design for a solid under your feet feel and great flex characteristics. Ride this board the same height to 2″ longer than you are tall and due to the flat deck, ride it 1/8″ thinner than your normal shortboard to maintain the same volume.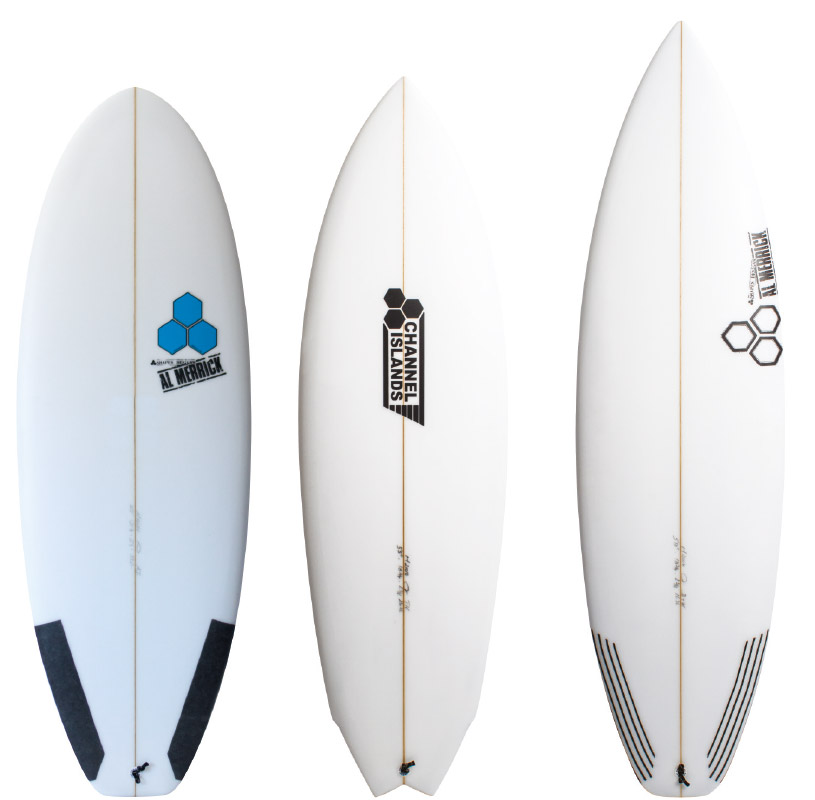 AVERAGE JOE

5'5" x 21 3/8" x 2 1/2"
(33 litres)
SHAPER: Al Merrick

Over the last six years and hundreds of demo tour stops Al Merrick has learned a few things. One being that surfers sometimes want something simple, fun, and easy to ride. With a slight single concave for the first 1/3 to deepening concave vee throughout, the Average Joe can be surfed off the rail or tail – a tail that uses Merrick's signature hip tail template to promote drive. Full rails keep high volume in a short outline. Increase wave count, make more sections. The Average Joe is geared towards the things that make surfing fun. SIMA surfboard of the year winner 2014.

TWIN FIN

5'5″ x 18 3/4″ x 2 5/16″
(25.4 litres)
FINS: Twin-fin
PRICE: £560.00

A retro feel twin fin with some modern performance updates. A real fast and fun wave catching machine. Inspired by a '70s twin fin shaped by Al Merrick, Britt Merrick modified the template to build himself a board for a retro surfboard contest. The rocker has been modified to give it that modern feel and to add drive and carving ability. The rails are tapered and relatively thin, to add sensitivity and responsiveness. This board has a twin Futures set up with a single FCS plug, perfect for a knubster fin to add that little extra control and drive should you wish.

ROOK 15
ROUND TAIL

5'11" x 18 7/8″ x 2 5/16″
(27.4 litres)
FINS: FCS 2 5 Fin
PRICE: £525.00

A slimmed-down version of the original Rookie, the Channel Islands Rook 15 is a versatile performance shortboard that works best in solid waves. Now as a five fin round tail set up The Rook 15 is a fantastic board, and we had some great feedback in 2015 from some of our top riders here at Down the Line. So much so that we thought this board deserved a 5 fin round tail option… for people who like that release through the tail that a round tail offers, complemented with the quad fin option for added hold on the steeper stuff.