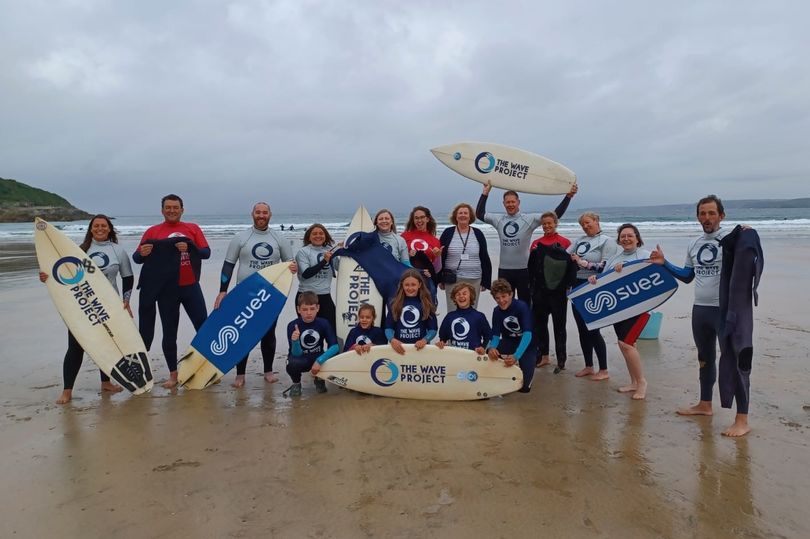 SUEZ, Cornwall Council and The Wave Project are making waves with their new initiative to give pre-loved wetsuits and neoprene items a second lease of life. After the success of the initial pilot in Newquay and St Erth, The Wave Project announced they are to expand the initiative to include sites in Bude, St Austell, Falmouth and United Downs recycling centre, St Day.
Dedicated bins are in place ready to collect neoprene items which are then taken to The Wave Project's HQ in Newquay. These items are carefully cleaned and repaired before being sold at affordable prices in the WaveProject shop on Newquay high street. The sales generate money for the charity which delivers an award winning Surf Therapy program for children to improve health, well being, and inclusion as well as specialist education programmes Beach School, intervention programmes like Surf Back to School and the Wave Ranger project for at risk pupils.
Europes biggest repair centre, Bodyline also in Newquay, estimate that 75% of wetsuits are being thrown away when they could be easily and cheaply repaired. ( Article here )
If the wetsuits can not be repaired they are repurposed by Flotsam Flo into saleable products like backpacks and bags for the Surf Therapy Shop.
The collaboration with Suez and Cornwall Council will help in reducing Cornwall's waste and raise funds to support more young people through surf therapy programmes at The Wave Project.
Chris Lynn, General Manager for SUEZ recycling and recovery UK in Cornwall, said: "Through this collaboration, we are not only helping to reduce waste, but we are also supporting Cornwall's young people. At SUEZ, as part of our triple bottom line approach, we look for ways our services can enhance the environment and the communities we serve. We are thrilled to have seas-ed the opportunity to work with The Wave Project in their mission to transform lives through surf therapy".
Joe Taylor, Founder & CEO for The Wave Project, said: "We are super excited to be working on this innovative project with SUEZ and Cornwall Council. It is a great example of partnership working across all three sectors leading to positive benefits for people and planet. We would encourage local surfers to make use of the wetsuit donation bins so we can enable them to be used again by others, reducing tonnes of waste in the process. By working together, we can all make a big difference for our communities, reduce our carbon footprint, and bring the joy of surfing to more people."
Councillor Carol Mould, Cornwall Portfolio Holder for Neighbourhoods, said "This is a great initiative to support our residents in increasing their recycling, reducing waste and supporting a thriving and sustainable Cornwall. We're pleased to be able to help The Wave Project and the young people it supports through this new scheme."