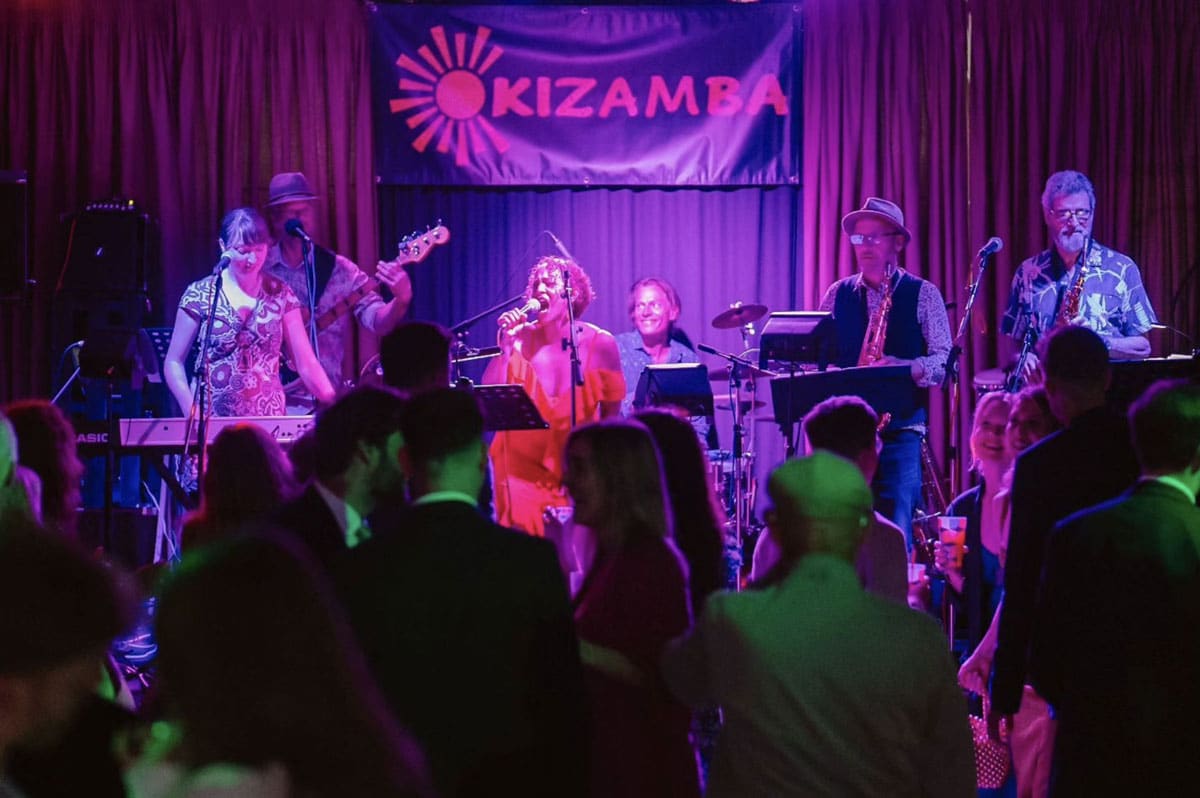 Three much-loved West Cornwall musical acts will be performing for free to raise funds for Surfers Against Sewage this month at The Watering Hole in Perranporth. Rob Hooper, bass player with Kizamba, has been an SAS member from the organisation's earliest days, having grown up skateboarding and surfing with one of its founders, Chris Hines, over the border in Tavistock. He recalled fondly how he got involved in the 90s. 'When Chris explained to me about the group he was forming to campaign about the issue of raw sewage being discharged into the sea, I was fully on board and became SAS member number 50. The use of the gas mask with a wet suit in our photos was pure marketing genius and born from a surfing community that was becoming increasingly aware of the environmental hazards that impacted our lives, our health and our love of surfing.'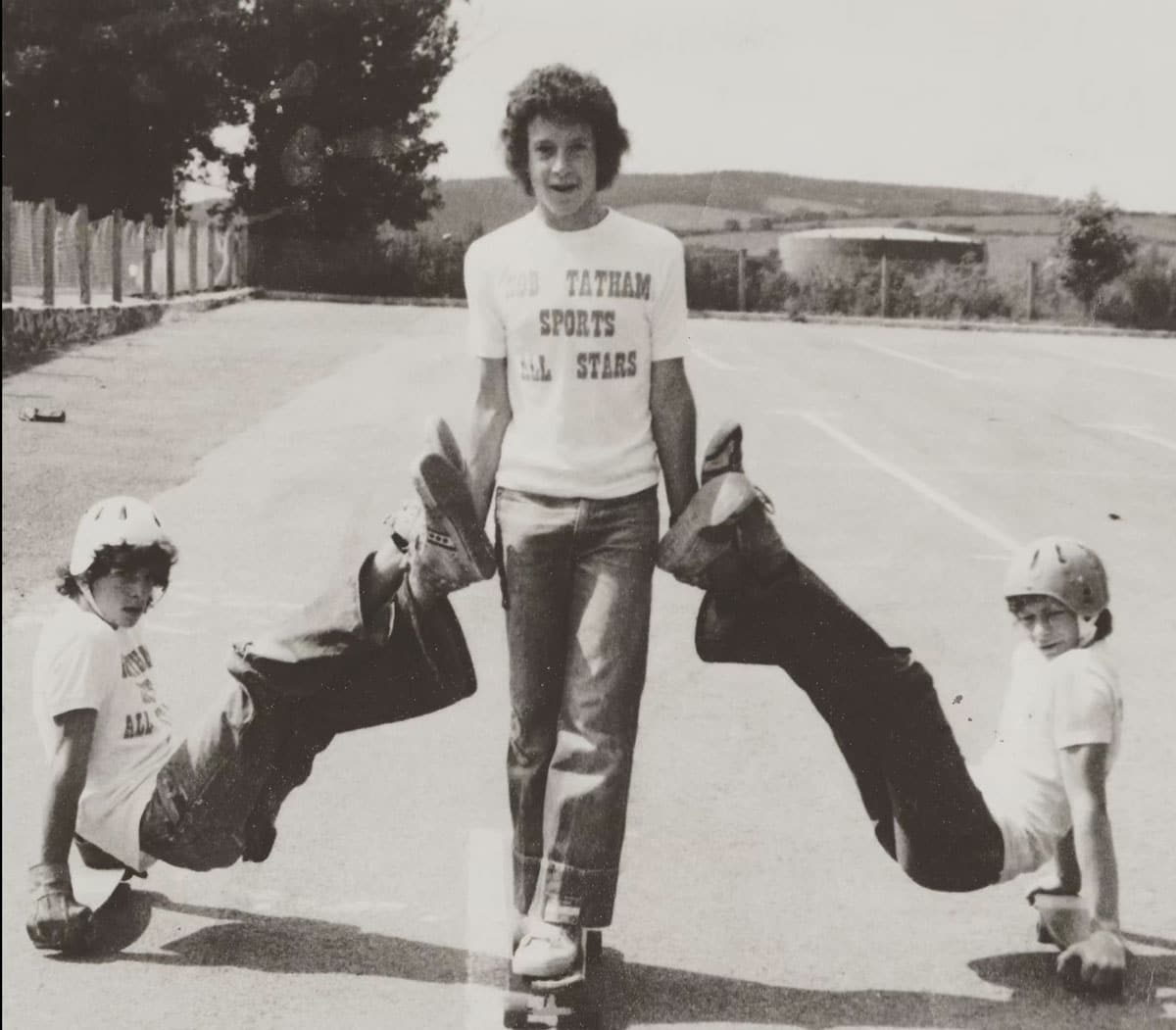 Rob the Bass left, Chris Hines centre and Paddy doing 'the balance' circa 1976.
Rob's stories about the famous SAS Annual Ball got the band thinking about how they could get involved. Rob explained, "In the 1990s, along with the serious politics, the first SAS ball was held on the headland of St Agnes with a dress code of 'black tie and boardshorts'. It was attended by 500 enthusiastic SAS supporters who were keen to let their hair down and party. The Ball hasn't happened for some time now, but we thought we could try a similar approach to raise some money." Bandmate and fellow organizer Kat Carr adds, "We've wanted to do something in support of Surfers Against Sewage for a long time. In addition to Rob's involvement with SAS, we all feel that being in the sea – swimming, surfing, fishing – is a huge part of our lifestyle here in Cornwall and we find it unbelievable that in 2023 our children still have to wade around in sewage." Headlining the night will be fantastic The Sandy Acre 7, a legendary Cornish band fresh from a sold-out sunset gig at the Jubilee Pool earlier this month. A huge highlight of the Cornish live music scene, SA7 are known for filling the dancefloor and appealing irresistibly to all ages and tastes; from soul, blues and swing to ska, reggae and dance, and from 1950s R&B to modern anthems and contemporary classics. Joining on the decks is Descafeinat, a musician and DJ with deep roots in the Cornish Latin scene. As a member of the mighty Kabasa crew, Radio Rio and others, Greg Dyer's DJing evolved out of his love of Latin rhythms and his vibrant DJ sets blend Afro, Cuban & Brazilian grooves, Nuyorican funk/soul, Latin jazz, rare world funk, Cumbia, juicy Latin house & tropical tech.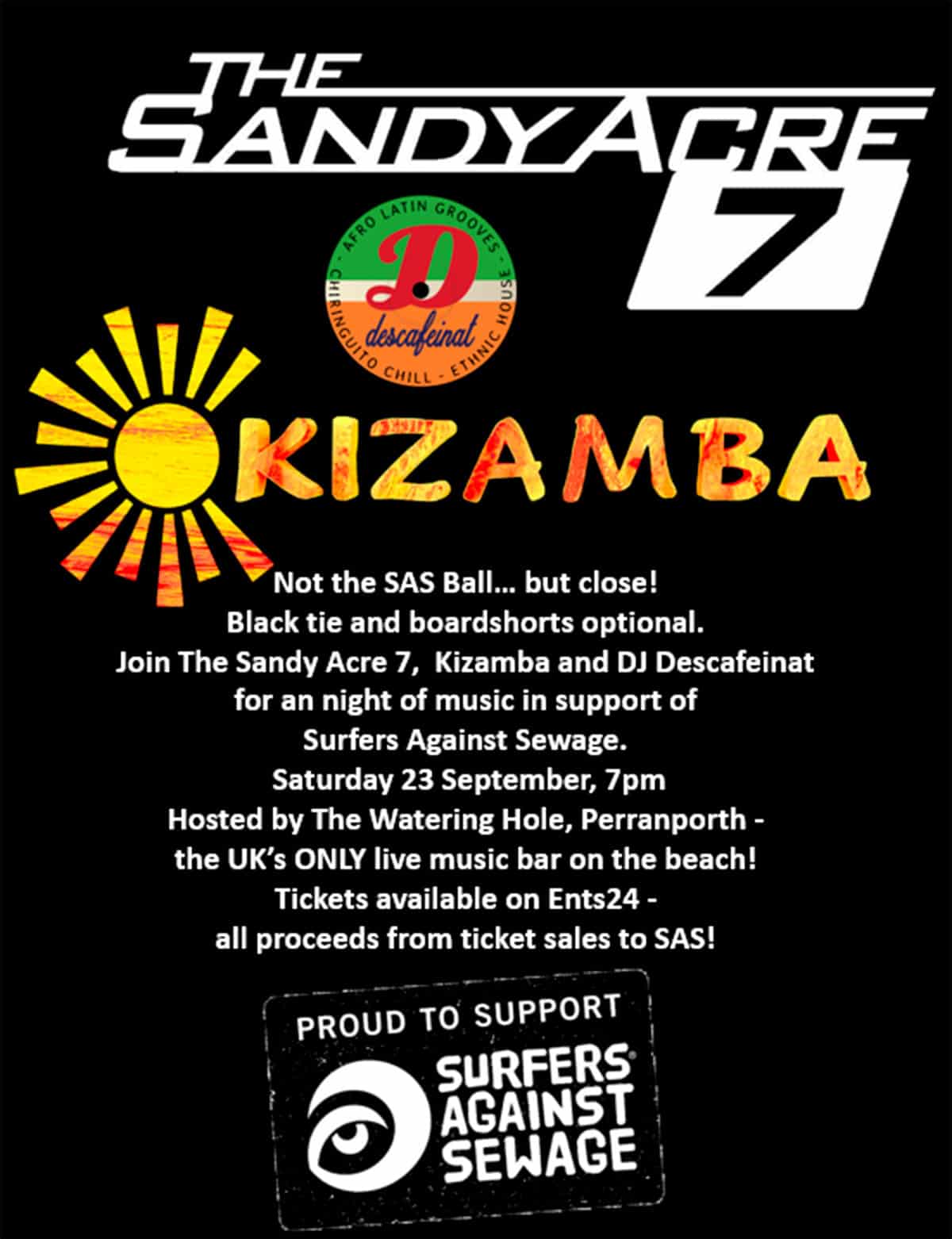 As always, Kizamba will be taking everyone on a unique musical journey through South and Central America, the Caribbean islands and up into the Latin neighbourhoods of North America where Latin rhythms met jazz and soul. They are joyfully celebrating 2 years playing together this month and specialize in bringing along their own brand of tropical sunshine and getting everyone smiling and dancing. When The Watering Hole, home of the Tunes in the Dunes Festival and one of the best-loved locations in Cornwall for live music, were approached they immediately agreed to get involved and have generously made their venue available free of cost for this event which means all the proceeds from ticket sales will go to the charity. "We can't think of a better place for an SAS fundraiser than on Perranporth beach and we are so grateful to The Watering Hole, who hosted the likes of Sam Ryder this summer, for making it possible to play here." says Kat. "Lots of people in our community support SAS with local fundraisers and we feel that, as musicians, the best way we can help is by playing our music and bringing people together to raise awareness and support for this cause that is as much-needed today as it was 30 years ago."
Doors open at 7pm on Saturday September 23rd. Tickets are £15 (plus booking fee) in advance here
.All proceeds from ticket sales go to SAS! Black tie and boardshorts entirely optional!