Sophia Culhane (HAW) and Kaniela Stewart (HAW) emerged victorious at the Surf City El Salvador Longboard Classic Presented by Corona, Stop No. 3 on the World Surf League (WSL) Longboard Tour. This marks Culhane's biggest-career event win to date and she will head into the World Title showdown ranked No. 3. Stewart will hold the No. 1 ranking and hopes that will give him an edge as he seeks redemption for the World Title. Kelis Kaleopa'a (HAW) and John Michael Van Hohenstein (HAW) earned runner-up finishes, making the podium a sweep of surfers all from Waikiki.
Culhane Earns Maiden Event Victory
A back-and-forth battle ensued during the women's Final between Waikiki's rising stars Kelis Kaleopa'a (HAW) and Sophia Culhane (HAW). Culhane's quick start yielded a 6.00 (out of a possible 10) to Kaleopa'a's 5.83 and 2.50 openers. Culhane then responded on her stylish forehand to post a 5.63 and take control of the heat. A critical exchange later in the heat resulted in a near-excellent 7.50 for Culhane to increase her lead over Kaleopa'a. Culhane held her lead until the final horn and finally earned her maiden event win against the world's best.
"No words can describe this feeling but I'm just super happy and the waves were fun and Kelis (Kaleopa'a) is such a good competitor," said Culhane. "She has amazing style. She's just an amazing person and I look up to her and I love her so much."
Culhane's impressive Finals Day showing included a big win over multiple World Title runner-up Chloe Calmon (BRA) in the Quarterfinals and 2015 WSL Longboard Champion Rachael Tilly (USA) in the Semifinals. Culhane now prepares for her first World Title run at the Original Sprout Malibu Longboard Classic Presented by Tractor Beverage Co.
Stewart Claims Second Event Win of the Season
The men's Final featured a showdown between Kaniela Stewart (HAW) and Longboard Tour newcomer John Michael Van Hohenstein (HAW). A quick first exchange put Stewart slightly ahead of Hohenstein. But, Stewart established his authority with an excellent 8.33 and put his fellow Waikiki competitor in need of a big score to catch him. With a 6.50 backup, Stewart stayed firm heading into the final minutes before ultimately claiming his second win of the 2023 season.
"I'm so stoked and speechless right now," said Stewart. "Nobody else to thank but the Man up above. He made it happen. Without him, I wouldn't be here. Thank you God, thank you everybody back home for watching and supporting me. Hopefully we get some waves [at Malibu] and we'll probably all be surfing so good so I can't wait. Hopefully bring that Title back to Hawaii."
Stewart began his Finals Day run with his signature style and grace. The Waikiki, Oahu, local eliminated fellow Longboard Championship Top 8 competitor Ben Skinner (GBR) in the Semifinals with an impressive 14.34 heat total. Now, Stewart enters the Original Sprout Malibu Longboard Championships Presented by Tractor Beverage Co. ranked No. 1.
Kaleopa'a and Van Hohenstein Finish Runner-up
With her runner-up finish Kaleopa'a will return to Malibu ranked No. 1. She finished last season runner-up and this will be her chance to earn redemption and her first World Title. The 18-year-old turned in an incredible Finals Day performance beginning with her Quarterfinal bout against Mason Schremmer (USA). Kaleopa'a then had to face three-time WSL Longboard Champion Honolua Blomfield (HAW) in the Semifinals, winning in nail-biting fashion. Now, Kaleopa'a prepares to focus on the majestic lineup of Malibu.
"There are so many emotions right now," said Kaleopa'a. "I just want to think everyone from El Salvador that helped us put on this event. It was really awesome and the wave is so good. I was surfing against one of my best friends and this is her first win so it was really exciting. And then Malibu, there's just so much going on (laughs)."
Event runner-up Van Hohenstein had a remarkable surge today resulting in his best finish of the season. The Waikiki competitor's run through competition included eliminating three-time WSL Champion Taylor Jensen (USA) in the Round of 16, Rogelio Jr Esquievel (PHL) in the Quarterfinals, and former WSL Longboard Champion Steven Sawyer (RSA) in the Semifinals.
"It was such a great event here, I had a good time," said Van Hohenstein. "Everyone killed it here. Good job to all the competitors. It was a crazy heat with one of my friends I've grown up with, Kaniela (Stewart). Great surfing. Muchos gracias El Salvador, thank you to my sponsors, I love you all."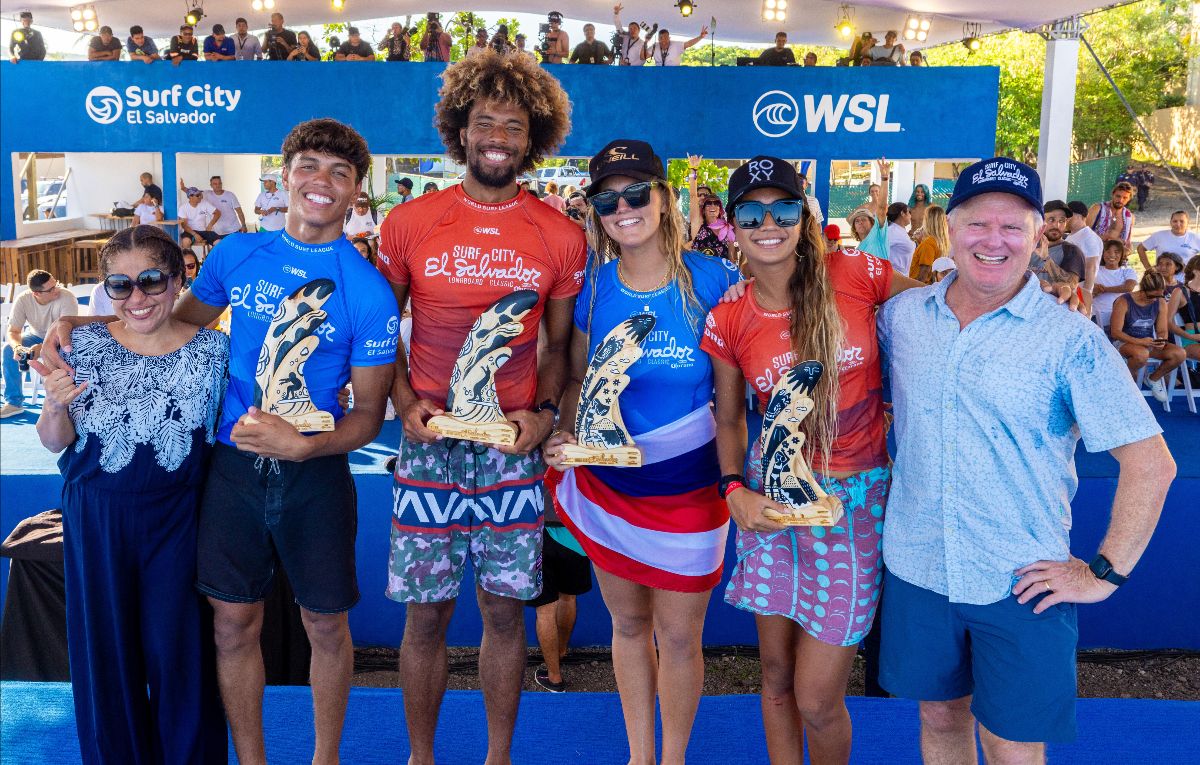 Skinner, Tilly, Delpero, Silvagni and Schremmer Officially Qualify for Longboard Championship Top 8
2015 WSL Longboard Champion Rachael Tilly (USA) officially qualified for the Longboard Championship Top 8 with an outstanding Quarterfinal showing. Tilly's 16.86 (out of possible 20) heat total was more than enough to overtake reigning WSL Longboard Champion Soleil Errico (USA). Tilly, the youngest WSL Longboard Champion in history, now heads to Malibu to fight for a second World Title.
Joining Tilly into the Longboard Championship Top 8 is Mason Schremmer (USA) who held firm today and will enter Malibu ranked No. 8. For the men, Longboard Tour veterans Edouard Delpero (FRA), Tony Silvagni (USA), and Ben Skinner (USA) will round out the World Title contenders.
Women's Longboard Championship Top 8 Rankings:
1. Kelis Kaleopa'a (HAW)
2. Soleil Errico (USA)
3. Sophia Culhane (HAW)
4. Honolua Blomfield (HAW)
5. Alice Lemoigne (FRA)
6. Chloe Calmon (BRA)
7. Rachael Tilly (USA)
8. Mason Schremmer (USA)
Men's Longboard Championship Top 8 Rankings:
1. Kaniela Stewart (HAW)
2. Kai Sallas (HAW)
3. Taylor Jensen (USA)
4. Declan Wyton (AUS)
5. Ben Skinner (GBR)
6. Edouard Delpero (FRA)
7. Rogelio Jr Esquievel (PHL)
8. Tony Silvagni (USA)
Surf City El Salvador Longboard Classic Presented by Corona Women's Final Results:
1 – Sophia Culhane (HAW) 13.50
2 – Kelis Kaleopaa (HAW) 12.23
Surf City El Salvador Longboard Classic Presented by Corona Men's Final Results:
1 – Kaniela Stewart (HAW) 14.83
2 – John Michael Van Hohenstein (HAW) 11.80
Surf City El Salvador Longboard Classic Presented by Corona Women's Semifinal Results:
HEAT 1: Kelis Kaleopaa (HAW) 12.77 DEF. Honolua Blomfield (HAW) 12.07
HEAT 2: Sophia Culhane (HAW) 13.07 DEF. Rachael Tilly (USA) 11.40
Surf City El Salvador Longboard Classic Presented by Corona Men's Semifinal Results:
HEAT 1: Kaniela Stewart (HAW) 14.34 DEF. Ben Skinner (GBR) 12.16
HEAT 2: John Michael Van Hohenstein (HAW) 12.80 DEF. Steven Sawyer (RSA) 12.20
Surf City El Salvador Longboard Classic Presented by Corona Women's Quarterfinal Results:
HEAT 1: Kelis Kaleopaa (HAW) 14.34 DEF. Mason Schremmer (USA) 10.94
HEAT 2: Honolua Blomfield (HAW) 13.23 DEF. Zoe Grospiron (FRA) 13.10
HEAT 3: Rachael Tilly (USA) 16.86 DEF. Soleil Errico (USA) 14.83
HEAT 4: Sophia Culhane (HAW) 13.30 DEF. Chloe Calmon (BRA) 12.64