Jack Robinson (AUS) and Caroline Marks (USA) won the SHISEIDO Tahiti Pro Presented by Outerknown, the penultimate event of the World Surf League (WSL) 2023 Championship Tour (CT). The pair overcame Gabriel Medina (BRA) and Caitlin Simmers (USA), who finished runners-up, as Teahupo'o delivered windy four-to-six foot surf on Finals Day.
With the completion of the SHISEIDO Tahiti Pro Presented by Outerknown, all the spots in the WSL Final 5 have been clinched. The final Olympic qualification spot for the women representing the United States will be against winner Marks and runner-up Simmers, and will decided at the Rip Curl WSL Finals. The last spot in the men's Final 5 came down to a surf-off between Medina and Robinson with Robinson emerging victorious.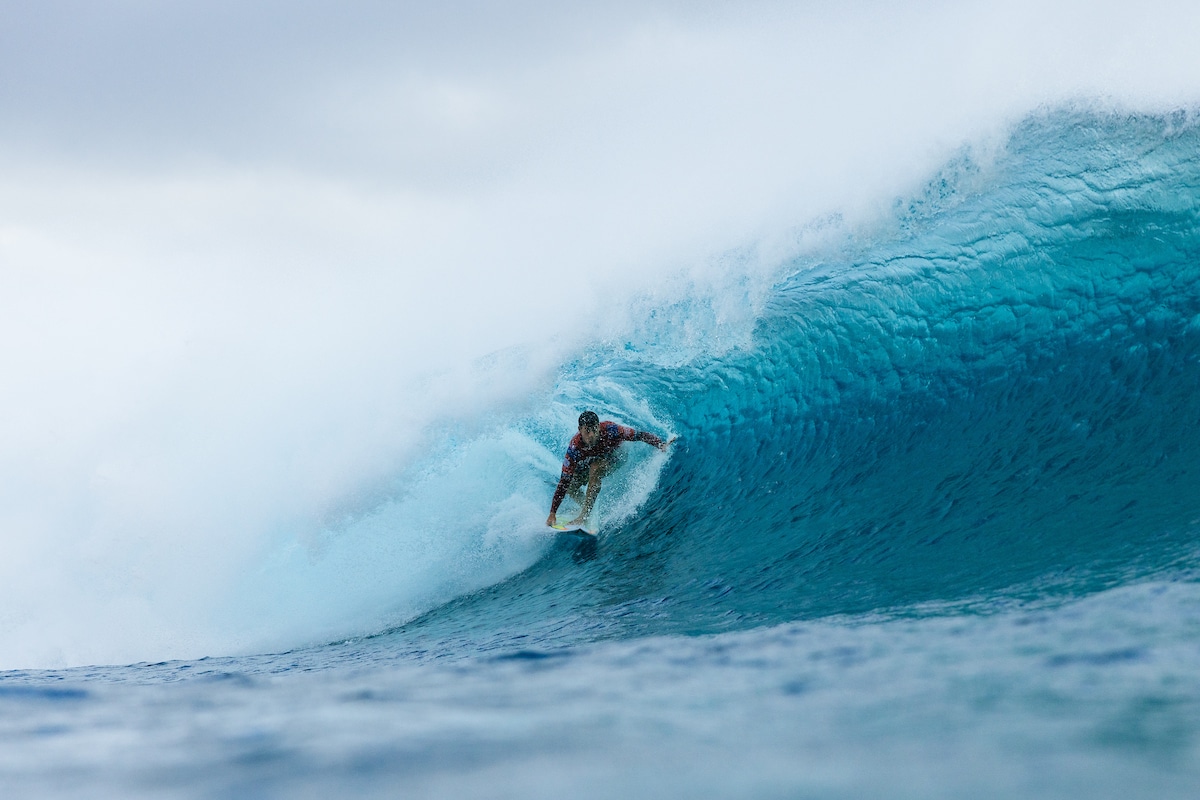 Jack Robinson Claims Famous Victory in Tahiti to Clinch Spot in WSL Final 5
Ahead of the men's Final, the equation for Jack Robinson (AUS) and Gabriel Medina (BRA) was simple: win the event and and clinch a spot in the Rip Curl WSL Finals. The pair were the last two still in contention after Leonardo Fioravanti (ITA), John John Florence (HAW), and Yago Dora (BRA) were all eliminated in the Semifinals and Quarterfinals, respectively. Both Robinson and Medina were the men to beat on Finals Day and seemed destined to meet in the Final.
In true Medina fashion, the two-time Teahupo'o winner got off to a busy start, catching multiple waves to take a solid lead with a 15.00 point (out of a possible 20) heat total. Robinson opted for a more patient approach, waiting for particular waves that eventually came, giving him long hollow tube rides for a pair of 7.83s (out of a possible 10) which gave him a slim win with a two-wave combination of 15.66.
"I was so in 'it' coming into this event and so focused – but I was still enjoying myself, it's so hard to describe the feeling. I don't know what it is but I feel like It was meant to be," Robinson said. "I just never stopped, when it was down through the year I pulled it back up and with the help of the people around me who know who they are – it's a small crew but it has a lot of 'mana' (good energy) like this place (Tahiti). I felt like it was my time. You never know when it's your time, but I felt like I envisaged it was my time now and I'm so happy. After starting this year the way I did then dropping off then coming back and all of that stuff I feel like this was my time. I always said that the Finals would be my last event for the year and I can't wait for it. I'm excited."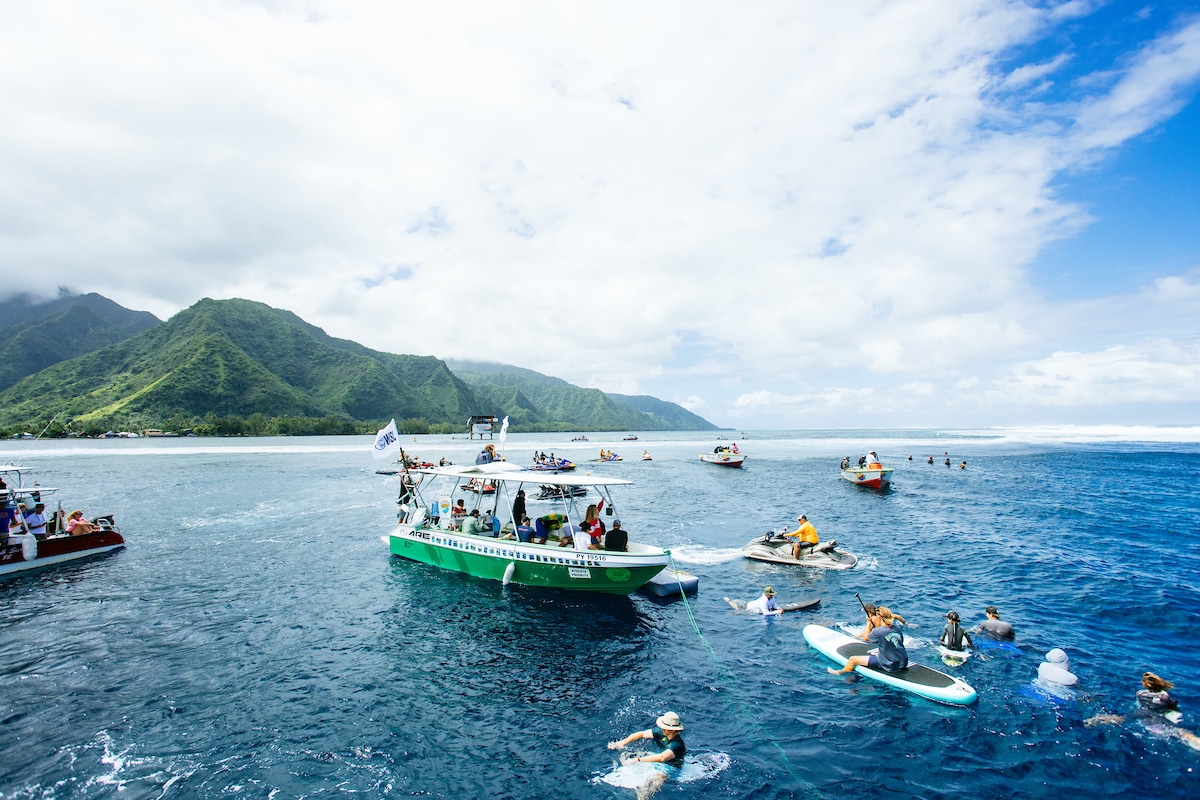 After winning the first event of the year, then claiming a third and a second-place finish to back it up and head towards the mid-season cut wearing the yellow Leader's Jersey, Robinson suffered multiple injuries through the middle of the year and came into the SHISEIDO Tahiti Pro in 8th place on the rankings. Robinson needed to win the event to secure his spot in the WSL Final 5 and that is what he did, overcoming fellow Final 5 contenders Leonardo Fioravanti (ITA) and Yago Dora (BRA) in the Semifinal and Quarterfinal to set up his matchup with Medina. Robinson will finish the season in 5th on the rankings, having already provisionally qualified for the Olympic Games Paris 2024.
Today saw Gabriel Medina (BRA) contest his sixth Final in Tahiti having won the event in 2014 and 2018. The three-time WSL Champion was fresh off a third-place finish at the Corona J-Bay Open last month and was looking to add another victory to his Western Australia Margaret River Pro title from earlier this year. The exciting goofy-footer was on fire all event, posting some of the highest scores for his deep technical tube rides but his runner-up finish wasn't enough to see him move out of 6th place on the rankings.
"This is a special place to me and a place I love to come to," Medina said. "I love my time here and love the people here so it's nice to make another Final in Tahiti. Teahupo'o has given so much to me over the years so it's great to be here and just enjoy the place and getting barrelled. I did everything I could to make it tough for everyone but in the end, it wasn't enough but that's life – I'm happy."
Caroline Marks Wins All-American Final For Second CT Victroy of The Year
Caroline Marks (USA) claimed her second event win of the season today at Teahupo'o. Marks finished 5th here last year and today she demonstrated an increased level of confidence and dominance in waves of consequence. Marks' road to the Final was not easy as she had to take down two Tour veterans, Stephanie Gilmore (AUS) and Tyler Wright (AUS), along the way. After taking time away from the Tour at times in 2021 and 2022, this is Marks' first full season back and her most successful to date with two CT victories from three Finals in 2023.
"I'm stoked – this is like a dream event to win so I'm super pumped," Marks said. "The waves got a little weird with that wind and after I fell on that barrel I had to go to turns on my second to last wave. It was good to be able to change the plan and see it work out. To win this event as a goofy footer is a real feather in your cap."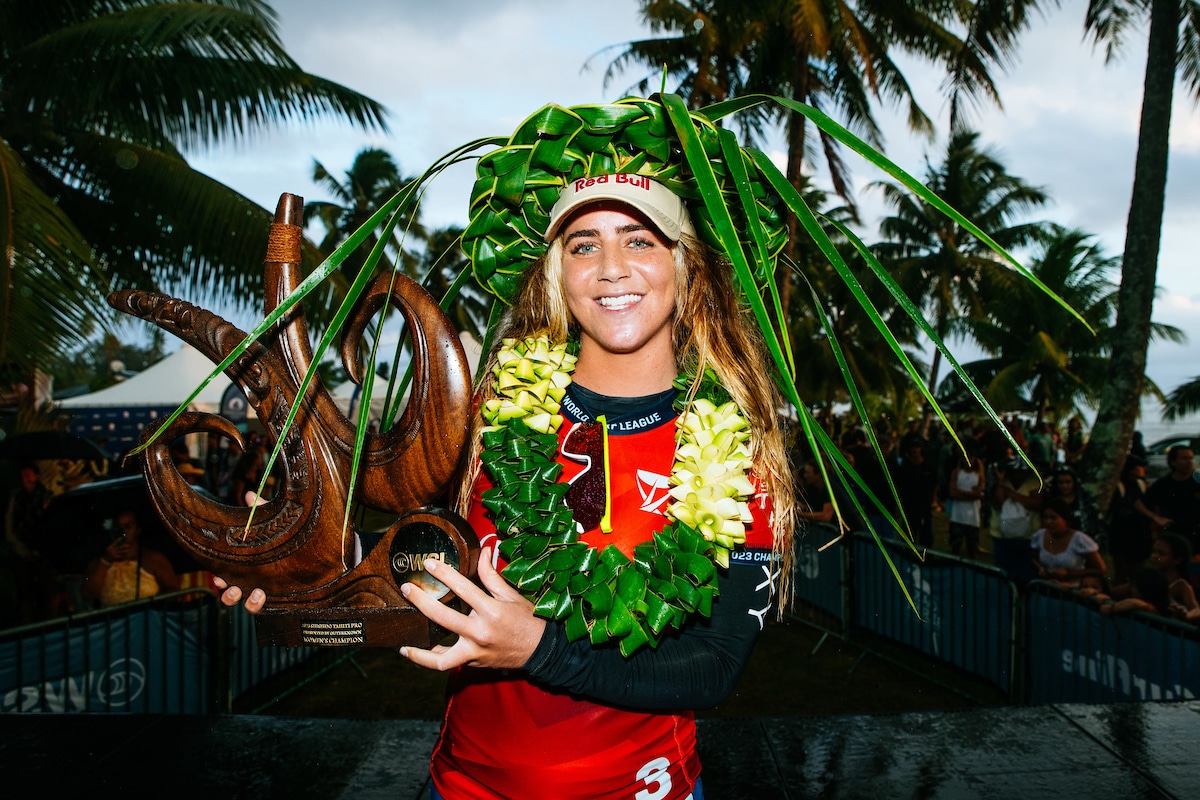 In the Final, Marks came up against 2023 CT rookie Caitlin Simmers (USA) in an all-American match-up. With both surfers having already locked in spots at the Rip Curl WSL Finals all that was on the line was a prestigious Teahupo'o title. As a rain squall came through the lineup it, was Marks who successfully changed tact and posted her winning score with turns on the face rather than in the tubes Teahupo'o is known for.
"Surfing against Caity in the Final was super cool, she had a really good Semifinal heat so I knew it was going to be a tough match-up with her. She's had such a stellar year and has that real rookie energy with no pressure and nothing to lose which is really cool. To have an all-American final was really fun. I'm super grateful to have Luke (Egan) in my corner. I think he made a Final out here with Andy (Irons) so it's amazing to have all of his knowledge. It's been such a rad year and I've got more to look forward to at the Rip Curl WSL Finals at Lowers."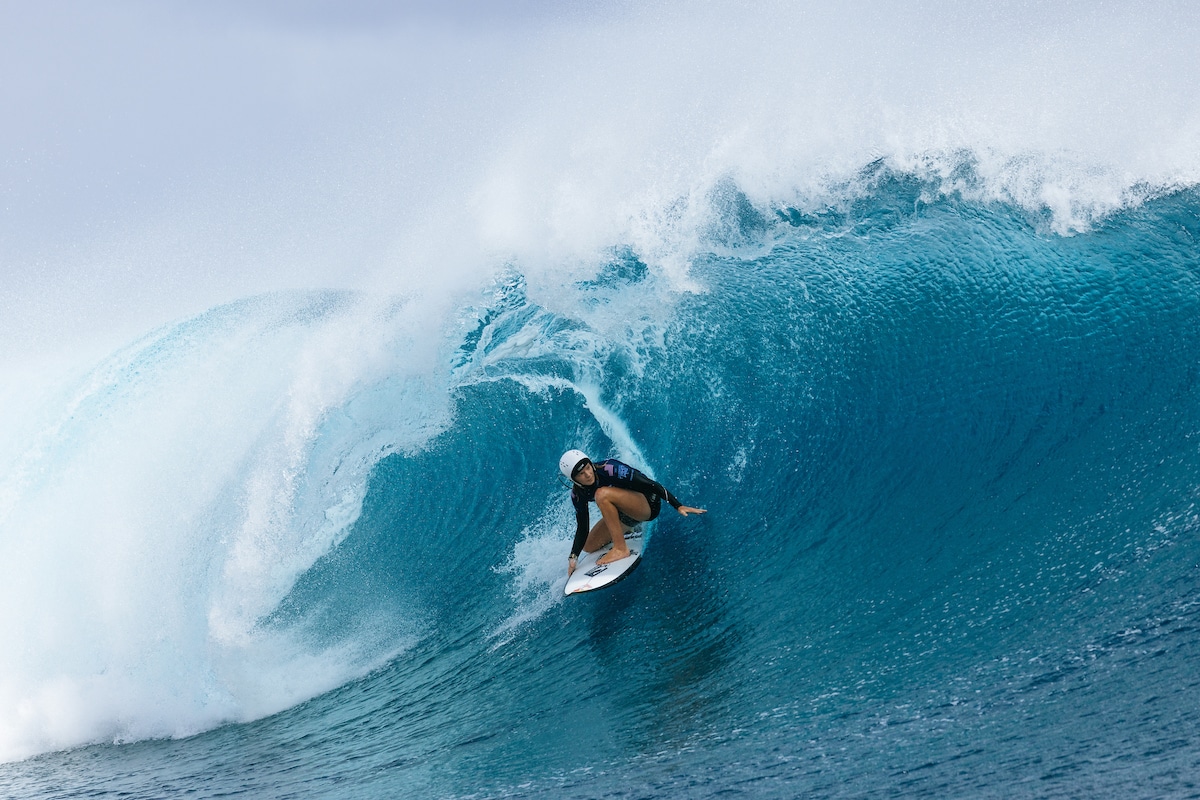 Rookie Caitlin Simmers Clinches Last Spot in Women's WSL Final 5 With Runner-Up Finish
Rookie Caitlin Simmers (USA) clinched the last spot in the women's WSL Final 5 today with her runner-up result. The 17-year-old put the Tour on notice this year, winning the CT events in Portugal and Brazil. This week was Simmer's first event at Teahupo'o and she was a clear standout, taking down chargers Molly Picklum (AUS) and Vahine Fierro (FRA) on her way to the Final as well as posting a 9.23 (out of a possible 10) for a late, deep, critical tube ride, the highest single-wave score of the women's event. Simmer's home of Oceanside, California is just up the road from Lower Trestles and she is sure to be a threat at the Rip Curl WSL Finals.
"There were a bunch of implications in that heat," said Simmers. "I was watching Steph (Gilmore), she's my favourite surfer so I wanted her to win but If she didn't win I would make it to Lowers so it was weird. My heart was racing watching that heat. Lowers is pretty close to where I live so I'm excited. This has been a rad event. Getting barreled and tested by such an intimidating wave has been enjoyable and I'm looking forward to coming back here next year."
WSL Final 5 Set for World-Title Deciding Rip Curl WSL Finals
Following the completion of the SHISEIDO Tahiti Pro Presented by Outerknown, the WSL Final 5 have been determined and are ready to compete at Lower Trestles in San Clemente, California for the Rip Curl WSL Finals. The one-day winner-take-all event will crown the 2023 World Champions. The competition will run on the best day of waves determined by the WSL Tours and Competition team between September 8 – 16, 2023.
WSL Final 5 Women
1 – Carissa Moore (HAW)
2 – Tyler Wright (AUS)
3 – Caroline Marks (USA)
4 – Molly Picklum (AUS)
5 – Caitlin Simmers (USA)
WSL Final 5 Men
1 – Filipe Toledo (BRA)
2 – Griffin Colapinto (USA)
3 – Ethan Ewing (AUS)
4 – Joao Chianca (BRA)
5 – Jack Robinson (AUS)