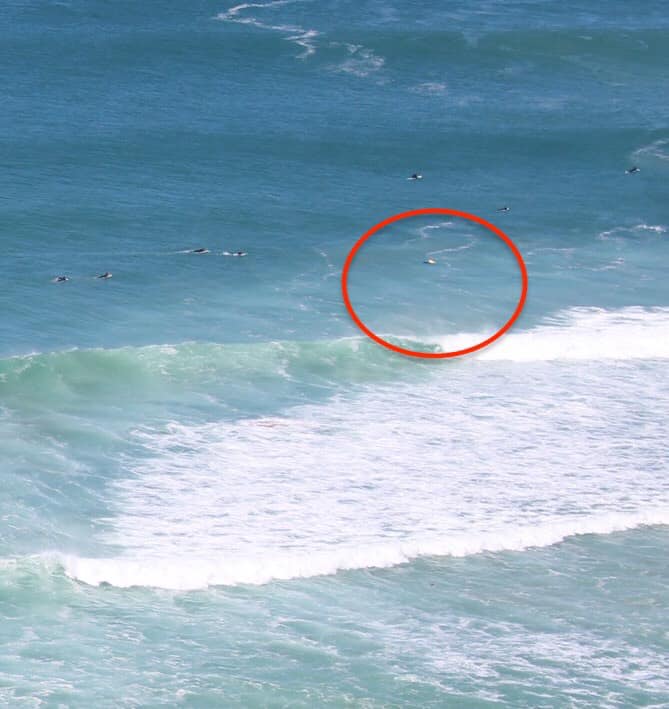 Alfie England (left of the circle) leading the rescue of Jonathan Davies circled, Porthtowan, 25 May, 2020.
May-hem – the weekend of the 25th May and the following week – was the event the unemployed lifeguards, regional RNLI lifeguard division supervisors around the UK, and the lifesaving community had warned about for weeks. They knew the withdraw of lifeguards from beaches combined with the relaxation of travel rules, good weather, warming waters, big swell and large tides would cause problems. But they weren't listened to.
This was one dramatic rescue in a week of many incidents that made the headlines. Luckily it had a happy ending.
It was a really nice day in the south west. Sunshine, good wave, offshores, warm. Not a day you would expect all hell to break loose on beaches. But it did.
While surfing with a local crew at Porthtowan, Alfie England spotted local surfer and surf club member Jonathan Davies floating face down in large surf around 250 metres from shore and 100 metres from the main group of other locals. He raised the alarm and Paul Elcocks and Steve England paddled over as fast they could. 
"When we got there it was obvious Jonathan was in a lot of trouble,' says Steve, "He'd obviously taken in a lot of sea water and hadn't been breathing for some time. But before we could fully assess him the other surfers started shouting, "Set!' (Meaning large waves were on their way)" 
Steve grabbed Jonathon and turned his back to the waves and braced for impact. At one point they were dragged down by a wave and he had to let go of Jonathan with one hand to try and swim back up holding him with the other. Luckily as soon as they surfaced Alfie and Paul were still close enough to help, and others including Joss Lawrence and Chris Ingram were coming.
"Surfboards were tangled, and the waves kept coming, but the swift response of the other surfers meant there were now five of us to help. There wasn't much time between waves, so we did our best to assess Jonathans condition and start to get him shore.
"As another wave hit and I got swept to one side I realised that Jonathan was in severe danger and probably wouldn't reach the shore alive." said Steve, "So I shouted to 'get a breath in' meaning commence in water CPR. Chris Ingram immediately performed in water CPR."
The group then struggled to get the Jon out of the impact zone, fighting a strong current, and negotiated the challenging shorebreak.
On shore other local surfers Dom Kent and daughter Teah Munroe had seen what was happening and called 999. Others ran to the shore and helped the team take care of the casualty, more cleared the area, pushed back walkers and designated the landing zone for the helicopter rescue. St Agnes lifeboat was launched and joined the effort to save Jonathan's life. Moss Thomas, unemployed senior lifeguard and most qualified lifeguard in the group took over control.
The Coastguard helicopter had three simultaneous life threatening call outs within 15 minutes at that time. Two in the Padstow area, to which the helicopter was initially tasked, unfortunately resulted in fatalities so it was immediately diverted to Porthtowan. The team had by then managed to resuscitate Jonathan and worked on him for 20 minutes before it arrived he was transferred to hospital.
"It was horrendous listening to the lifeboat radio knowing that three lives were simultaneously in danger. The pressure on the Coastguard and lifeboats involved at that moment was of the highest order.' says Steve.  
"This was one of the most challenging rescues I have been part of in 42 years of surfing due to unconscious casualty, large surf, currents and distance from shore," he explains,
"It was outstanding team work all round. We thought he had passed numerous times in the water and on land, but no-one gave up. Everyone remained positive and focused. The younger members were not phased at all. They were out standing.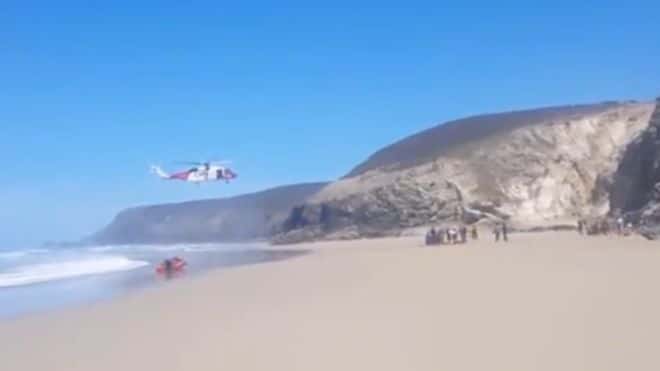 "It was a pretty sombre mood on the beach, and some of the rescuers were quite badly affected by the experience. Even though we had done all the right things, to be honest no one expected to see Jonathan again."
Jonathan was admitted to intensive care and put into induced coma. After 48 hours of amazing work in Treliske hospital, he was back on Facebook posting message of thanks. Ten days later he resumed voluntary beach warden patrols at the local beach of St Agnes, helping to keep the public safe until the lifeguards returned. 
The incident was put down to a freak accident. Jonathan was also back surfing ten days later. He is now a fully qualified in Lifeguarding and his wife Vix is an RNLI lifeboat crew member.
It was a quite an event and made national news. But the two main things to take away from this story are; stay calm, and never give up.
The teams and Jonathan did neither.
Alfie England, Paul Elcocks, Chris Ingram, Joss Laurence, Jason Ledger, Sam Russell, Joel Henthorn, Teah Munroe, Dominique Kent, Steve England, Moss Thomas, Dulcie Havers, Adam Dakin and Sam James all received Royal Humane Society Awards.
We sent the crew some Offshore Pilsners courtesy of Sharps so they can have well deserved beer after work in the summer sun.
If you want to help fund equipment for lifesaving communities you can donate here.