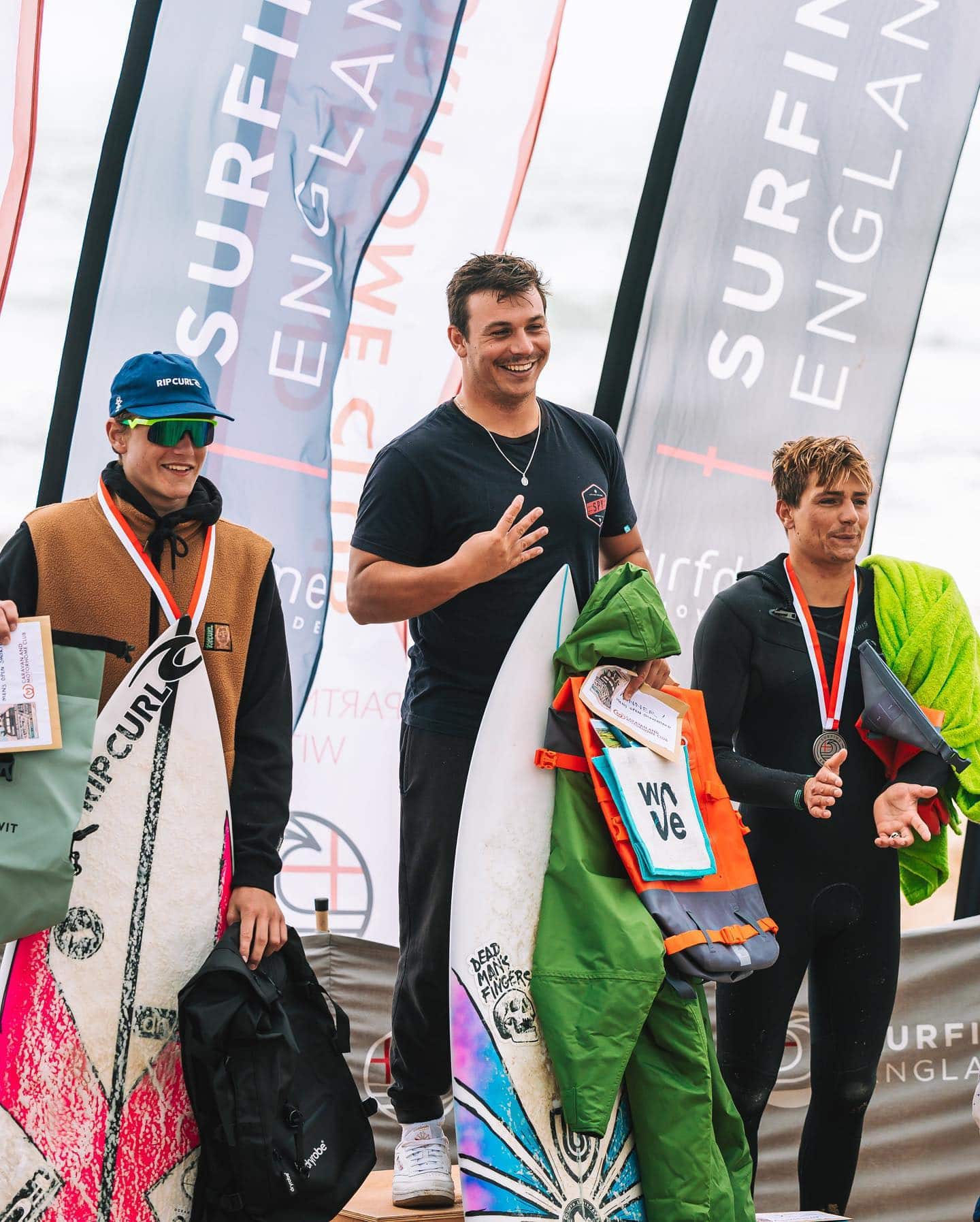 He's still on the podium so not retiring yet!
British Surfing have announced Newquay's Luke Dillon as their new Performance Surfing Coach. Luke has been putting in strong performances on the QS and in Olympic qualifiers as well as at home the UK for some time now. He is well respected by the current crop of QS chasers from Britains and Ireland… BUT it doesn't mean he is retiring just yet! As we found out.
Carve > So what up… a pretty big announcement today what can you tell us?
Luke Yeah very exciting, I've been announced as the Performance Coach for GB Surfing. I'll be overseeing the development of the Progression Squad – which is a squad that aims to be Podium competitive by Brisbane Olympics 2032.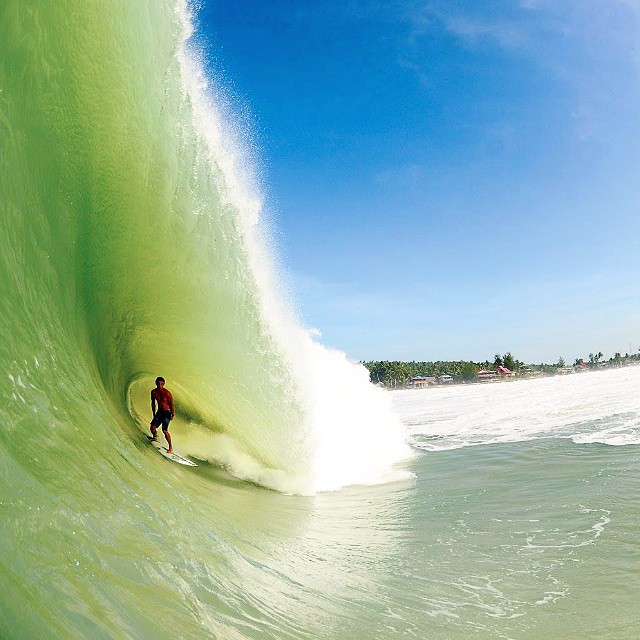 Got to throw the Nias shot in!
Is it a full time paid or part time for the love?
It's part time, it's a hybrid role to allow me to continue to compete this year to try and qualify for Paris 2024 as well as coaching. The World Championships are in Puerto Rico in February so it's not very far away. You're a long time retired so for me it was about giving it one last go before I put all my energy into helping out the next generations. GB surfing have been very understand and supportive of this so I'm very thankful to be in this position.
You were going pretty good on the Olympic qualification race, even though it is super tough, and some great performances, please tell me it's not retirement!
Ha ha. Yeah as I said it's important to me to try and give this next competitive year everything. It's good timing for me with Paris 2024, it'll be a clean break after that. I've already found myself getting straight into the coaching side and involved with potential future plans with GB Surfing. There may be the odd event in the U.K. I'll compete in but they'll be no more WSL competing.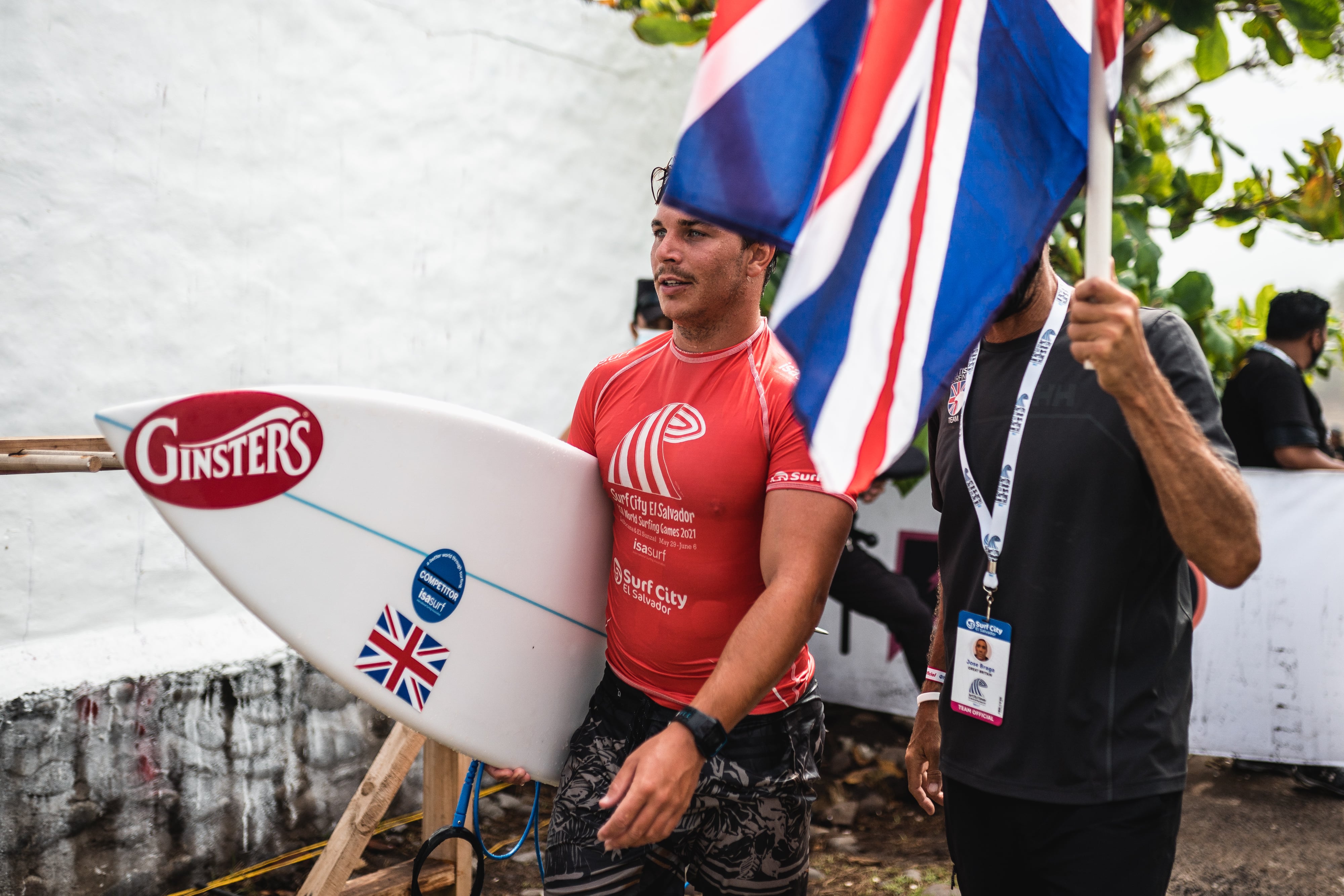 You've been part of an increasingly tight UK comp crew and I got the feeling you were kinda coaching a few of them anyway?
Yeah it's been good the past couple of years. I started on the WQS solo and now feels like we have a little team travelling together. I wouldn't say I coach any of them but they all know they can come to me and ask for: advice, heat strategies, board advice etc. I've never pushed it on them, I've just made it really obvious I'm there if they need me.
What's the big aim and what comes next for you.
The short term big aim for me is Olympic Qualification. However to get there, I need to get into the GBR squad, go to the World Champs and qualify out of the remaining places. I'm very confident in my abilities or I would have retired and gone into coaching now. Long term… I want to take our athletes to the pinnacle of competitive surfing. Olympic medals, CT competitors, World Champions.
Are there going to be some training camps on the horizon?
I want to put in place training camps for sure, need to look into the details and figure out what's possible but it's definitely possible. It's something that has to be done alongside regular training. It's exciting times, lots to get on with and get going.
2X BRITISH NATIONAL SURFING CHAMPION, LUKE DILLON, TO BECOME GB SURFING PERFORMANCE COACH
GB Surfing is delighted to announce the appointment of two-time British National Champion, Luke Dillon, as Performance Coach, leading on the day-to-day coaching of all UK Sport funded athletes.
Luke joins GB Surfing and makes the transition from athlete to coach as one Britain's most successful surfers. A two-time British National Champion, four-time English Champion, European Junior Tour winner and a Top 20 ISA World Games finisher, Luke will bring considerable competitive experience and knowledge to the team.
As well as managing the day-to-day coaching of the Progression Squad, Luke will lead on all UK-based training activity, squad planning for the winter camps, and athlete reviews. He will also play a lead role in the preparation for the 2024 ISA World Surf Games in Puerto Rico and beyond.
The Progression Squad will be made up of male and female athletes identified by GB Surfing as potential future Olympic medal surfers. The selection criteria for athletes to be considered for the Progression Squad is available on the website, and Luke, along with an expert selection committee will select and announce the surfers in the coming weeks.
The appointment of Luke highlights GB Surfing's desire to develop and nurture British talent, putting the facilities, guidance and support in place to produce Olympic medal-winning teams. Luke will be enrolled in the UK Sport Athlete to Coach programme as well as receiving high-level mentoring from the UK Sport system to help him with his transition from elite athlete to coach.
Talking about his appointment, Luke said: "I am incredibly excited to start my coaching journey, it is something I have always wanted to do, and I am grateful to Dan and the GB Surfing team for giving me the opportunity.
"This is a new era for surfing in Great Britain, and I know we have some amazing young athletes coming through with the ability to do some special things on the world stage. I know I have got lots to learn as a coach, but there is a huge opportunity for us to create something positive that can last for decades, and that we can all be incredibly proud of."
Talking about the appointment of Luke, GB Surfing Executive Performance Director, Dan Hunt, said: "Luke is incredibly well liked and well respected in the sport, both in the UK and Internationally, and after multiple conversations with him, it is clear his knowledge, experience and desire to help shape the next generation of British surfers will be a massive asset to us.
"Like GB Surfing, Luke is at the beginning of a very exciting journey, and we believe nurturing our own talent and giving them the tools and support they need will be the best way to build a sustainable elite development programme that ensures long-lasting success."
Luke will report directly to Dan Hunt, Executive Performance Director, and will initially balance his new role with his surfing. If therefore deemed necessary at any camps or competitions, GB Surfing will bring in additional coaching to ensure they have the correct provision.