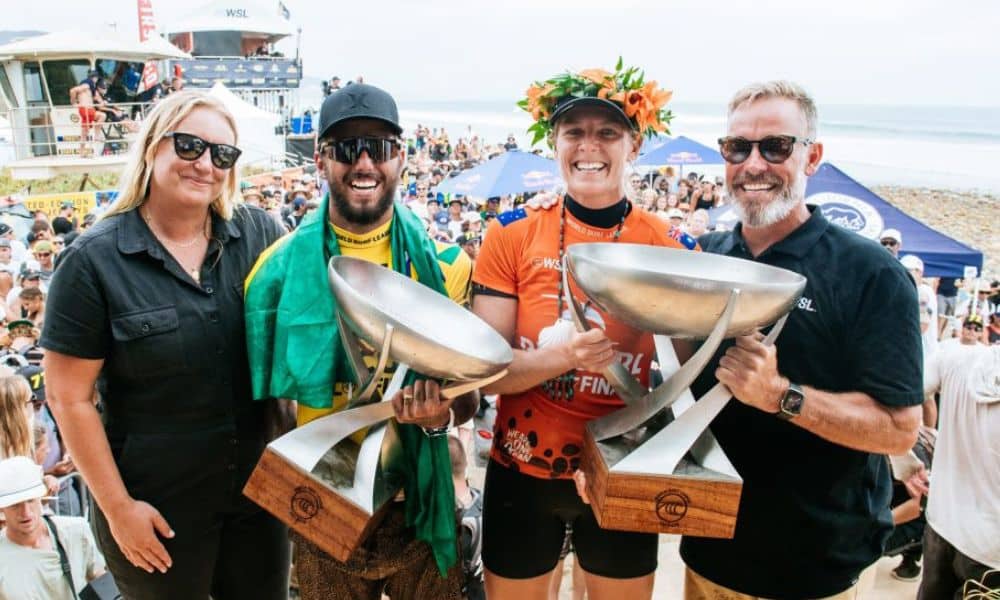 Erik Logan, the chief executive of the World Surf League, has left the company immediate effective, mid comp and part-way through the sport's 10-stop world tour. No reason has been stated.
Logan joined in 2019 and helped launch TV shows like Apple TV's Make or Break (very good) as well as introducing a mid year cut, rescheduling Pipe and introducing a World Title surf off…All, perhaps, not so good.
He seemed really happy with life two days ago posting on his Insta'
"While we have another off day, let's look at day 1… 🏄‍♂️🌊 Day 1 in beautiful Brazil, and what an exhilarating kick-off to the competition! 🇧🇷
"It's impossible to capture in words the electrifying atmosphere that surrounds us here. Every cheer from the crowd, every wave ridden, and every drop of the golden Brazilian sun fills us with pure joy and adrenaline. The Brazilian fans, you are truly amazing – your passion, your energy, and your love for surfing is infectious! 💙💛💚
"From the first light of dawn to the setting sun, the competition was intense and thrilling. Witnessing our talented surfers perform at their best on this stunning beach was nothing short of spectacular. Their skill, courage, and camaraderie reminded us why we love this sport and why we love this event. 🏄‍♀️🏅
"Seeing the event site come alive with all the activations was a sight to behold. The seamless blend of sport, culture, and community that these activations represent is what makes this trip to Brazil one of my favorite parts of the year.
"We also want to extend a heartfelt THANK YOU to our incredible sponsors: VIVO, Corona, the State of Rio De Janeiro, and the city of Saquarema. Your unwavering support and commitment have played a crucial role in making this event a reality. 🙏💕
"Thank you, Brazil, for welcoming us with open arms and open hearts. Your spirit is what fuels this competition, and we're so excited to experience more of this amazing journey with you.
"Stay tuned for more action on the waves. Here's to a spectacular Day 2, and many more days of epic surfing to come! 🌊🏄‍♂️🎉"
And
"🌊🏄‍♂️ Reflecting on an incredibly rewarding journey with the WSL Academy, and I feel nothing but honored and privileged to be part of this innovative program. 🙌
Developed with an aim to illuminate the power and business of professional surfing, the WSL Academy is a testament to the strength of our sport and the community it fosters. It's been a wonderful experience seeing so many partners, promoters, and surfers come together to learn about the driving forces behind the World Surf League. 🌐💡
What truly makes this journey special is witnessing the growth and support in this amazing country, Brazil. 🇧🇷 The enthusiasm and dedication shown here are unmatched, reinforcing our belief in the transformative power of professional surfing.
As we take these learnings from Brazil to other parts of the world, I am filled with excitement and anticipation. Surfing is not just a sport, it's a global community that connects us all.
I can't wait to see the ripple effects of this program across the globe. Here's to fostering a deeper understanding of the beautiful sport of surfing, its business, and its power to inspire and connect us all.
Obrigado, Brazil! 🙏 We're eager to ride this wave of knowledge and passion to the rest of the world. 🌍"
WSL posted
"Today, the World Surf League (WSL) announced that CEO Erik Logan has departed the company, effective immediately.
"As the WSL begins the process of identifying a new CEO, Emily Hofer, WSL's Chief People & Purpose Officer, and Bob Kane, Chief Operating Officer & Chief Legal Officer, will jointly lead the company and continue to drive the WSL's mission to showcase the world's best surfers on the world's best waves as the global home of competitive surfing.
With Hofer's and Kane's leadership, alongside the dedicated executive team, the WSL remains well-positioned for continued success and growth. The League maintains an unwavering commitment to working alongside our colleagues, athletes, and partners to build surfing's global competitive platform, aligned with our purpose initiative around ocean conservation. Together, we will work to advance and develop competitive surfing, pushing forward to the evolution and progression of this incredible sport."