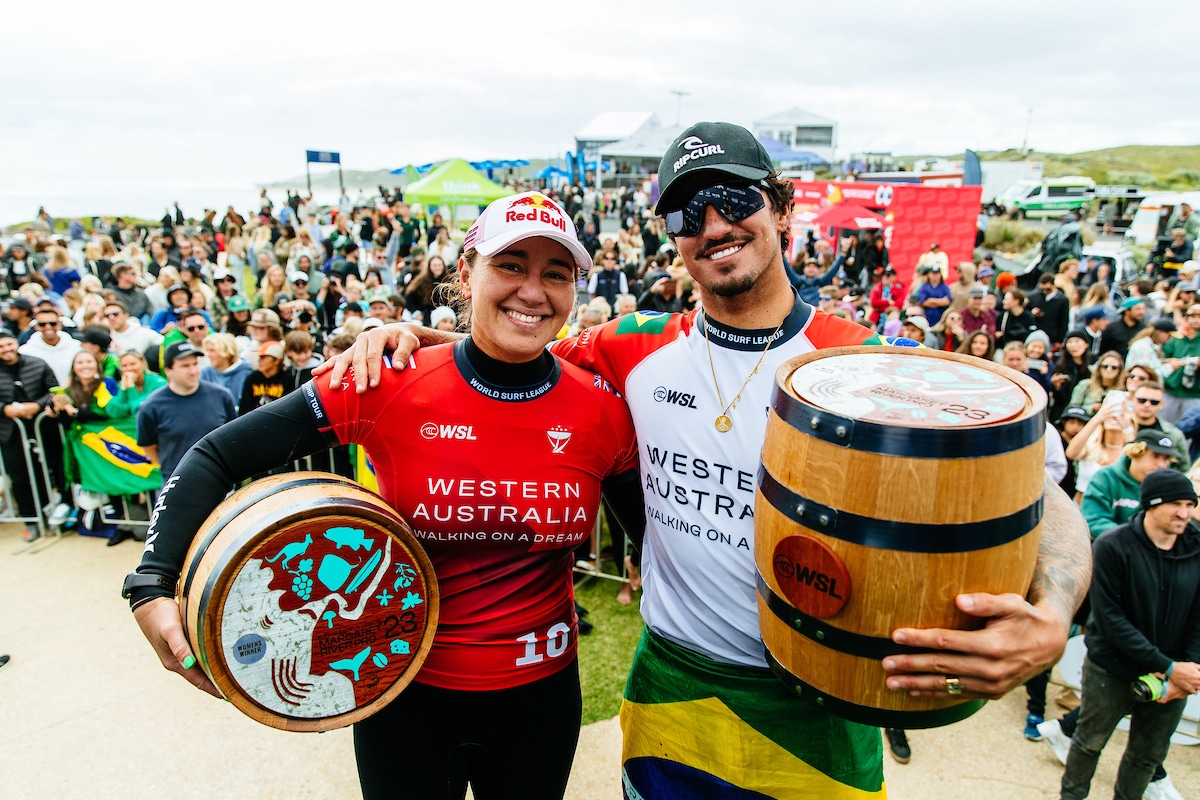 • Gabriel Medina Wins First CT Event Since 2021
• Carissa Moore Earns 27th CT Victory
• Griffin Colapinto Earns Second Runner-up Finish of 2023
• Tyler Wright Makes Back-to-Back Finals
• More Available at WorldSurfLeague.com
Gabriel Medina (BRA) and Carissa Moore (HAW) won the Western Australia Margaret River Pro, Stop No. 5 on the World Surf League (WSL) 2023 Championship Tour (CT), today in solid four-to-six-foot surf at Main Break. With their big wins today, Moore and Medina made significant moves up the rankings and now sit at World No. 2 and No. 7, respectively, on the rankings.
The Mid-season Cut narrowed the field to only the Top 22 men and Top 10 women, who will continue competing through the back half of the 2023 CT season. After earning a runner-up finish here at Margaret River, Tyler Wright (AUS) will wear the yellow Leader jersey going into Stop No. 6, the Surf Ranch Pro. Joao Chianca (BRA) held onto the ranking's lead with his Semifinal finish today and stays in the top spot on the rankings. Competitors will now shift their focus to making the Final 5 to be able to compete at the WSL Rip Curl Finals and have a shot at the 2023 World Title.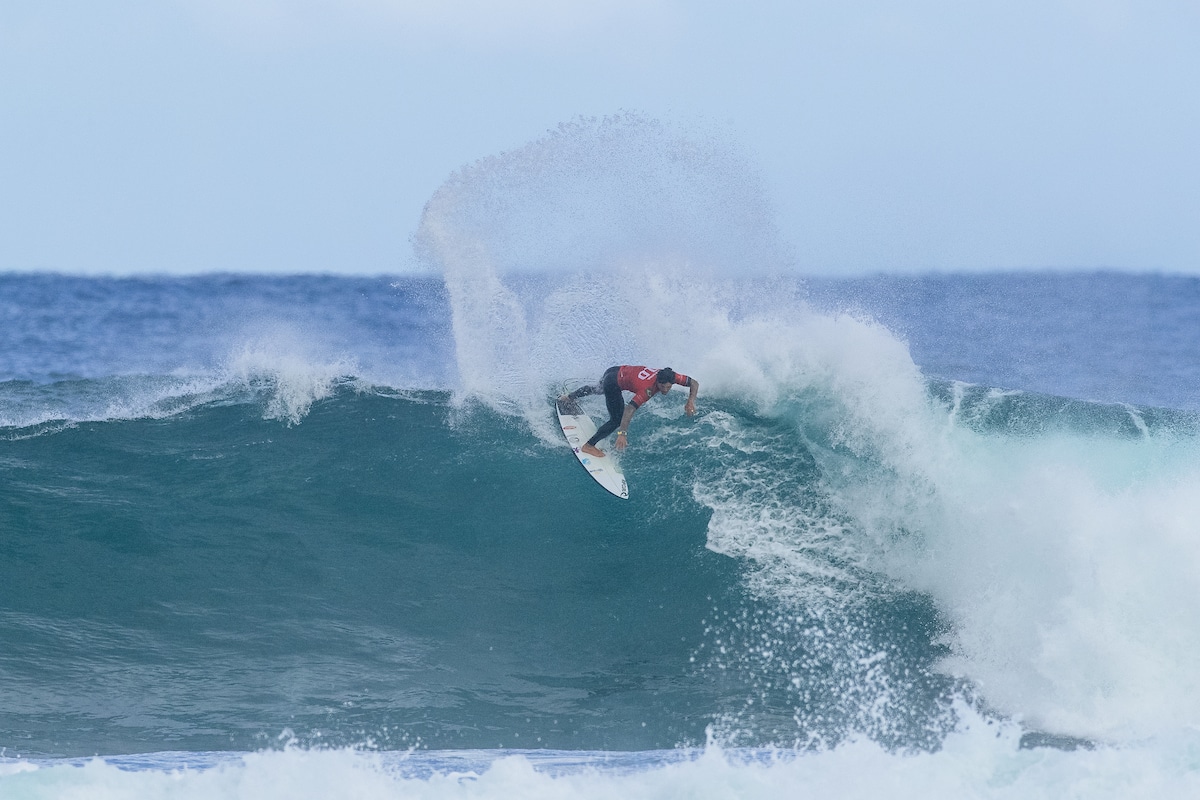 Gabriel Medina Wins First CT Event Since 2021
Gabriel Medina (BRA, above) reminded everyone why he's a three-time World Champion today, taking a dominant win over Griffin Colapinto (USA) in the Final with the highest heat total of the day, a 17.50 (out of possible 20), which included a near-perfect 9.50 (out of possible 10). Medina built momentum throughout the event, taking down current World Champion Filipe Toledo (BRA) in the Quarterfinals and current World No. 1 Joao Chianca (BRA) in the Semifinals.
This marks Medina's 17th CT career event win and his first ever at Margaret River. After taking a break in the first half of the 2022 season and having a slow start this season, there is no doubt Medina has come back with force.
"It's pretty special to win here," said Medina. "It's a venue where I've struggled to make heats. It felt good to have good waves and get the win. I'm feeling better now just feeling like I'm in the rhythm again. Griff (Colapinto) and I always have good battles. I love competing against the guys, and that's what we're here for. It's a really hard wave to surf, and I'm happy with my improvement."
Medina and Colapinto started the Final with an explosive back-to-back exchange. Colapinto got the better of Medina, earning an excellent 8.17 (out of a possible 10). But Colapinto struggled to find a backup score for the remainder of the heat. Meanwhile, Medina was in rhythm with the ocean, throwing his backhand attack at the large Main Break walls. His critical turns right in the pocket earned him two excellent scores, and the event win. Medina's win marks the first time a goofy-foot man has won Margaret River, CT in 33 years.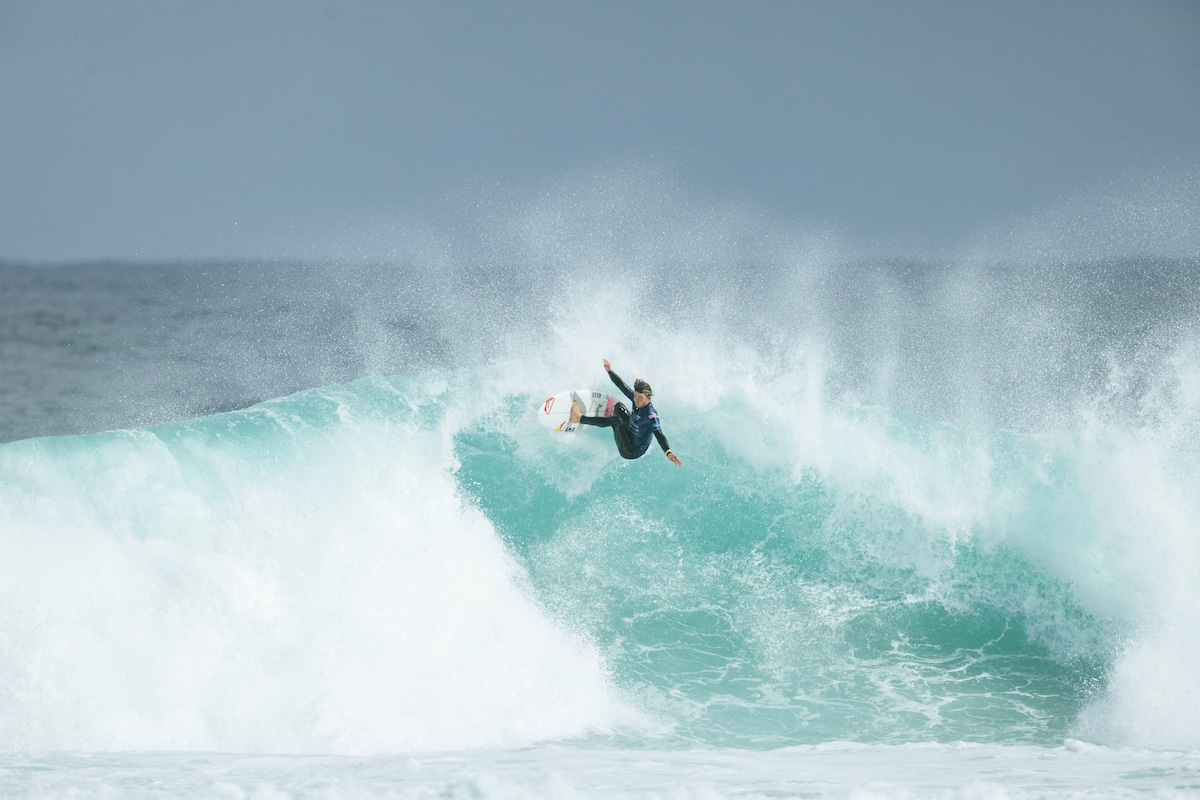 Griffin Colapinto (above) Earns Second Runner-up Finish of 2023
Colapinto's second Finals appearance of the season was well-earned, as he had to take out fierce competitors along the way. In one of the biggest upsets of the day, Colapinto overcame two-time World Champion John John Florence (HAW) in the Semifinals. Florence had established himself as the one to beat here at Margaret River, going excellent in all of his heats leading up to the Semifinals. But, it was Colapinto who went excellent in their matchup with an 8.50 and 9.00 by capitalizing on set waves with opportunity. Colapinto is now the only man to have made the Finals twice in 2023. After this solid result, he now sits at No. 4 on the CT leaderboard.
"I'm most proud of that heat against John [Florence]," said Colapinto. "He got me last year, and I kinda surprised myself in that heat to beat him like that. It was a feather in my cap. He's probably the GOAT out here, so that was the highlight of my day. Against Gabe [Medina], you have to go all in. Every section I got, I wanted to go as big as I could. The rest of the heat, I didn't pick the best waves. Congrats to Gabriel. He seems super into it and super psyched on competing and life, and it makes it fun for everyone else, too when you can feel the passion. Stoked to have him back."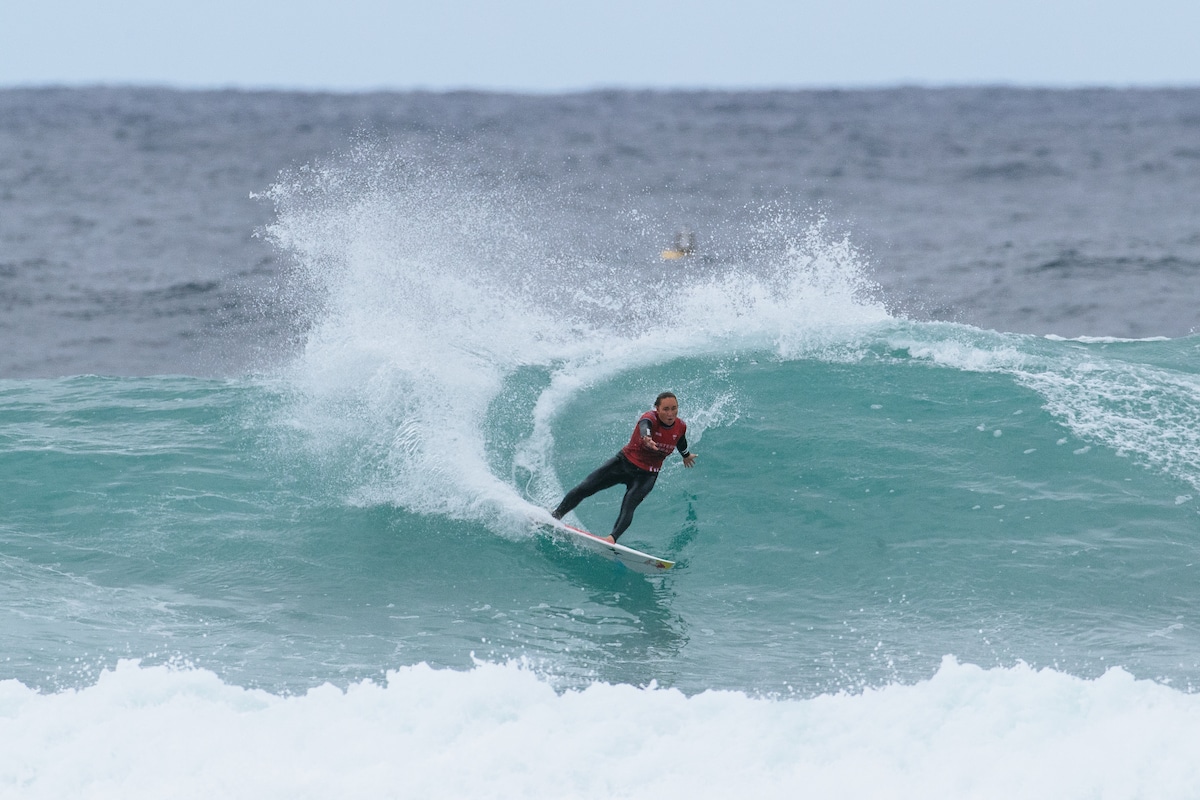 Carissa Moore Earns 27th CT Victory
Carissa Moore (HAW) earned her second event win of the season and her 27th overall CT career win today at Main Break. The five-time World Champion now has a third Margaret River win to her name after taking down two-time World Champion Tyler Wright (AUS) in the Finals. Now, Moore hopes to overtake Wright, who currently holds the World No. 1 position, as she's in striking distance at No.2.
"It was a crazy week and a crazy month being away from home, it's a roller coaster," said Moore. "Coming here, the doubts were starting to creep in. But, I really felt the love and the joy from this community and I want to say thank you because I couldn't have done it without that good energy. I didn't see Tyler's (Wright) wave so I thought I might have wasted my opportunity, but I just thought it's up to the universe at this point."
The women's Final was a battle of two World Champions and former Margaret River Pro event winners. After a slow start, Moore took the lead by showcasing her trademark wrapping carves to post a 6.10. Wright had one more opportunity right before the horn but mistimed the end section and the score came up short.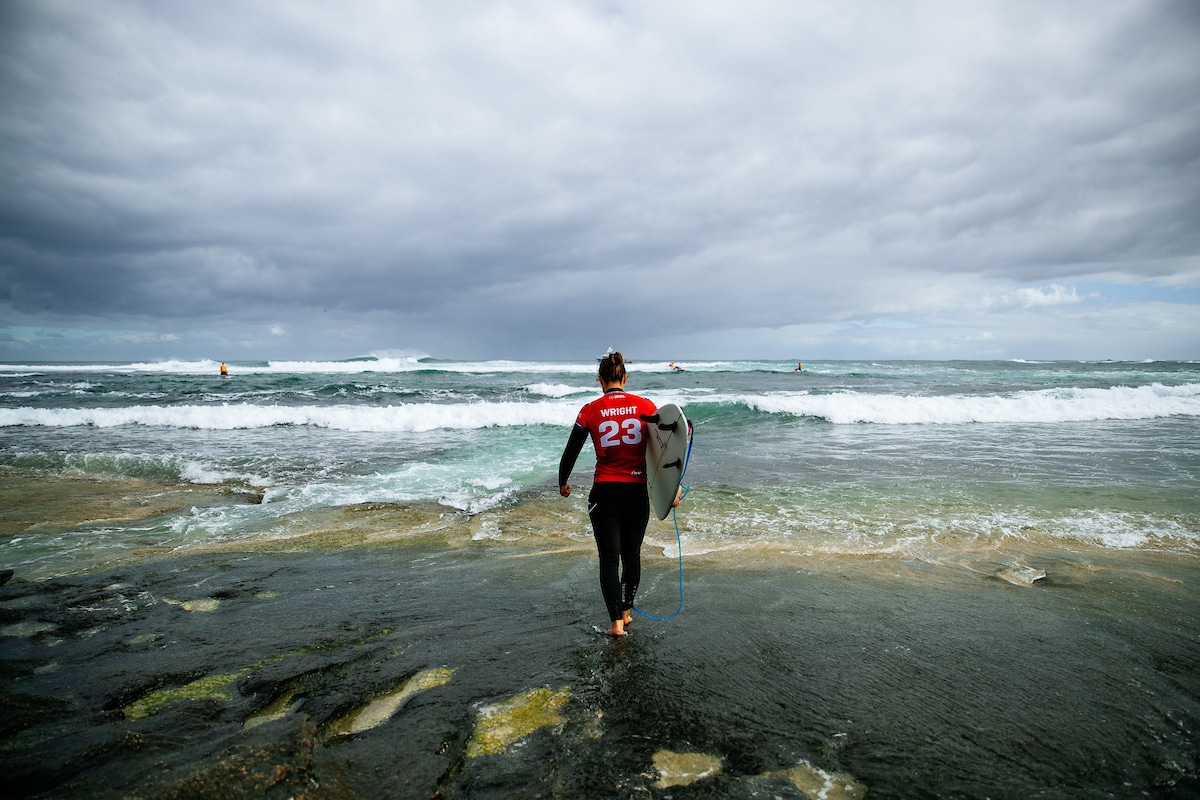 Tyler Wright Makes Back-to-Back Finals
Tyler Wright (AUS) made her second-consecutive Finals appearance today and her third of the 2023 CT season. On her way to the Finals, she overcame eight-time World Champion Stephanie Gilmore (AUS) in the Quarterfinals. She then went on to face an in-form Caroline Marks (USA) in the SemifInals. Marks held the lead going into the second half of their matchup, but Wright found a gem of a set wave and posted an excellent 8.50 to take the heat win.
"Carissa's been an incredible competitor and to have another Final with her was amazing," said Wright. "It didn't go great for me in that Final, but I've had a wonderful week and a wonderful Australian leg. I haven't been in that position for a long time. I really like what I'm doing at the moment and how my team has worked with me in the last year to position how I want to be. I'm just settling into the whole process again. I don't expect much, but I really enjoy doing this work."
For a third consecutive year, local favourite Bronte Macaulay (AUS) claimed an equal third-place finish at her home event in Margaret River. The talented goofy-footer was in solid form all week after winning the Local Trials before eventually falling to Moore in the Semifinals. Macaulay will hope to take her momentum into the Challenger Series season opener, the Boost Mobile Gold Coast Pro, which starts next week at Snapper Rocks.
With Margaret River determining who made the Mid-season Cut, the remaining CT competitors will now prepare for the back half of the season, beginning with the Surf Ranch Pro, which will run on May 27 and May 28, 2023.
For highlights from Finals Day at the Western Australia Margaret River Pro, please visit WorldSurfLeague.com.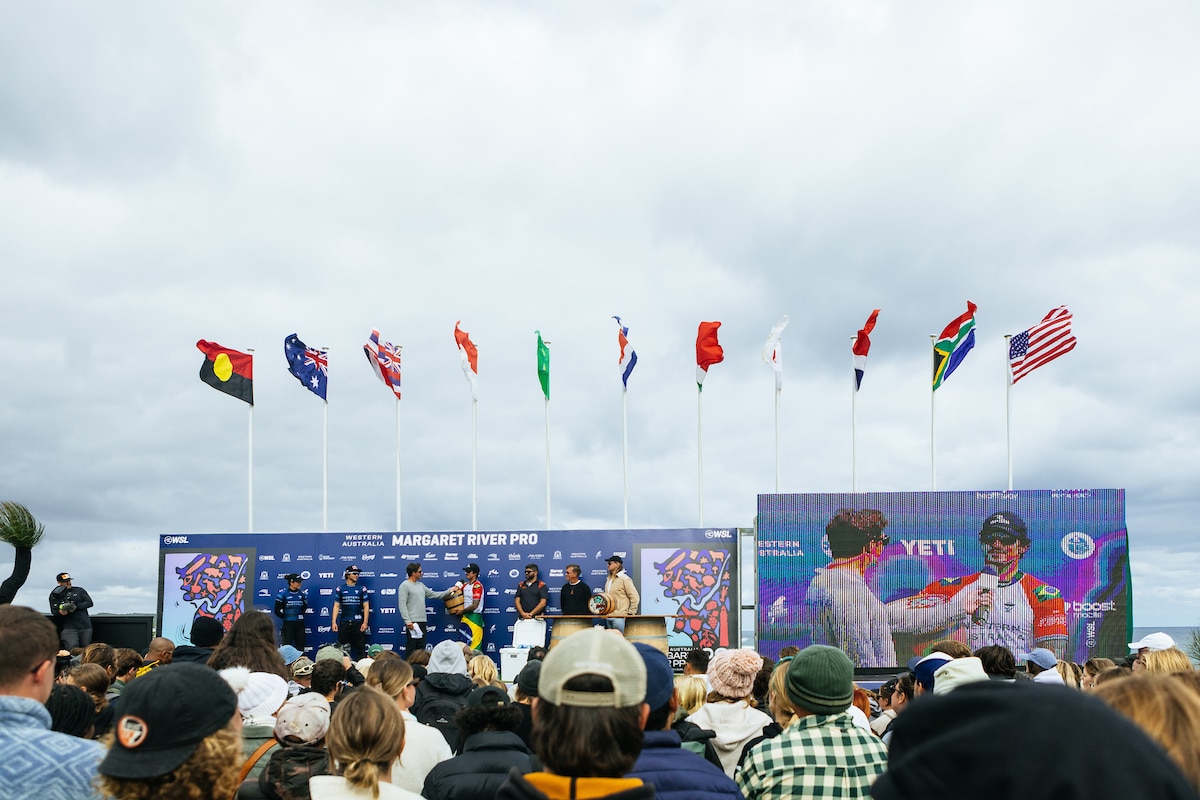 Western Australia Margaret River Pro Women's Final Results:
1 – Carissa Moore (HAW) 11.10
2 – Tyler Wright (AUS) 9.17
Western Australia Margaret River Pro Men's Final Results:
1 – Gabriel Medina (BRA) 17.50
2 – Griffin Colapinto (USA) 12.27
Western Australia Margaret River Pro Women's Semifinal Results:
HEAT 1: Carissa Moore (HAW) 12.50 DEF. Bronte Macaulay (AUS) 4.07
HEAT 2: Tyler Wright (AUS) 15.33 DEF. Caroline Marks (USA) 11.34
Western Australia Margaret River Pro Men's Semifinal Results:
HEAT 1: Gabriel Medina (BRA) 12.50 DEF. Joao Chianca (BRA) 10.67
HEAT 2: Griffin Colapinto (USA) 17.50 DEF. John John Florence (HAW) 11.27
Western Australia Margaret River Pro Men's Quarterfinal Results:
HEAT 1: Gabriel Medina (BRA) 14.00 DEF. Filipe Toledo (BRA) 7.00
HEAT 2: Joao Chianca (BRA) 11.24 DEF. Connor O'Leary (AUS) 5.50
HEAT 3: Griffin Colapinto (USA) 11.77 DEF. Barron Mamiya (HAW) 8.83
HEAT 4: John John Florence (HAW) 14.83 DEF. Ethan Ewing (AUS) 11.23
Next Stop: Surf Ranch Pro