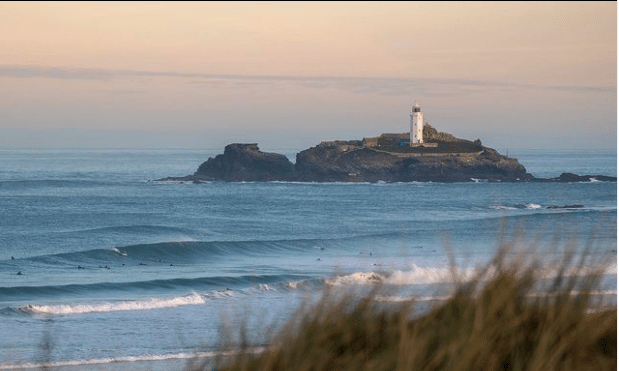 Photo Warbey
Concern is rising for planned dump test of chemicals which have been transported from China, to the US and then to be dumped into St Ives bay, an area of Cornish area of outstanding natural beauty and sealife with no environment impact assessment.
At present there is more sealife in that bay – tuna, sharks, dolphins, whales, bait fish – than anyone can remember for over 50+ years. It would seem ridiculous to test at this scale without a comprehensive EIA.
In a post @keepourseachemicalfree who are organising a protest on Sunday say
'Planetary Technology conducted past experiments somewhat under cover in the bay. The chemical Magnesium Hydroxide will be pumped into St Ives Bay via the South West Water sewage pipe by Godrevy Lighthouse. The Magnesium Hydroxide comes from industrial waste, including Nuclear cooling water. Planetary have said that the Magnesium Hydroxide will be coming from China, Canada and the UK.
'Once the Magnesium Hydroxide is pumped into the St Ives Bay it will dissolve and react with CO2. This reaction will cause most of the Magnesium Hydroxide to turn into mineral form again and slowly sink to the seabed, thus drawing down CO2.
'It is said 1 tonne of Magnesium Hydroxide draws down 1.2 tons of CO2. However, after the carbon cost of creating the Magnesium Hydroxide and transporting it to Cornwall it would leave a net CO2 drawdown of 400kg.
The only lab tests that have taken place are on algae, in a fish tank sized vessel. It is said that if algae can survive extreme levels of Magnesium Hydroxide then the wildlife of St Ives Bay should be fine with little amounts of it. However, this is merely a 'should be fine' and there is no certain way of telling what affect it could have on the Bay's marine life.
Planetary have gone behind our backs, conducting a 4 tonne test in St Ives Bay back in September. Apparently this test succeeded, but the scientific paper on its 'success' is yet to be released by Plymouth Marine Lab. "
"Planetary Technology has recognised they have totally failed in communicating and being transparent with our community. They are admittedly shocked by the reaction and strength of the communities response!
"Planetary said they are planning to make a decision in the next week, but also claimed it's up to the Environmental Agency.
"Representatives from Planetary have been telling people wildly different figures on the amount of Magnesium hydroxide being released into the bay, from 200 tones to 2000. The amount was confirmed in the meeting to be 400 tonnes – this is a figure Planetary has scaled back from their initial plan for the experiment, so they can earn the trust of our community.
"In Planetary's eyes this has a low carbon footprint. 400 tonnes of mining waste travelling across the world twice doesn't have a low carbon footprint.
'Planetary say that these 400 tonnes of Magnesium hydroxide will remove 200 net tonnes of CO2."
A Surfers Against Sewage spokesperson posted
"We have been looking into this.. and we stand in support with those communities protesting against Planetary's proposals and their potential impacts on the marine environment.
'Although lab-based experiments have been conducted, the real-world application of this technology has been largely untested.
'We remain sceptical and would like to see Planetary act responsibly by engaging with the local community to address their legitimate concerns and by undertaking an Environmental Impact Assessment!"
@jannerinnit posted
'This is ridiculous as China is the second largest producer of CO2on the planet, then it's getting sent to America who are the largest producer of CO2 on the planet. Who then are sending there waste to us to do something about it. Q1 why aren't they putting the magnesium hydroxide off there own coastline??? Q2 who is making a lot of money from this decision??'
old_ways_cottage
posted 'Concerns about the environmental impact locally aside how on earth is ferrying it from China to US to Cornwall considered to have a low carbon footprint ? Something more going on here ?'
A protest has been organised for the 16th of April, 2:30 onwards, between the Godrevy/Gwitian Carparks.