Finals Day at the Billabong Pro Pipeline crowned two new Pipe champions. After a runner-up finish last season, five-time World Champion Carissa Moore got revenge with a win against rival Tyler Wright in a rematch of the 2021 Pipeline Final. Jack Robinson, one of the best barrel riders on Earth, showcased his skills en route to yet another event win in his dominant young career. 
• Carissa Moore and Jack Robinson Win WSL CT Season Opener at the 2023 Billabong Pro Pipeline 
• Tyler Wright and Leonardo Fioravanti Earn Runner-up Finishes
• Second-year Joao Chianca Eliminates World Champion Filipe Toledo
• Moore and Robinson Jump to World No. 1 on CT Rankings 
• More Available at WorldSurfLeague.com
Carissa Moore (HAW) and Jack Robinson (AUS) won the Billabong Pro Pipeline, the first stop on the World Surf League (WSL) 2023 Championship Tour (CT).  Five-time World Champion Moore and third-year CT competitor Robinson took their wins at the world-renowned Banzai Pipeline on the North Shore of Oahu. Moore defeated two-time World Champion Tyler Wright (AUS) in the Final, while Robinson overcame Leonardo Fioravanti (ITA).
With the first event of the season complete, competitors will now prepare for the second event of the season just down the road at Sunset Beach. Moore and Robinson will wear the coveted yellow Leader jersey, taking the rankings' lead from eight-time World Champion Stephanie Gilmore (AUS) and 2022 World Champion Filipe Toledo (BRA), respectively. 
Carissa Moore Finally Claims CT Victory at Pipeline
Carissa Moore has been runner-up at Pipeline for the past two years and finally achieved her breakthrough victory today. In a rematch of their 2020 Final, Moore and Wright once again faced each other in the 11th Final matchup between them. 
After a slow start, Moore found herself needing a score of significance to overtake Wright. Moore's patience paid off as she was able to capitalize on a Backdoor gem, spending time behind the curtain before re-emerging to earn a near-excellent 7.17 (out of possible 10). But, Wright immediately answered back, using her forehand attack to regain the lead once again and leave Moore needing a 2.83 with just seven minutes remaining. As time dwindled, Moore was given one last opportunity, and she was able to earn a 3.83, taking the heat win and confirming her first CT Pipeline victory.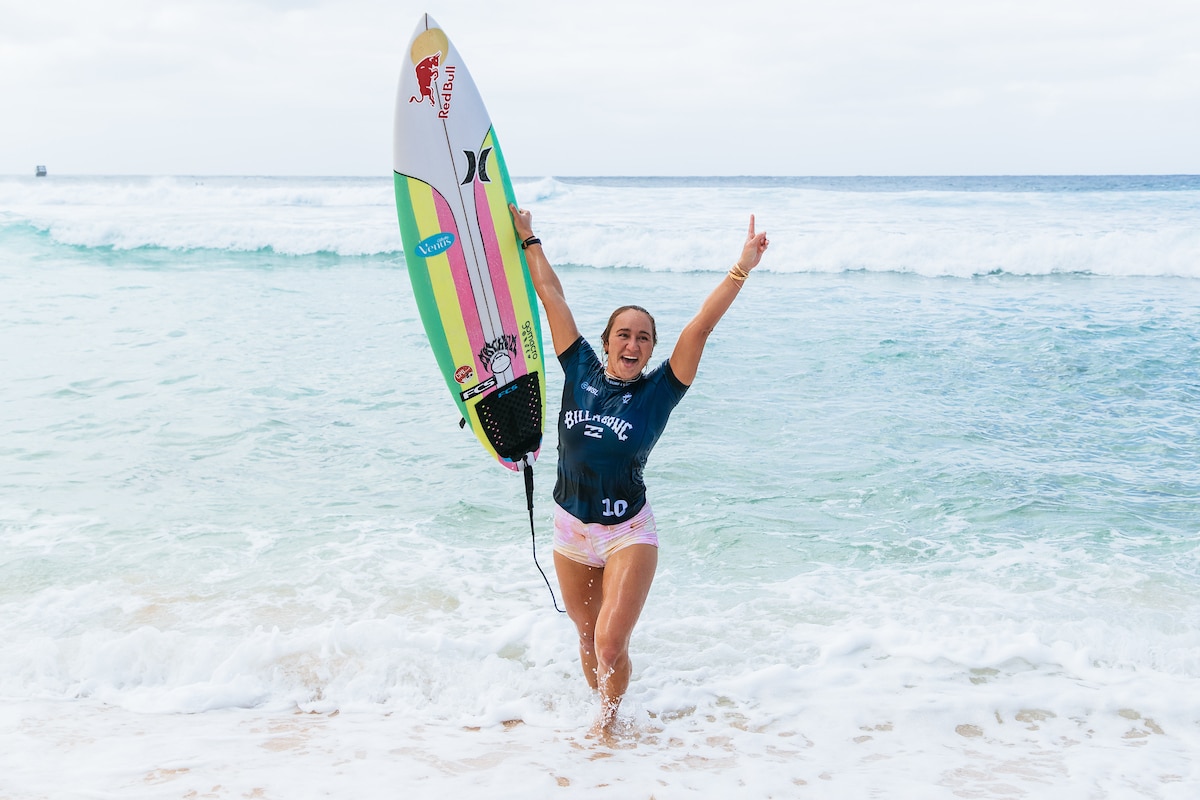 "I'm so happy, and there are just so many emotions just to get this win," said Moore. "For the women, it's been so many years in the making, and having us out at a crazy wave like Pipeline and just trying to spend more time has been such a process. After finishing the season like I did last year, it's nice to come away with a win and wipe that slate clean. To win an event that's in honor of Andy Irons is so special. He's one of my favorite surfers of all time, and I always appreciated the time he took for me."
Moore's day began with a matchup against tour newcomer, fellow Oahu competitor, 17-year-old Bettylou Sakura Johnson (HAW). Although a slow heat, Moore managed to find a Backdoor wave barrel and earn an excellent 8.0. Sakura Johnson put up a valiant effort, but it wasn't enough to take down the experienced World Champion. The five-time WSL Champion now returns to No. 1 after falling just short of her sixth World Title in 2022. She will have the yellow jersey and plenty of momentum going into stop No. 2 on the CT, the Hurley Pro Sunset Beach.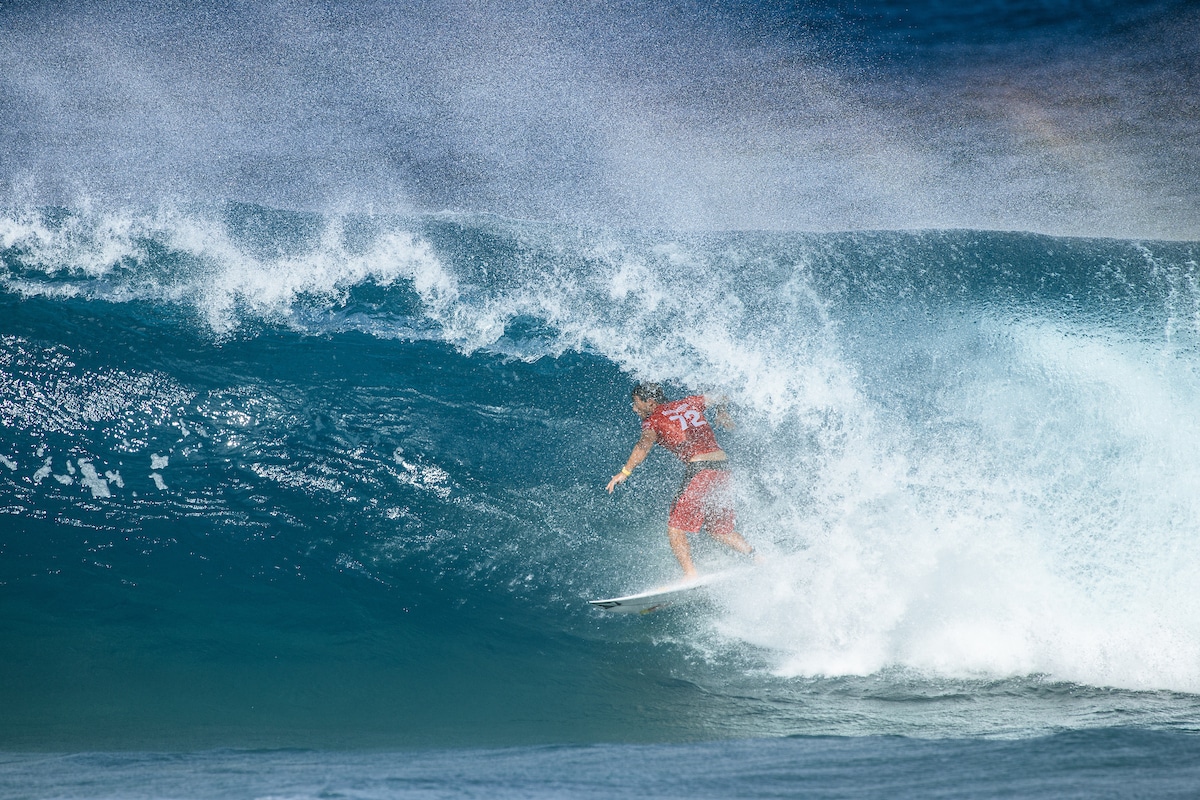 Jack Robinson Claims First Win of 2023 CT Season at Pipeline
A slow start to the men's Final witnessed Jack Robinson maintain a slim lead over Leonardo Fioravanti heading into the back half of their battle. Fioravanti upped the requirement with a Backdoor runner, earning a 4.00 and pushing Robinson to need a 3.51. At the 11-minute mark, Robinson turned the heat, earning a solid 6.00 with a forehand, two-turn combination. Fioravanti followed with a quick Backdoor cover up, but only notched a 3.47. 
Time expired before Fioravanti could get to his feet again, leaving Robinson to emerge victorious. This is Robinson's first Billabong Pro Pipeline win and the fourth CT win of his career. 
"I've dreamed of this for a long time, and Andy [Irons] was one of my favorite surfers ever, and it's just an honor," said Robinson. "To feel everything, all the emotions at the start of the year, you don't know how you're going to come back. I was feeling good, but you never know with this beast, with Pipeline. This one's the most special. I'm super grateful for this start here in Hawaii, and I'm just getting myself ready to run that road. It was a low one last year, but I also learned a lot, and there's no price on that."
Robinson's day started with a thrilling matchup against two-time World Champion and former event winner John John Florence (HAW). Both demonstrated expert barrel riding skills, making critical drops and finding near-impossible exits in their back-and-forth exchange. With just under three minutes left, Robinson found the score he needed, a 6.67, to overtake the two-time World Champion. 
Robinson then met Brazilian star Joao Chianca in the Semifinals. Chianca came into the match with plenty of confidence after having just taken out current World Champion Toledo. After a slow start to the match, things heated up in the final 5 minutes. Chianca turned the heat on Robinson, finding a Backdoor barrel and finishing the wave with a fins-free maneuver. But Robinson instantly took the lead back, threading a long Backdoor barrel and slashing the end section. 
Tyler Wright and Leonardo Fioravanti Earn Second-place Finishes at Billabong Pro Pipeline
Two-time World Champion, Wright, started her Finals Day campaign with a narrow win over Lakey Peterson (USA) in the women's Semifinal, Heat 1. Wright came flying out of the gates with a backdoor barrel and solid finishing maneuver, notching an excellent 8.00 in the opening minutes. Peterson responded with a Backdoor barrel of her own to earn a 7.00. The two traded off leading the heat, but it was ultimately Wright who emerged victorious by just .10 of a point.
This marks Wright's second Final at the renowned wave of Pipeline. She previously won here in 2020 after the women's event was moved from Maui. Her runner-up finish will jumpstart her 2023 season toward the mid-season cut and road to the Final 5.
"The women deserve to be at Pipe, and you can see how much comfortable women have got here just knowing the event is going to be on tour from now on," said Wright. "Massive shoutout to the WSL for supporting women's surfing and seeing how it can grow. Honestly, we had a really nice offseason, and a lot of work went into performance and a lot of work went into building my body back. I've been working with Surfing Australia, and they've been amazing for me, and I couldn't be prouder of them. Actually, it's a really enjoyable process for me, and I just want to say thank you to those guys."
Leonardo Fioravanti's road to the finals began with a narrow Quarterfinal win over tour veteran Jordy Smith (RSA).  Smith controlled a majority of the heat, but with less than 10 minutes left, Fioravanti tracked down two impressive Backdoor barrels. His final score of 6.67 was just enough to take the heat win from Smith. 
He then went on to face event threat Caio Ibelli (BRA) in Semifinal, Heat 1. Fioravanti took an early lead by successfully navigating a Backdoor barrel to earn a 7.67. He was able to hold onto the lead and put Ibelli in a combination situation. Ibelli finally put a solid score of a 6.50 on the board at the ten-minute mark, but wasn't able to find a backup. 
"I mean, this is a dream come true," said Fioravanti. "I've grown up watching every single event here since I was 10. To come to the podium with Lyndie (Irons) here and to have a trophy with Andy's (Irons) name on it, he's one of the greatest out here, and it means so much. To have my family here and everyone supporting me on the beach is just special. This wave put me in the hospital for six months when I was 17 years old and it's also given me so much. Thank you Pipeline, thank you to the locals for letting us surf it this year. Hawaii is such a special place for surfing and I'm grateful to be on the podium for such a special event."
For more information, please visit WorldSurfLeague.com.
Billabong Pro Pipeline Women's Final Results: 
1 – Carissa Moore (HAW) 11.00
2 – Tyler Wright (AUS) 10.00
Billabong Pro Pipeline Men's Final Results: 
1 – Jack Robinson (AUS) 9.17
2 – Leonardo Fioravanti (ITA) 7.47
Billabong Pro Pipeline Women's Semifinal Results: 
HEAT 1: Tyler Wright (AUS) 13.43 DEF. Lakey Peterson (USA) 13.33
HEAT 2: Carissa Moore (HAW) 12.17 DEF. Bettylou Sakura Johnson (HAW) 6.67
Billabong Pro Pipeline Men's Semifinal Results:
HEAT 1: Leonardo Fioravanti (ITA) 12.00 DEF. Caio Ibelli (BRA) 7.57
HEAT 2: Jack Robinson (AUS) 11.67 DEF. Joao Chianca (BRA) 9.93
Billabong Pro Pipeline Men's Quarterfinal Results:
HEAT 1: Leonardo Fioravanti (ITA) 11.00 DEF. Jordy Smith (RSA) 10.76
HEAT 2: Caio Ibelli (BRA) 15.83 DEF. Liam O'Brien (AUS) 7.70
HEAT 3: Joao Chianca (BRA) 12.00 DEF. Filipe Toledo (BRA) 11.40
HEAT 4: Jack Robinson (AUS) 13.84 DEF. John John Florence (HAW) 12.87
Next Stop: Hurley Pro Sunset Beach, Stop No. 2 on WSL CT