Opening day of the 2023 CT season provided moments of excellence, elation, and elimination with World Champions clashing, CT returners flourishing, plus rookies staking their claim.
Standout Performances and Early Eliminations Start the Billabong Pro Pipeline 
• João Chianca Earns First Excellent Score of the 2023 WSL CT Season
• World Champs Debut in Remarkable Form, While Elimination Round Narrows the Field  
• Hawaiians Ezekiel Lau, Seth Moniz, and Barron Mamiya Straight to the Round of 32
• More Available at WorldSurfLeague.com
The Billabong Pro Pipeline kicked off the start of the World Surf League (WSL) 2023 Men's Championship Tour (CT) today in clean four-to-six-foot swell at the world-renowned Banzai Pipeline. Men's Opening Round witnessed standout performances from João Chianca (BRA), Ezekiel Lau (HAW), Jordy Smith (RSA), and Gabriel Medina (BRA) and more.  
The highest-scoring wave of the event so far, an 8.50 (out of possible 10), went to second-year competitor Chianca during the men's Opening Round, Heat 2. The Opening Round also saw former World Champions find success while rookies struggled under pressure. The full day of competition finished with the men's Elimination Round narrowing the field to 32 surfers. 
The next call will be today, Thursday, February 2, at 7:45 a.m. HST for a possible 8:00 a.m. start.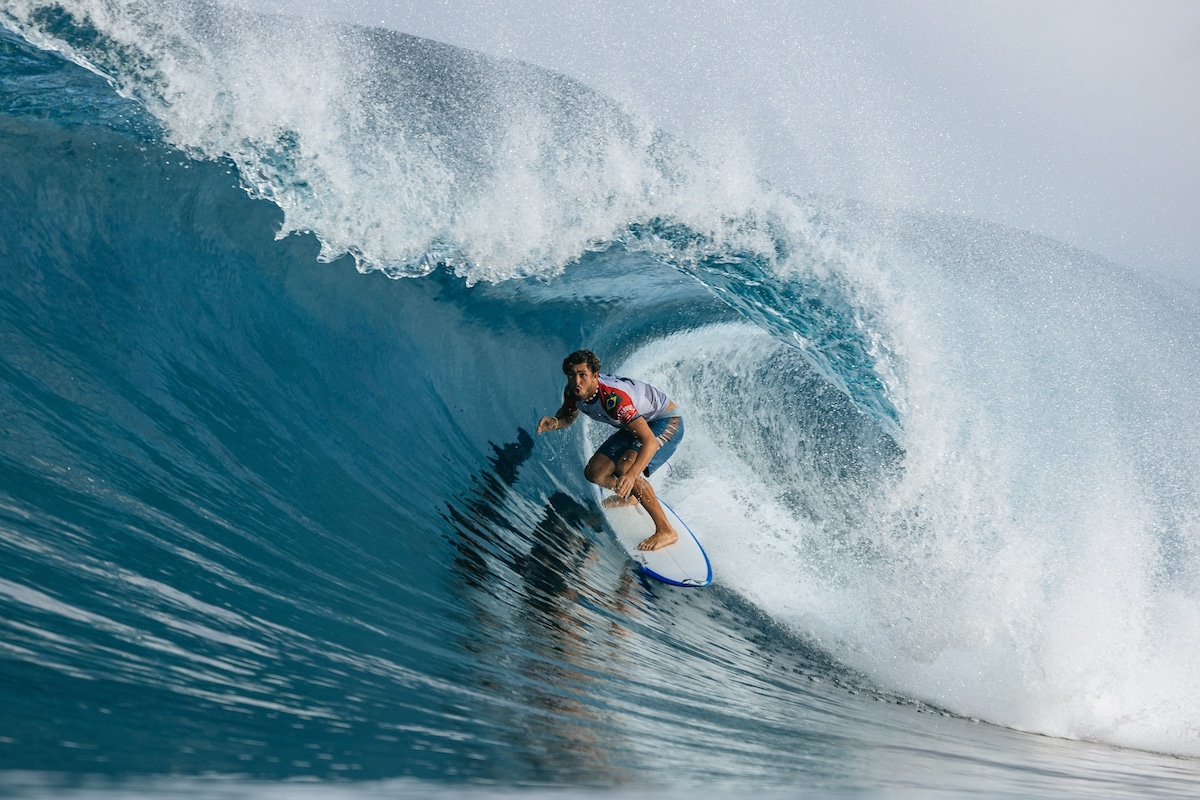 João Chianca (above) Earns First Excellent Score of 2023 CT Season
Chianca started his 2023 season in fantastic form, earning the first excellent score of the event and season, a 8.50. Chianca earned a notable 9th-place finish at last year's Billabong Pro Pipeline before falling off the Tour following the Mid-season Cut. Chianca successfully fought his way back to the CT through the Challenger Series and is now looking for redemption in his second season. 
"I'm in a pretty good headspace," said Chianca. "It was a super important and emotional year last year for me realizing this is where I want to be for the rest of my career. That wave gave me déjà vu from last season because my first wave from last year was an 8.43 and this was even better. I was pretty excited to surf Backdoor, and Pipeline is just my happy place, so I'm stoked."
World Champions Debut in Remarkable Form
Reigning World Champion Filipe Toledo (BRA, above), started his season in solid form, winning his opening match against Australia's Jackson Baker and Hawaii's Joshua Moniz. Toledo moves straight in the Round of 32, while Moniz fell to elimination in Heat 1 of Elimination Round 2. 
Defending event winner and 11-time World Champion, Kelly Slater (USA) advanced to the Round of 16 in second place after a close battle for first with Caio Ibelli (BRA). Ibelli ultimately took the win with a 5.77. Slater won this event last year, days before his 50th birthday, and hopes to win again this year now at age 50. He will surf again against Yago Dora (BRA) when the men's Round of 32 commences. 
"This week I've been in a funk and haven't really felt too in-sync with any of my surfs, so I'm just trying to shake that a little bit," said Slater. "That heat I didn't feel here or there, I actually had priority when Caio got his good one and I let him go thinking the next one would be better and it just didn't come together as I thought."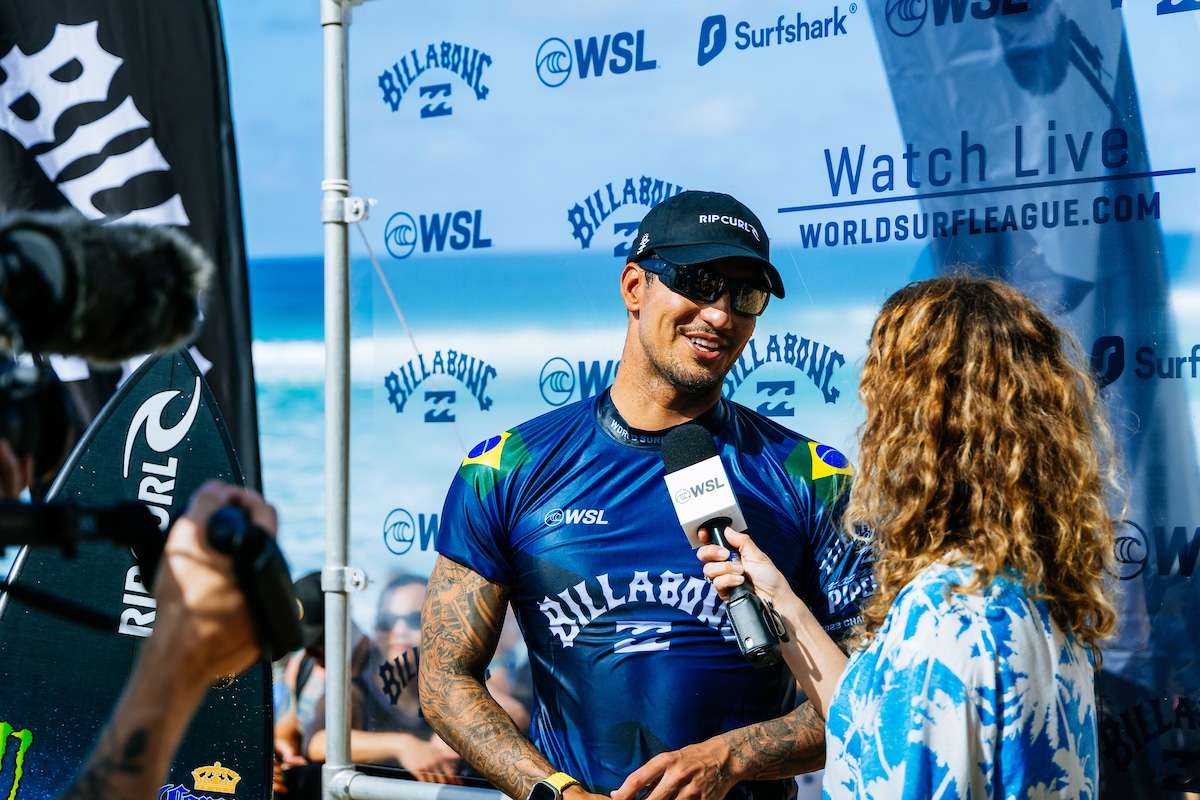 The highly anticipated showdown of former event winners and World Champions John John Florence (HAW) and Medina (above) went down in the last heat of the men's Opening Round. Medina missed this event last year but has found himself in the Finals multiple times in past years. For Florence, Pipeline is in his backyard and is one of the waves he is most comfortable in. 
Florence got off to a quick start, notching a 3.67 on a quick backside barrel. Medina opened with a disappearing act on a Backdoor barrel, earning a near-excellent 7.67. Florence answered back with a Backdoor barrel of his own, finishing the wave off with two solid maneuvers to pocket a 6.33. Florence controlled a majority of the heat, but it was Medina who ultimately took the win in the final minutes. They will both surf again in the Round of 32. 
"It's amazing to be back in Hawaii, this is a really special place for me," said Medina. "It's given me so many good memories and hopefully the waves get a little better for the next round, but I'm happy with the win. That [Backdoor] wave was a long one, I saw it going all the way to the Off the Wall channel so I gave it a go."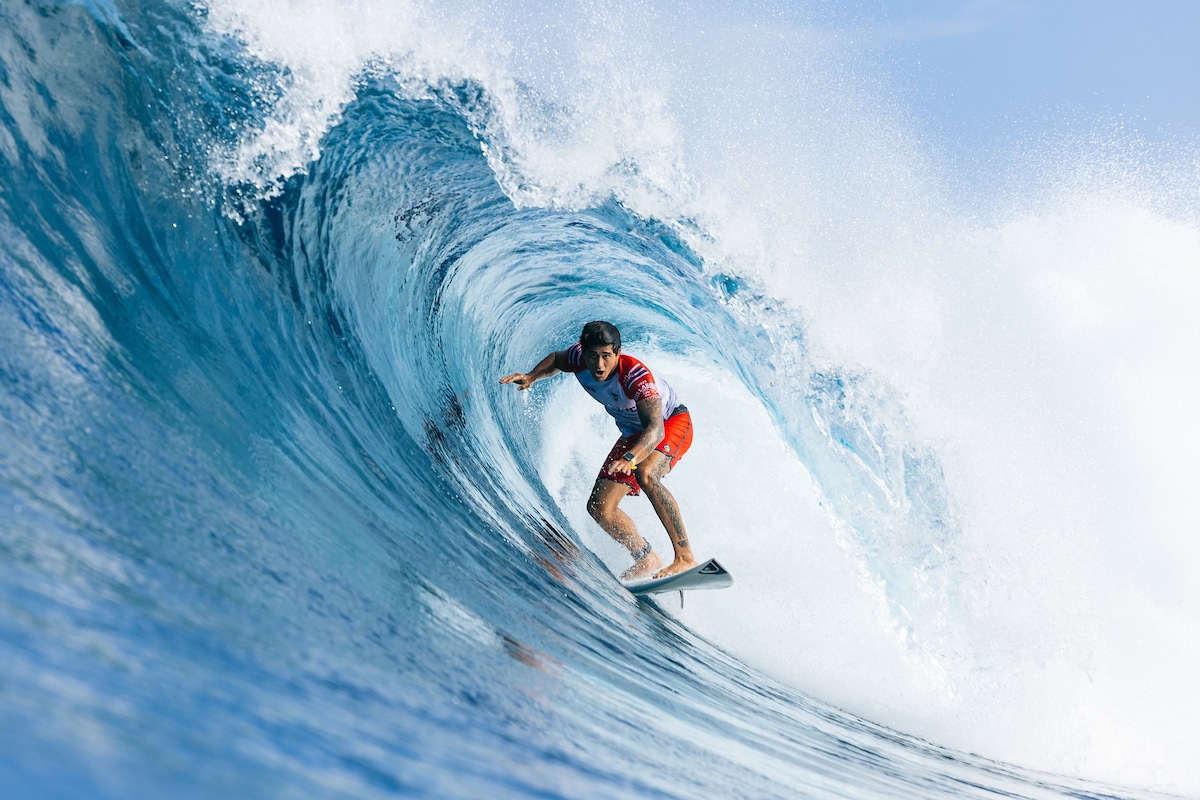 Hawaiians Ezekiel Lau, Seth Moniz, and Barron Mamiya Straight to the Round of 32
Ezekiel Lau (HAW, above) got things started for the Hawaiian contingent in Heat 4. With just less than two minutes left, he found a Backdoor cavern, earning a 7.17 and the heat win. 2022 Billabong Pro Pipeline runner-up Seth Moniz (HAW) found early success here again, winning his Opening Round matchup against former World Champion Italo Ferreira (BRA) and event wildcard Imaikalani deVault (HAW). Event wildcard Barron Mamiya (HAW) also made it through his opening round, advancing straight to the Round of 32. 
"My strategy was to go right, but then I ended up getting that left right off the start so that's how it goes sometimes," said Moniz. "You just have to adapt to the conditions. I'm pretty confident out here, but to come up against Italo [Ferriera] and Imai [deVault] in the first round is pretty nuts."
Also skipping the Elimination Round are former Final 5 competitors Ethan Ewing (AUS) and Robinson. They are joined by Griffin Colapinto (USA), Miguel Pupo (BRA), Jordy Smith (RSA), and CT rookie Rio Waida (INA), who all move directly on to the Round of 32.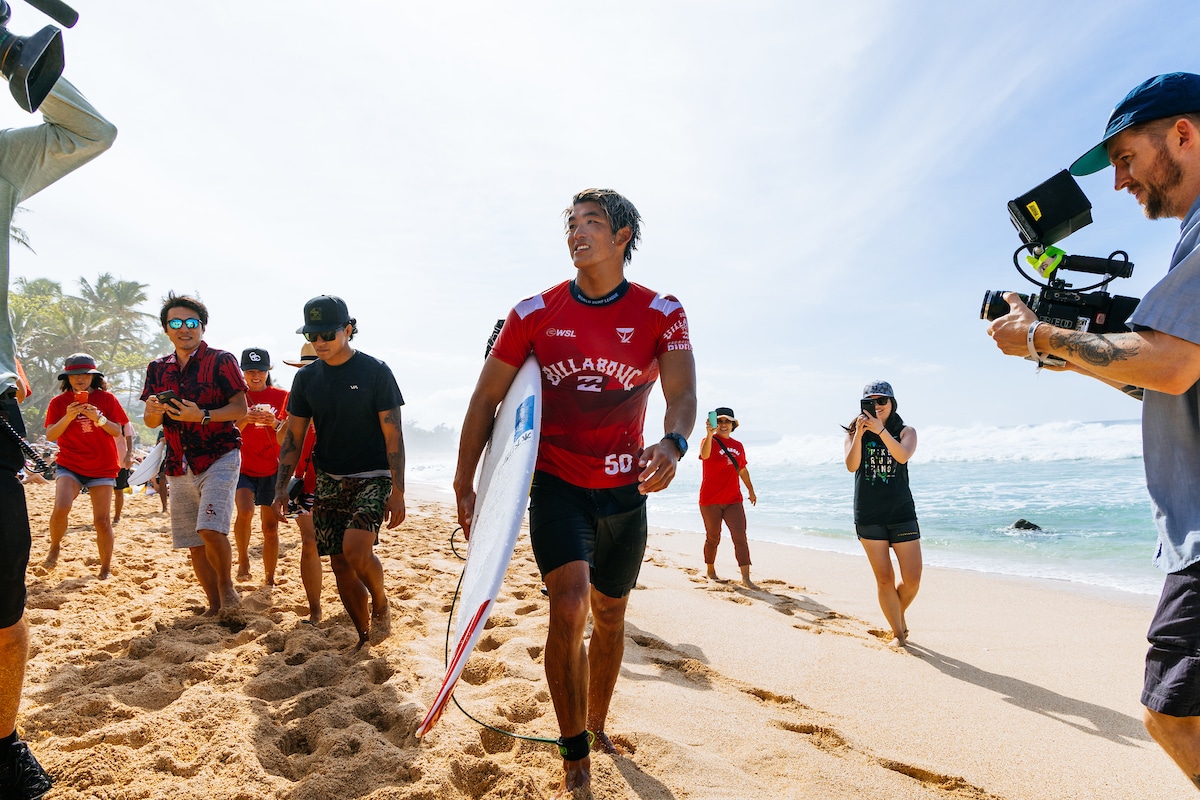 Elimination Round Narrows the Field
Former Final 5 competitor Kanoa Igarashi (JPN, above) found redemption in the first heat of the Elimination Round after failing to find a score of substance in the Opening Round. He advanced to the Round of 32 alongside Michael Rodrigues (BRA), eliminating event wildcard Joshua Moniz (HAW).
Fellow event wildcard deVault suffered a similar fate in Elimination Round, Heat 1. In one of the upsets of the day, tour veteran Jadson Andre (BRA) was eliminated by rookie Ian Gentil (HAW) and Kolohe Andino (USA). Andre was sent to the Elimination Round after suffering an interference on Jack Robinson (AUS) in his Opening Round.
More available at WorldSurfLeague.com. 
Billabong Pro Pipeline Men's Opening Round Results: 
HEAT 1: Miguel Pupo (BRA) 12.50 DEF. Nat Young (USA) 10.17, Ian Gentil (HAW) 6.94
HEAT 2: Joao Chianca (BRA) 12.83 DEF. Jake Marshall (USA) 10.70, Kanoa Igarashi (JPN) 1.00
HEAT 3: Ethan Ewing (AUS) 6.20 DEF. Liam O'Brien (AUS) 6.06, Kolohe Andino (USA) 4.30
HEAT 4: Ezekiel Lau (HAW) 8.54 DEF. Jack Robinson (AUS) 8.50, Jadson Andre (BRA) 0.23
HEAT 5: Seth Moniz (HAW) 8.50 DEF. Italo Ferreira (BRA) 5.20, Imaikalani deVault (HAW) 2.04
HEAT 6: Filipe Toledo (BRA) 6.00 DEF. Jackson Baker (AUS) 5.93, Joshua Moniz (HAW) 1.50
HEAT 7: Griffin Colapinto (USA) 9.84 DEF. Barron Mamiya (HAW) 9.33, Michael Rodrigues (BRA) 9.10
HEAT 8: Caio Ibelli (BRA) 10.44 DEF. Kelly Slater (USA) 8.60, Carlos Munoz (CRC) 0.50
HEAT 9: Jordy Smith (RSA) 10.66 DEF. Connor O'Leary (AUS) 9.27, Maxime Huscenot (FRA) 1.96
HEAT 10: Rio Waida (INA) 9.16 DEF. Samuel Pupo (BRA) 6.50, Matthew McGillivray (RSA) 6.46
HEAT 11: Ryan Callinan (AUS) 9.57 DEF. Callum Robson (AUS) 7.90, Yago Dora (BRA) 2.13
HEAT 12: Gabriel Medina (BRA) 10.84 DEF. John John Florence (HAW) 10.00, Leonardo Fioravanti (ITA) 1.60
Billabong Pro Pipeline Men's Elimination Round Results:
HEAT 1: Kanoa Igarashi (JPN) 11.03 DEF. Michael Rodrigues (BRA) 9.03, Joshua Moniz (HAW) 8.87
HEAT 2: Yago Dora (BRA) 13.43 DEF. Maxime Huscenot (FRA) 8.27, Imaikalani deVault (HAW) 4.33
HEAT 3: Leonardo Fioravanti (ITA) 7.60 DEF. Carlos Munoz (CRC) 7.14, Matthew McGillivray (RSA) 6.93
HEAT 4: Kolohe Andino (USA) 9.43 DEF. Ian Gentil (HAW) 8.13, Jadson Andre (BRA) 4.87
Billabong Pro Pipeline Men's Round of 32 Matchups:
HEAT 1: Italo Ferreira (BRA) vs. Ian Gentil (HAW)
HEAT 2: Jordy Smith (RSA) vs. Nat Young (USA)
HEAT 3: Griffin Colapinto (USA) vs. Leonardo Fioravanti (ITA)
HEAT 4: Callum Robson (AUS) vs. Jackson Baker (AUS)
HEAT 5: Ethan Ewing (AUS) vs. Liam O'Brien (AUS)
HEAT 6: Seth Moniz (HAW) vs. Barron Mamiya (HAW)
HEAT 7: Caio Ibelli (BRA) vs. Ezekiel Lau (HAW)
HEAT 8: Samuel Pupo (BRA) vs. Ryan Callinan (AUS)
HEAT 9: Filipe Toledo (BRA) vs. Carlos Munoz (CRC)
HEAT 10: Yago Dora (BRA) vs. Kelly Slater (USA)
HEAT 11: Connor O'Leary (AUS) vs. Rio Waida (INA)
HEAT 12: Kanoa Igarashi (JPN) vs. Joao Chianca (BRA)
HEAT 13: Jack Robinson (AUS) vs. Michael Rodrigues (BRA)
HEAT 14: Gabriel Medina (BRA) vs. Jake Marshall (USA)
HEAT 15: John John Florence (HAW) vs. Kolohe Andino (USA)
HEAT 16: Miguel Pupo (BRA) vs. Maxime Huscenot (FRA)
Billabong Pro Pipeline Women's Opening Round Matchups:
HEAT 1: Tatiana Weston-Webb (BRA) vs. Caroline Marks (USA) vs. Teresa Bonvalot (POR)
HEAT 2: Carissa Moore (HAW) vs. Bettylou Sakura Johnson (HAW) vs. Alyssa Spencer (USA)
HEAT 3: Stephanie Gilmore (AUS) vs. Macy Callaghan (AUS) vs. Moana Jones Wong (HAW)
HEAT 4: Brisa Hennessy (CRC) vs. Isabella Nichols (AUS) vs. Sally Fitzgibbons (AUS)
HEAT 5: Lakey Peterson (USA) vs. Gabriela Bryan (HAW) vs. Caitlin Simmers (USA)
HEAT 6: Courtney Conlogue (USA) vs. Tyler Wright (AUS) vs. Molly Picklum (AUS)