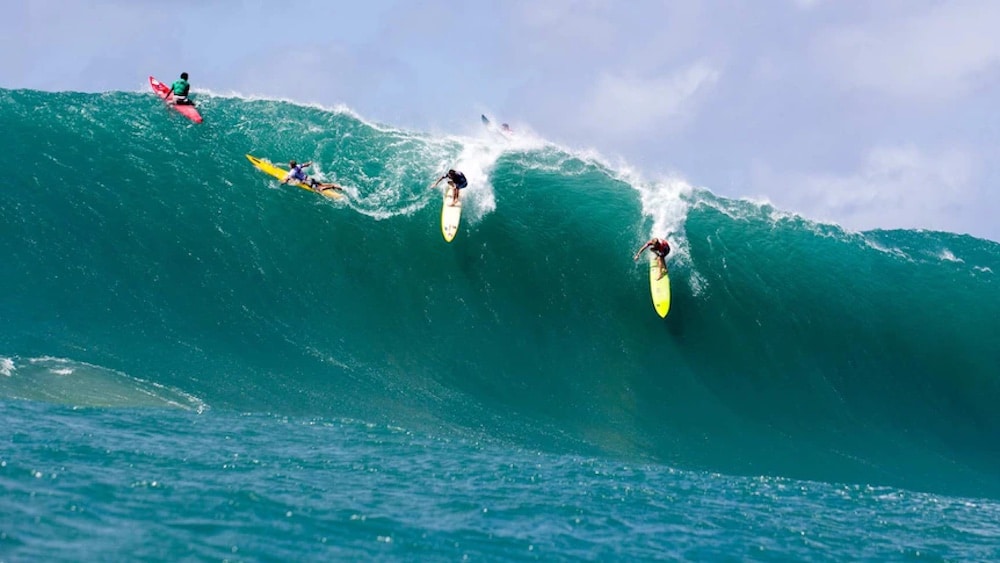 John John Florence on his way to winning.(WSL: Keoki)
The 2023 Eddie Aikau big wave invitational has been green lit for Sunday January 22.
The comp only runs at Wiamea when surf consistently reach 20-feet between December 14, 2022 through March 23, 2023 and it will be the first time in six years the comp has run.
You be able to watch it live here
Hawaii is 10 hours behind GMT so roughly live from 6pm UK and Ireland
5 hours behind Florida so 1pm
Cal is 2 hours ahead
Sydney is 12 hours ahead
Perth is 18 hours ahead.
2022-2023 INVITEES
Aaron Gold
Andrea Moller
Billy Kemper
Eli Olson
Emily Erickson
Ezekiel Lau
Grant Baker
Greg Long
Ian Walsh
Jake Maki
Jamie O'Brien
Jamie Mitchell
John John Florence
Josh Moniz
Justine Dupont
Kai Lenny
Keala Kennelly
Keali'i Mamala
Kelly Slater
Koa Rothman
Kohl Christensen
Landon McNamara
Lucas Chianca
Luke Shepardson
Makani Adric
Makuakai Rothman
Mark Healey
Mason Ho
Michael Ho
Nathan Florence
Nathan Fletcher
Nic von Rupp
Paige Alms
Peter Mel
Ramon Navarro
Ross Clarke-Jones
Shane Dorian
Taio Shipman
Tikanui Smith
Tyler Larronde