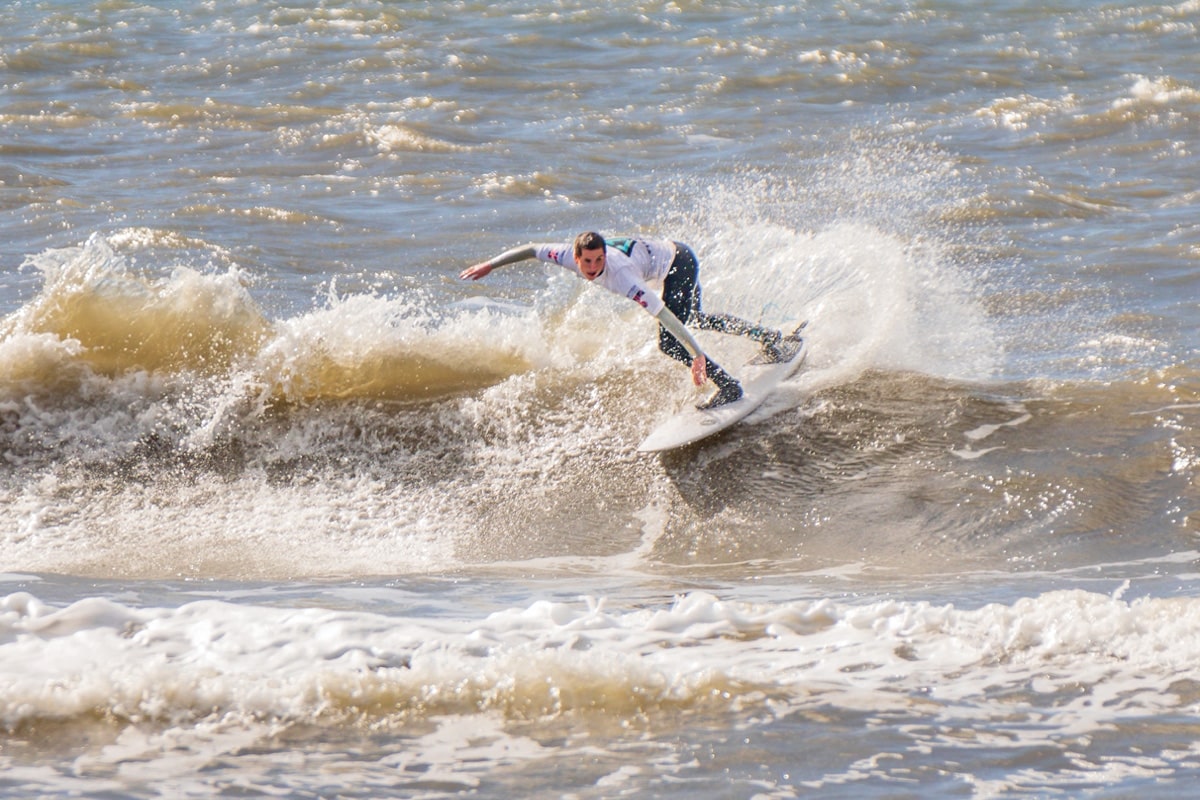 Report: Steve White Photos: @photodotcymru
The best surfers from Wales, England, Scotland and the Channel Islands came together at Llantwit Major last weekend to battle it out for the Vissla/Sisstr 2022 British Cup.
Competitors were met with windy conditions on day one, the swell and weather settling overnight to bless Llantwit's cobbles with high-quality head-high lines on day two.
Outstanding performances from Alys Barton saw her crowned both Women's and U18 Girls champion, leaving the statisticians searching the record books to confirm whether her double was a women's British first? One certainty is that Luke Dillon was the man to beat in the Men's after a professional display of clean and powerful surfing. Thurso local, Craig McLachlan's consistent shredding brought him a Men's final birth and ensured the U18 Boys title went north for the first time in British surfing history. Team England secured the overall title, after an exceptional performance that saw them take up 12 of the 16 final placings.
The Women's and Men's heats got underway on the main peak on Saturday morning, with surfers working hard to string scoring manoeuvres together on stormy 2-4ft waves.
The best ride belonged to Lucy Campbell (ENG) who thrashed a series of carves on a long walling right to register a 9.17 in the first round. Wales's Emily Williams and Joanne Dennison advanced from their heats thanks to a steady build-up of points in the challenging conditions, while Alys Barton stamped her authority on the competition early on, advancing with a 13.00 total.
There were strong starts for Craig McLachlan (SCO) and Max Bennett (CISF). Despite picking up a nasty cut to his foot, Luke Dillon's first round total of 16.00 hinted at things to come in the contest. Meanwhile, Stanley Norman (ENG) notched up a 12.50 to progress from his heat alongside second-place veteran Nathan Phillips (WAL).
At midmorning, spectators gathered a safe distance from the cliffs at the eastern side of Llantwit's rocky beach for the start of the U18 Boys competition. A snapped fin for one of the Scottish athletes was indicative of the commitment shown by all surfers in the sucky A-frame set-up.
The dropping tide brought the main peak back into play for start of the U18 Girls. Impressive displays by Lola Mitchell and Callie Cruickshank ensured representation for Team Scotland in the second round. Wales's Katie David could have caused an upset had she snagged the required 2.84 to advance ahead of Alys Barton, but the Pembrokeshire surfer couldn't quite pin down that last scoring wave.
DAY 2
Sunday morning brought a 7am start along with a seasonal deluge, but competitors and onlookers alike were stoked as super clean head-high walls wrapped around the point at Llantwit from the outset. Contest directors took the bold decision to run both the semis and finals of the Men's and Women's in optimum conditions. This proved a fantastic call with Llantwit's boulder reef providing perfect canvases for our Men's and Women's divisions to rip up.
Wales's Logan Nicol put on a fluid display in the Men's final, mixing cutbacks with big off-the-tops to keep the scoreboard ticking over. After a wave-starved last few minutes, the current Welsh nationals champ was unable to build on his 12.10 total and took third place just ahead of Craig McLachlan who was a little out of rhythm to finish with a 10.13 total.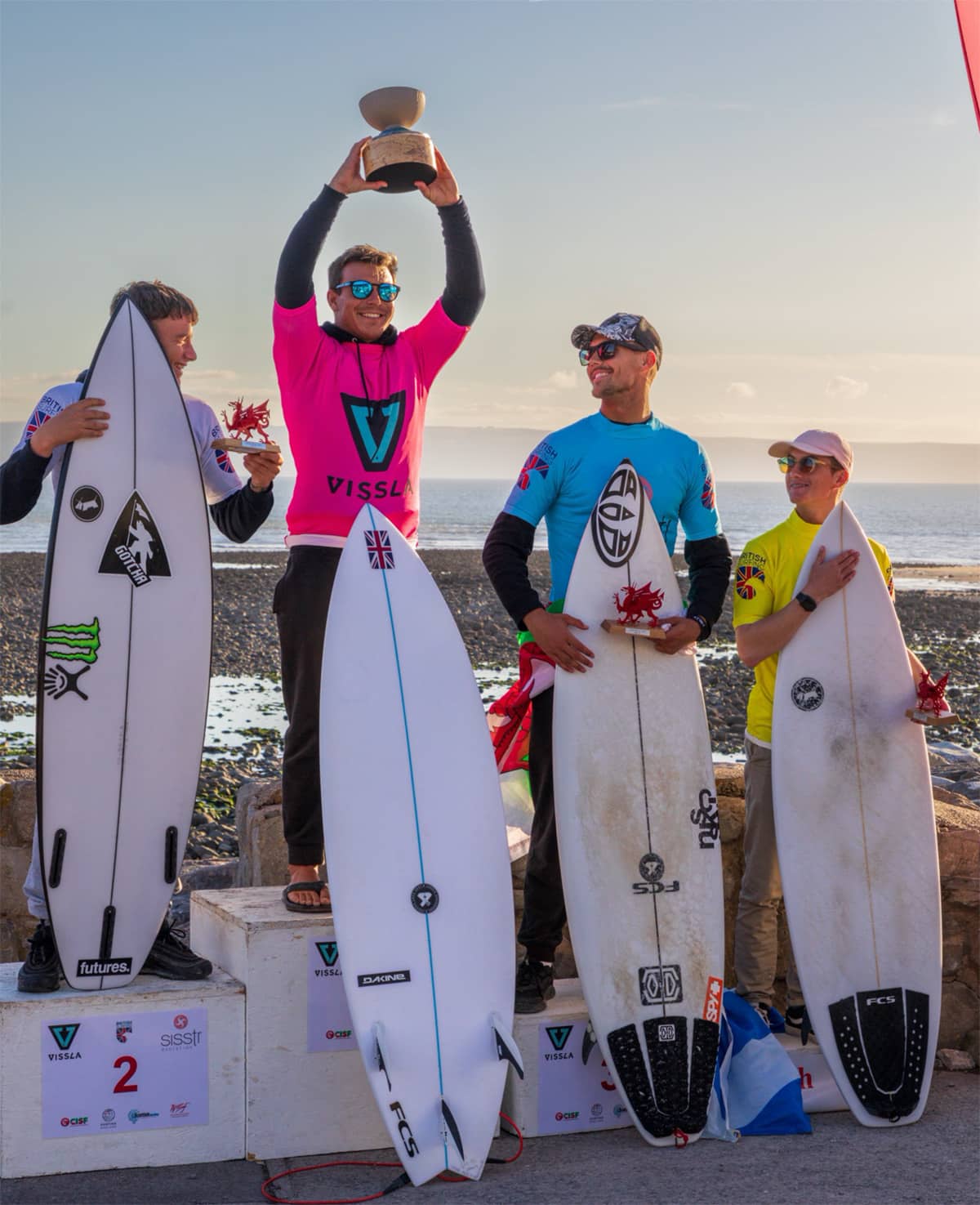 Superb backhand surfing saw England's Stanley Norman amount a solid defence of his title to finish runner up. The 2021 champ, put on an energetic and passionate display, but couldn't find a wall to match the pure power and flow of Luke Dillon's fantastic 9-point opening ride (the second-highest score of the event). Luke's second and only other ride of the heat brought a more modest 5.67 total, pushing the Newquay local's tally to 14.67 and ensuring the Men's trophy travelled back over the Severn for 2022.
The Vale of Glamorgan is proving to be a happy hunting ground for Dillon who recently returned from the ISA Worlds as highest-ranked British surfer. His last visit to the Vale also brought victory when he was crowed UK Pro Surf Champion at Llantwit.
Speaking exclusively to the WSF after his victory, Dillon said:
"The waves went a bit flat at the start of the final heat, but then the boys got a few nice scores and I just managed to luck into pretty much the wave of the day – really nice right-hander and it let me get four or five turns in. [The judges] read that out as a nine and so it was the perfect start to the heat. I caught my last wave with around 90 seconds to go, so it was a nice way to win but a bit scary as the sea went a bit flat before.
"It's been a really fun event and I haven't really felt too much pressure and it's a great way to finish off the weekend. It's my first time back at Llantwit since about seven years ago, so I've got good memories of this place."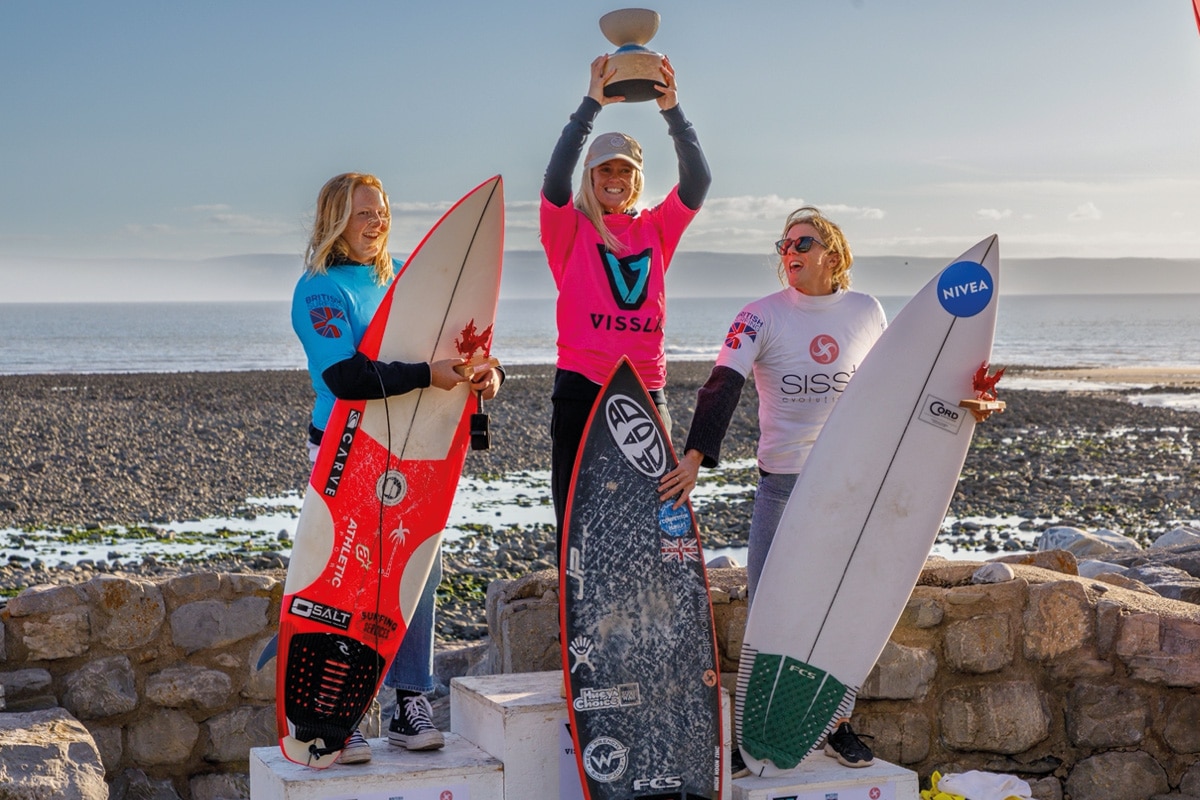 Solid lines set the stage for the all-England Women's final, with the tide pushing in over the middle of the reef at Llantwit. Lucy Campbell and Charlotte Mulley split the peak, both putting on a backhand masterclass on the reeling green walls, finishing in second and third place respectively. Vittoria Farmer's stylish performance impressed the judges but she missed out on third place by the narrowest of margins after a last-minute interference call to finish 4th.
With the sun now shining it was the spray flying off the rails of Alys Barton's board that caught the judges' eye. She smashed a right with ruthless precision to post a 6.17 reward – enough to take the Gower-based surfer into pole position come the final hooter.
Alys now adds the British Women's title to her haul of U18 European, U18 British (as below), U18 English Nationals, and English Women's Open titles.
Speaking exclusively to the WSF after her Women's British Cup win, Alys said:
"It was awesome. The waves got a little bit smaller in the final. The beginning of the heat was a little bit bigger and I kind of made a couple of mistakes. I didn't take the set ones and then I was a little bit stuck for the middle of the heat but then started to get myself going. I had a really nice forehand wave and started to get a bit of rhythm, so yeah, I'm really happy with the win. I'm just stoked to be competing here again.
"I know all the girls are like super capable of getting huge scores. So yeah, I was just super excited and stoked to take the win and to hold my nerves throughout.
"It was really different yesterday, it was super windy and tricky. I was struggling a lot but I managed to get some good waves in the end. I kind of enjoyed surfing both but today was a little bit easier to read giving some slightly better-looking waves. But yeah, it was still fun."
Commenting on her recent trip to California for the World Surfing Games, Alys said:
"California was awesome and I had such good experience competing against CT surfers. The level of surfing out there is really high, and surfing lots of heats gave me such a confidence boost. I'm just taking all of it forward into the like next couple of competitions and this one, and yeah, just really enjoying it and having fun.
"It can be tricky to adjust to different conditions, but because I live in Swansea, I'm used to the surf being like this and used to weaker conditions.
"Stepping up in places like California has been tricky but I've started to improve over the last couple of months. I've been staying away in Portugal and France for a few months, and I think I've really improved my all-round surfing and I'm excited to keep competing."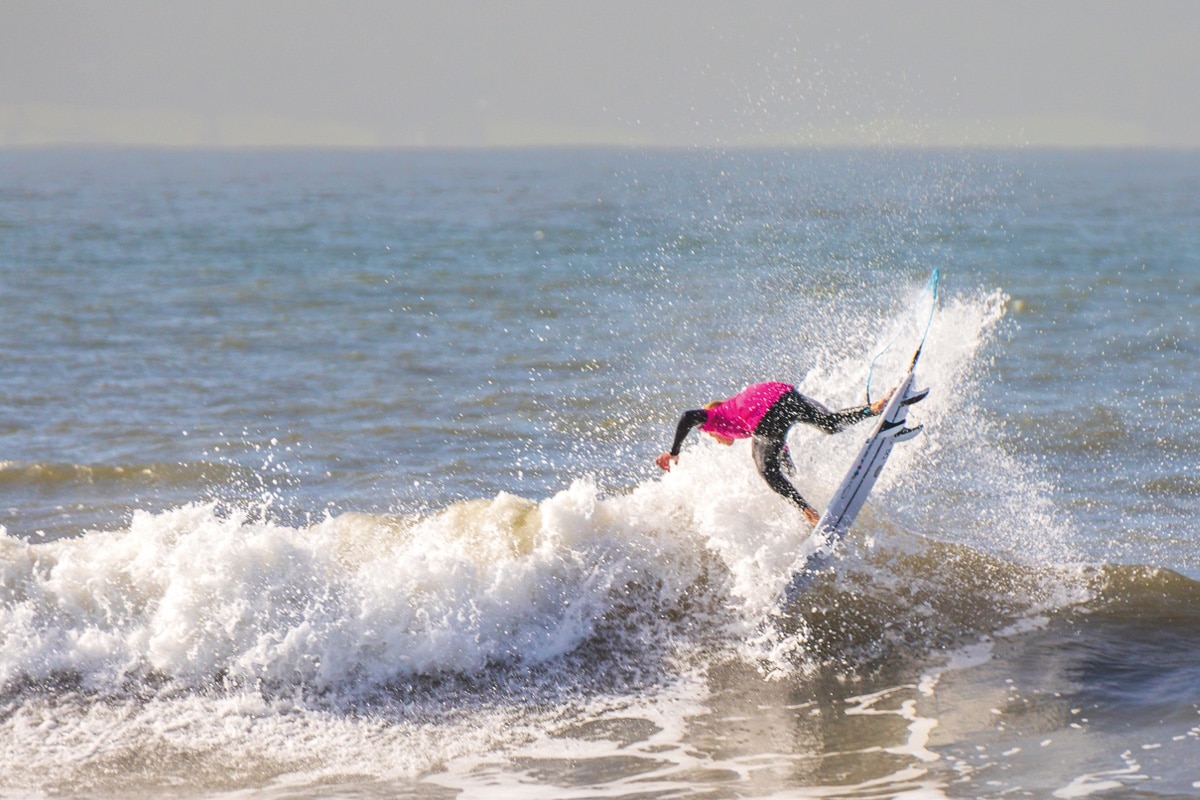 A two-hour break was called in the middle of the day to wait for conditions to become more favourable, but the action resumed at 3pm with small, clean waves for the U18 finalists of the Vissla/Sisstr British Cup.
The Boys were first up in a showdown between England, Scotland and Wales. The host nation's Eli-Perrins Davies was first on the scoreboard, posting a 3.17. Perrins-Davies became the youngest Men's finalist in the Welsh Nationals this year and is definitely one to watch for the future. However, his score of 7.36 put him just behind England's Kieron Smith. A beneficiary of the non-elimination round 1 in place, Smith recovered from a very nasty looking wipeout on the Saturday to post a combined 7.66 total to finish third.
As U16 European champion, Lukas Skinner (ENG) started the 20-minute final as the form favourite. He continued his superb work rate to register a combined total of 10.30, but it was Scotland's Craig McLachlan who tore apart some carefully selected ramps, ripping up the form book to take top spot in a tense final five minutes. The win brought a first U18 Boys British title for Scotland, to the delight of his team mates, who chaired Craig up the beach against the backdrop of the setting sun and the fluttering Saltire (St Andrew's Cross).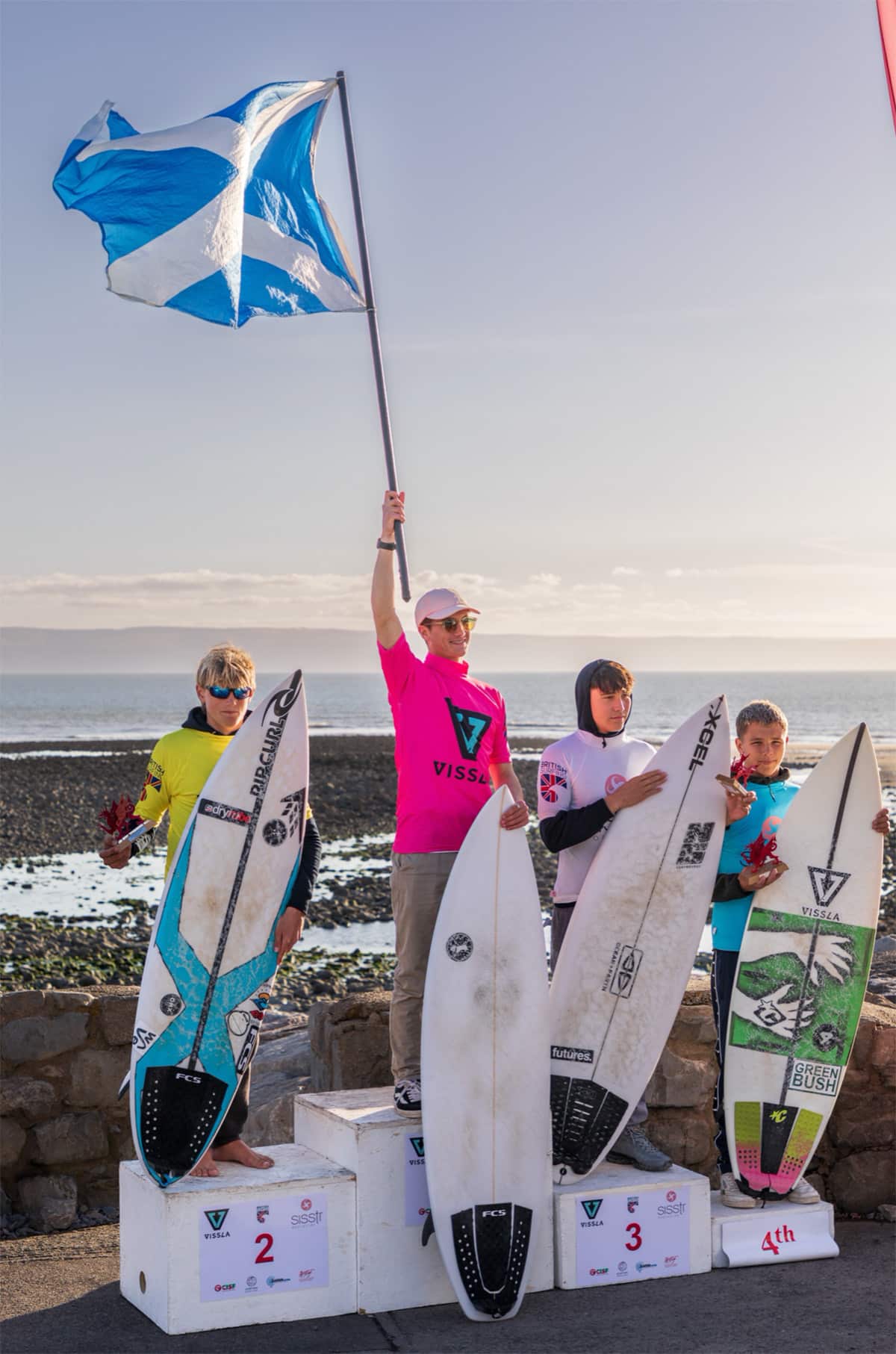 Commenting on his great victory, Craig said:
"It was good – the waves were pretty challenging and small, but I managed to find a couple of waves with priority and put a few turns together.
"It was harder on day one, so much current and kind of choppy but it was the total opposite on day two. It couldn't have gone much better for me.
"This is my first time ever in Wales. It's nice but everything costs a lot in the shop. It's a lot cheaper in Scotland."
Scottish Head Coach, Chris Clarke said:
"The waves have been cracking, it was really hard work yesterday with the weather against us but the team adapted to the conditions superbly over the two days.
"It's been a challenge getting our heads around the moving tides and switching from spot to spot for different waves, but that's the set-up and you have to surf what's in front of you. It's the same for all the competitors.
"It's been great with Team Scotland making it through the rounds, and we've had a finalist in the Men's side and in the semis in the Women's division. They've all done so well and it's nice to come away from home and put in a solid showing."
Like the Women's final, the U18 Girls final was an all-England affair with Alys Barton, Charlotte Mulley, Belle Betteridge and Tegan Blackford bringing the curtain down on a fantastic and very competitive British Cup.
Tegan Blackford and Belle Betteridge scored a series of opening waves and registered final totals of 3.26 and 4.37 to take third and fourth place on the podium respectively. Charlotte Mulley got off solidly with a 5.10 and 5.23, taking an early lead.
Patience paid off for Barton who pulled into the best waves of the heat. Executing big manoeuvres at the critical points with power and precision, Alys earnt a 7.17 and 7.27 from the judging panel and the British Cup double was complete!
Reacting to her U18 Girls British Cup win, Alys said:
"It was fun to compete against the girls again. The waves were a bit tricky but I found a couple of good ones and it was actually super fun; there were a couple of really bowly waves out there and I really enjoyed it."
"I started with better waves this time, so I'm stoked about that and really happy to take two wins."
Team England Head Coach Dave Renaud, said:
"Llantwit is a new place for me and for a lot of our English surfers, and it's amazing. Yesterday was kind of windy and blustery and we thought we were in for a tough event. But looking at today, it's incredible to see how the waves have just completely transformed. It's an amazing wave and a great experience. Lovely coastline. People are really nice and friendly.
"I think everyone on the team has been utilising the waves to their best advantage. The waves are really ripable and I'm completely blown away by how much how fun they are, and everyone's really having a good time.
"High scores are coming out and everyone's competing really well. It's great to see this sort of competitive vibe between all the nations going on. There have been some very tough heats going down. And the waves have been really fun today. Overall I'm super impressed, it's been really, really nice.
Lukas Skinner is a phenomenon – he's only 14 so obviously there's big expectations for him going right to the top of World Surf League. He's absolutely ripping. Luke Dillon also put on a show today, absolutely shredding. Fantastic once again from him, he came to the front today and deserves the win.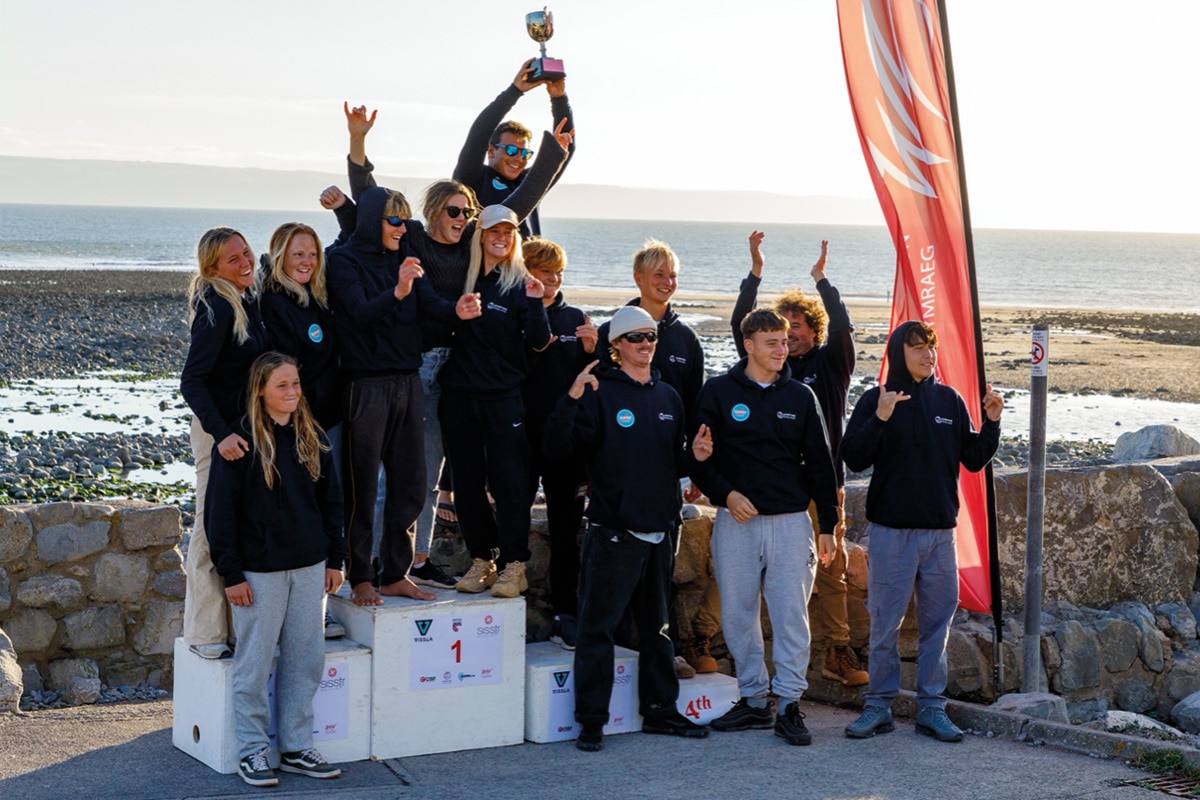 Channel Islands Surf Club Coach Roly McMichael, said:
"We've had absolutely everything thrown at us weather-wise, but there's waves and the contest has been great."
"I think the team's adapted to the conditions pretty well – it's just British surfing at the end of the day – one day it's two foot and clean and the next day its four or five feet. I think we're all used to surfing good and bad waves in the space of an hour and a half, but yeah the surfers are loving it."
Welsh Surfing Federation, Contest Director & Competitor – Mark Vaughan, said:
"In the days leading up to whether to call the event on, the weather chart gave us plenty of headaches, to say the least! Despite Saturday's mere 7 second period swell, Llantwit still threw up plenty of decent waves giving us enough to run a non-elimination round, followed by a round 2 repercharge. After long journeys for many, this ensured all competitors had the opportunity to surf at least twice."
"We knew Sunday would allow us to run off the finals in super fun conditions and we opted to complete the men's and women's finals in the best waves of the weekend."
"The level of surfing has been exceptional and I've really enjoyed seeing the different approaches to my home break at seeing knew talents making their mark at the event. The contest had a little bit of everything, from late heat drama, dominate displays and plenty of nationalistic pride. Seeing how much winning or losing meant to the competitors, all whilst representing their country, only strengthens the British Cup's current format and appeal for me."
"I'm exceptionally proud of my Welsh team mates performance and all those that helped to organise the event. A have to pass on special thanks to all at the WSF, our production team, Tim, the local community and supporting business, our sponsors Vissla / Sisstr and finally Channel Coast Surf Club who's members so willingly supported this event and gave up their break for the weekend."
In summary, the Vissla/Sisstr British Cup was a huge success for the WSF, with Llantwit an excellent locational choice given the its variety of breaks and the conditions available over the weekend. We look forward to hosting the British Cup at Llantwit again in future.
Huge thanks go to:
All our competitors and spectators at Llantwit Major for being part of another great Welsh National Surfing Championships.
A massive thank-you also to our sponsors Vissla and Sisstr for their terrific support.
A big shout of appreciation also to: Christian Surfers Wales; Sport Wales; and WSA (Welsh Sports Association).
Sarah Jones – Vale of Glamorgan Council
Matt Childs and Louis Evans – RNLI
Maria – Llantwit Major Beach Café
Llantwit Major Surf Life Saving Club
Curtis Hancock and all at Channel Coast Surf Club
Rhydian Brewer – Christian Surfers Wales for their unwavering support of Welsh surfing
Photographers – Huw Morgan Williams, Pete Bounds, John Dudley, James Bowen, and Jonathan Runnalls
Web Cast Team – Tom Anderson, Craig Nicol, Dayana Del Puerto, Producer Dodd, Joshua Vaughan, Tom Anderson, and Rob Blythe
Website & Social Media – Sam Johnson, Steve White, Craig Nicol
Priority Team – Sam Moore, Rudi Perrins Davies, Tim Aylett, and Paul Beatle & Joe Lewis
Beach Marshall – Morgan Hendry
Beach Announcer – Callum Thomas
WSF Judges – Jamie Bateman, Craig Garvey, Gwen Spurlock, Curtis Hancock, Rhydian Brewer, Phil Saddler, Mark Vaughan, Tim Aylett
Head Judge – Craig Burrows
Refresh Live Scoring – Tim Aylett
Contest Directors – Huw John, Mark Vaughan and Jamie Bateman.
Full Results
Men:
1) Luke Dillon (ENG)
2) Stanley Norman (ENG)
3) Logan Nicol (WAL)
4) Craig McLachlan (SCO)
U18 Men
1) Craig McLachlan (SCO)
2) Lukas Skinner (ENG)
3) Kieron Smith (ENG)
4) Eli Perrins-Davies (WAL)
Women
1) Alys Barton (ENG)
2) Charlotte Mulley (ENG)
3) Lucy Campbell (ENG)
4) Vittoria Farmer (ENG)
U18 Women
1) Alys Barton (ENG)
2) Charlotte Mulley (ENG)
3) Tegan Blackford (ENG)
4) Belle Betteridge (ENG)
Team Placings:
1st England
2nd Wales
3rd Scotland
4th Channel Islands.