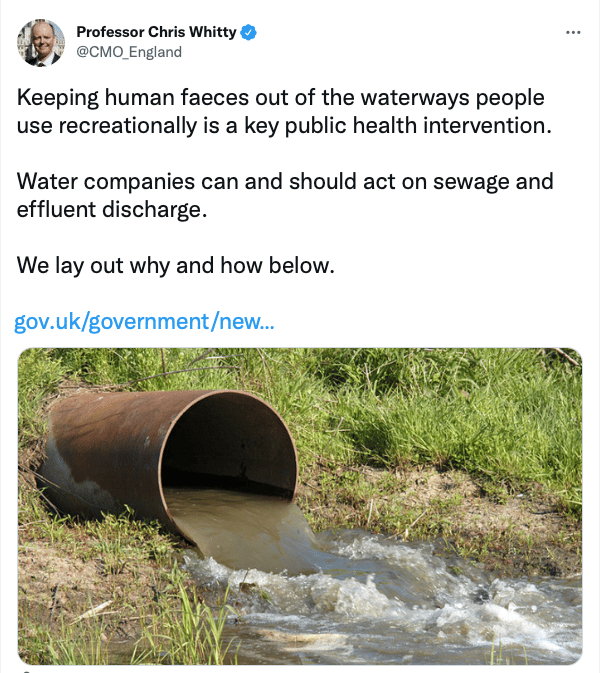 Professor Chris Whitty, Chief Medical Officer for England, Jonson Cox, Chair, Ofwat, Emma Howard Boyd, Chair, Environment Agency have issued joint 'opinion piece' into the seriousness of sewage pollution and the need for water companies to act immediately to reduce their impact. It's their most vocal contribution yet in the fight to halt sewage pollution.
The report backs claims by Surfers Against Sewage made since 1990, and largely ignore by water companies in the case of stormwater discharge investment, about bacteria and human health, antibiotic resistant bacteria, but falls short of mentioning other worrying sorts of pollution discharge can affect via contaminants such as chemicals, drugs and hormones.
It's a big step, the next we assume, and should be, will be legal action.
"viable bacteria and viruses are (discharged) as part of normal operations.
"When bacteria from human faeces (coliforms) are ingested, it increases the risk of significant infections including antibiotic resistant bacteria. Keeping human faeces out of water people might ingest remains a public health priority.'
"the principal public health responsibility for ensuring human faeces and viable human faecal bacteria do not get into waterways people might use recreationally rest squarely with the water companies and their directors."
"Companies should take the initiative and go faster. Regulators will hold companies to account. It is time for wastewater companies to act."
https://www.gov.uk/government/news/sewage-in-water-a-growing-public-health-problem
If anyone is interested in personal injury law check out
The Carrick V Delaney and Shelley case where High Court judge ordered their local council to reconsider its decision not to issue an abatement order forcing South West Water to halt the continuous sewage pollution of the beach at Porthtowan, near Redruth, Cornwall.
https://www.independent.co.uk/news/mothers-win-a-battle-in-war-for-clean-beach-1303146.html
Chris Hines blog on porthtowanbeach.com contains some good info
1. The Environmental Protection Act 1990 Section 79 Statutory Nuisance (e). basically says that if there is a deposit or accumulation that is prejudicial to health or a nuisance then the statutory body shall (no discretion) issue an abatement notice against the polluter. This law was the subject of a successful Judicial Review of Carrick District Council. The case was a key early success and Surfers Against Sewage were heavily involved supporting the claimants and liaising with the lawyers Leigh Day and Co and working with the media. The case is on record as Carrick V Delaney and Shelley and was taken by two amazing women Sarah Delaney and Rachel Shelley who simply wanted to be able to let their children play on the beach without the gross revulsion and/or health risk of sewage related debris being all over the beach. The Judicial Review was at the High Courts in London and set case precedent for the whole of the UK.
2. The Coroner's Inquest into the tragic death of 8 year old Heather Preen. Heather died of E Coli 0157 poisoning in 1999. Shortly after her death we (at SAS), were contacted by her parents to see if we could support them in anyway. We were also contacted by local surfers who told us of a CSO on the promenade at Dawlish. When we visited the location the CSO was clear and there was a large puddle of water with bits of human faeces and toilet paper that was on the public footpath between Dawlish and Dawlish Warren. The family confirmed that they walked along the footpath and came into contact with the contaminated puddle. We were called and gave evidence at the Coroners Inquest. During the inquest it was concluded that E.Coli 0157 can be found in sewage. The jury returned a verdict of "Death by Misadventure" not "natural causes". The Coroner recommendations called for:
A national database to be set up to collate and gather information on all cases of E.Coli 0157.
That UV disinfection should be added to the sewage treatment works for Dawlish.
That warning signs be erected at all Combined Sewer Overflows.