The 7th annual Cold Hawaii Surf & Film Festival will be running in Klitmøller, Denmark from Thursday the 12th to Saturday the 14th of May
Have you heard about Thy? It is a district in northwestern Denmark, known for outstanding landscapes and its own unique culture. It has become a 'must visit' destination. The North Sea coastline in Thy is called 'Cold Hawaii' and it's a popular surf destination offering over 30 surf spots. The tricky part is that the best surf conditions are during the winter period. The freezing temperatures do not scare the locals, though. That is also why surf magazines have named it "world's most stoked surf environment".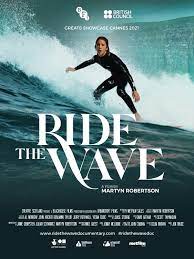 Ben Largs new film will be playing
The idea of the Cold Hawaii Surf & Film Festival (CHSFF) was born to celebrate cold water surfing.
Starting in 2015 CHSFF has grown to become Denmark's biggest surf film festival, bringing cold water surf films to Klitmøller every spring. "We have seen an increasing number of submitted films. This year we had 40 films from Australia, England, Poland, Canada, the USA, Ireland, Turkey, and Denmark to choose from. That's the largest number ever", explains the festival director Alicja Cupial.
"We are very happy with how our little festival has developed. 7 years ago, we started as a tiny event for local surfers, screening only movies made in Denmark. Today our lineup includes movies from all over the world, made by some of the best creators in the industry. This is amazing. But what's also important, is that even though the festival has grown, we are keeping the simplicity and authenticity, so all our guests can feel the 'Klitmøller vibe' when they visit the event", adds Cupial.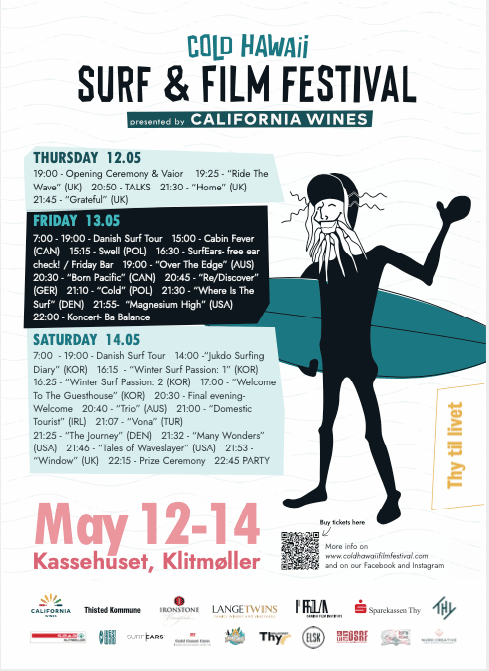 This year the festival will present 22 Danish and international surf films over three nights at the fishermen's boathouse Kassehuset in Klitmøller.
Highlights at this year's festival include a special screening of Ride the Wave on the opening night (Thursday, May 12th). An amazing story of young Ben Larg and his passion for big wave surfing. Martyn Robertson has documented his development from an 11-year-old talented kid to 14-year-old "big wave Ben". It's a must-see movie, especially if you're young with big dreams, or if you are a parent to a youngster with big dreams. It's an inspirational story about passion and growing up.
Friday night the groovy world music duo BaBalance is giving a concert after the day's film screenings. Expect dirty desert rock blended with rhythms from Central- and West Africa mixed with jazz and blues.
Saturday afternoon, May 14, there will be a special focus on Korean surf movies. "When we put extra focus on surfing films from Korea this year, it is because we can see many similarities between the surfing environment and surfing tourism in Denmark and South Korea," says Cupial.
Other than the movies and the music, the organizers invite to join or watch the surf competition. Every year, in cooperation with the Danish Surfing Federation, the festival hosts one of the stops of the Danish Surf Tour. The competition is open to everyone and will take place on the 13th and 14th of May – if the weather conditions allow it.
For further information about Cold Hawaii Surf & Film Festival presented by California Wines check out the website. Tickets are on sale now here.