A new film by Johnny Gonzales takes look behind the lens of legendary surf photographers from iconic water photographers from the Hawaiian hay days to more recent times in Cornwall and Ireland. It's pretty epic and premiers in Falmouth at the Poly Theatre on April 22nd, 23rd and Sat 30th April, 8pm.
We caught up with him to find out more.
What made you decide to make a film about surf photography?
As a surf photographer early on in my career when people would see my photos they would always ask, "Were you on a boat or a board or how did you get that shot?" At the time I was in film school and one of my assignments was to make a documentary and I decided to tell the story about the dangers and challenges water photographers face when getting the ultimate shot. After graduation I took the advice of my professor to pitch the idea to PBS and make a version where I travelled around the world interviewing water photographers and PBS liked the idea and as they say, the rest is history.
How long did it take you?
The film took me 3 years to make because it was all self funded and I travelled to Hawaii, Ireland, Mexico, and England by myself. I put every dollar I made into this film and gave up a lot of luxuries and thanks to all the people that let me sleep on their couch. Many times I'd get a good gig as a freelance editor and a week later I'd be off traveling with the money I made and come home completely broke and somehow find another job to keep me afloat and then score another good paying job and then off I'd go again. Since I was always traveling I couldn't get a regular steady job and had to rely on being a freelance camera operator and editor. I really want to thank all the surfers and families down at Lower Trestles that hired me to get their clips at the beach, they really kept food on the table that first year of filming.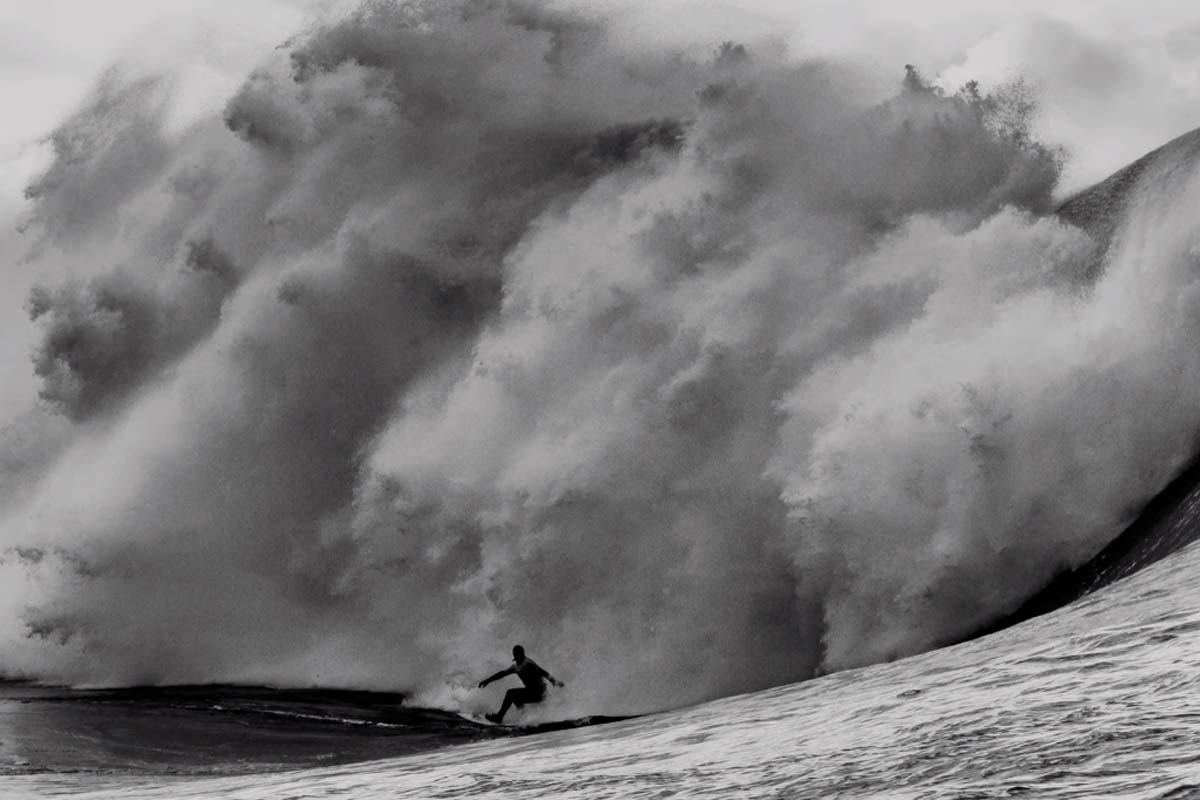 There are some diamonds in there. I bet some of the original legends were pretty stoked to be involved.
Yeah, I think I was more stoked than anything because I remember as a grom sitting on the can flipping through the pages of all the surf mags and seeing their names in the bottom right corner of the pages and I really looked up to these guys.
I loved photography at an early age and was just so mesmerized by their images and to be able to have them in my film was really surreal for me. I remember after the film was finished, Jeff Divine sent me a really nice email saying how much he really liked the film and that really meant a lot to me. Also, I've become really good friends with Dan Merkel, so much that I've become almost like an assistant for him. He still goes out to this day and shoots whatever he can and his images are so good that they don't need to be photoshopped. It's actually pretty funny that he'll be off in Wyoming taking photos of bears in the freezing cold and once he's done with the memory card, he'll mail them to me and I'll transfer them onto a hard drive for him because he doesn't have a computer and I'll mail it back to wherever he's going to be next.
One of my favorite moments was after interviewing Brian Bielmann in Hawaii and he was showing me his record collection and we had a few beers listening to his favorite songs talking "story." Then Jim Russi is just one of the nicest guys you could ever meet and his photos are all amazing and I'll never forget the Bill Murray story that he told that ended up in the film.
I feel what they did with equipment back then really has stood the test of time…
What the old school photographers did with the equipment they had back in the day really blew my mind, I couldn't imagine being out there shooting film and only having 36 shots to a roll and once they're done they have to swim all the way back in and then do it all over again. It's definitely not like these days where we can fire off thousands of photos in literally minutes. Those guys were the true photographers and not to mention they had to pull focus and make sure they're settings were perfect before getting into the water, those guys in my humble opinion don't get enough recognition that they deserve.
And you came to Cornwall, Devon and Ireland. What inspired you to include them and how was that?I'm from California and if it was overcast there was a good chance I wasn't swimming out that day and the photographers over in England and Ireland do it more often than not and they're getting some incredible images and not to mention the water is freezing cold and I gained a whole new respect for what they do. I did some research and found Mike Lacey in Cornwall, Spike Chambers in Devon and David Olsthoorn from Ireland and they were really welcoming and keen on the idea of being included in the film. I really wanted to show the audience that water photographers are everywhere in the world and not just from warm places like Hawaii, California, and Mexico.
The one thing that I really liked about the photos these guys were getting is the backdrop was so different with the beautiful rolling hills, huge cliffs, and 300 year old churches all in the background. Also, I remember filming Mike in the water on my first trip to England at Porthleven and with in minutes the weather went from sunny, to pouring rain, to partly cloudy, to sunny again and I thought that was really cool because as a photographer you can get a bunch of different looks in one session.
I just want to add one last thing, I did have a scary experience at Porthtowan beach on Dec 18th 2017 where I got sucked out and almost drowned and luckily a local surfer saved me. I was so distraught when I made it back to the beach that I couldn't remember if his name was Brent or Brett. At the time he was surfing on a longboard and had brown hair and a brown beard, if anyone knows him please have him contact me.
"In the water, behind the lens." will be playing in Falmouth next month on the 22nd and 23rd April.