View this post on Instagram
If you are running the Olympic qualifiers chances are you'd be pretty happy to have your current World Champion in the running to compete at the Olympics, no? Or am I confused.
Joan Duru has been denied a chance of competing because.. Well we don't know… No one does…We did ask but no answer. So did he. Still no answer..
The French mens team will be made up of Flores and Bourez, both who qualified by holding high WSL rankings. Fair enough they rip but Joan was overlooked for the alternate list by.. well doesn't matter who by as he isn't current world champ.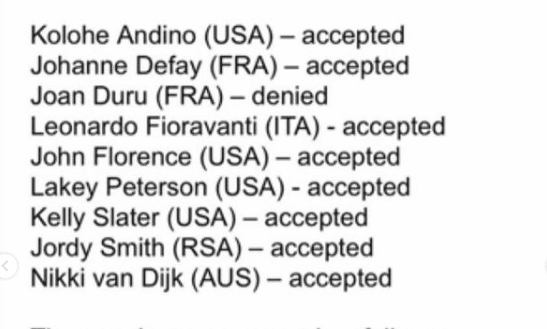 Access denied
An understandably upset ISA World Champion said on Insta
"To qualify for Olympic Games first ranking was WCT 2019 were I finish behind Jeremy and Michel so I should be alternate for France but @isasurfing denied it because I was injured for isa 2019 with medical certificate.
"@surfingfrance did legal appeal to accept my injured and put me back in the alternate list but @isasurfingnever replied so it still denied.
"With 9 CT surfer who didn't participate due to injury (appealing) I'm the only athlete who got denied with Johanne and Kelly doing good result the contest before and after Isa.
"I only ask to have my alternate place for France.
"Can I just have an answer to justify that choice? @isasurfing@surfingfrance. "
We think he has a justified claim. So too do Jeremy, Michel and lot of others.
ISA? Is your world title worth anything?