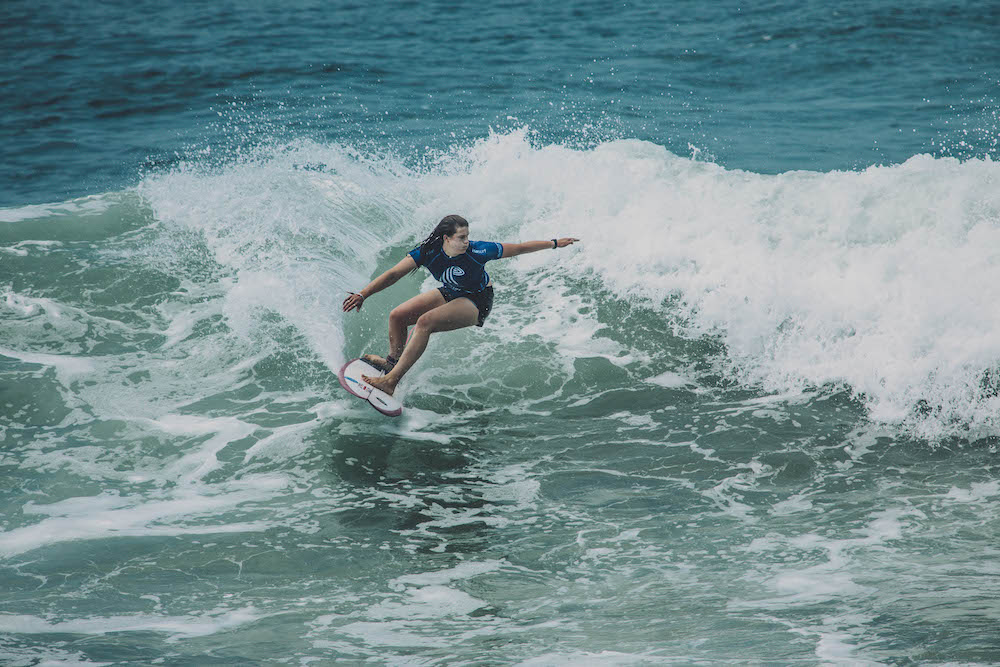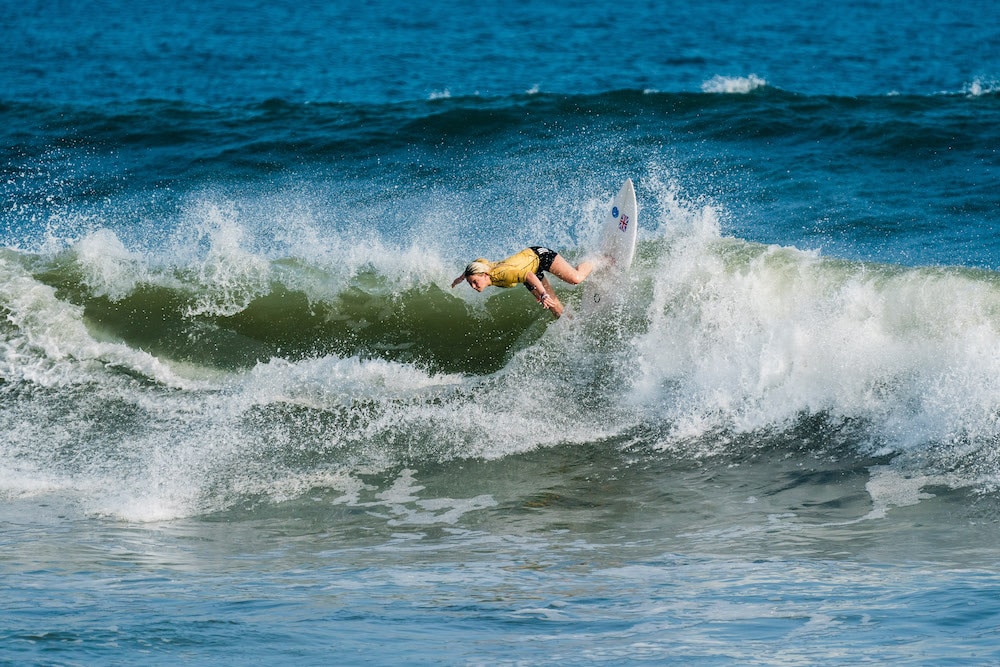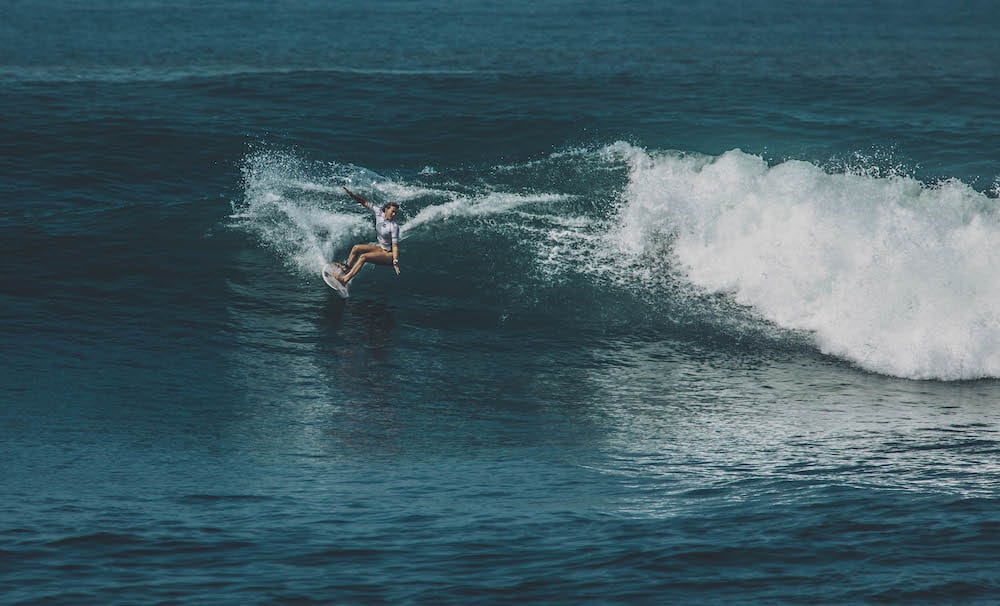 Surprising upsets and powerful surfing through a strong swell at the breaks of La Bocana and El Sunzal.
Britains Lucy Campbell and Ellie Turner win round 2 repecharge heats, and progress to round 4
Emily Currie exits in round 3.
Luke Dillon, Stan Norman (GB) and Gearoid McDaid (Ireland )surf in repecharge round 4 today.
The Olympic dreams of defending World Champion Sofia Mulanovich (PER) came to an end as she exited the event early in round 3 of Repechage. Mulanovich came up short less than a point, eliminated by Canada's Paige Alms and Panama's Enilda Alonso.
"I am just happy I got the chance to do it once again," said Mulanovich. "It's not the best result but I am still happy to be here. I was surfing well at El Sunzal, but my connection with La Bocana has not been the best. I wasn't able to figure it out.
"I am going to stay here and support my team. I'll tell them to have fun, be active in the water, and just surf."
Despite putting on one of the top performance of the day in Men's Repechage Round 2 with a 15.5 heat total, Australia's Ryan Callinan also came up short in his following heat, an early exit for a Team Australia with World Title aspirations. Callinan was defeated by Costa Rica's Noe Mar McGonagle and Portugal's Miguel Blanco.
Provisionally qualified Olympian Shino Matsuda (JPN) is looking in strong form ahead of her potential Olympic debut. Matsuda earned the day's highest heat total with 17.07 points at El Sunzal, including an excellent 9.07-point ride.
Despite falling into the elimination rounds, other soon-to-be Olympians competed with urgency today and performed in the Repechage Rounds. Peru's Lucca Mesinas, Australia's Owen Wright, and Morocco's Ramzi Boukhiam advanced through their Repechage heats.
Wright's backhand surfing proved to be especially lethal at El Sunzal, connecting scores of turns to earn the men's day-high heat total of 16.17.
Three past World Surfing Games Gold Medalists were able hang onto their Olympic hopes including 2017 World Champion Jhony Corzo (MEX), 2015 World Champion Noe Mar McGonagle (CRC), and 2014 and 2016 World Champion Leandro Usuna (ARG).
Other leading hopefuls such as Japan's Amaro Tsuzuki and Mahina Maeda, Barbados' Chelsea Tuach, and Italy's Leonardo Fioravanti also successfully continued their quests toward Olympic qualification.
Thursday's competition will feature a mix of Repechage and Main Event Rounds as the event heads into the back half of the competition, nearing the moment where 12 Olympians (5 men, 7 women) will be qualified.
Inspiration despite elimination
While the Repechage Rounds meant the end of competition for many surfers, there were lots of bright spots and inspirational stories that together make this World Championship so unique.
Ecuador's 16-year-old ISA Scholarship winner Genesis Borja fell out of the event, but having won a heat surfing among the best in the world was already an accomplishment for her.
"It has been an incredible experience for me this week, I got to meet my idols," said Borja. "I met Carissa Moore earlier this week and that was one of my dreams. She surfs so well.
"I won the ISA Scholarship last year. I had really old, worn out boards and no support for training, so I was able to get a coach and a brand new board, which helped me train for this event.
"Overall, I am happy with my performance and am looking forward for training for the next one."
Iran's Tom Rezvan overcomes adversity to represent his birth nation
Tom Rezvan of Team Iran was unable to find the waves with scoring potential during his Repechage Round 2 heat, however in competing in the event itself was a success to honor his late father.
"I came here to compete for Olympic qualification, but also because my father passed away 6 months ago," said Rezvan. "My father is Iranian and was so proud of his country, so I did it in his honor. Sometimes television media portrays an incorrect image of an entire population, so I am happy that we have been received so positively here among the nations.
"I wanted to represent my country in 2019, but my Dad was still around and I was his caregiver when he was in poor health. I couldn't leave him. I was responsible for giving him insulin and taking him outside every day. When my dad passed I figured this was the only opportunity I'd have to compete here, so here I am now.
Rezvan went on to discuss the future of surfing.
"I knew surfing was growing, but it's great to see it in person here. 20 years ago the guys in Indonesia were riding broken boards and now they are doing rodeo flips. It's just a matter of time until the other countries are doing the same thing. 10 years from now, a 5-year-old kid from anywhere who gets enough funding can make it.
"This contest is cool because it puts the top surfers against the world and shows their vulnerabilities. They are beatable, but it's just so tight-knit for people to go against them. The ISA World Surfing Games provide that opportunity for everyone."
Hope for African surfing
Senegal's Assane Mbengue also was not able to advance past Repechage Round 2. He let his emotions pour out after his heat, holding back tears, not just because of his disappointment, but due to his gratefulness to be competing in the event.
"I am very happy to be surfing here and doing this for the country," said Mbengue. "I am frustrated that I could not make it farther in the competition, but I want to thank my coaches. They are so supportive. It's really hard for Senegal to have a developed federation so they are doing everything they can to make this happen and help us compete here among the world's best."
Teammate Imane Signate added, "We hope in the future there are more African countries in the ISA. We are happy to be one of the first but we are looking forward to seeing the sport grow throughout the continent in the years to come."