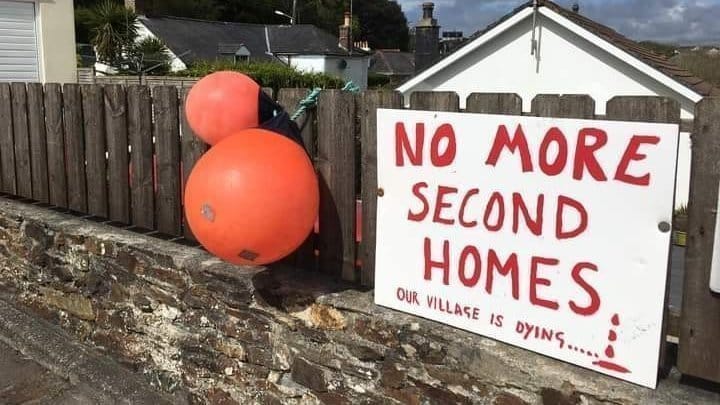 30,000 people sign Cornish petition in 20 hours..
Post going viral on FB
St Agnes resident Steve Ridholls put up this sign saying "I'm not resentful towards visitors, I just feel passionate about homes for local people.
"There's places like Cadgwith and Portloe that have all the lights off during the winter and St Agnes is heading that way."
You can sign the petition here
Coastal communities in Cornwall, Devon and West Wales are dying. It is a sad but under reported fact that most small villages, and even towns are now unaffordable for the locals and those that have lived and breathed the very life into areas that as a result have become coveted in the second home property frenzy.
In most small Cornish towns these are the people that keep the coast clean, lifeguard, fish, and work in the area. Their community values and vigilance even keep crime rates lower than cities, keeping an eye on empty second homes out of season.
In 2021 these communities and families are being split, values eroded and local unrest is now almost palpable, especially in Cornwall. Even local businesses reliant on tourism are finding it really hard to employ staff because they can't find accommodation. The rental market can't cope with depleted supply and ever increasing rents.
A new petition has been launched to lobby for action in Cornwall caring for a tax on second homes to invest into local housing, and rent caps for locals to protect the precious communities.
"Cap local rents, raise the tax on second homes and save Cornwall's precious coastal communities. Cornwall is dangerously on the brink of a homelessness crisis and Cornwall Council has to act NOW. We've had enough of second home ownership outpricing locals, leaving local homes empty and stripping communities of their heart and soul.
"The latest second homes property frenzy in the county is the last straw.
"It has seen an unprecedented 15% increase in local house prices since April last year, which as well as placing them well beyond the reach of local buyers, is now starting to severely affect the private rental market, leaving local families with simply nowhere to go."
"Cornwall currently has more than 10,290 active Airbnb listings, yet in comparison, the housing website Rightmove had only 62 properties available to rent privately across the whole county on Friday evening (The Guardian, 30th May 2021).
"This is a homelessness crisis waiting to happen…"
The petition also claims;
"To add insult to injury, approximately £133m of Cornwall's Covid Aid has now been given out to second home/holiday let owners since the first lockdown with around a half of the people who have received this money registered with addresses outside of Cornwall. This is wholly unacceptable."
"We demand that Linda Taylor and the newly formed Conservative Cornwall Council show their renewed commitment to the Cornish people by making quick and decisive moves to:
Levy a higher, more stringent tax on second homes which recognises the threat they pose to local communities.
Close the loophole which allows them to be classed as 'businesses' allowing them to tap into locally allocated funds and in some cases avoid paying council tax altogether.
Work quickly towards outlining firm strategies to cap local rents in keeping with local incomes so that local families are not left homeless.
Use the funds accrued from taxing second homes properly into building FIRST and ONLY affordable homes for local families.
Please sign and share this petition to save Cornwall's precious coastal communities!"