CATCHING UP WITH BOYDIE ON SCOTLANDS NORSE SHORE INTERVIEW BY JONNY EWART
( @markboydsurf @jonnyseasurf )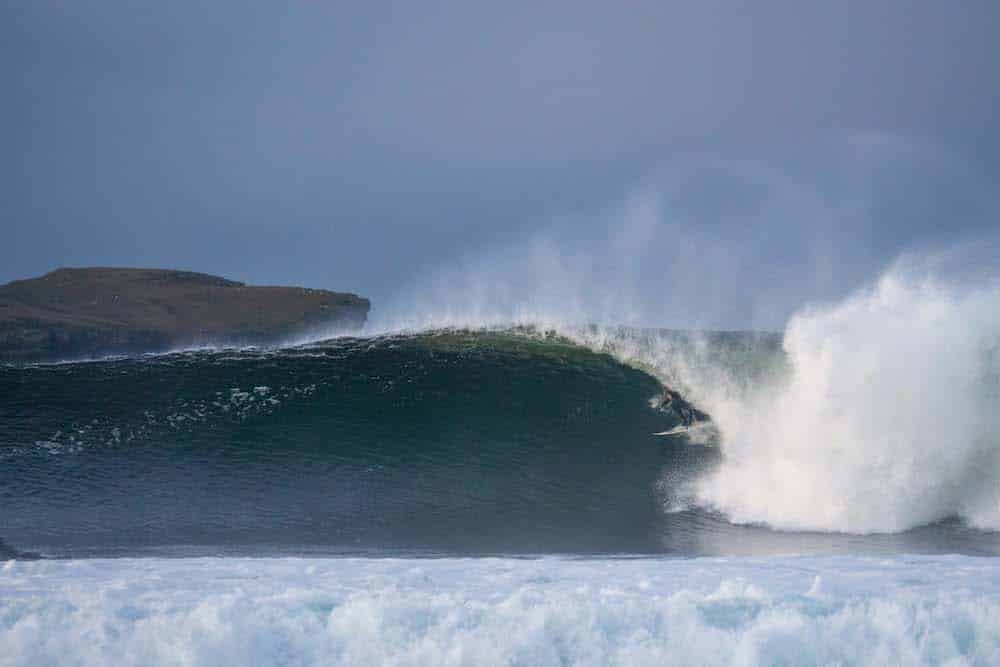 Blue bird days. Pic Thomas Horig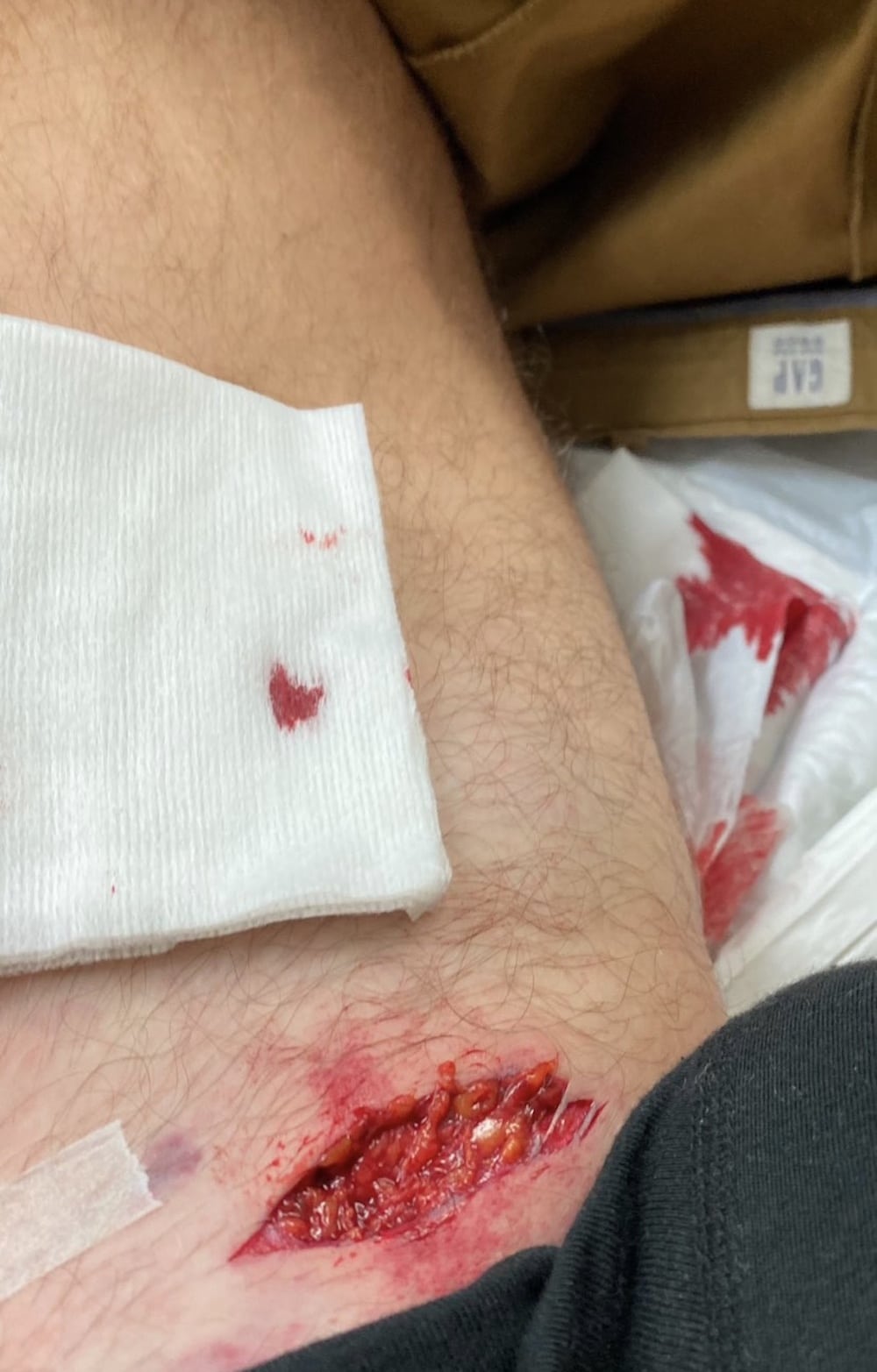 No pain no gain.
Q. Looked like you injured yourself pretty badly the other day Boydie, how'd that happen?
Aye, I was surfing Thurso-East, I hadn't been in the water long I'd only had a couple waves and on my third wave I pulled in and got bucked off by the foamball and as I was going over the falls my board got forced into my leg just below my groin.
Q. Oocha, sounds sore, so will you be out of the water for a while?
I got 6 stitches in the puncture wound the nose of my board made, but weirdly there wasn't even a mark on my wetsuit! Its more the impact of the board hitting my leg that's sore – my hip and my thigh are so bruised its been pretty painful and haven't really been able to move my leg until today but I'm still hobbling around. I've got the stitches in for a week and then hopefully the bruising and stiffness doesn't take too much longer to heal. Hopefully just be out a couple of weeks.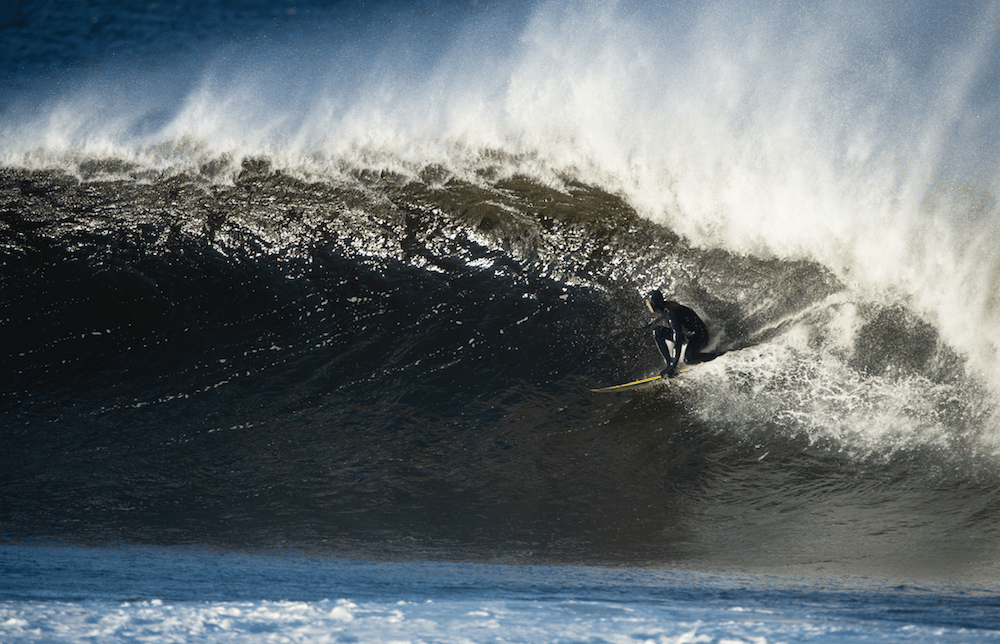 Deep on he reef. Pic Grumpy Old Surfer
Q. You got a pretty good tube just before that, was it worth the injury?
My first couple of waves were pretty decent; a double barrel (I didn't quite make the second one) and then the one just before was probably my best barrel of the year so that was a bit of a consolation I suppose! Haha. Don't think anyone was filming though unfortunately.
Q. Hows your season been so far?
We've had a good start to the season, plenty swells and we've had some good winds too.
Q. Tell me about the crowds in Thurso these days?
Its pretty crazy now. There were 50 people in the water at Thurso-East alone a few swells ago. Was hoping to enjoy it being a bit quieter with this lockdown again but there are a lot of people who live and surf here now too, so there's always a crowd these days.
Q. How has Covid affected you? How have you found it having a year out of competing?
The Scottish Nationals was cancelled this year because of Covid so it was disappointing not to get a chance to get 3 in a row. I had also hoped to do the full UK Pro Surf Tour, which was also cancelled, so fingers crossed events can run next year. That said however it has allowed me to do a bit of extra work offshore and save some cash – I did a 16 week trip on a cable lay ship over the first lockdown period, not really by choice but because we got stuck due to crew change restrictions because of Covid. So that was a long stint without surfing but means I can take more of the winter off when we have waves at home.
Q. So tell us about this edit
The edit is a collection of footage from various filmers but mostly Malcolm Anderson (@malsurf) who I have so much to thank for. Mal is so dedicated to filming on the good days in Thurso its always amazing to analyse footage afterwards and he captures so many great memories. Most of the footage is from Thurso or nearby with a little bit of France and Portugal thrown in and it was all filmed over the last year or so. I'd also like to thank @perrygershkow @_mark_mason @oscrjmsmedia @didierpitersurfcoach @jasurfproject @grumpyoldsurfer @will_nangle for the additional clips and @mr_rupo for his editing input.
Follow Boydie on
Instagram: @markboydsurf
Facebook: Facebook.com/markboydsurferscotland
Follow Malcolm Anderson on
Instagram: @malsurf
Please credit photographers for photos:
Andre Silva @andreinnit
Thomas Horig @thomashorig
Grumpy Old Surfer