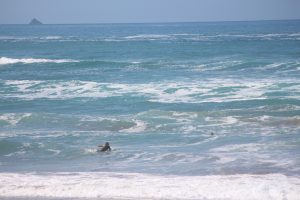 Rescuer Joe Bracegirdle, Trebarwith Strand, Cornwall 25 May
This is the first of a series of rescue stories we are going to recount to raise awareness of sea safety and the actions of volunteer lifesavers in May 2020 when 100s of volunteers put in 1,000s of hours to keep the public safe as good weather, large tide and swell coincided with the relaxation of lockdown to produce a perfect storm on the south wests beaches that had no RNLI lifeguard cover.
We have chosen this rescue first for several reasons.
The photo shows clearly what a rescue of a casualty looks like. A swimmer swept out to sea in large surf is in obvious distress. Joe paddling quickly to his aid. Without his intervention this clearly is not ending well.
Secondly Joe is a Cornish surfer and was one of many RNLI lifeguards who were laid off early in the season due to management decisions on COVID. But instead of giving up he chose to unofficially lifeguard on two of his usual surf beaches to keep the public safe. It is this outstanding attitude that the RNLI core values are based; 'with courage nothing is impossible'.
Thirdly his attitude when recounting the events is one of modesty and commitment to helping others. A trait seen right through the lifesaving community. Saving life through intervention or rescue is a day to day occurrence. No one does it for any other reason than they just want to help.
"I think the whole of the surfing community in Cornwall and the south west could see what was coming that Bank Holiday – a weekend of solid surf and sunshine with no lifeguard service was always going to be quite full on.' says Joe, 
"Knowing it was going to be really busy, everyone took it upon themselves to be out there on the beaches keeping an eye Out. A lot of rescues were made and undoubtably many lives were saved all around the coast. 
"I spent some of the week down at Whitsands letting people know they were walking into a rip and the rest up at Trebarwith where a fair few rescues went down by the guys out in the water. Everywhere was really busy and rippy as hell. We've had similar days since that weekend and been as busy as we ever get rescue wise so its a relief to be back on duty now.
"On the day of my rescue my girlfriend and I were hanging out at the beach. I was just about to go out for a surf when I saw a guy dive straight into a pretty horrible rip. He went straight out to sea. I jumped in and paddled out as fast I could as it wasn't going to end well for him. When I got to him he was pretty shaken up, but I managed to get him in through the shorebreak ok. 
"Just before that a friend pulled in a learner surfer who had drifted right out and there were numerous other rescues throughout the day by surfers and the local surf lifesaving crew."
We sent Joe some Offshore Pilsners courtesy of Sharps so he can have well deserved beer after work in the summer sun. Great work Joe.
If you want to help fund equipment for lifesaving communities you can donate here.