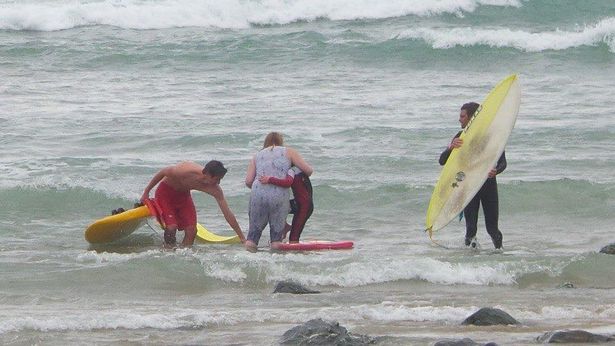 Imagine this scene if lifeguards hadn't been there. Pic Nicky Willows
The RNLI is in a tough spot at the moment. Hundreds of highly qualified and experienced beach lifeguards returned to the UK or left winter jobs expecting to start work managing the UK's beaches and keeping hordes of holidaymakers and those less ocean savvy safe. Unfortunately, their return coincided with the shutdown, but as seasonal workers, they weren't apparently qualified for furlough. The RNLI bosses, already in a tough position seeing their charity donations drop, issued apologies but had to cancel contracts and promises of jobs. The result, unguarded beaches and a lot of highly qualified lifeguards out of pocket and wondering what comes next.
Right now on many beaches (where it is legal to surf) many surfers (some guards or ex-guards, some just salty sea dogs) are already issuing verbal warnings on tidal cut off to walkers or asking more 'adventurous' (I'm being kind) visitors to the coast not to swim in rips, climb rocks and even raising more serious alarms. It's not the surfers' job, but it is one that most the front line services – police, RNLI, Coastguard – are often grateful for. But surely even in lockdown resorts and busy beaches shouldn't be reliant on the good nature of surfers? There should be some sort of beach safety plan in effect? And if people are responding in numbers now during lockdown what will happen when restrictions are lifted and the public flock to areas which were predicting their busiest summer for years?
Lifeguards are front line workers in coastal communities reliant on tourism and things are about to ramp up. As Tom Houghton (RNLI Senior Lifeguard, Newquay) says: 
"With the prospect of restrictions being lifted in the summer months, the worry is that the beaches will see record numbers of families and other visitors flocking to the coast – it will be a real struggle for lifeguards to provide any kind of lifesaving service without financial support for the staff now."
'Training to be a lifeguard is tough – you have to understand the dangers of the sea and the coastline, be physically fit enough to rescue people in rough water, be competent in advanced first aid and as a Senior Guard I have to know how to plan and lead patrols and rescues. So if experienced lifeguards have to get other work to make ends meet and they aren't available when the service is needed in the summer, they won't be easy to replace.'
Arron Evans is a surfer and RNLI Senior Guard, as he points out "The Lifeguard service relies on its returning lifeguards to impart the experience and skills required to do the job, it can take years to be trained on the rescue crafts and there is no substitute for experience"
Right now the RNLI is planning for skeleton staffing of high incident beaches during the busiest summer months. It will be tough even if they can retain their highly qualified staff, which is in doubt. The government is telling guards they are eligible for to look for other work and sign up to government support such as Universal Credit as restrictions continue. It isn't good enough. 
As anyone who's worked on the beach will tell you good lifeguards are priceless. It takes time, fitness, knowledge, instinct and dedication to prevent loss of life because when the shit hits the fan on a beach, things go downhill pretty quickly. And as much as other services will do their best to reach the incident and intervene if called in by the public, nothing comes close to an on-scene lifeguard with years of ocean and surfing experience. Basically the government is risking one of the nation's most loved organisations losing a highly qualified front line workforce as we head into peak season.
So what for the recovery of coastal tourism if we see a rise in incidents and deaths on beaches? Where does the responsibility lay in terms of care of duty? With local councils as in the past? It's a pretty murky future.
The fact the RNLI still relies on the generosity of the general public is somewhat of an
embarrassment, especially when you factor in the cost benefits of guards and volunteers intervening compared to the launch of coastguard helicopters and searches, loss of lives and benefits to tourism.
Lifeguards are currently lobbying MPs to change the furlough scheme to include returning, seasonal workers like themselves who provide a vital lifesaving service. I'd suggest a few 
councillors, tourism chiefs and coastal businesses get behind them. As we all know too well now prevention is way better than the alternative. Unprotected beaches during peak season won't be a pretty sight.