Surfing is a solitary pursuit. It's you against, or hopefully, working with Mama Nature to get your stoke inducing dose of the glide.
Sure surf trips with mates are a blast, but sometimes it's good to strike out on your own. You can't always find a wingman or woman. Sidekicks ain't always on hand after all. Travelling by yourself is epic, no decision by committee, no faff with where or what to eat, no dilly-dallying deciding where to surf: just you and yours pleasuring yourself. So to speak.
The downside is you can't split the costs of rental cars and rooms but fear not, modern surf camps are set up for solo travellers, you've got a pop-up bunch of mates just waiting for you. It's a chance to engage with actual humans, not stare at a screen, meeting fellow travellers is one of the best things you can do. Exchanging stories and tips on spots to check out, play cards and hell, even have a few shandies.
Surfing is a big worldwide family. Wherever you go, you'll meet likeminded souls. So pack that board bag and explore. The crew below are waiting for you…
In Da Surf
Nice Way Hostels
Salty Way Travel
Sandycamps
Surfivor Surf Camp
The Yogi Surfer

Surfivor Surf Camp |  Portugal
Surfivor Surf Camp, since 2004, brings you the best surf holiday in Northern Portugal. Visit our Surf Hostel Porto for the most unique Surf City Experience in Europe. Or try our Brand New Beach House in Esmoriz, prime oceanfront location steps from the sand.
Surf Camp Packages for Beginners and Intermediates include Surf Lessons Monday – Saturday, Accommodation + Breakfast, Yoga, BBQ and Porto Tour. Licensed, experienced and FUN Surf Coaches with Local Knowledge, max 8 students per instructor. Bed & Breakfast and Equipment Rental options also available, with advice on Local Attractions or Free Surfing.
Surfivor offers Group Discounts 20% and Come Back Discounts 10%. But Surfivor guests keep coming back for the Warm and Friendly Vibes, Comprehensive Surf Coaching and Uncrowded Line Ups. Try Esmoriz June – September for your Authentic Portuguese summer beach holiday. Visit Porto October – March for the best Winter Waves on offer in Portugal.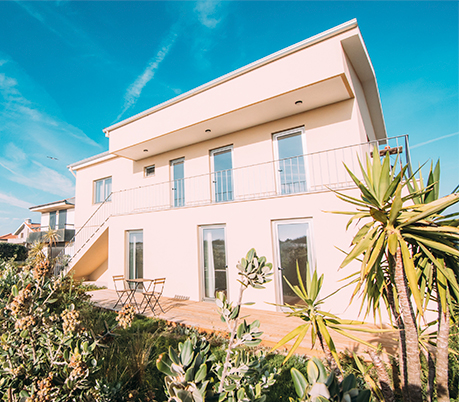 Just a few hours from Europe, Sandycamps offers authentic stays in the small village of Imsouane, best surf destination of Morocco. Its slow-paced atmosphere, all-level 800 meter-long wave and 300 days of sun per year have made Imsouane the ideal winter escape. Spend your holidays on the beach surfing or practicing yoga, and completely disconnect from your daily life. At Sandycamps, you're invited to relax by the pool, on sunny terraces or lush gardens, taste delicious tajines, and enjoy live music, meeting like-minded people from all over the World. Whether you are a beginner or intermediate surfer, yoga enthusiast or experienced yogi, we offer packages that will suit your needs, to make sure you spend amazing holidays. Don't hesitate to contact us, we'd love to hear from you!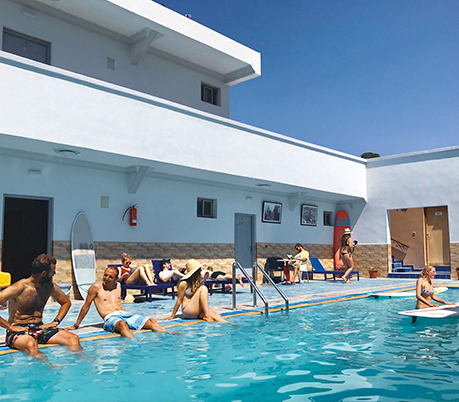 Nice Way Hostels | Portugal
Come to live the Cascais dream surf life! Either you never surfed before or you are an experienced surfer, Cascais is the place to have your surf holidays. Nice Way Cascais & Surf Camp team will guide you to explore the best surf breaks in the area. They manage to prepare the different surf groups according to each surfer's level: beginners, intermediates, and advanced.
In the quiet residential area of Cascais, the camp is located 12-minute walking distance to the beaches, restaurants and nightlife. The accommodation is divided into 16 bedrooms, all designed and furnished to provide maximum comfort. There are 11 comfortable shared rooms with 4, 6, 10 or 12 beds. This surf camp has four double rooms ensuite and one double room. The place has a beautiful and comfortable garden with a swimming pool to chill and relax.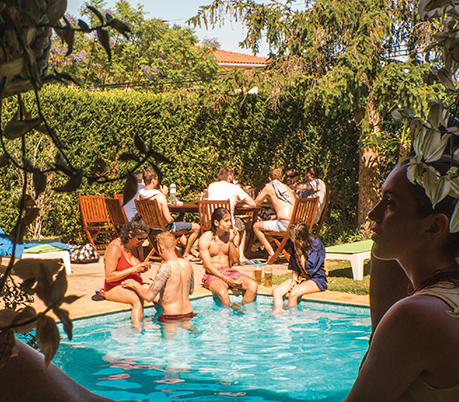 As stated in our motto "Enjoy Life", get ready for a wonderful surfing experience in the family run surf camp situated just few minutes away from Bali's famous surfing spots such as Batu Bolong Beach and Echo Beach. Our semi-private surfing lesson with video analysis and theory is tailored to all levels, and our ASI certified instructors will take you to various surf spots around Bali. We have two accommodations to offer, our Surfers House Hostel offers 4-beds dormitory rooms which is perfect for solo travellers to catch up and socialize with fellow travellers from all over the world. If you need more privacy, our Pool Villa is located only 5 minutes' walk from the surf camp. Our surf camp is our family, we want you to experience the family-like atmosphere and make good memories together with our friendly, English speaking team that will take good care of you. Get ready for your Bali surf vacation and see you at the camp!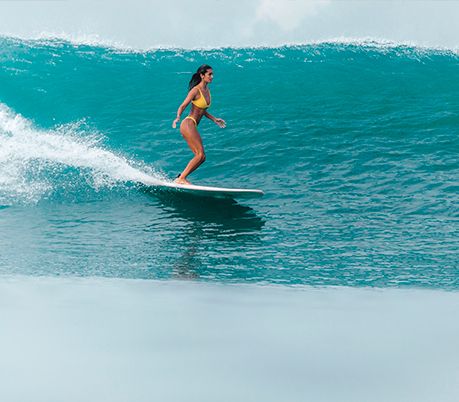 The Yogi Surfer | Morocco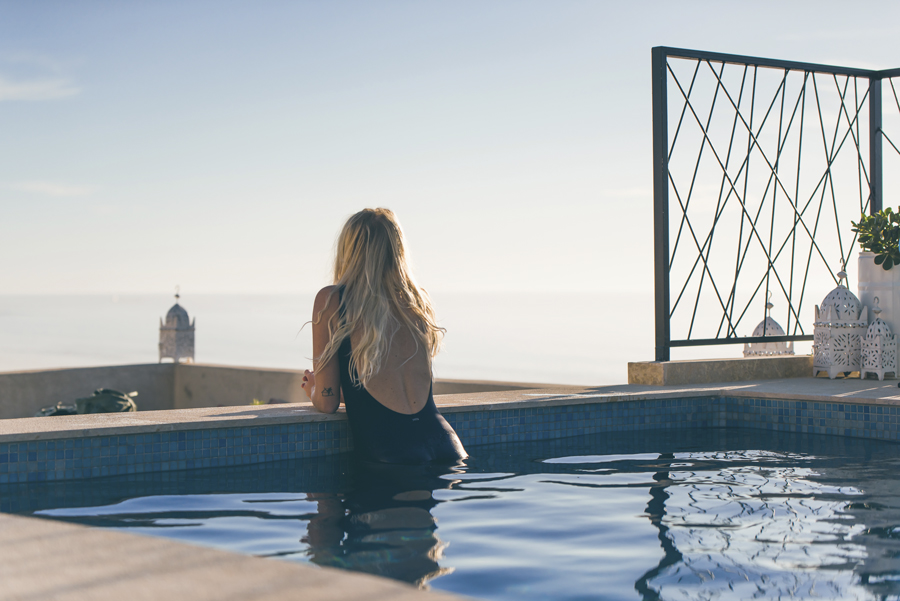 The Yogi Surfer, the brand new "must-stay" Boutique Hotel, is located near the village of Taghazout, the epicentre of the Moroccan surf scene with the best surf spots in the Kingdom.
Whether you are a beginner or a confident surfer, their team will make every effort to offer you a unique experience, tailored to your level and your requirements. All packages include airport transfers, full board (excluding drinks) and transportation to the surf spots for the duration of your stay.
Overlooking the Atlantic ocean and the Atlas Mountains, discover their fully wooded Yoga Shala where daily classes are offered. Moreover, have a free course by reserving your stay via their website. Use code TYSYOGA and get a free yoga lesson in our wooded shala!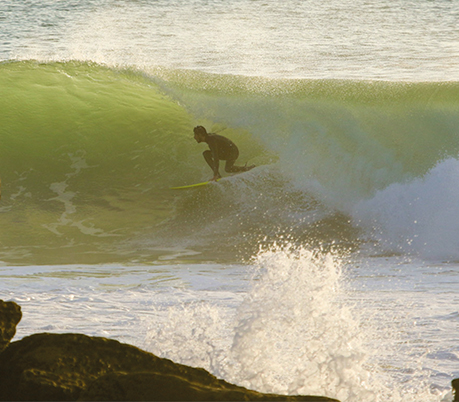 Saltyway Travel | Portugal
Here at SaltyWay we are passionate about surfing and climbing, and want to share our knowledge, stoke and enthusiasm with you in this enchanting corner of Portugal, the Serra de Sintra.
SaltyWay is a professional yet fun filled adult surf and climbing camp. Our aim is that by the end of your stay you've not only had a memorable holiday and subsequently addicted to adventure sports but you've acquired the knowledge, ability and confidence to pursue these sports independently of an instructor in the future. Learning is active, the lodging relaxed, and all goes down with a small group of fun loving likeminded people. If you have children, you can bring them along and let them share the fun! In addition to these sports you'll have the opportunity to relax and recover with our weekly yoga sessions and soak up Portugal's bohemian culture and fascinating history in nearby Sintra and Lisbon.