Tom Lowe is a hell man, fact, his recent wave at Mullaghmore (above) was a freakin' beast. A monster mega keg of a wave. In his own words "Since the first paddle session ten years back I've been waiting for this ride…wave of my life".
Well they do say you get what you deserve in life, and Tom has certainly put in the effort, we salute one of St Ives' finest waterman and export, check out the below interview Jarvi did with Tom from back in issue 182.
Photos: WSL/Morales
We unleashed global roving editor Jarvi on Lowey post his epic Mexico WSL Big Wave finals result. From St Ives to the biggest stage in the world for hellmen … heck of a ride.
The best big wave surfers in the world come from Hawaii, and from Australia, and maybe from Mexico and South Africa, or possibly from Chile. 
And the U.K.
Oh yes. British big wave surfers have become a thing these days, like a Brazilian Storm lite. Half the surfers, but better for you.
The latest to hit the ranks running is a young lad named Tom Lowe. He joins the Big Wave Tour anointed squad of Tom Butler and Andrew Cotton as our own crew who are making a name on the big wave scene. Although Lowey has been charging hard for a very long time as you'll know, it was the WSL Big Wave Awards that brought him into sharp worldwide focus with a horror Tag Heuer Wipeout Nomination at Puerto Escondido in 2016 for a dive from the top of a giant close out set.
He soon followed it up with a similar entry into the 2017 awards, only this time it was at Nazaré – even less of a joke than Puerto, and impossibly it seemed like a bigger wave and an even longer drop from the heavens. No to mentioning also turning heads with his Pe'ahi debut.
Before that Tom was finding his big wave feet amongst the notoriety of the giant slabs and peaks of Ireland with Fergal Smith. When they weren't surfing Mullaghmore as big as it gets, they were pioneering the Cliffs and Rileys. There might not be too much going on with regards to big waves where he lives in Kernow, but Lowey was earning his stripes in Ireland.
As a result of the 2016 wipeout and performances however, he was nominated as one of the top four big wave performers last year, and was rewarded with a berth on the Big Wave Tour, a dream result for any big wave hopeful.
His first event on the 2017 tour was the recent Puerto Escondido Challenge, and he didn't disappoint, coming in third behind the big fish duo of Kai Lenny in first, and Jamie Mitchell in second, while surfing with an injury and only able to go the rights, on his backhand. We connected with the goofy-footed charger to chat.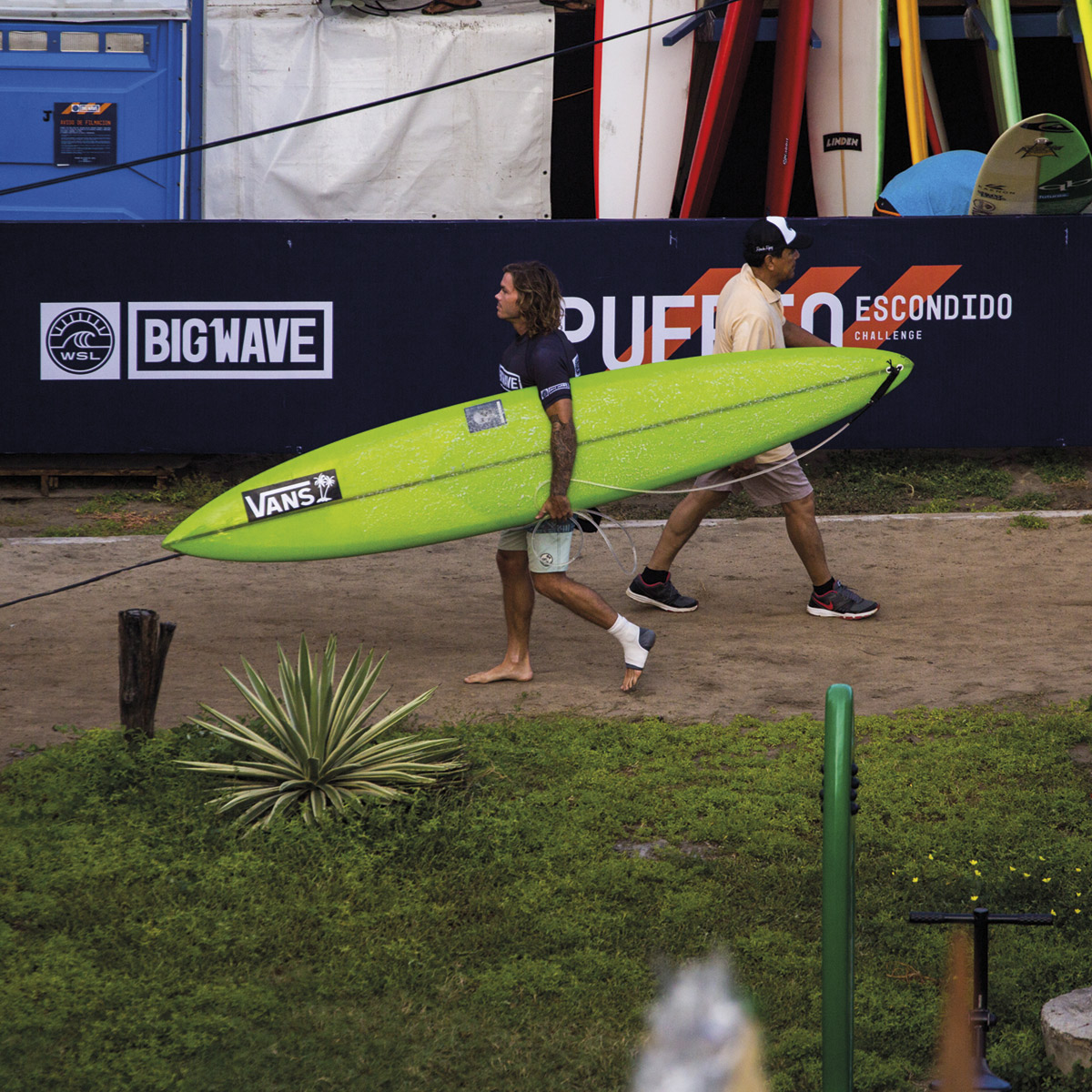 Coming from England, it's hard to imagine a big wave background, apart from having a go at the Cribbar when it breaks.
How long have you been surfing for, and where are your local breaks?
I'm from Cornwall, so there are just beachies, with a few novelty reefs that works a few times a year. My local spot is Porthmeor in St Ives. It maxes out at four foot.
Four foot does not a charger make.
When did you get a taste for big waves then?
You know, we get big storms, even in England, and I remember floating around in 10ft onshore somewhere, waves coming from all directions. And I felt so alive. My first proper big wave session was in West Australia, the bombie next to main break in Margaret River. I surfed with Camel, the Australian legend. Inspiring times.
Inspiring, but what about competing? Hanging with Camel does not instil a competitive spirit.
Ever surfed in competitions before this big wave run?
Two or three local comps, then I was invited to surf in the Padang Cup twice. That's literally it.
Is there anyone in the brood to help? There must be someone to help? Surely.
Do you have any other family members who surf?
No, but both parents support my love for the ocean. They always have. Even though I had to wash dishes, lifeguard and work on building sites for a living up until I was 22, they said that as long as I'm happy that's all that mattered. I have a sister who's a few years older than me, a primary school teacher. Mum and dad are both retired. Very much hippies in there own way.
Mum believes in organic living all the way, dad smokes and has the worst diet known to man, haha. They are divorced, for maybe 25 years, but still have an epic relationship. Love them both.
Who on earth does a big wave surfer look up to in England?
Did you have any surfing heroes from UK, and from a global perspective? Why were they your heroes?
I never really had heroes, apart from my family and friends, and my girlfriend as well. People's styles, and drive for their passion do inspire me. It's a bit like music for me. My favourite bands or solo artists are beautiful people as well, not just great at something. So the crews that I get amped for have to resonate on that level also.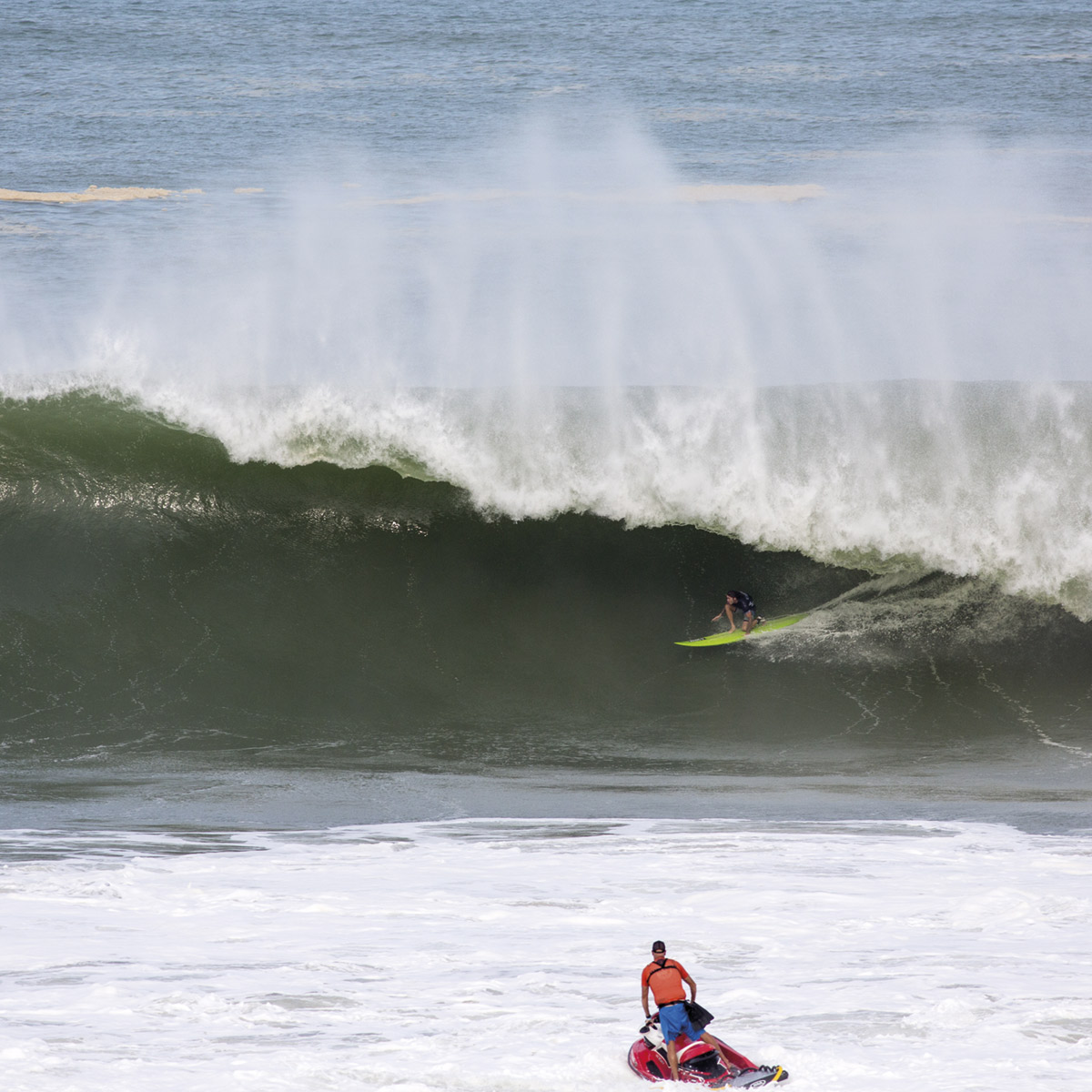 Making name by wiping out. It's a helluva route to fame.
Let's talk about your wipeout at Nazaré – the one that made it onto the WSL Big Wave Awards – talk us through that scenario.
Well, I'd been in all morning chasing my tail and catching nothing. I paddled for the first wave of the set, missed it, turned round and saw that wave doubling up. I was really under it, the only place you can be to make a wave like that. As I stood up, my 11'0″ board started to take off into the sky. I freaked out and jumped. I could've tried to stick that airdrop, but looking at the footage I would've copped the lip on my head anyways. So it was the best call in the end. I did however get a forty-second hold down, even with my Patagonia vest inflated. It was definitely up there with the most violent wipeouts of my life. After I was dropped to the beach by the ski, we all had a few hours to recover before heading out that evening. And the same thing happened again, on a small wave. This time I committed to sticking it, which I did for a brief moment before hitting a chop and head butting my rail. Again, I got smashed and held down for a long while. My shoulder still isn't right from tweaking it that day.
Nazaré must surely be the unfriendliest wave in the world, with no redeeming characters except for its unholy size. What does it take to surf something that nasty?
Nazaré just looks abominable. How do you feel about it, and what is your mental approach when dealing with it at the upper end of size?
Be as close to 100 percent as you can in mind, body and soul. That place will test all you have and more. You're going to take sets on the head, and get in dangerous scenarios, whether you play safe or not. I go out there to catch one solid wave, no more, no less. Fully committed to that plan. Or I don't go out at all.
Mexico and Mexican Pipe. Is it all Coronas and taco Tuesday or just pure fear? Is there more to it than that?
You seem to enjoy Puerto. Have you spent much time there? 

Yeah I love Mexico, it's where I met the love of my life, Tess. It's where I've had some of my most special moments in the water too. I went there for the first time around 14 years ago. These days I like to spend at least a month or two there during the summer. 


It's an absolutely fearsome wave though, with horrendously heavy situations. No place to mess around.
What are the best waves to catch at Puerto?  

It's a place you have to be very patient with. Which is why most of the waves we rode in the contest situation were closeouts. We had to go for anything in the time limits of a heat. Usually I catch one wave an hour at most.
I love those deep rights at Carmelitas. Not that I've had many good ones over all these years, but they're the ones I dream of. I look for the wedge with a nice wall, cornering into the shoulder.
Puerto is also a place that can totally mess you up, mentally as well as physically.
What happened to you before the event? You said you were on crutches.
During the previous swell I caught a solid right and didn't manage to bottom turn in time before the lip landed on my back foot. I thought it was broken but it ended up being a nasty sprain. I was on crutches for two weeks before the contest. Surfed only the day before to feel it out. To be honest I was in heaps of pain and feeling sketchy as. I could go right but lefts weren't working for me at all.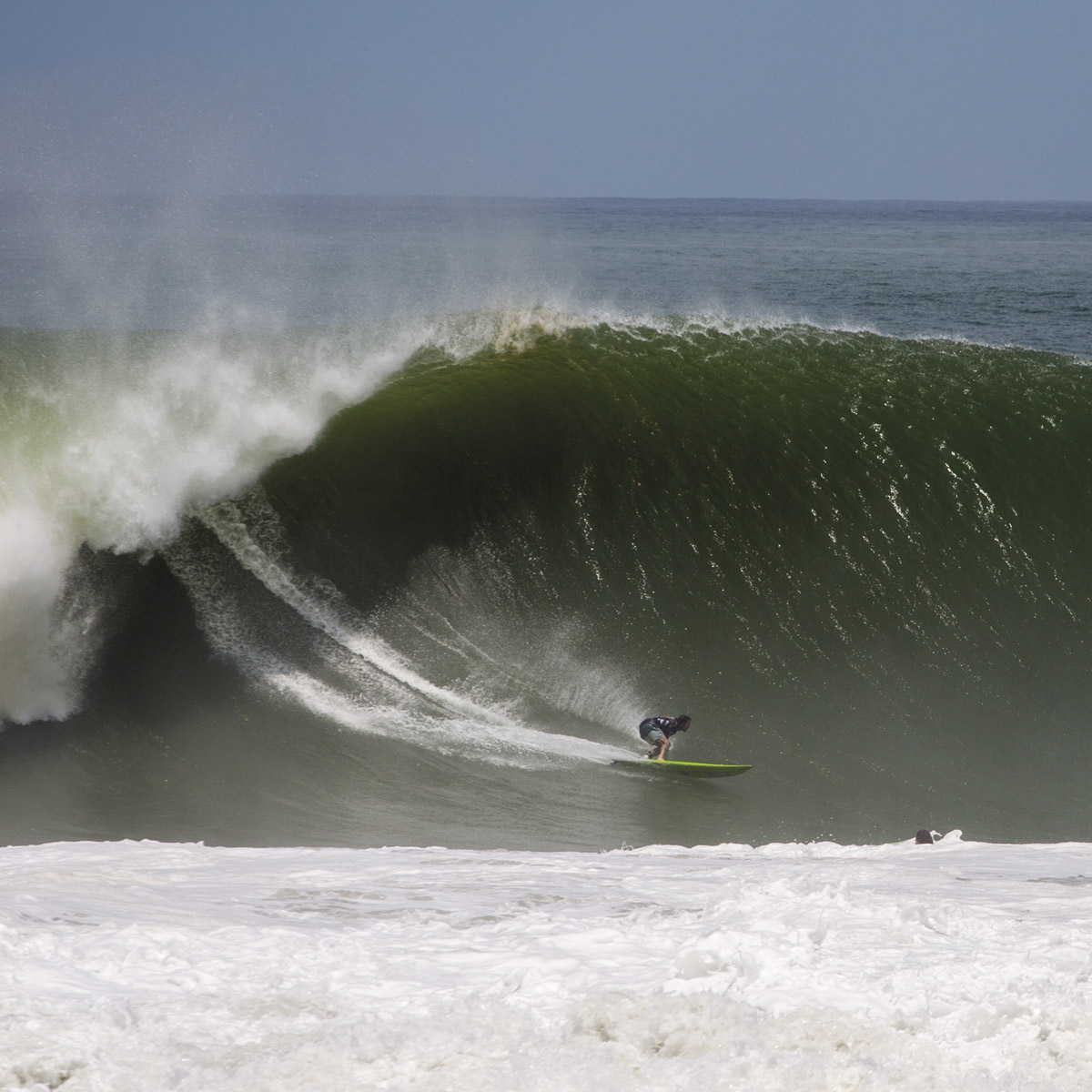 Surfing giant and consequential waves with a messed up body part is so far from an ideal scenario. What's it like?
Was it painful surfing the event with the injury?
Yeah it was throbbing pain the whole time. Any pressure on it and I thought it would snap. I just strapped it up tight as, which gave me some piece of mind that she was solid. 


Big wave surfing is daunting. You need to be on your game all day, every day, and never turn your back on the ocean.
Any moments for you during the event that were off the scale scary?
Every wave. 
The best thing in any sport however, is to be recognised.
Now we have a tour. We are a solid component of the World Surf League.
How does it feel to be on a legitimate Big Wave Tour? 
I'm so grateful for this opportunity, which is why I surfed on an injury. And will give it everything I have. But my goal has never been or will be to win contests. I dream of riding big barrels. If that's in an event then epic, if not, it'll feel just as good. 
It also really helps to have an inspired season and for someone, anyone, to notice.
How does it feel to be one of the top four performers in the big wave realm last year?
That means a lot. The last few years I have been pushing myself further than I imagined. To be recognised by my peers was rad. Again, the only person I compete with is myself though, so it's not about winning things.
I just want to keep improving and growing as a person and surfer. 
Then we get the whole Hawaiian drama, and the terror that exists at Pe'ahi. It's a helluva place, with an amazing backstory, and quite possibly the most perfect big wave on the planet. Some have called it simply a massive Lances Right. Lowey once surfed one of the craziest backhand barrels there on a giant pink board, and he actually exited one of the best backhand tubes seen there, before unfortunately going over the handlebars hitting a bump. So Mr Lowe is pretty self-effacing about the joint.
Have you had much experience at Jaws? What's that wave really like?
I've been there for two big swells, so not much experience at all. I love the wave though, as frightening as it is. I hope to come out of a barrel out there one day. Technically it's a huge challenge for any surfer, especially on your backside. Trying to negotiate a 10″6 with all that water moving is as hard as it comes. Well done to all the guys who pioneered that humbling venue!
Surfing has its moments. There are good times and bad. Sometimes when the going gets a bit tough, you just have to roll with it. 
What's the best thing for you about surfing right now?

Well I can't surf, my ankles farked! Nah, I'll be sweet by the time the mag comes out. It's minor enough, needs some rest and rehab is all. Best thing about surfing now is that feeling never changes. It's my happy place to meditate, be free, express myself and connect with nature. 
Who could imagine that Jaws, Nazaré or Puerto could be a 'happy place' for anyone? Goes to show…