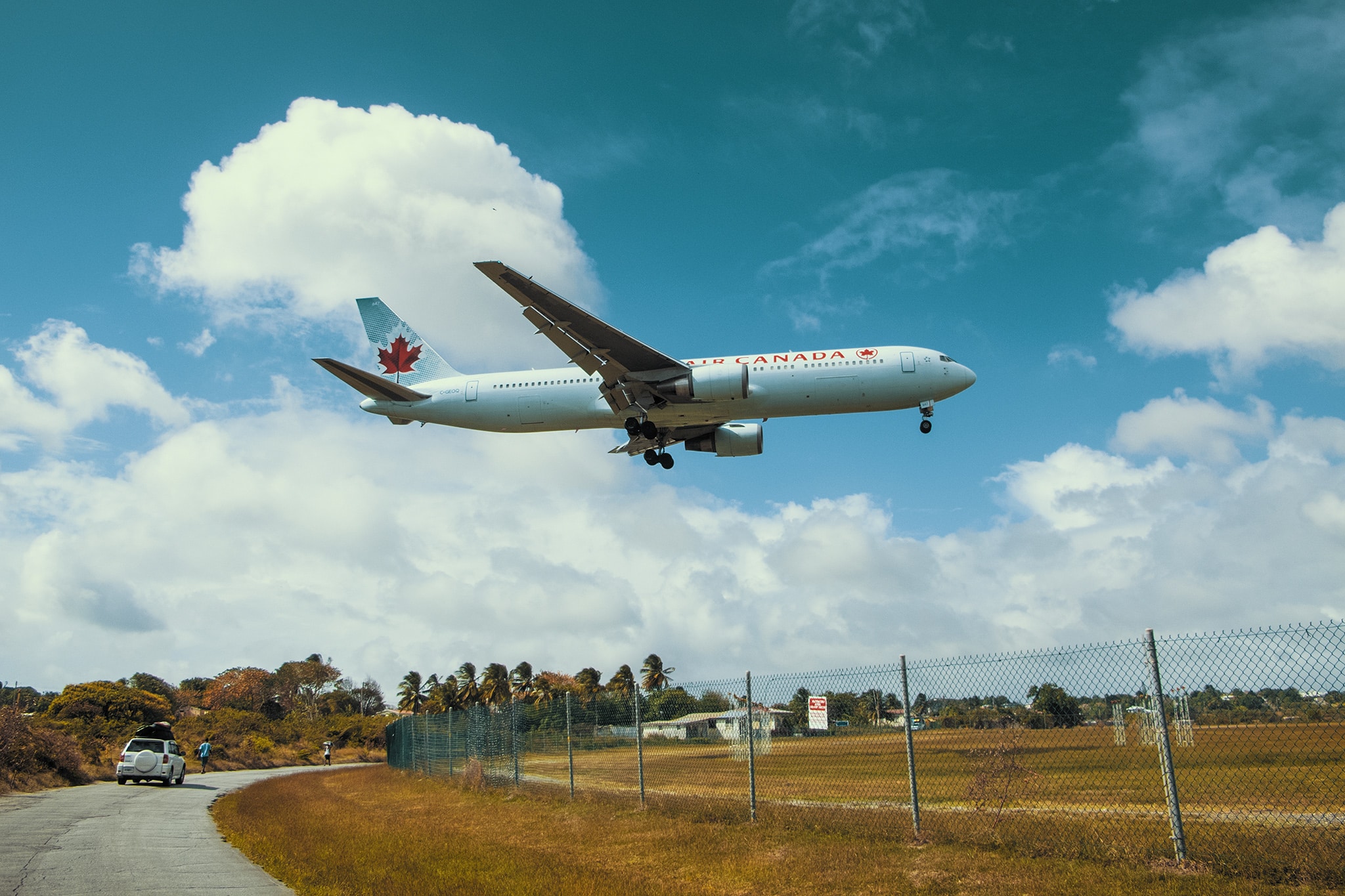 TRAVELLING WITH YOUR SURFBOARD ISN'T EASY. AIRLINES CONSTANTLY SHIFT THE GOAL POSTS, FEES AREN'T CONSISTENT AND FLYING LOTS AIN'T THE BEST THING FOR THE PLANET.
So, when you do have those few getaways a year make sure it's stress free. Get a fitted board bag, low profile doubles / triples are the least scary to present to overworked airline desk staff. Always support the airlines that support surfers and remember a smile goes a long way when checking in.
Here's the current state of surfboard fees as of the start of 2020.
EU law doesn't allow bags over 32kg, due to its snapping baggage handlers in two, so make sure you're always underweight for your chosen carrier. Most European routes limit you to 20kg and further afield 23kg. But sporting goods, if you're paying extra, sometimes allow you more. Make sure you always double check the small print and if in doubt call the airline before booking, get the name of who you spoke to and get it confirmed by email if possible.
Here are the main airlines that surfers will encounter flying from the UK and Ireland, seeing as that's our patch. Speak to friends, get their recommendations, it's a very fluid situation changing all the time. The main takeaway is to be super careful when dealing with US carriers.
Travel with surfer friendly flyers, the days of free board carriage are all but done but those that are happy to take boards for a transparent fee like Easyjet etc are to be admired, while they still allow us at least.So support the crews that make your life easy.
AIRLINE FEES AND POLICIES YOU SHOULD KNOW ABOUT…
AER LINGUS
Ireland's national carrier and a good option for hopping further afield as Dublin is a decent hub for the US. Beware of the 'regional flight' limit as UK to Ireland is considered regional not international. There's also small print on bags over 2.4m in Dublin depending on your terminal.
Max weight: 23kg
Max length international: 2.77m/110in
Max length regional: 2.05m/80in
Fee: To North America part of standard baggage allowance other destinations €40 per leg.
AIR ALASKA
If you fancy exploring in the US these guys take two boards in a bag.
Max length: 115in unless on a diddy plane in which case total dimensions: 115in
Max weight: 23kg
Fee: $75
AIR ASIA
Air Asia is a budget carrier based out of Kuala Lumpur and they're great for connecting to Indo and onwards from Malaysia. They're also the official airline of Surfing in Australia (?). Which means one board goes free (max weight 15kg).
Pre-book board bags as way cheaper and you're limited to 20kg if you just check in without pre-booking. They're sticklers for fees but their excess weight fees are real world not crazy. Must be in a board bag.
Max length: 2.77m/109in
Max weight: 32kg
Pre-book fees per leg: From $15 to $35 per leg depending on weight.
AIR CALIN
New Caledonia's carrier is groovy when it comes to boards, letting you take a 23kg board bag in addition to your 23kg hold bag. Good work fellas.
Max dimensions: 3m
Max weight: 23kg
AIR CANADA
Board bag counts as one of your checked bags. You can pre-register when booking. Conditions have changed and the fees have gone up from 2017. Their website says the fee is PER BOARD… So make sure you nail down the conditions related to your ticket before travel.
Max length: 115in
Max width: 24in
Max weight: 23kg
Fee: $100 Canadian Dollars per leg handling charge. Not always enforced in our experience.
AIR FRANCE
Free as your checked luggage item (except for Light and Basic fare tickets). Prior approval from the customer service department is required. You must submit your request at least 48 hours before your flight's departure. But check their site for North America where fees apply.
Max length: Under 118in and 23kg go free as checked baggage.
Fees: Free to €125 depending on route, mainly the Americas. So slightly confusing all around.
AIR NEW ZEALAND
Historically one of the legends of international surfer travel. Board bags no bother as long as in regulation and you can pre-book a board bag as an extra hold bag.
Max length: Free under 2m and 23kg, a fee for up to 32kg and max 2.5m length.
AIR TAHITI NUI
The dreamy Tahitian isles are def worth a visit and the island carrier is board friendly. You can take a board bag for free as well as a normal hold bag.
Max length: 2.5m
Max weight: 23kg
AMERICAN AIRLINES
The American airlines that are left have taken a real anti-surfer stance which is pretty ironic considering the Californian roots of most of the world's idea of surf culture. Anyhoose. AA at least don't outright ban them like some other carriers but one to be careful with.
Max length: 126in combined dimensions
Max weight: 32kg
Fee: $150USD
AVIANCA
You can take a triple board bag in addition to your hold bag with Colombia's national carrier.
Max dimensions: 3.7m
Max weight: 32kg
Fee: $125-100 depending on destination
AZORES AIRLINES
To transport boards it's necessary to make a reservation and this has to be confirmed by Azores Airlines/SATA Air Açores. Information on the type, the weight and the dimensions of equipment must be given at the time of reservation, which will be subject to later confirmation. Additional 10kg allowance for boards.
Max length: 2.4m
BRITISH AIRWAYS
Board bag considered checked baggage as long as it's in weight. But watch out for the ridiculous length restriction. Good for groms at least.
Max length: 1.9m
Max weight: 23kg
DELTA
Allow max two boards in a bag and since mid last year is part of baggage allowance. But 'If the outside linear dimensions (length + width + height) exceed 115 linear inches (292 cm), the item will not be accepted' if your board bag is 7-foot long (84 inches) by 2-foot (24″) and 7 inches thick that's your 115. So make sure you check before you buy.
Max length: 115in
Max weight: 32kg
EASYJET
Our preferred European budget airline makes it easy to pre-book a board bag and extra hold bags if needed. They take canoes and windsurfers also so bag size rarely an issue. They've got the Euro surf destinations down. One sports equipment per person. 6 max per booking. Large or small fee seems to depend on weight, so a small double under 20kg will be small, normal bag with a few sleds in weighing more than 20kg is large. Always pre-book as it's £10 per leg more expensive at the airport.
Max weight: Small sporting equipment: 20kg Large sporting equipment: 32kg
Fee: £37 small, £45 large, each way.
EMIRATES
One of the main carriers from Europe to wave rich wonders of Asia features modern planes and a stop off in pleasurable, if not a tad pricey, Dubai. Board bag goes as part of your checked allowance if within weight. As always check directly if you're taking an extra hold bag.
Max dimensions: 118in
Max weight: 23kg
ETIHAD
Surfer friendly and a nice new fleet of planes. Board bag is part of your checked allowance.
Max length: 3m
Max weight: 23kg
FLYBE
A handy UK airline for getting around our islands and across to Ireland. Not the biggest planes but good fares and for SW surfers having a hub at Exeter is a treat. Leave a bit of time to pay the bag fee at the airport. No word yet on whether the Newquay to Heathrow route is going to continue beyond the end of March 2020. Can't book anything past that as of 2/1/20.
Max length: Depends on plane, between 1.67m and 3m.
Max weight: 20kg
Fee: £30 per leg payable at the airport
GARUDA INDONESIA
Free board bag in addition to your hold bag. Good work fellas. This is how it should be.
Max weight: 23kg
Max length: 3m
HAWAIIAN
Boards included in the baggage allowance. Limit of two per bag. Which seems a bit mental.
Max length: 115in
Max weight: 23kg
Fee: Inter-island $35, Hawaii to the US $100. Price varies from free to NZ/Oz to $150 per leg depending on destination.
IBERIA
There are no bones about it, in the last few decades of surf travel Iberia undoubtedly top the list when it comes to horror stories about fees. It seems they've changed to allow boards as part of checked baggage allowance for long-haul. One board limit. Fees apply for extra bags. €45 for short/medium haul.
Max length: 3.5m
Max weight: 23kg
Fee: €45 per leg
ICELAND AIR
Book in advance to ensure carriage and there's an each way fee for 'medium' sports equipment depending on route. Max four boards per flight.
Max length: 2.5m
Max weight: 23kg
Fee: UK to Iceland: £66 each way
JETSTAR
Boards are allowed but you pay for baggage then an extra oversized fee on top of that. Like with all airlines talk to people about their experiences and go with the well regarded ones.
Max length: Depends on area.
Max weight: 32kg
Fee: $25 oversize fee in addition to bag fee.
KLM
KLM let you take a board bag as part of your allowance. If you want a case as well then you can pay for an extra bag. On European routes you just pre-book the standard hold baggage fee. If you want a hold bag and a board bag it's €68 each way.
Max length: 118in
Max weight: 23kg
LATAM CHILE
No stress with Chile's national carrier either your bag goes as your allowance as long as it follows the rules. Handy in a county so long that internal flights are pretty essential unless you really love 30-hour road trips. Max three boards in a bag.
Max dimensions: 3m
Max weight: 23kg
LUFTHANSA
Not an airline we've used but like KLM they can be good value and hopping to their European hub from the UK is not a bother. Well. It wouldn't be if they didn't charge for boards. One board per bag also…
Max length: 315cm
Max weight: 32kg
Fee: €70-€250 per leg depending on route.
MALAYSIA
Malaysia has a free checked allowance of 30kg and you can take as many bags as you like up that weight total. Boards were free last year, now it seems there's a fee but their website is pretty vague on fees. Ring to check before booking.
Max length: 3m
Max weight: 30kg
NORWEGIAN
Europe's award-winning budget carrier is a growing player and has a modern fleet and good prices, especially to the US. Boards are paid up at booking time.
Max weight: 25kg
Max length: 2.5m
Fee: short haul £35 – 45 (online) £45 – 70 (airport). Long haul £60 (online) £70 (airport).All items are charged per item, each way.
QANTAS
As you'd expect from Australia's main airline they take boards for free. As with all the big players keep inside the rules or you'll get stung excess.
Max length: 2.7m/109in
Max weight: 32kg
QATAR
Another of the Middle Eastern airlines that are your ticket to the joys of Sri Lanka, the Maldives and beyond. Doha is a pretty functional but sparse airport but their prices tend to be good and free board carriage as part of your checked allowance. But double check if you're taking a hold bag too.
Max length: 3m
Max weight: 30kg
RYANAIR
Ryanair always gets their pound of flesh but they've committed to being more human and simplifying charges. Their fares are also ridiculously cheap. But when you add the board fees then there's not much budget left about it.
Max length: Standard board bags always go with no problem. Hard to find a specific length on their site.
Max weight: 20kg
Fee: £55 each way for 'Large sports equipment'
SAS
Let you take a board bag as your free checked bag. Additional bag fee if you want an extra hold bag. Needs booking in advance.
SINGAPORE AIRLINES
Flying to Singapore is a joy, it's one of the world's leading airports and not a bad place for a layover. Singapore airlines run a new fleet of them fancy double-decker Airbuses so you can really travel in style. Board bags are part of your checked allowance also.
Max length: 2m
Max weight: 32kg
SOUTH AFRICAN AIRWAYS
A tricky one with SAA, board bags under two metres go as a free additional bag. Over two must go as cargo. So make sure you get your small print sorted if venturing to J-Bay.
Max length: 2m
Max weight: 23kg
SOUTHWEST
Another US airline you'll only encounter if you fly codeshare to the US.
Max length: 80in
Max weight: 32kg
Fee: $75 each way
SRI LANKAN
Your go-to outfit for Sri Lanka or the Maldives are understandably cool with boards. Hell they used to sponsor surf events too! Nice weight limit too.
Max length: 118in
Max weight: 32kg
TAP PORTUGAL
The main carrier to Portugal that isn't budget will actually take longboards which is a rare treat these days. Pity about the fees.
Max weight: 32kg
Fees: €55 to 150 depending on size and route.
THAI AIRWAYS
Can count as your free baggage and only one board allowed.
Max length: 109in
Max weight: 30kg
Fee: $100 if under 2m $200 if over!
TUI
The British package holiday operator has their own planes on some routes, like the Caribbean, and don't mind you taking a sled for a fee. But generous weight and no stress on longer boards. Needs pre booking.
Max length: 3m
Max weight: 30kg
Fee: £40 – £60 depending on destination.
UNITED
United have changed their tune as of October 2018 and you can fly to California with your board for free.Anywhere else fees will be harsh.
Max length: 115in
Max weight: 45kg
Fee: $150 each way in US airspace and $200 each way international?!?
VIRGIN
Board bag goes as part of your checked allowance. But the new length allowance is daft. If you want to take a hold bag and board bag then it's £65 each way.
Max length: 1.9m
Max weight: 23kg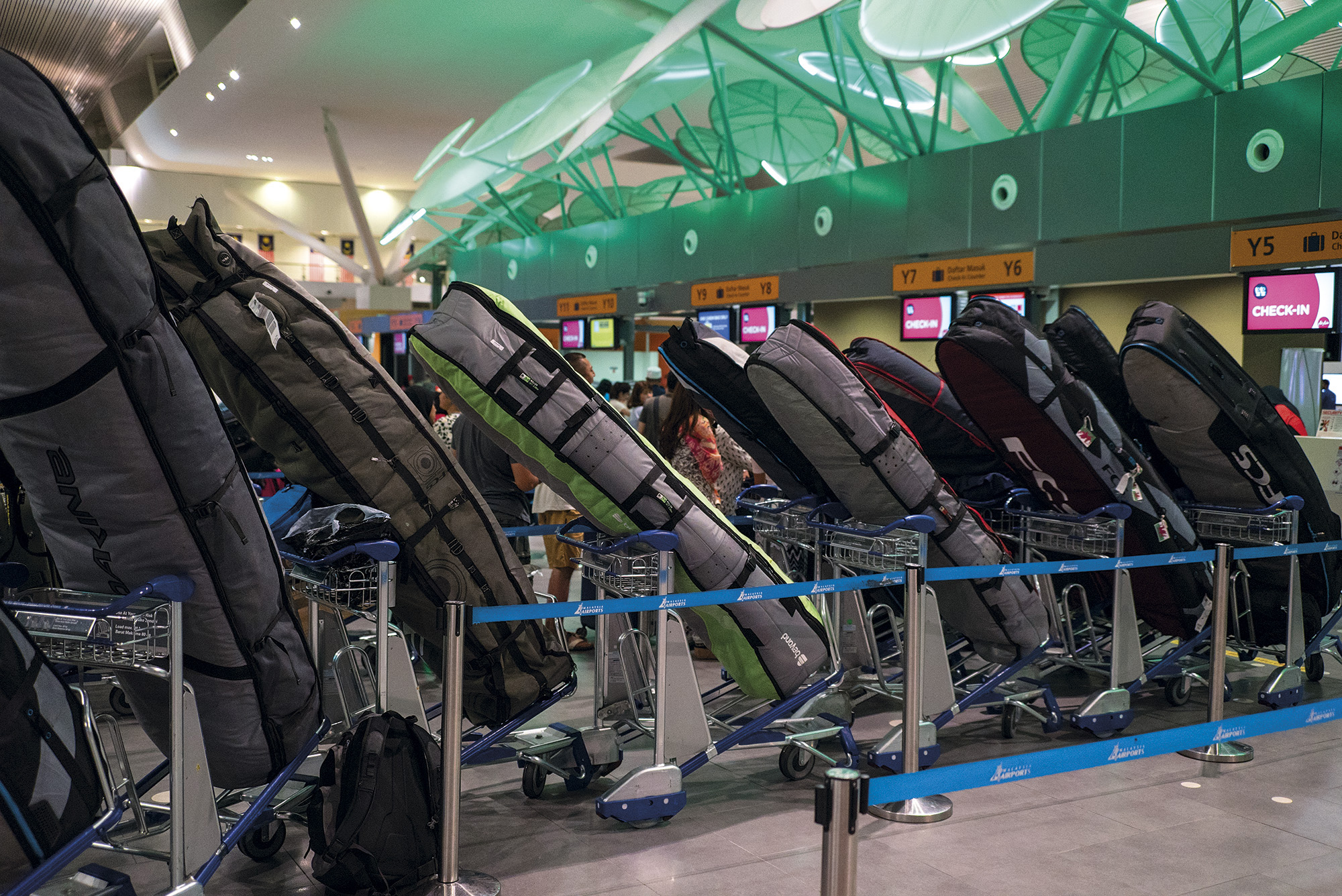 BOARD BAG GUIDE
If there is one thing that sucks more than anything it's arriving on your surf trip, opening your board bag and finding dings or worse… 
Luckily these days most airlines are on the ball, and board bags are better than ever, but there are still a few tips that will help you protect your quiver. One thing at the airport if the board doesn't go down the oversized belt but goes into one of those trolleys make sure you see it being wheeled away. They can occasionally be forgotten and left at the check in.
Put your biggest board on the bottom wax side up. Stack the others the same way and try and align the rockers.
Most board bags have internal separators or a day bag. The day bag comes in handy the other end so if you don't have one get one. If you need extra padding between boards use a towel, rashes, boardies, or wetsuits.
You can use pipe insulating foam to add extra protection along the rails from the nose and tail. Just grab a decent length, cut it down the middle to fit the length of your rail (or tail) and whack it on both sides. If you don't have this pack the tail with boots, reef boots, or your wetty. (Heaviest items at the tail if you have a wheeled bag). For the nose use any other boardies, T-shirts, clothes you have. If you a worried about them getting damp, put them in a plastic bag first. You can reduce you hold luggage like this so maybe save some coin.
Wax, wax combs and the like I put in a string bag and place down the tail (on the wheels) for more protection, or tuck in the bottom corners of the bag.
If you have fixed fins get some polystyrene blocks. Cut to the same size as your tail and put slits where the fins are. Use masking tape to secure.
If you are really scared get a little extra bubble wrap for packing for exposed deck/bottom and nose and tail areas. You shouldn't really need it with these bags, but there are always horror stories.
Be careful with leashes. Don't let them run free. You'd be amazed the pressure ding you can get if a leash is stuck between two of your sleds for the duration of a flight.
ALWAYS:
• Double check airline bag policy and book your boards before you get to the airport.
• Check your bag weight and airline limits (overall dimensions and weight) – luggage scales are cheap or balance on your bathroom ones at a push.
• Get there well early so your board goes on first and the check-in staff are in a good mood.
• Pack a solar activating ding kit. Great innovation. Even ding repair guys use them.
• Take a plastic bin bag, wetsuit or dry bag. Always good if you have last minute surf and need to pack wet things!
• Duct tape. Always useful.