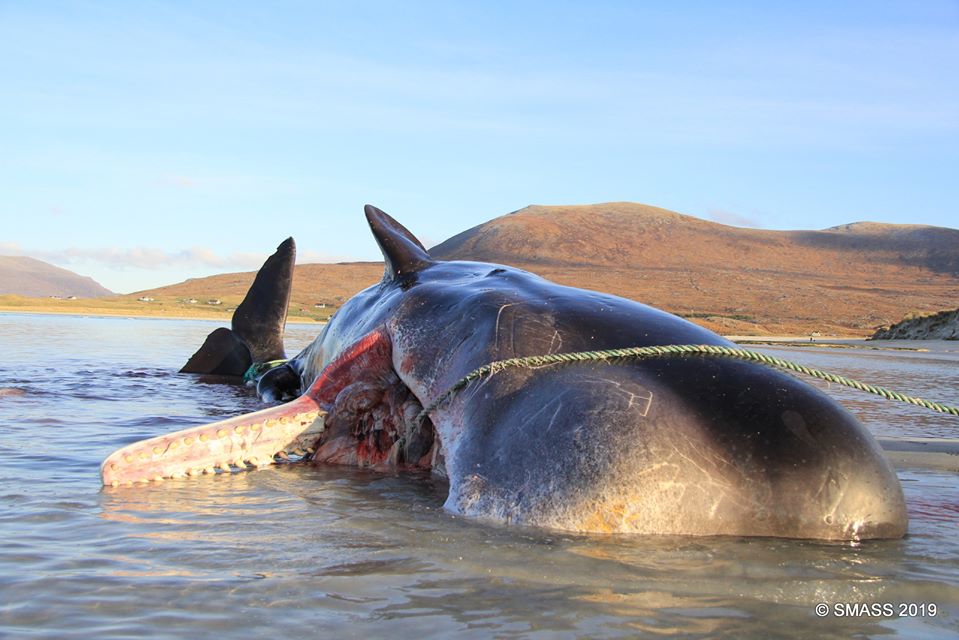 Phots c/0 SMASS
A sperm whale has died with after stranding itself on a beach on the Isle of Harris was found to have 100ks of fishing nets, rope, bags and plastic cups in in stomach.
Locals found the whale on Seilebost beach. The Scottish Marine Animal Stranding Scheme dissected the whale to try and find the cause of death.
"Just on our way back from a stunning (it was on Luskentyre beach), fascinating, briefly alarming (it sort of exploded) and shameful (there was a load of marine debris in its stomach) sperm whale necropsy on Harris this weekend. This case was a subadult male which live stranded and died on sandbanks on Thursday morning- by the time we got to it had been dead for 48 hours and pretty much most of the guts blew out of the side when we stuck a knife in it. Animals this size are so well insulated that even though the temperature outside barely got above freezing, they don't cool down and hence decompose incredibly quickly.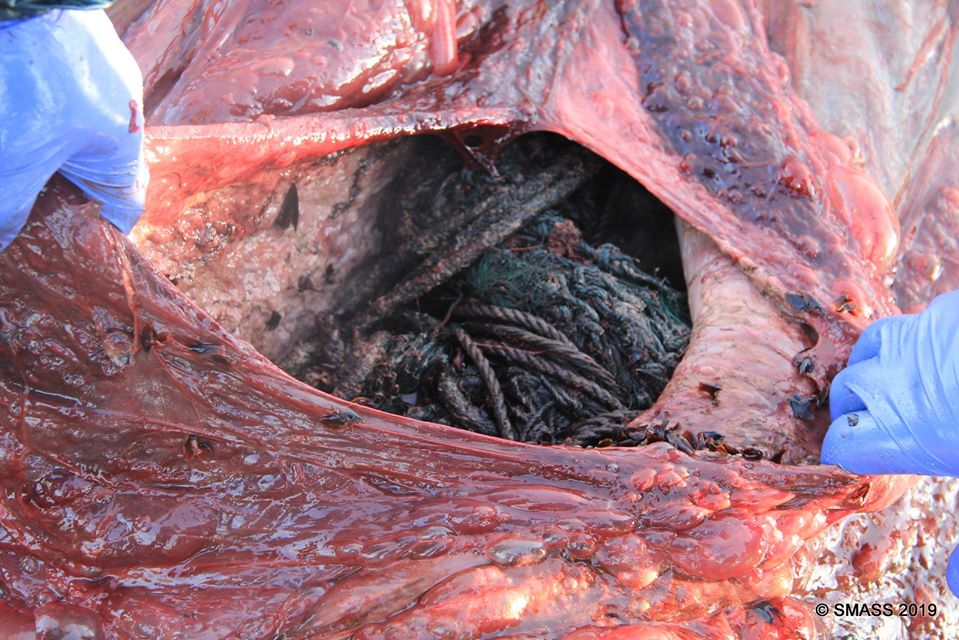 Not a great sight.
In this whale's stomach was approximately 100kg of marine debris- a whole range of plastic including sections of net, bundles of rope, plastic cups, bags, gloves, packing straps and tubing. All this material was in a huge ball in the stomach and some of it it looked like it had been there for some time. The animal wasn't in particularly poor condition, and whilst it is certainly plausible that this amount of debris was a factor in its live stranding, we actually couldn't find evidence that this had impacted or obstructed the intestines. This amount of plastic in the stomach is nonetheless horrific, must have compromised digestion, and serves to demonstrate, yet again, the hazards that marine litter and lost or discarded fishing gear can cause to marine life. It is also perhaps a good example that this is a global issue caused by a whole host of human activities. This whale had debris in its stomach which seemed to have originated from both the land and fishing sectors, and could have been swallowed at any point between Norway and the Azores. We are looking in more detail to see if we can work out quite why this animal ended up with so much of it in its stomach.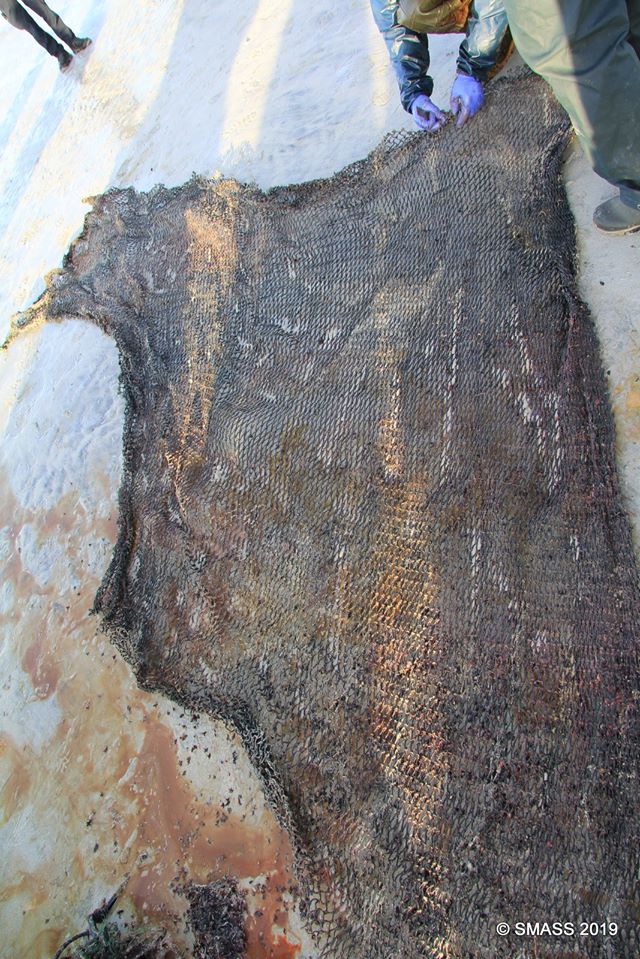 Netting removed from the whale.
As a place to do a necropsy, you can't get much better than a crisp sunny day on Luskentyre – it's quite simply an utterly beautiful part of the world. It is worth therefore giving particular thanks to members of the coastguard and the Western Isles council disposal team who helped us necropsy and then bury the whale, and therefore return the beach to its pristine glory. Surrounded by fragile dune ecosystems, there was no option to move a 20 tonne animal elsewhere, towing out to sea wasn't an option so it needed to be buried on site. This was completed as light fell yesterday, so hopefully, if you go to the beach today, there should be almost no evidence that there was a large sperm whale necropsy undertaken there this weekend.