Interview by Craig Jarvis Photos WSL / Redbull Content Pool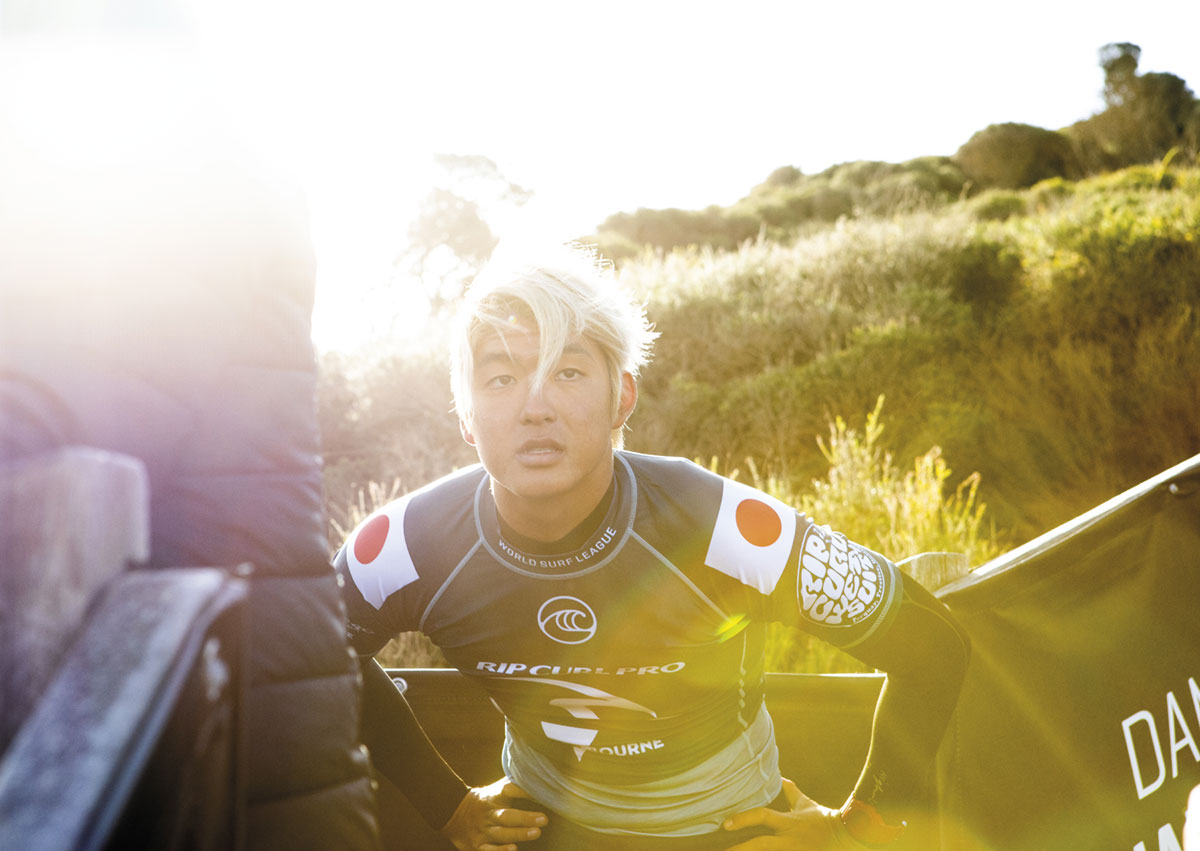 It was a fantastic event in Bali, and your surfing was on point throughout. Did you train exceptionally hard for the contest, or did you have a good routine going before that?
I've been on a training program for the last two to three years, and all I have done is a few tweaks here and there. Before the Bali event, I didn't train any extra, and I didn't train any less. Training doesn't immediately bear good results, it doesn't happen straight away, and it takes some time. I think that all the training work I did in 2016, my rookie year on tour, is starting to show benefits at this stage. It's a long game. It's finally catching up. The work I'm putting in now is going to translate to output in 2020 and 2021. That's how I look at it. I haven't changed much over the years, though. I've always trained with the goal of being a world champion.
How large a part did diet have in your training building up to that event, and how do you feel about the necessity of eating well?/
I have mixed feelings about food and diet. When it comes to food, it's just about a balanced diet. I'm not about changing a diet in a specific way to compete differently. To me, it's also so important to enjoy the local food and cuisine. We get to go to such amazing places I don't want to restrict myself to a diet in these places you know? I'm not eating McDonald's every day, I am aware of what I am eating, but if something makes me feel good I'm going to eat it, and if something doesn't make me feel good I'm not going to eat it./
Whatever he was or wasn't eating, it paid off in Bali with excellent surfing in pristine waves, and the first-ever Championship Tour win for Kanoa. Utterly deserved, he put on a virtuoso performance for the event win in front of screaming spectators and fans.
The post-event scenes at Keramas were pretty crazy. Tell us about the emotion of that victory.
Bali was a crazy time for me. I knew it was coming, though. I knew a win was coming. It's something that is kind of hard to believe when you have yet to have a win. Bali was an event where there were a lot of people around me, who especially believed in me. I had a lot of support, from my close friends and my family. They believed that it was going to be the one event, the special event. I do always think that it's going to be that one event. I go into every event thinking that I can win. Still, there was something about the way that my close friends were around me, something about the way they were acting. It was like they could almost feel the energy. There was so much going on, but it felt throughout that event that everything was going my way, and it felt like I was watching a movie. It felt like a movie that I had seen before. It felt like I had seen the movie that was slowly panning out, I'd seen this all before, and I knew how it was going to end. The bad guy … the good guy always wins. It was like I knew the script to the movie. Then it went super weird when I won. I couldn't believe it, even though I claimed I knew what was going to happen.

Crazy experience. You've seen it before, but then you're shocked when it happens. It's a contradiction of terms.
It was a contradiction of terms. It was overwhelming. It hit me like a train when it happened, with family emotions and friendship emotions. It was one of the craziest things ever. I'll never go through that again, but the amount of stuff that was going on … I mean I'll never have the first win again, and I think each win will taste different, but this was the first Asian win, the first Japanese win. There were so many emotions that my family went through, It was a lot more than just a surf win, and more of a life chapter kind of thing. It felt a lot bigger than surfing. That's probably the best way I can explain it.
Being so close-knit, the family reaction must have been quite a thing?
It was a significant family accomplishment, I felt like I did them proud, and I felt like I did my country proud, as well as my parents, my grandparents, my aunts and uncles and cousins. I felt that it reached every one of them and each had their different reaction to the situation, each one had their way of taking it in, and to feel the different energy from each one of them was super cool. Reading each message and connecting with each family member and each friend afterwards was the best part about it. It was storytime with each person I got to interact with, and the two, three, four weeks after the win was the best part about the whole thing.
Cool experience.It must be good to have Jake in your corner, through thick and thin. He must bring a lot to the table.
He brings a lot of experience to the table, and he has a lot of knowledge that I don't have yet. For me, it's filtering his experience and his maturity and taking away what I can and what works for me.

You've/said before that mental strength and resilience, is as much a part of the puzzle as anything else.
I feel that I have one of the strongest mental games in surfing. It's essential to be aware of how you put yourself out to the world, and how other people see you. I think it's important to understand what other people know of you. People that are close to me, I care about their opinions way more than people that I don't know. Of course, the most important opinion is my own opinion I have of myself. Sometimes you can be easy on yourself though, and you might not have the right impression of yourself, as you should. Knowing where you are and knowing what you're doing is essential. When I'm competing, I can see things from a different perspective. I'm looking at myself to see how I'm presenting myself at an event. I am also aware now that I need the pressure to compete. I need to have that bite, something pushing me and giving me the motivation to give it my all. I like it instead of looking at pressure as the enemy. Pressure is a helping hand for me. I thrive off it. That's why I want to compete. It's not that I like to win; I like to win, but for me, it's more about the challenges, the pressures, and overcoming it, and then getting that win. It makes it so much better instead of having it easy.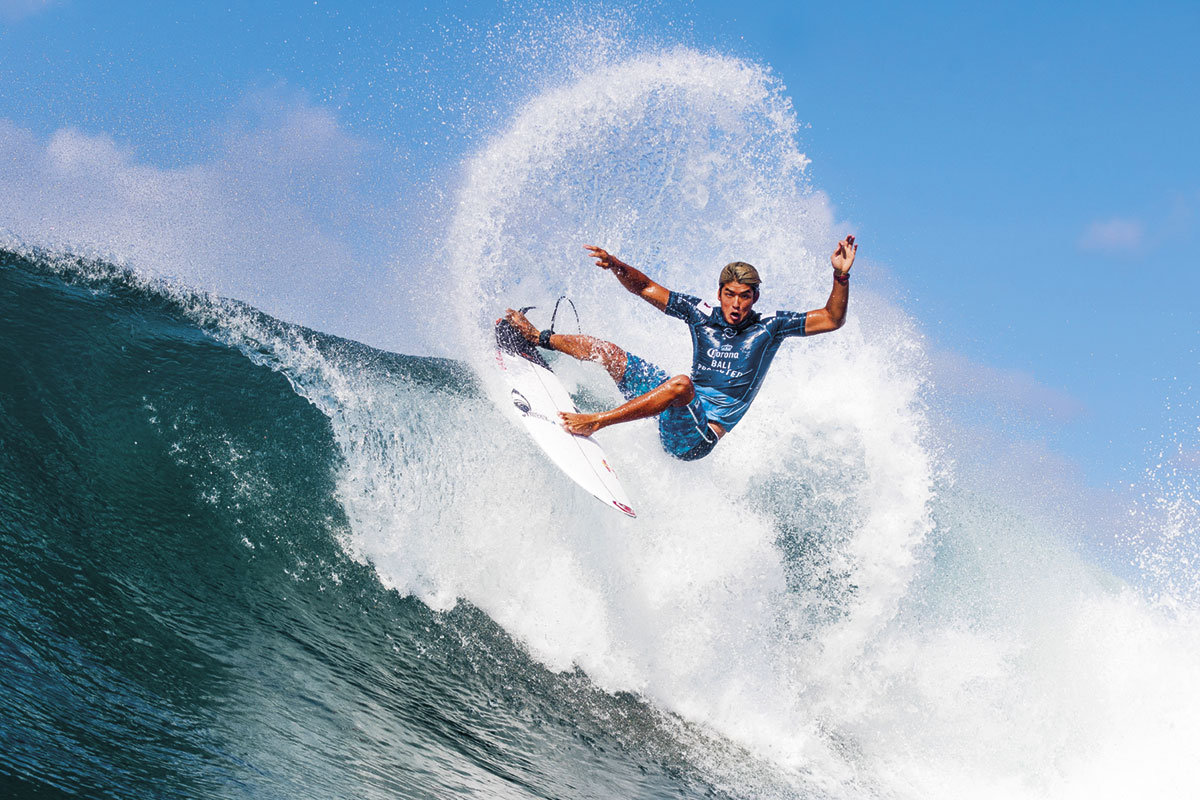 So there you are, the fourth year on tour and in a World Title race.
I'm right there. I am still just a heat or two behind those surfers who are leading the tour. We're into the back half of the year, and it's my strong half of the year, and this now is when I feel I can really separate myself and possibly make a big jump, I still have a lot that I'm trying to change, and little things that I am doing with the aim of improving. There are a lot of things that I am working with every single day, and I think I'm at an age when I am still developing. I am still going through the growing stages, both physically and mentally, I think that I'm going to let it all happen naturally and see where it takes me, but I have a goal for each day, for each wave, for each hour, and each minute as long as I hit those goals and as long as I'm in the moment that's all I can really control. So yeah, I'm going to control what I can, and let it happen.
When it comes to the upcoming Olympic Games, it is notable that surfing in Japan dates back over 100 years. According to Legendary Surfers, most Japanese wooden boats at the time had detachable floorboards that were called Itago. When the boats were aground after fishing, the offspring of the fishermen took the Itago out of the boats and used them as bodyboards. This habit was known as Itago-nori, translated as "floorboard riding."
During the occupation after World War Two, American soldiers began surfing fibreglass longboards at beaches around the army headquarters.
The sport flourished in the 1960s, and Japan ran its first surfing competition in 1966. It is approximated that there are now over two million surfers in Japan.
The venue of the Olympic Game's surfing event is Tsurigasaki, one of the most consistent waves around, and about a 2-hour train ride from Tokyo. Kanoa sees it as much more than a simple competition to see who can ride waves the best. 

For me it's a big opportunity to help evolve surfing, to bring surfing to that next step that I feel we are missing. I think it is an excellent opportunity for us as surfers to build together and show the world that we are a major sport, and we are as entertaining as basketball, football, and soccer. I think it'll be a great platform to showcase that. Apart from that there is the whole family aspect, and representing Japan my country, but for me, the most important thing would be to evolve the sport and to represent surfing in the Olympic Games, as opposed to representing Japan in a surfing contest. It's a bigger picture.
As mentioned earlier, Kanoa has a similar competing gene as Jordy Smith, where competitive surfing and winning heats or contests is the zenith. 

For me, every heat's a big heat, so I approach each heat the same as it's a final. And I'm going to approach the final like it's the first round. It's, all the same, every heat. I also have the same strategy no matter whom I'm up against. I compete in the same way.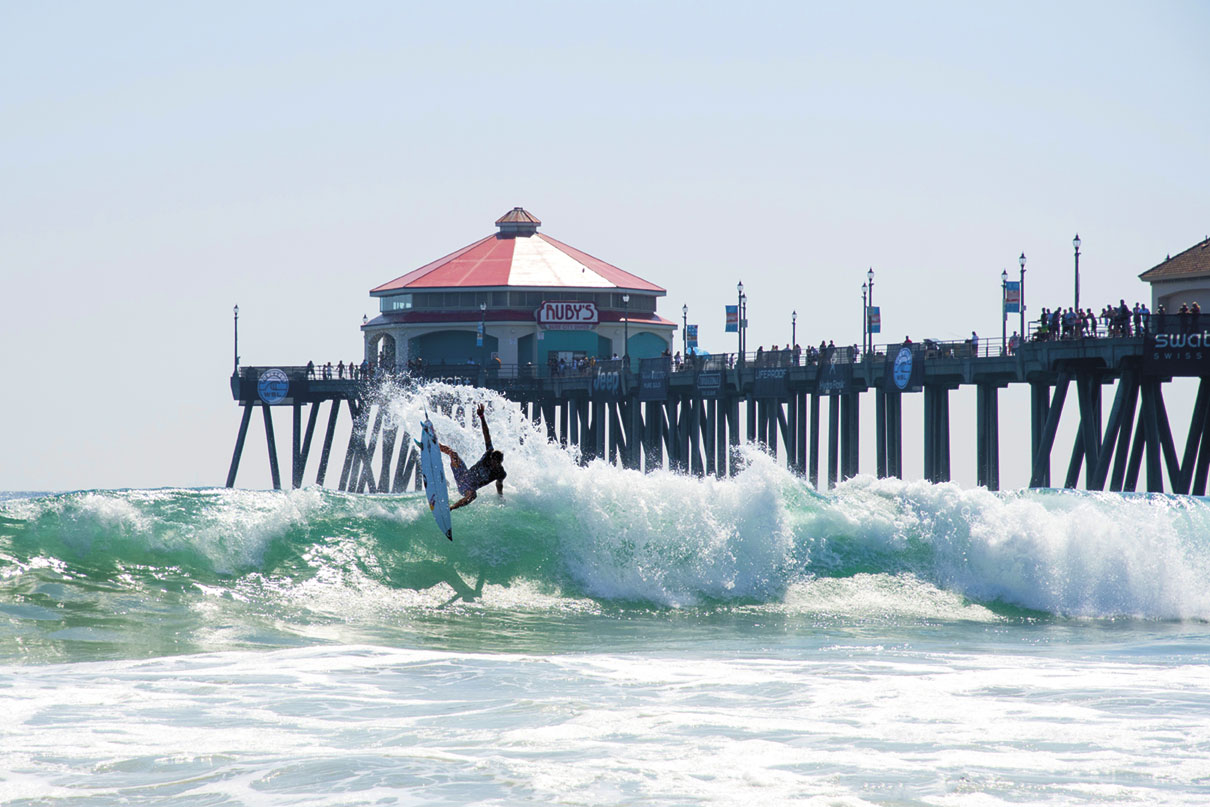 South Africa seems to be a good part of your journey on tour. What's the connection?
I have a crazy relationship with South Africa. It's easily one of my top three countries in the world, and to me, that's saying a lot. I travel to a lot of places. Also, I judge places based on what's going on outside of surfing. You know, you can go anywhere in the world, and there will be good waves somewhere. It's not that. It's the culture, it's the food, it's the people, and it's the energy of the place. I love the energy that South Africa has, but I think me liking this place so much has translated into. Let me put it this way. South Africa is the place where I have evolved so much. Last year I had that big semi-final result, after a lot of average results, and it skyrocketed me to where I am right now. It has been a big momentum booster ever since that result last year.
Would you consider your career almost as starting at the semi-final result last year? Is that when everything started moving for you?

No. It started in Ballito in 2015. I also got a third-place finish there that year. That result changed my life forever. I was on the QS, I was a kid, and I couldn't get any results ever. I thought about taking a year off. I was over it. I was with Snake already, and he just sat me down and said, 'Let's make this contest count. This is a big event.' I made it through a few heats, and I was so happy, and then I ended up making it to the semi-finals, losing to the eventual winner, and that result boosted me, my confidence everything, and I ended up qualifying that year. I ended up going from 130th position to second in the world QS rankings. Ever since then, it has been such a special place for me. Then I had a few years on tour that were pretty average, and later last year in JBay that happened, and I made the semi-finals, and it boosted me up, and all of a sudden I'm in the top ten, it's a big step forward.
Now that you're achieving these great results, How has your approach changed?

Well, you have to stay in the mix, and you have to keep up. For me, it's just about keeping up and taking down those guys that are close to me when I have the opportunity. You know, I can't beat Filipe when he's not in my heat, and I can't beat Italo when he's not in my heat. So I'm just going to keep up the pace and strike when I have to.
Follow Konoa in Instagram here