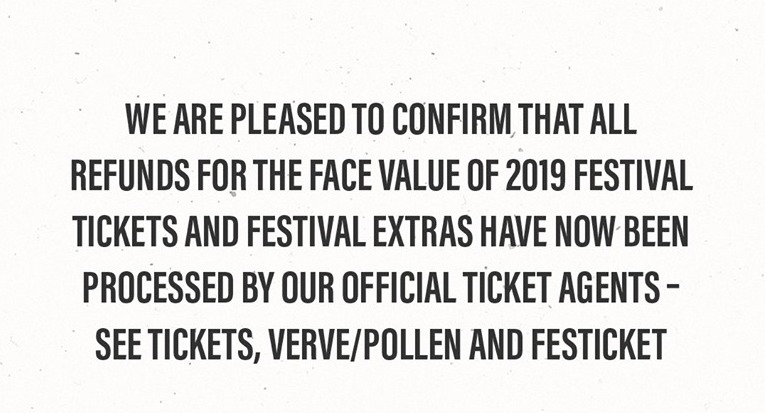 Boardmasters confirm full refunds for ticket holders, cateres and traders.
"Following our update on 22nd August we have been working with our ticket agents and insurers to process refunds as quickly as possible.
We are pleased to confirm that all refunds for the face value of festival tickets and festival extras have now been processed by our official ticket agents – SEE Tickets, Verve/Pollen and Festicket. If not already received, funds should show in your account in the next few days depending on your payment method or bank.
We are aware that some customers received a partial refund from SEE Tickets. This was due to refunds being issued by ticket type e.g. litter bond or parking rather than as a whole. We are as disappointed as you are at the alarm this caused some of our customers and have raised this with SEE Tickets. Please be assured all refunds have now been issued.
We have also been able to confirm that we will be refunding all traders and caterers their pitch fees and recharges.
Following a festival cancellation of this scale, it takes time to work through a claim and receive the funds from insurers in order to process refunds. We know that this has caused frustration and disappointment for some of you. Please be assured, refunds have remained our priority and we worked as fast as we could to get these to you via our ticket agents.
A huge thank you, once again, to all of our fans and business partners for your patience and support whilst our ticket agents processed refunds.
If you have a question or require any help with your refund please get in touch with the applicable agent directly. Their details can be found at www.boardmasters.com/refunds
We will continue to communicate directly with our business partners, including our suppliers, traders, caterers and sponsors.
For other enquiries outside of the above, please contact
boardmasters@visionninegroup.com