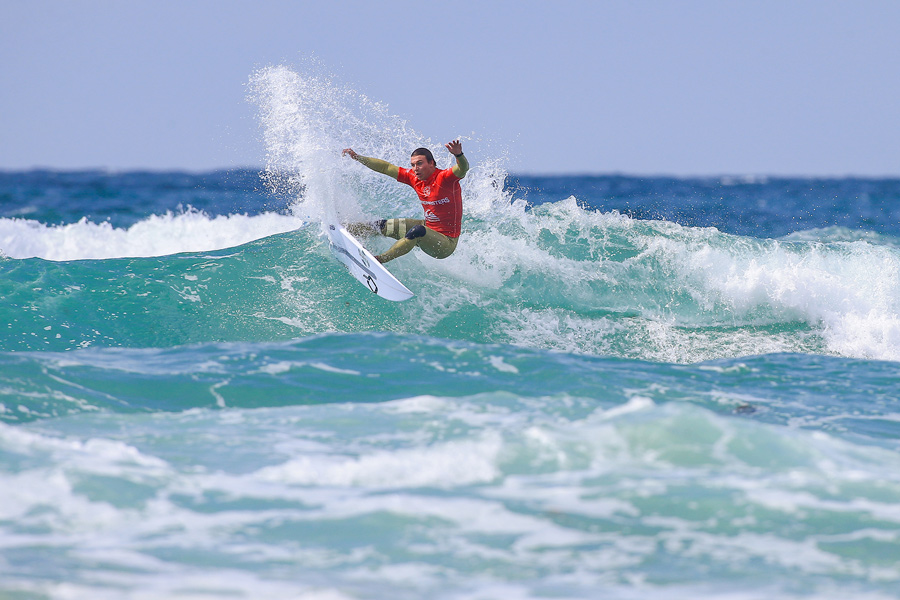 Local pro Luke Dillon (GBR) advanced through his opening round at Fistral.
The QS1,000 Quiksilver and Roxy Open got underway on Wednesday at Boardmasters in windy three-to-four foot surf to complete a mammoth day of competition. The events ran through an impressive 33 heats to make the best of the conditions on offer on the opening day of the waiting period.
Big performances on Day 1 belonged to St Ives' Jayce Robinson (GBR) who posted one of the few excellent scores (8.00 to 10.00) of the day in Round 2 before confirming his great form in the following round.
"Today I felt in my rhythm," Robinson said. "My board felt really nice under my feet and everything just synced nicely. It's a feeling us surfers all strive for, whether it's in competition or just free surfing. I'm amped to be competing again after having a year out, I think it's the break I needed. The fire has been relit and I'm super amped to stoke it for the next few years and beyond."

Frenchman Tristan Guilbaud (FRA) made light work of the tricky conditions as well in the opening heat of Round 3 to post a solid 14.66 heat total on his way to Round 4.
Stanley Norman (GBR), Jay Quinn (GBR) and Luke Dillon (GBR) are just a few of the 12 British surfers who made their heats at Fistral and will represent the host country when the Quiksilver and Roxy Open resume. Stakes are high as Russel Winter (GBR) is the first and last to have won on home soil at Boardmasters, back in 2002.
"I've been traveling since the start of the year so it's nice to be home," Dillon said. "I've been back for a week, getting ready for this. Waves are a bit small today but forecast looks like it's going to get a bit bigger and stormier so it should suit me. I live down here at Fistral so it's epic to be home"
After the completion of men's Round 3, competition turned to the Roxy Open's Rounds 1 and 2. The 2017 event winner Ella Williams (NZL) came back to Boardmasters and picked up right where she left off with a solid first win into Round 3.

"I'm stoked it's nice and warm today and I'm super happy to be back," Williams said. "Last time I was here was awesome I have many great memories, it'd be great to get a win again and that feeling back! I've also entered the longboard division this year, it's actually my first competition but I really like it and it was a perfect occasion to try both."
Competition wrapped up after Heat 4 of the women's second round, just in time for the defending event winner Juliette Lacome (FRA) and former runner-up Yolanda Hopkins (PRT) to advance into Round 3.
The second day of surfing at Boardmasters focused on longboard action as waves got smaller and cleaner, and competition ran through the opening rounds and Quarterfinals of the Boardmasters Longboard Pro in men and women divisions.
Former event winner Alice Lemoigne (FRA) launched her campaign with a brilliant display of graceful longboarding and excellent scores to advance into the Quarters. She later repeated the feat against French up-and-comer Zoe Grospiron and moved into the Semis where she'll face off against fellow Reunion Island surfer Ophelie Ah-Kouen (FRA) for a spot into the Final.
"I'm super happy to be back," Lemoigne said. "I didn't initially plan to come and compete here this year but I've come to realize that the European title is very important to me and I really want to try to win it again. Conditions were small and fun today, very nice on a longboard."
The 4-time European longboard title holder, French surfer from Reunion Island, claimed the amateur World Title earlier this year as well and continues to prove she belongs amongst the very best surfers on the planet on boards 9 foot and longer.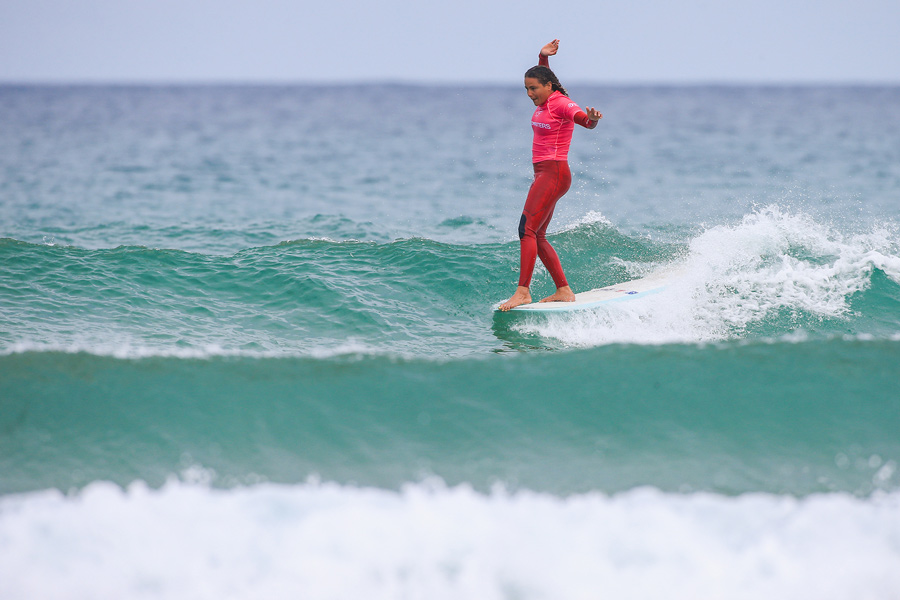 "My season so far has been incredible with that world title in Biarritz," Lemoigne continued. "I placed third in a big international event after that and now my focus turns on the remaining WSL events, to try to secure the European title and hopefully go all the way as well on the international stage!"
Ah-Kouen came back to competing after years away from the tour and started with a bang as she eliminated the defending event winner Aping Agudo (PHL) in their Quarterfinal matchup.
"I was really scared to get back to competing so I'm happy I started well today," Ah-Kouen stated. "This is the first step for me and I plan on competing in the bigger events in Galicia and New York later this year. It's my first time here and I'm loving the English vibe, it's all very pretty. The next heat will be tough, I grew up with Alice and I know she's a great surfer, but win or lose I'll be happy with my performance."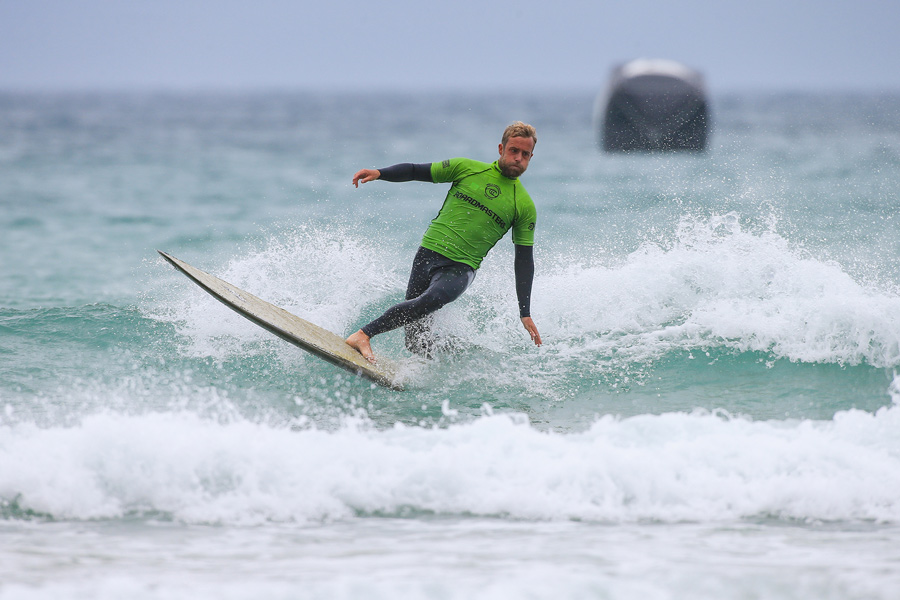 Cornish surfer Michael Lay (GBR) was very impressive in today's conditions.
In the men's longboard event, Edouard Delpero (FRA) dominated the opening heat with a pair of excellent scores (8.17 and 8.50) to easily advance into the Quarterfinals.
"I had loads of work and haven't surfed much all summer so it was nice to finally get back into it," Delpero said. "In conditions like this you really have to compose with the wave, try to make yourself lighter and move up to the nose at the perfect time. It's all about letting the board glide, my brother taught me that."
French compatriot Benoit Carpentier was one of the closest to approach Delpero's performance with a good heat and a solid 12.46 total on his way to the Quarters.
Michael Lay (GBR) put on a clinic of stylish longboarding on his way to a win into the Quarters. The goofy foot from Sennen delayed his take offs on clean left little runners and spent the majority of his time hanging toes outside the nose of his log to impress the judging panel.

"We have a great culture of longboarding in Sennen where I'm from with Sam Bleakley, James Parry and some other guys that are really inspiring surfers," Lay explained. "Conditions like this really give me a chance on a board like mine, a proper log made for Noosa, and I'm happy I could show a little bit of what I do even on a beachbreak it seems to work great."
Adrian Napper (GBR), Jordan Zervas (GBR) and local legend Ben Skinner (GBR) will also carry local hopes for a British win at Fistral when the men's Boardmasters Longboard Pro resume.
Earlier in the day, the final four heats of the QS1,000 Roxy Open Round 2 were completed. The Quiksilver Open will likely resume tomorrow, Friday August 9.