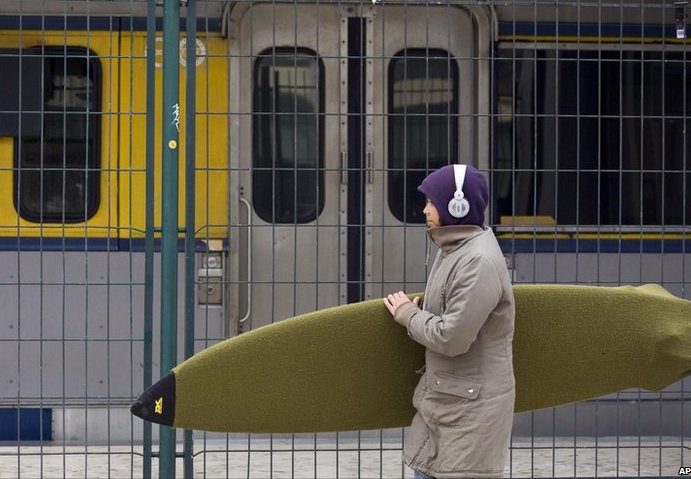 GWR use surfing to sell train tickets. Oh the Irony! Cornwall Councillor and Cabinet Member for Transport writes to GWR to ask them to reconsider
So we have been the case of after one followers, Ricard Lowes, made us aware surfboards are now banned from GWR mainline trains. This despite there being room in the bicycle storage area (he measured it and you can get up to a 6'10" in there). We have offered to try and help as we think we can make it work with a bit of lateral thinking but GWR have ignored us.
Meanwhile in Scotland ScotRail are looking to add dedicated carriages for skiiers and snowboarders. It's also pretty ironic GWR's summer 2016 ad opens with surfers…. Happy to use the surfing image to try and sell tickets, but not to support the surfers travel"
Geoff Brown, Cornwall Councillor for Newquay Central and Cabinet Minister for Transport got in touch to say he had also written to GRW to ask them to change her policy
"It would show GWR in a positive and supportive light, support those expert surfers who travel widely, whilst not impacting on the travelling public. The surfing fraternity are among the most environmentally aware sectors of the public and already make good use of public transport and GWR's current policy risks turning them off from rail travel."
More to follow…
>>>>>>>>>>>>>>>>>>>>>>>>>
"Your names not down, you're not coming in…."
GWR have effectively banned surfboards from their mainline trains after new carriages were put into service.
The carriages have been adapted so there is no room for a guards van – where surfboards were always kept. There is however a storage room for bicycles which our reader Richard Lowes alerted us to the proem and reckons the room would fit boards up to 6'10".
I have a suggestion. The bike storage is big enough for board bags. I measured. Suitable for 2 6:10 board bags. So perhaps let people book bike spaces for board bags before you find a longer term solution? pic.twitter.com/iCeKkqaJz2

— Richard Lowes (@heatpolicyrich) May 2, 2019
A GWR spokesman said,
"Our new trains don't have power cars/guards vans so there's no-where to store them. We have looked at this, but as we have increased room for more customers to sit, the space in the guard's van previously used for surfboards on long distance trains isn't there any more. There is dedicated space on our Sleeper Service and boards allowed on local services."
Carve have offered to help GWR with advice on straps and carriage but are yet to hear back. But the message for now seems to be that surfers are not welcome unless they travel through the night.