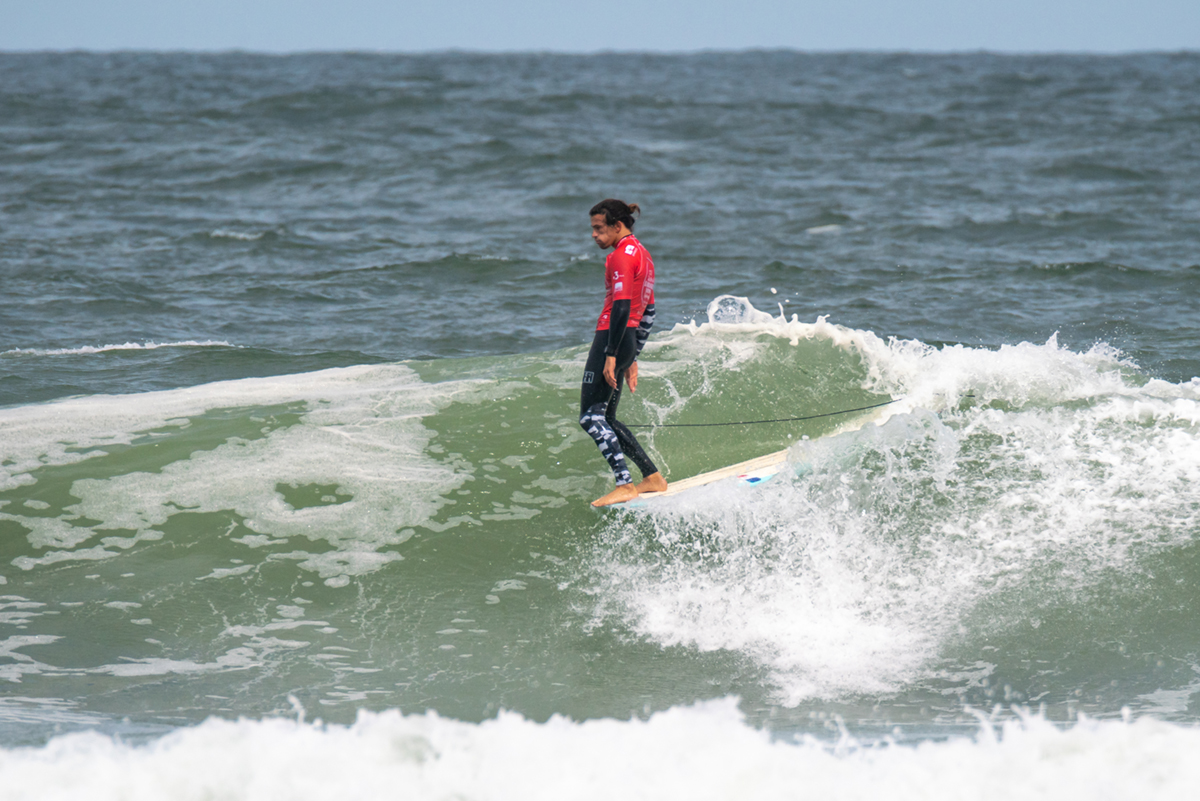 Biarritz, France, May 29, 2019 – France's dynamic brother duo of Antoine and Edouard Delpero proved to be unstoppable at their home break of Côte des Basques on the fourth day of competition at the 2019 ISA World Longboard Surfing Championship.
The two-time ISA longboard gold medalist and Biarritz local Antoine Delpero dominated his two Main Event heats. His stylish combination of traditional and progressive maneuvers in the vastly improved conditions earned him the first perfect ten-point ride of the event, complemented by two other exceptional wave scores of 9.4 and 8.8 in previous heats.
"I am doing this contest to win, but I want to do well for the French team," said Antoine Delpero. "I couldn't say no to representing my country in this event. I live, work, and surf here in Biarritz. I'm having fun and will give it my all until the end."
Antoine's younger brother Edouard fed off his brother's top performance and put on an impressive performance of his own, earning the highest heat total of the event thus far with a total of 18.5. Edouard displayed consistent, powerful surfing, notching four waves in the excellent 8+ range.
"My brother's surfing definitely pushed me to match him," said Edouard Delpero. "I saw him getting good scores and I tried to raise my level as much as possible."
Wednesday's competition kicked off with an increased swell and calm winds after a few stormy days at the iconic wave of Côte des Basques. The clean, peeling waves allowed the world's best male and female longboarders to display their complete skill sets.
The defending Men's Gold Medalist, USA's Kai Sallas, advanced through both of his Main Event heats on Wednesday, placing himself in the Main Event Semifinals for another run at the Gold.
Team France's dominance was not limited to the Men's Division, as Alice Lemoigne earned the highest women's heat total with 12.96 points in the Main Event. However, France's perfect run in the event thus far came to an end as teammate Justine Dupont, who had been the standout performer through the first three days of competition, fell into the Repechage Rounds after struggling to find quality waves in her heat.
Dupont was defeated by Peru's Maria Fernanda Reyes, whose 12.74 total was the second highest of the day for the women, and Australia's Emily Lethbridge.
The defending Women's Copper medalist Natsumi Taoka of Team Japan advanced through her Main Event heat with last-minute heroics, pushing South Africa's Tarryn King out of an advancing position and into the Repechage Rounds.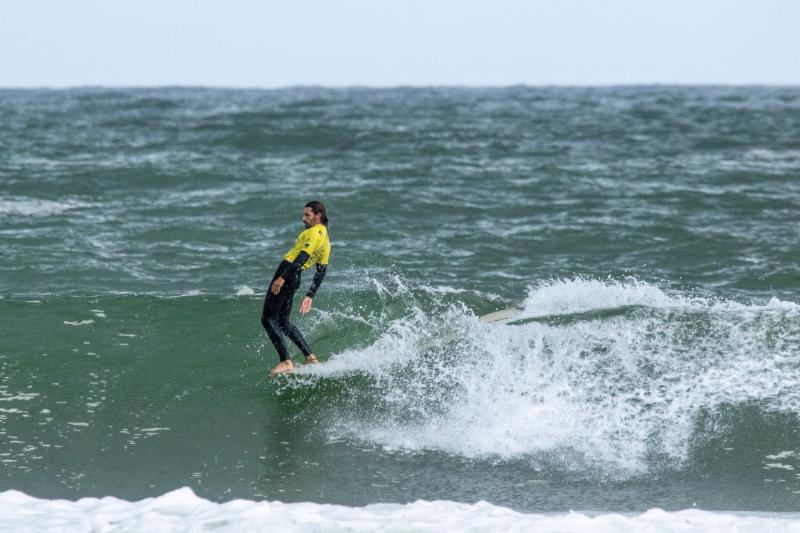 "When the set came in during the final moments of the heat, I knew I had to do something good," said Taoka. "I'm so happy to have won. I really want to improve on my 2018 Copper and win the Gold this year."
Behind the top performances of the Delpero brothers was the strong surfing of USA's Cole Robbins. Robbins, a first-time competitor in the event, continued to assert himself as a potential medalist by earning a solid 14.9 total.
"The conditions have been difficult, but today the bigger swell, pushing tide and light winds are definitely helping the scores and conditions," said Robbins.
"Representing my country is such an honor. This is about being part of something that is bigger than yourself, being part of a team and supporting each other.
"My goal is to see how far I can take it and hopefully win a Gold. It would be amazing to see longboard included in the Olympics one day and be a part of that journey."
Wednesday's competition was topped off with the elimination Repechage Rounds where athletes were fighting to keep their Gold Medal hopes alive. An additional 28 competitors bowed out of the event.
Gold Medal favorite and 2018 ISA Longboard Silver medalist, Brazil's Chloe Calmon, regained her footing in the Repechage Rounds after a surprising loss in the Main Event, advancing with a 12.50 heat total.
New Zealand's Michael Grendon lost in the morning's Main Event and rebounded in the Men's Repechage, earning the round high total of 13.5 points.
Notably in attendance was Denis Masseglia, the President of French National Olympic and Sports Committee who came to Biarritz to witness the world-class longboard surfing taking place on the country's southwest coast.
"It was important for me to be here and recognize the great work done by the French Surfing Federation," said Masseglia.
"The French athletes have been the best. Based on what I've seen today, they are in a great position to go for the team Gold Medal.
"It is important for Surfing to be included on the sports program for Paris 2024. For Paris, the image of youthful, natural sports are certainly some of the reasons why they chose surfing.
"Inclusion in Paris is also another step towards inclusion in LA 2028. It's a great path for Surfing."
ISA President Fernando Aguerre said:
"Today Côte de Basques began to show its true colors and provided incredible waves for longboard. The talent was unleashed all throughout the day and unsurprisingly, the locals, who know the wave the best, were posting the top scores.
"Tomorrow we should expect more of the same as the field of competitors narrows, making every heat a must watch."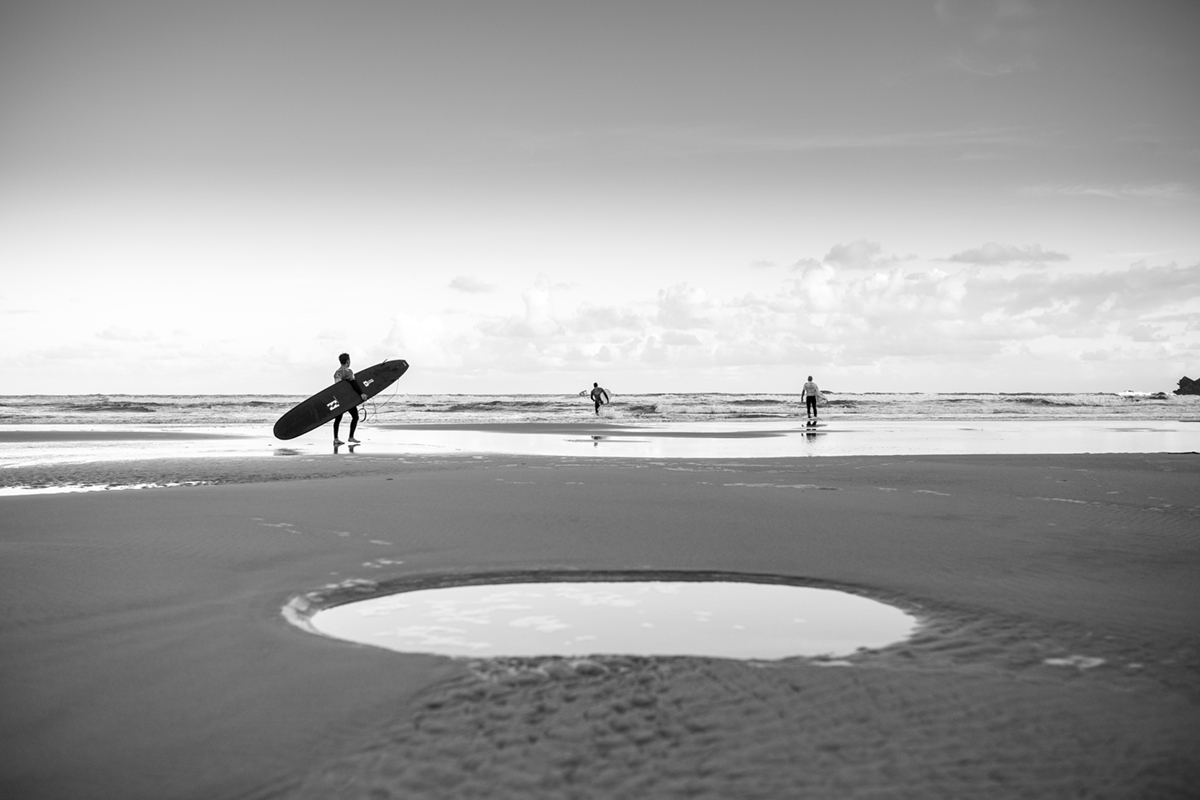 The schedule for Thursday's competition is as follows:
• 7am – 8:20am: 4 heats Men Repechage Round 3
• 8:20am – 9:20am: 3 heats Women Repechage Round 3
• 9:20am – 10am: 2 heats Men Main Event Round 4
• 10am – 10:40am: 2 heats women Main Event Round 4
• 10:40am – 12pm: 4 heats Men Repechage Round 4
• 12pm – 1pm: 3 heats Women Repechage Round 4
Schedule is subject to changes and possible delays during the afternoon high tide.