FISTRAL BEACH, Cornwall – England (Friday, August 12, 2016) – It was an all-women day at the Boardmasters, Cornwall on Day 3 of the event's waiting period, with both QS and longboard athletes taking on the wind-affected one-to-two foot surf at North Fistral.
Shortboarders first took action to complete the third round of competition and decide the event's quarterfinalists that will battle for the 2016 Boardmasters title when competition resumes tomorrow.
Claire Bevilacqua (AUS), 33, continued to progress through the rounds with ease, displaying her powerful and stylish brand of surfing and will be the number one threat on finals day Saturday.
Barbados up-and-comer Chelsea Roett, 21, was another standout in today's QS action, taking out her Round 3 bout ahead of European form surfer Ariane Ochoa (EUK). Advancing through to the quarters, Roett has insured she will at least equal her best result so far this season, an excellent fifth place at the Shoe City Pro.
"I needed one more result to finish my QS campaign so I'm hoping to do well here, everybody's surfing really good here and the waves are challenging so I'll try my best and hopefully be a little lucky to get through a couple more heats," she said. "I love how beautiful Newquay is, I've passed through on my way to France and Portugal before but this is my first time surfing in England and I'm enjoying it. I'll try to see a few different places when the contest is finished as well."
Women longboarders then finally came into play at Fistral for the opening two rounds of competition, deciding the final eight surfers in contention for the prestigious Boardmasters title.
Reigning Women's World Champion Rachael Tilly (USA), 18, launched her assault in the British waters and performed her signature gracious nose rides in the fading swell. Tilly picked up the right waves and belted the day's highest single score, an excellent 8.17 out of a possible 10. The Californian, who already claimed an event win in Europe a few weeks ago at the Pro A Coruña will look to confirm her supremacy when finals day arrives Sunday.
"It was pretty fun if you're able to pick the right waves, unfortunately a lot of them were dying quickly as we're approaching the high tide," she analyzed. "I always feel the pressure to perform, I want to do well and hopefully give everyone else a good show as well. I love it here, exactly how I imagined England would be with all the greenery, the cliffs and I've been having a really great time."
Californian compatriot and former World Champion herself Lindsay Steinriede (USA), 31, also powered her way through to the quarters, in a similar fashion and with high scores in her earlier round. Steinriede alongside Tilly will look to play spoilers to the European title race as she will be facing one of the two surfers in contention on finals day.
"It's my first time in England and I find it really beautiful, I knew the waves would be somewhat challenging but I'm still having a great time," she stated. "It was great to get the two rounds out of the way and back-to-back so we could stay focused, warm and active."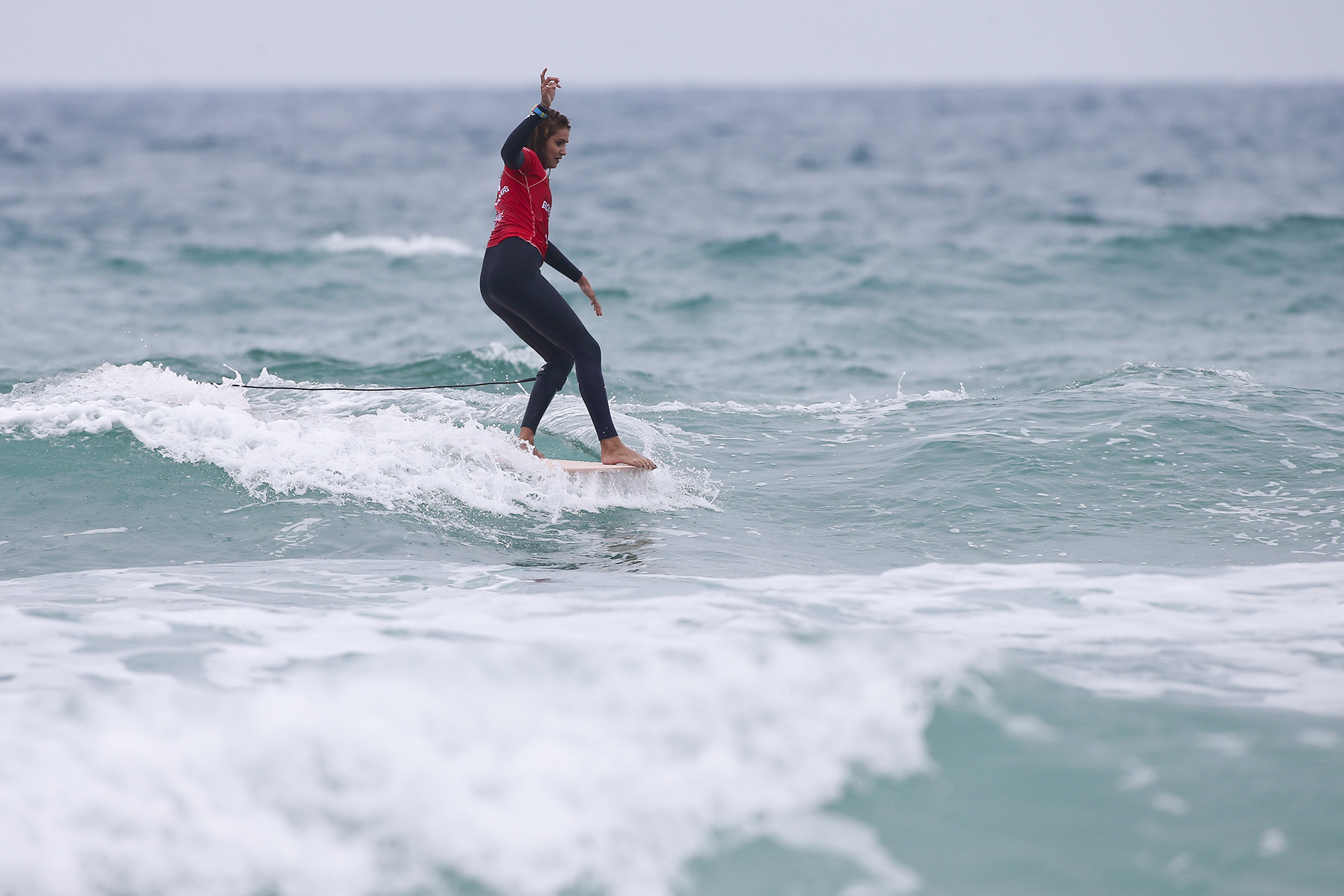 European rankings leader Victoria Vergara (FRA), 22, survived a tricky opening round matchup in the dying swell and kept her hopes of a maiden regional title alive. Pressure's on for the Reunion Island native who will need to advance into the semis and finish at least one round ahead of her direct opponent, reigning European Champion Alice Lemoigne (REU).
"I'm really happy to have escaped that round, this event is extremely important for me as I'm currently in the lead and I'm super motivated to try to win the European title so there's no room for error." she commented. "The first round stress is out of the way and we're expecting good conditions for the finals Sunday so I'm really looking forward to it."
Today marks the official launch of the main music festival at Watergate Bay which will bring together thousands of music and party enthusiasts for three days of LIVE acts in the pristine set up overlooking the ocean. More information on the full festival lineup at boardmasters.co.uk.
Organizers will welcome men and women QS competitors at 8:30AM Saturday for what could be their final day of competition, while longboarders will have a day to rest before the big finals on Sunday.
The Boardmasters, Cornwall are scheduled from August 10-14, 2016 at Fistral Beach, Cornwall – England. For all results, photos, video highlights and press releases, log on to worldsurfleague.com.
The Boardmasters, Cornwall are supported by Surfers Against Sewage, Carve Mag, Corona, Relentless, Cornish Orchid, The Stable and MagicSeaWeed among others.
UPCOMING BOARDMASTERS WOMEN'S QS QUARTERFINAL MATCHUPS:
QF 1: Claire Bevilacqua (AUS) vs. Lucy Campbell (GBR)
QF 2: Ainara Aymat (EUK) vs. Reika Noro (JPN)
QF 3: Denver Young (AUS) vs. Ariane Ochoa (EUK)
QF 4: Peony Knight (GBR) vs. Chelsea Roett (BRB)
BOARDMASTERS WOMEN'S QS RD3 RESULTS:
Heat 1: Claire Bevilacqua (AUS) 12.44, Ainara Aymat (EUK) 10.57, Sara Taylor (USA) 6.56, Valeria Patriarca (ITA) 4.40
Heat 2: Reika Noro (JPN) 10.20, Lucy Campbell (GBR) 7.03, Emily Currie (GBR) 6.67, Keshia Seelow-Eyre (GBR) 6.26
Heat 3: Denver Young (AUS) 9.60, Peony Knight (GBR) 9.00, Ellie Turner (GBR) 7.63, Lucia Cosoleto (ARG) 6.50
Heat 4: Chelsea Roett (BRB) 11.50, Ariane Ochoa (EUK) 10.50, India Robinson (AUS) 8.43, Vittoria Farmer (AUS) 6.67
UPCOMING BOARDMASTERS WOMEN'S LQS QUARTERFINAL MATCHUPS:
QF 1: Rachael Tilly (USA) vs. Emily Currie (GBR)
QF 2: Nagisa Tashiro (JPN) vs. Carole Lormant (FRA)
QF 3: Victoria Vergara (FRA) vs. Lindsay Steinriede (USA)
QF 4: Jenny Briant (GBR) vs. Alice Lemoigne (REU)
BOARDMASTERS WOMEN'S LQS RD2 RESULTS:
Heat 1: Rachael Tilly (USA) 13.77, Nagisa Tashiro (JPN) 9.43, Lucy Small (AUS) 6.20, Tina Beresford (GBR) 3.90
Heat 2: Carole Lormant (FRA) 7.53, Emily Currie (GBR) 6.87, Francesca Rubegni (ITA) 5.77, Katrina Beddoe (GBR) 3.97
Heat 3: Victoria Vergara (FRA) 7.77, Jenny Briant (GBR) 7.17, Phoebe Gould (JEY) 5.33, Tamara Helbling (CHE) 3.26
Heat 4: Alice Lemoigne (REU) 11.60, Lindsay Steinriede (USA) 11.43, Jennifer Pendlebury (GBR) 4.77, Charlotte Bayliss (GBR) 3.07
BOARDMASTERS WOMEN'S LQS RD1 RESULTS:
Heat 1: Natsumi Taoka (JPN) 11.57, Francesca Rubegni (ITA) 9.10, Beth Leighfield (GBR) 4.44
Heat 2: Katrina Beddoe (GBR) 7.73, Lucy Small (AUS) 6.73, Josie Pearce (GBR) 3.70
Heat 3: Phoebe Gould (JEY), Jennifer Pendlebury (GBR)
Heat 4: Lindsay Steinriede (USA) 14.50, Tamara Helbling (CHE) 5.56, Felicia Vergara (REU) 4.56
UPCOMING BOARDMASTERS MEN'S QS RD4 MATCHUPS:
Heat 1: Tomas Fernandes (PRT), Shane Campbell (AUS), Facundo Arreyes (ARG), Daiki Tanaka (JPN)
Heat 2: Cody Robinson (AUS), Jobe Harriss (GBR), Luis Perloiro (PRT), Jackson Giles (AUS)
Heat 3: Bruce MacKie (BRB), Louis Gillick (AUS), Monty Tait (AUS), Jayce Robinson (GBR)
Heat 4: Angelo Bonomelli (ITA), Tristan Guilbaud (FRA), Arthur Lassee (FRA), Jake Marshall (USA)
UPCOMING BOARDMASTERS MEN'S LQS QUARTERFINAL MATCHUPS:
QF 1: Ben Skinner (GBR) vs. Adam Griffith (GBR)
QF 2: Emilien Fleury (FRA) vs. Josh Le Marquand (JEY)
QF 3: Edouard Delpero (FRA) vs. Ben Howey (GBR)
QF 4: Sam Bleakley (GBR) vs. Antoine Delpero (FRA)