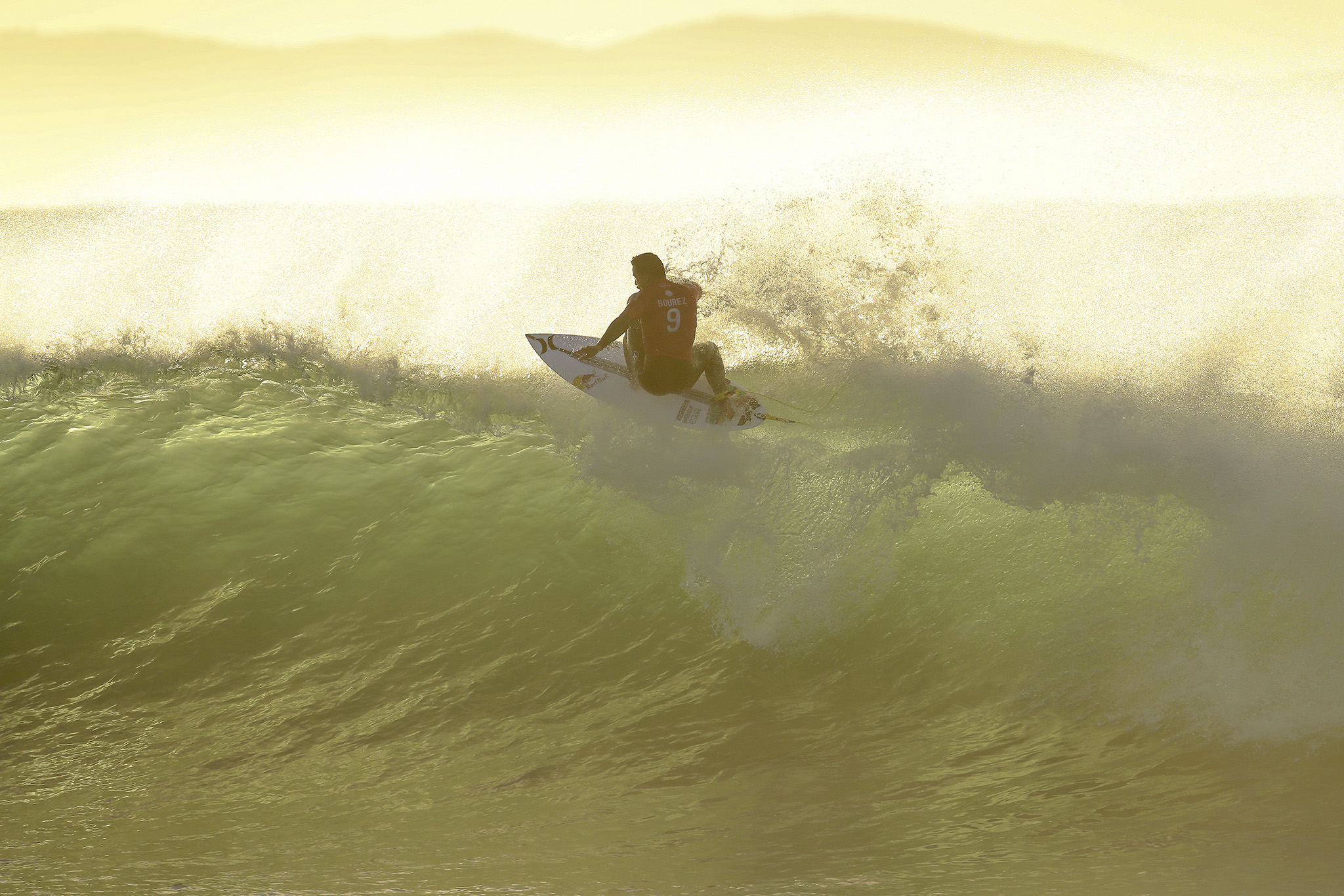 The J-Bay Open, Stop No. 6 on the 2016 Samsung Galaxy World Surf League (WSL) Championship Tour (CT), continued today. Competition ran through the remaining heats of Round 2 followed by the opening four heats of Round 3 before being called off as conditions deteriorated. The WSL Top 34 battled to avoid early elimination in three-to-five foot (1 – 1.5 metre) surf at Jeffreys Bay. Top seeds dominated the day's action, winning eight of the twelve match-ups.
Jordy Smith (ZAF) was the day's top performer and commanded his Round 3 heat. The home-town hero stormed through his match-up against Kolohe Andino (USA) with an 18.20 heat total. Smith used his experience at Jeffreys Bay to find back-to-back excellent rides that earned him an 8.70 and 9.50 and a place in Round 4. Andino was left in a combination situation and leaves the competition in 13th place.
"I'm just so happy to be home and surfing good waves — it's been absolutely firing," said Smith. "There's a lot of history here for me so it definitely brings up a lot of emotions. I'm just going to stick to the same things I've been doing. Just surf, wait for the good ones, and have fun with it. That's it really."
Wiggolly Dantas (BRA) also posted big scores and gave an impressive performance in Round 2. Dantas built his scoreline steadily throughout the heat, finishing with a near-perfect 9.50 to net an excellent 18.27 two-wave heat total and the win over compatriot Jadson Andre (BRA). Dantas will surf in Round 3 when competition continues while Andre is eliminated in 25th place despite a strong showing.
"I knew it was pumping and I had priority so I just tried to get the next wave and get a good score," said Dantas. "I felt comfortable and had fun surfing J-Bay with two guys in the water. I put everything into the wave. It's hard surfing against Jadson. He's a friend of mine, but a heat's a heat and there are no friends in the water when you compete."
John John Florence (HAW) and Dusty Payne (HAW) went head-to-head in an all Hawaiian match-up in Round 3 Heat 2. With Florence chasing a World Title and Payne fighting for requalification the pair battled for the advantage. Payne kept busy catching nines waves, but Florence took the win by just 0.90 thanks to an 8.33 on his third wave and moves on to Round 4.
Payne, who leaves the contest in 13th place, previously posted the highest single-wave score of event so far, a near-perfect 9.77, in his Round 2 heat against Stuart Kennedy (AUS).
Josh Kerr (AUS) showed variety and flair in this Round 2 heat against Jack Freestone (AUS) and an excellent 8.23 at the midway point gave him a solid lead over his compatriot. Kerr followed this with a technical stalefish reverse aerial maneuver for 6.27 and finished with a near-perfect 9.23 to seal the win and his place in Round 3.
"I had a frustrating heat yesterday," said Kerr. "Today I was so excited — the sun's out and it's warmed up. It's about as rippable as J-Bay gets out there. It definitely zaps you with no jet ski assist, especially when you want to take chances on waves and catch a lot and make some scores happen. You come in pretty tired, especially with 35-minute heats. When you don't have those howling offshores and it's pretty buttery out there you can do whatever you want to do — some big turns or airs, it's pretty fun."
Kerr's excellent run of form continued in Round 3 when he eliminated current No. 4 on the Jeep Leaderboard Italo Ferreira (BRA) in Heat 3. Kerr wowed with crowd with more aerial antics to net a 16.40 two-wave heat total and secure his place in Round 4.
Two-time event winner and 2012 WSL Champion Joel Parkinson (AUS) took on Matt Banting (AUS) in Round 2 Heat 7. Parkinson opened up strong with with a 7.67. Despite two good scores from Banting, Parkinson found a 7.50 to back up his opening score and take the lead, leaving his compatriot in need of an excellent 8.67. Parkinson moves on to Round 3 and Banting takes home his third 25th-place-finish of the season.
"I was really pleased to surf early this morning because conditions were great," said Parkinson. "I'm feeling almost 100% again and am improving every day. I love J-Bay so it's great to be back here."
Alejo Muniz (BRA), three-time Quarterfinalist at the J-Bay Open, found two long waves to eliminate Nat Young (USA) in Round 2. Young was the busier of the two surfers, riding nine waves to Muniz' four, but could not match the Brazilian's top two scores and leaves the competition in 25th place.
"Yesterday I had a little bit of a shocker in my heat," said Muniz. "I was really excited to go out and be in a heat with Conner (Coffin) and Mick (Fanning) , which I think are the best two guys out here. I was just too excited and didn't stay calm so today I wanted to fix that and take off on the good waves and try to do my best. There's a little bit of pain in my knee still. It's cold in the mornings here, which is why I didn't surf before my heat, so I could rest."
"Whenever you're sitting out there in second place with the time winding down all you want is the opportunity," said Young. "I got the opportunity but the wave wasn't all that good with a flat spot in the middle of it. It's definitely a bummer for me. It's a long journey and to lose that first round is tough. I feel lately I've been so dedicated and I feel like I do everything I can to make it through heats, so it's a bummer when you put in all that work and come up short, but there's the next contest."
Michel Bourez (PYF) dispatched 2016 WSL Rookie Ryan Callinan (AUS) in a close battle in the opening heat of the day. The rookie held control for a majority of the heat with a 12.90 heat score, but an excellent 8.40 ride at the buzzer pushed Bourez into the lead to earn a spot in Round 3.
"It was kind of stressful out there," Bourez said. "I was waiting for that last one. I let Ryan go on that small wave and I knew he was going to get the good score. I knew the set was breaking wider than it was supposed to do and it worked out. I don't really get good results in cold waters so I feel like it is hard for my body to get used to it. At the end of the day, J-Bay is the best place and it is just beautiful."
Adam Melling (AUS) stole a win from 2016 WSL Rookie Connor Coffin (USA) with some last-minute heroics in Round 2 Heat 9. Coffin held the lead through most of heat with a 14.67 heat total, but a score of 6.93 from Melling at the end of the bout saw him claim his place in Round 3 by just 0.19 points. Coffin is eliminated in 25th place.
"It was a pretty hectic heat," said Melling. "He got the first wave, which I thought looked really nice, but my one doubled up pretty nice and I'm pretty happy to get the score there. It was a bit of a tricky one because I hadn't really surfed much before I came here. I love right-hand points and that's what I grew up on so I feel pretty confident out there.My ankle is playing on my mind a bit but it's good to get through that heat."
"Going forward I'll be mixing it up a bit, not doing the same maneuver," said Coffin. "It sucks losing at J-Bay. Fiji and J-Bay were the two events I was looking forward to. You have to try and learn from all your results but it's also important not to think about it too much. You surf the way you surf."
The final heat of the day saw 11-time WSL Champion Kelly Slater (USA) dispatch Adrian Buchan (AUS) with an early score of 6.33 on the best wave of the heat. Slater advances on to Round 4 while Buchan is eliminated in 13th place.
"It was a tough heat for both of us because the wind sprung up early on," said Slater. "I was fortunate that I was in the right position early in the heat to pick off the best wave. That was the difference between winning and losing."
Surfline, official forecaster for the World Surf League, are calling for:
Fading, but fun size, SW swell mix prevails Thursday as wind backs down (and turns side/onshore in the afternoon). A potentially larger SW swell could move in for the weekend, although wind conditions do look more problematic with at least some periods of onshore flow. We'll be watching for a fun size swell around mid next week, with potential for larger swell during the final weekend of the waiting period.  
For more information, check out WorldSurfLeague.com
J-Bay Open Round 2 Results:
Heat 1: Matt Wilkinson (AUS) 8.47 def. Steven Sawyer (ZAF) 7.93
Heat 2: John John Florence (HAW) 17.27 def. Alex Ribeiro (BRA) 11.77
Heat 3: Filipe Toledo (BRA) 16.54 def. Kai Otton (AUS) 14.34
Heat 4: Adrian Buchan (AUS) 10.50 def. Keanu Asing (HAW) 3.87
Heat 5: Michel Bourez (PYF) 16.07 def. Ryan Callinan (AUS) 12.90
Heat 6: Alejo Muniz (BRA) 14.27 def. Nat Young (USA) 12.93
Heat 7: Joel Parkinson (AUS) 15.17 def. Matt Banting (AUS) 12.17
Heat 8: Wiggolly Dantas (BRA) 18.27 def. Jadson Andre (BRA) 17.13
Heat 9: Adam Melling (AUS) 14.86 def. Conner Coffin (USA) 14.67
Heat 10: Miguel Pupo (BRA) 15.67 def Jeremy Flores (FRA) 13.44
Heat 11: Josh Kerr (AUS) 18.06 def. Jack Freestone (AUS) 15.26
Heat 12: Dusty Payne (HAW) 17.47 def. Stuart Kennedy (AUS) 11.44
J-Bay Open Round 3 Results:
Heat 1: Jordy Smith (ZAF) 18.20 def. Kolohe Andino (USA) 10.10
Heat 2: John John Florence (HAW) 14.83 def. Dusty Payne (HAW) 13.93
Heat 3: Josh Kerr (AUS) 16.40 def. Italo Ferreira (BRA) 14.20
Heat 4: Kelly Slater (USA) 11.73 def. Adrian Buchan (AUS) 5.20
J-Bay Open Upcoming Round 3 Match-Ups:
Heat 5: Sebastian Zietz (HAW) vs. Michel Bourez (PYF)
Heat 6: Matt Wilkinson (AUS) vs. Alejo Muniz (BRA)
Heat 7: Gabriel Medina (BRA) vs. Adam Melling (AUS)
Heat 8: Julian Wilson (AUS) vs. Joel Parkinson (AUS)
Heat 9: Filipe Toledo (BRA) vs. Miguel Pupo (BRA)
Heat 10: Mick Fanning (AUS) vs. Kanoa Igarashi (USA)
Heat 11: Caio Ibelli (BRA) vs. Wiggolly Dantas (BRA)
Heat 12: Adriano De Souza (BRA) vs. Davey Cathels (AUS)