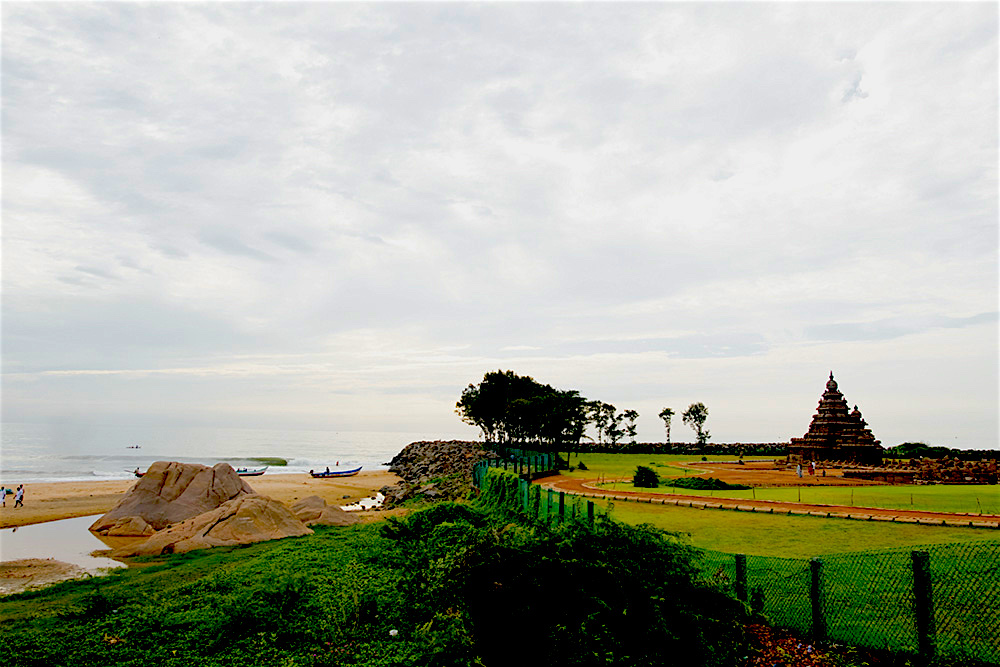 With thousands of miles of coastline and dozens of fun breaks it's a wonder why India is still overlooked as a surf destination. Allow Sam Bleakley to introduce you…
By Sam Bleakley from The Longboard Travel Guide
With a population of 1.2 billion, India is the second most populous nation on the planet. It boats 4,700 miles of coastline, pretty much every type of landscape under the sun and culturally-speaking, it has to be one of the most kaleidoscopic places on the planet. Holy cows, Hindu deities, Buddhism, Jainism, Christianity, Islam, Sikhism and industrial post-modernism all have voices here – transient life and the permanently sacred tangle in a symbol war that multiplies on the eye. Pomp and poverty intermingle, sweat and thirst are inevitable, strict religious codes meet free will and stunning scenery, while elephants hold up the traffic. In Hindi, tomorrow and yesterday are the same, 'cul'; and so are hello and goodbye, 'namaste'. This tells you everything you need to know about travel – stay in the moment. And surf travel is a great way to experience the present of India.
I recently spent a month working at a surf and yoga retreat called Soul & Surf in Kerala, running longboard workshops on a quiver of Firewire boards. While the waves were not the biggest, the swell periods were long, providing a lot of power and some impressive shorebreaks. Both the east and west coasts of this vast sub-continent receive consistent swell from the Indian Ocean, as do two well-placed archipelagos: the Andaman Islands and the Lakshadweep Islands. The local surf culture is vibrant and growing fast, with clubs, grassroots surf brands, young rippers and the Surfing Federation of India (SFI) organising surf instructor courses through the ISA (International Surfing Association).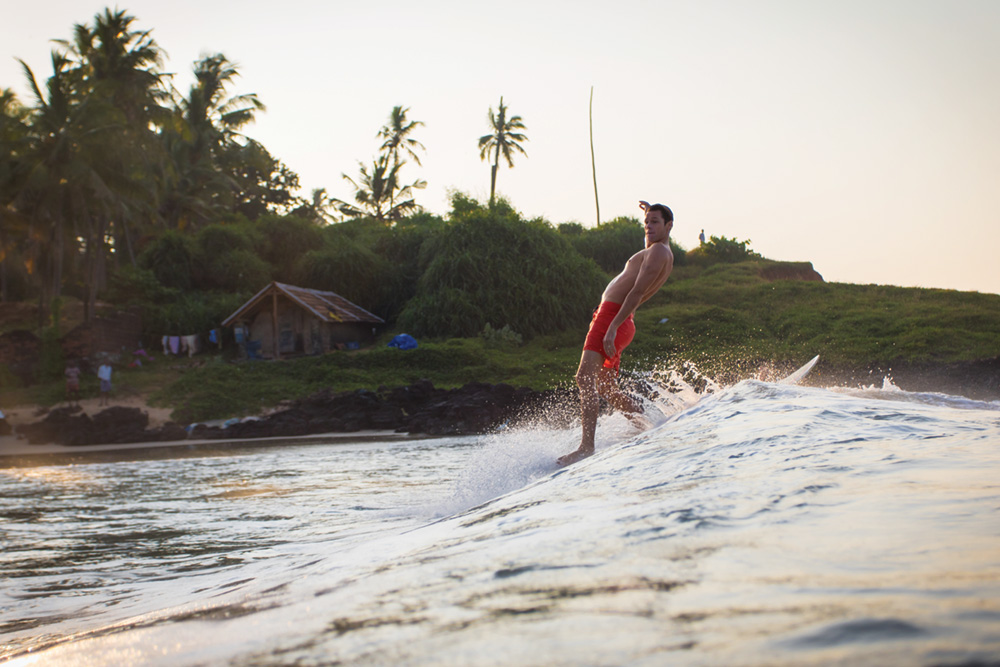 Sam Styling. Photo Peter Chamberlain
www.dtlphotography.com
Indian surfers have a lot to celebrate. Turns out that even the word 'surf' has a link to India: over time, the mixing of dialects and languages through trade with India gave rise to a unique 'pidgin' language. The Portuguese coined the word 'surf' in the late 1600s, from the Sanskrit 'suffe' meaning 'the coastline'. This intermingling that cultures and traders shared along the Indian coastline led to a common ground in the form of the beach – where cultural habits had to be re-invented in the name of exchange.
It also turns out that an engraving by John Hassell (copied from a sketch by Charles Gold – who served with the Royal Artillery and was stationed at Madras on India's southeast coast in the late 1700s) entitled 'Cattamarans' and printed in London in 1800 (the original stored at the Australian National Maritime Museum) is currently the earliest known image of stand-up wave riding! One Indian fisherman rides a three-log catamaran, parallel stance, holding a paddle. Two men are further out on a second wave. A 'masula', a local surf boat with a crew of six, is heading over the third wave, transporting freight for the ships of the East India Company awaiting off-shore. Although the earliest illustration of a surfboard being paddled was sketched in Hawaii, it was not until the 1830s that illustrations of stand-up rides began to appear from the Pacific. 'Catamaran' was the anglicized version of 'kaIfu-mar-am', meaning 'tied logs', widespread on the Tamil coast of south India and still in use in the surf zone for fishing today.
A good selection of India's best breaks can be found along the southwest-facing shores of the states of Karnataka and Kerala, as well as Tamil Nadu on the southern tip. Most of the spots on the southwest-facing coast are beach breaks, best during the dry season (November to April) when you can usually score clean dawn patrols. Mahé, Varkala and Kovalam (Lighthouse Beach) are three of the better bets on this stretch. The southwest monsoon (May to October) brings bigger swells and southwest winds; a good time to head to the opposite coast, where you'll find more beach breaks and a decent right point at Manapad.
The huge landmass of Sri Lanka prevents many southwest swells reaching far up the east coast, but southeast swells are regular during the monsoon season, periodically lighting up the region of northeast Tamil Nadu and Andra Pradesh. July and August are usually the best months. About 50 miles south of the city of Chennai, Mahabalipuram Shore Temple is a sand-bottom right point which peels for 100 yards alongside a 1,400-year-old Vishnu temple. On a solid swell, Mahabalipuram offers powerful, sand-sucking tubes at low tide, and softer waves at high. Beach cottages are available to rent and there's a friendly nascent local scene. Just north of the industrial city of Visakhapatnam in Andhra Pradesh, on a clean southeast swell, Lawson's Bay and Mangamari offer very long right points, generally ridden only by local fishermen returning to shore in their wooden boats, loaded with tuna.
The Lakshadweep Islands, 250 miles off the southwest coast of the mainland, are a string of coral atolls which are part of the same undersea mountain range as the Maldives. They're some of the most exotic and beautiful islands you'll ever see, with flawless white beaches, swaying palms and giant turtles wallowing just a few yards offshore. The Lakshadweeps have yet to be fully explored by surfers and many new spots are sure to be found, although permits are required for travel here.
India's other offshore territory is the Andaman Islands situated on the far side of the Bay of Bengal, northwest of Indonesia. In 1998 photographer John Callahan became the first to document a surf trip here with Sam George, Chris Malloy and Jack Johnson, following a gruelling 70 hour dive-boat charter from Thailand, riddled with visa hassles. The trip appears in the film Thicker Than Water (1999). Callahan has since made two more projects in the Andaman and the Nicobar Islands (strictly off-limits to any non-Indian passport holders). "I'm probably the only human on earth, Indian nationals included, who has been from the top of North Andaman Island to Indira Point at the southern tip of Great Nicobar Island," he says. Today you can fly direct to the Andamans from India, as tourism has taken a foothold. A small number of charter boats offer trips to Little Andaman Island, home to a number of quality Indo-style reefs. The best of these is Kumari Point, a speedy righthand reef-point which will peel for 200 yards on a big south swell, with sizzling tube sections. But it's a fickle spot, fully dependent on early season southwest monsoon swells (April or May).
Namaste.