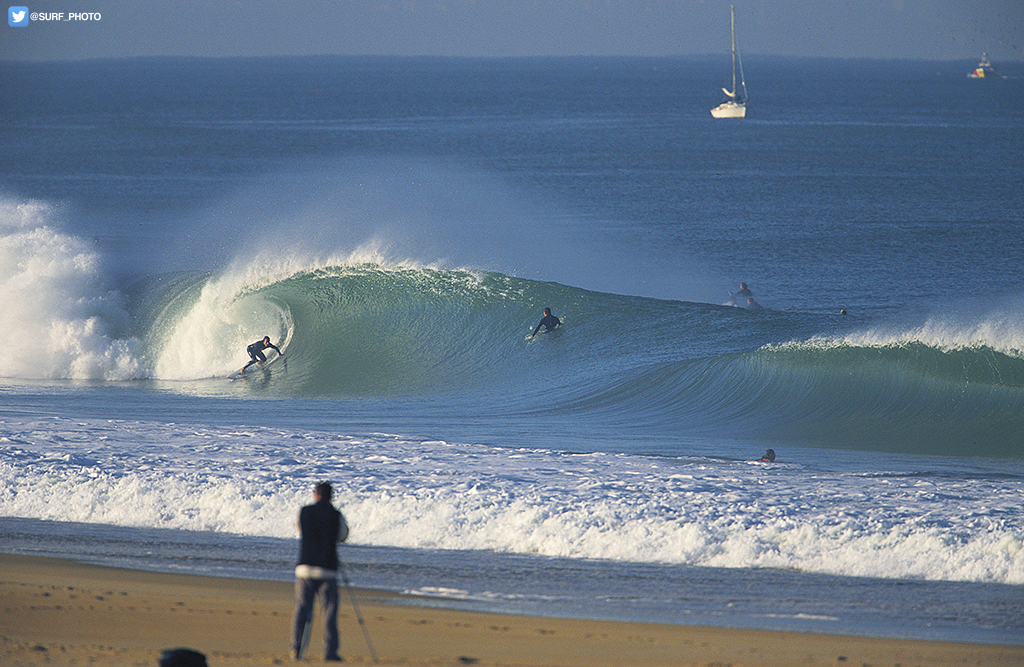 The Hossegor run is the default first overseas surf mission for most of us Brits. It has many bonus points but the main one is: it's cheap. Well. It's just got about 10% more expensive thanks to the ongoing Brexit inspired currency fluctuations but hopefully that'll improve soon.
Educational establishments are thinking about shutting up shop for the summer so here's how to do it on a bare bones budget. As proven and road tested by many denizens of our damp islands over the years. Before we get into the meat of it we'll assume you have the following: access to a car, boards, a sleeping bag, a camping cooker and some Euros.
CAR
Obviously choice of vehicle is important as is occupancy. Two people in a small car is okay. Three people in a mid-size and four can do a big estate if you are really close. A van is the real winner but not something you tend to have when you're young and doing your first teenage Hossegor run.
Make sure your vehicle is legal, sort out AA/RAC cover for Europe for the duration of your trip. Trust us, we've had a car blow up in France with no cover and it is a mahoosive and very expensive ball-ache and you can't just abandon it down there as you'll still end up with a knock on the door and a big bill from the French rozzers … or maybe if you're really lucky Interpol.
Check the current list of things the French authorities require: hi-vis vests, red triangles, spare bulbs, GB sticker, drink drive testers, etc. It's bonkers but them's the rules and if they pull you over they can demand to see any and all of the above. The French Gendarmes are notoriously no nonsense so no cheek. Plus side once you have these things they will live unused in the boot of your car for the rest of your life.
FERRY
Depends which bit of Blighty you're coming from. The Dover end crossing is well cheap and quick but you've got a longer and way more expensive tolled drive from Calais. From Portsmouth is ideal, not as expensive as Plymouth and the ferries tend to be overnight and arrive at dawn for your drive down. The toll road from Normandy down was around €30 total we did it and is motorway nearly the whole way now. So check it out and compare prices for what works best for you. Of course the Santander ferry is the bomb but that tub is so expensive now even between four of you it's crazy prices. Prices on the channel crossing range from under £100 to £400 depending on dates and route.
DRIVE
You can smash the Channel coast of France to Hoss' in about eight or nine hours with a Maccas stop. An efficient motor is your friend here. Getting down there on one tank is totes doable in the right car. So you can get there and back for just over a £100. All French garages have awesome €1 espresso machines so the driver can keep buzzing his teats off the whole way.
SLEEPING
Now you can stay in campsites. But that's not very feral and quite expensive. Being feral is all about maximising number of surf days for minimum cash. So paying for accom is out.
'But where will I sleep?' you cry. Easy pard. On the beach.
A decent sleeping bag and the top of the beach at the edge of the dunes makes a lovely bed. Just think of all the shooting stars you'll see. Just be sure not to get ground up into mince by the beach-cleaning bulldozers.
'But what if it flipping rains?'. Ah, Padawan. Very good question. This is why we brought the car. If wet sleep in the motor. Like we said earlier two people in a little car is fine. Fold down the front seats and you're be snug as. We spent a week sleeping in a Ford Ka once and that was fine. Three in a mid range two get front seats one the back and in an estate just fight it out and sardine in. Or you can sleep under balconies/buildings. Staying in the beach car parks is no bother*. The police shouldn't bother you and there'll be plenty of dudes in vans to pal up with. Don't sleep in bins. You'll get squished.
*Some years they get eggy. So can always pitch up in the forest instead. But obvs no trash. No trace.
EATING
So this whole deal is about not splashing too much cash. Eating is expensive. The classic surf fuel for feral surfers is ramen noodles. Cheap as hell, quick to cook so you don't waste too much camping gaz and they tasty. The other classic French treat is the 10 pack box of pain au chocolate. Get one of those bad boys after your dawn surf and it'll last you all day. For the truly ninth dan feral experience go bin diving through the skips out the back of LeClerc at the end of the day and see what goodies you can find. Rule of thumb: if it looks okay and doesn't stink you can probably eat it. But don't tell them we sent you.
DRINKING
Piss is über expensive in France. In bars at least. Beer from the supermarket ain't too bad but the most bang for your buck comes from wine. Hell it's the Bordeaux region of France, famous, and rightly so, for its wines. So sample the plastic bottle wines and find a fruity, drinkable number. You'll be pleasantly surprised at what you can score for less than two euros. You'll also be winning as wine drinkers appear cultured and suave. Not a boorish beer idiot. That said the youth these days are too healthy to drink evil booze so I guess you can hang on to a super fruit smoothy or whatever it is you drink instead.
PARTYING
Obvs tricky when spending no money. Normal plan: get tanked on wine/cheap Lidl lager then head to the Centrale and hang out. This is where all the action is in Hoss' of an eve. If you've got the green you can buy one beer and nurse it.
If you want to be truly feral then you can mine sweep but you need to be really careful that drinks have been abandoned properly; not temporarily as you might get a French fist in your teeth. Or roofied. The motherlode is hooking up with someone that's got proper accom so you can shower and sleep in comfort.
HYGIENE
No campsite equals no showers and shitters. You just need to scope out what's available. There's beach showers in season and there's some nice bogs by the market place in Hossegor and those pay jobs are always a last resort. If you open and close the door and stay in for the wash cycle you can have a dump and a hose down for the same price. One modern essential for feral trips is the 'wet wipe'. Yes. Those things festival goers use. Wet wipes are a great way to stay relatively clean without showering and if you're in the sea every day how crusty can you get?
SURFING
This is why you're here right? Hossegor is just the focal point. The surf can be busy these so do some exploring. Check out north and south at low, mid and high tide. Knowing what banks are on is the key to maximising your surf time in Hoss'. There can be magical banks south of Capbreton and north of Seignosse with not a soul in sight. If you can borrow some binos from the 'rents for the trip do.
As anywhere respect the locals, don't drop in, snake or hog waves, in short stick to the rules of the road. It's not like Britain where people will give you stink-eye at worst. French, and often Basque types, are more passionate than us Brits and are far quicker to speak with their fists if you cock up their surf. Bring a spare sled as snappage can and will happen. Wetty wise a 3mm is handy for dawnies, boardies and a maybe a neoprene vest is fine for the rest of the day.
So there you go. How to go feral in France. If you are really good you can do a month for a few hundred quid and get a zillion surfs under your belt in one of the best places in the world for waves. Too easy.
Words & Photos: Sharpy